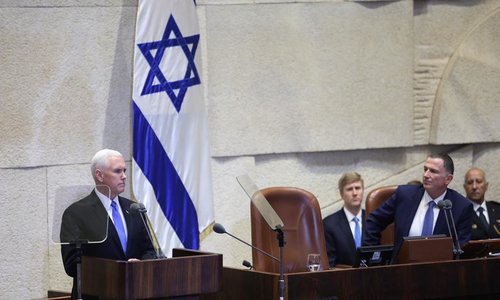 Anybody who watched Vice President Mike Pence's address to the Knesset had to be deeply impressed by his heartfelt solidarity with Israel. His repeated pledges of support for the Jewish state were authentic and unwavering.
Unlike the previous president, who seemed to think the Jews took an interest in Eretz Yisrael only because of the Holocaust, Pence did not shy away from affirming the Jewish people's ancient ties to the land of Israel.
"It was the faith of the Jewish people that gathered the scattered fragments of a people and made them whole again, that took the language of the Bible and the landscape of the Psalms and made them live again," Pence said. "And it was faith that rebuilt the ruins of Jerusalem and made them strong again. The miracle of Israel is an inspiration to the world. And the United States of America is proud to stand with Israel and her people, as allies and cherished friends."
Watching Pence's address, I could not help but recall the very different actions of the last vice president who visited Israel.
Joe Biden visited Israel in March 2010. Almost exactly at the moment Biden was speaking at a press conference with Prime Minister Benjamin Netanyahu, "somebody" leaked to the press that the Israeli government supposedly had just announced plans to build 1,600 Jewish homes in "occupied East Jerusalem."
In fact, it was not some new plan, but an unexceptional housing construction project that had been slowly winding its way through the Israeli bureaucracy for years. The government did not make some grand "announcement" at the moment of Biden's visit; the old plan just happened to advance slightly through the normal bureaucratic procedures.
The plan was not for 1,600 "homes," which sounds as if Israel was going to build 1,600 separate houses. It was for 1,600 apartments in apartment buildings, meaning that it would take up less than one-tenth of the land that houses would require. In any event, nobody would be displaced by the new apartments; they were in Ramat Shlomo, an existing Jewish neighborhood in Israel's capital of Jerusalem.
But of course, the Obama-Biden administration, unlike the current U.S. government, did not recognize Jerusalem as Israel's capital. So, even apartments in the uncontroversial Ramat Shlomo neighborhood were suddenly branded "illegal Israeli settlements."
Time magazine declared that Israel had "publicly humiliated" Biden. An article in The Atlantic was headlined "Israel Humiliates Joe Biden." And so it went, a carefully choreographed "crisis" that sure sounded a lot like the infamous "echo chamber" which presidential aide Ben Rhodes later boasted about creating to promote the Iran deal. We may never know who leaked the Jerusalem "news" to the press, but I have my suspicions.
The only actual humiliation that took place was when Biden forced Israel to publicly apologize, even though it had done nothing wrong. The ugly episode would, of course, be followed by many other instances in which the president, vice president, secretary of state or other Obama administration officials chastised Israel or leaked anti-Israel accusations to the press.
Friends of Israel have not yet forgotten Biden's deeply disturbing decision to honor J Street by addressing its national conference in 2016. Legitimizing a group whose only purpose is to undermine Israel's positions was bad enough. But in his address, Biden outrageously accused Israel of being the obstacle to peace, because of what he called "the steady and systematic expansion of settlements."
Yes, that was the accusation made by the vice president whose administration had successfully pressured Israel into freezing Jewish housing construction for 10 months, in exchange for an unfulfilled U.S. promise that the Palestinians would resume negotiations.
Now contrast that vice president with his loquacious successor. "We stand with Israel because your cause is our cause, your values are our values, and your fight is our fight," Mike Pence said in the Knesset. "We stand with Israel because we believe in right over wrong, in good over evil, and in liberty over tyranny. We stand with Israel because that's what Americans have always done, and so has it been since my country's earliest days."
He might have added "except between 2008 and 2016" to that last sentence, however. The sad truth is that "standing with Israel" was not the policy of the Obama-Biden administration. But it is now, and that's what matters most.
The Things Which are not Seen.
Jan 29th, 2018
CommentaryCharles H. Spurgeon


Categories: Exhortation
2 Corinthians 4:18 - The things which are not seen.
In our Christian pilgrimage it is well, for the most part, to be looking forward. Forward lies the crown, and onward is the goal. Whether it be for hope, for joy, for consolation, or for the inspiring of our love, the future must, after all, be the grand object of the eye of faith. Looking into the future we see sin cast out, the body of sin and death destroyed, the soul made perfect, and fit to be a partaker of the inheritance of the saints in light. Looking further yet, the believer's enlightened eye can see death's river passed, the gloomy stream forded, and the hills of light attained on which standeth the celestial city; he seeth himself enter within the pearly gates, hailed as more than conqueror, crowned by the hand of Christ, embraced in the arms of Jesus, glorified with Him, and made to sit together with Him on His throne, even as He has overcome and has sat down with the Father on His throne. The thought of this future may well relieve the darkness of the past and the gloom of the present. The joys of heaven will surely compensate for the sorrows of earth. Hush, hush, my doubts! death is but a narrow stream, and thou shalt soon have forded it. Time, how short-eternity, how long! Death, how brief-immortality, how endless! Methinks I even now eat of Eshcol's clusters, and sip of the well which is within the gate. The road is so, so short! I shall soon be there.
"When the world my heart is rending
With its heaviest storm of care,
My glad thoughts to heaven ascending,
Find a refuge from despair.
"Faith's bright vision shall sustain me
Till life's pilgrimage is past;
Fears may vex and troubles pain me,
I shall reach my home at last."
The Isles of the Gentiles - Genesis 10:5
Jan 29th, 2018
Morning MeditationF. B. Meyer


Categories: Meditation;Inspirational;Book Study
Few realize the treasures that lie in this heap of names. This chapter is the key to ancient histories and contains many of the names that lie on our modern maps. What teeming myriads are here! We learn three things.

The Oneness of the Human Race. - "God hath made of one blood all nations of men to dwell on the face of the earth." The slave that crouches in the African wood, the meanest outcast that creeps along in the dark, the veriest ruffian red-handed in crime - are bone of our bone, no less than the kings and saints, the prophets and martyrs.

The Wealth of our Saviour's nature. - He loved all; He gave Himself for all; He became the Propitiation for the sins of all; through Him all will rise; and He is able to satisfy all from His royal heart. "My God shall supply all your need according to His riches in glory by Christ Jesus." There is not one child of man who may not find his consummation and bliss in Jesus, the One Man. All men are but broken lights of Him; and of all men that have ever lived He is the one flawless, sinless, perfect Man, the apex of the pyramid of humanity, the Head and Prince.

The warrant for Foreign Missions. - If the races of mankind have sprung from a common stock, the experience of one is the key to all. Each may learn from his own heart to estimate the hopes and fears, the yearnings and temptations, the weariness and sin-consciousness of the rest. The Gospel which has brought the blessing will do as much for each of those who bear, however obliterated, the print-mark of our race. "Go ye into all the world, and preach the Gospel to every creature."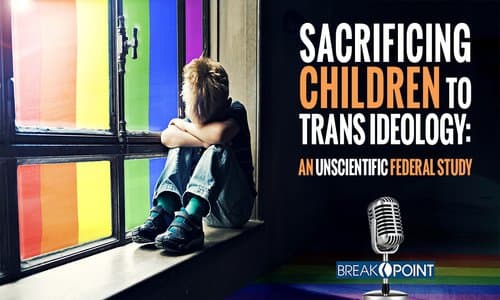 Don't be fooled by the scientific-sounding jargon. Transgender ideology is just that: an ideology--and it's one that's endangering lives.
What do you do, as a Christian, when someone cites a "scientific study" allegedly proving that transgender kids do well with hormone therapy and sex reassignment surgery? Well, you've got to ask questions.
That's certainly the right strategy for a new $5.7 million study just commissioned by the National Institutes of Health.
Writing at Public Discourse, Jane Robbins and Erin Tuttle predict that this study, once completed, will become the go-to evidence for supporters of so-called "affirmation therapy." In other words, it will be used to support chemically and surgically altering the developing and healthy bodies of children, to make them look like those of the opposite sex.
The study's methodology, authors, and stated purpose all make it clear that it's crafted to produce a predetermined conclusion: that "transgender affirmation therapy is safe and effective for gender-dysphoric youngsters."
The study's authors all but admit this, writing in their abstract that their goal is "to use cross-sex hormones in order to induce development of desired secondary sexual characteristics that bring the body into closer alignment with the youth's internal sense of gender."
Notice the appropriateness of altering a child's body to harmonize with his or her preferred gender is just assumed; it's not evaluated. And this assumption is destructive, even sometimes deadly.
Let's be clear about what "affirmation therapy" really means: Children are given high doses of puberty-suppressing drugs. Doctors then flood their systems with testosterone or estrogen to induce the formation of opposite-sex characteristics like breasts in males and facial hair in females.
Some patients, partway through this process, will undergo "sex-reassignment surgery" in which their internal and even external genitals are removed or remodeled.
This so-called "treatment" will render them infertile for life and can create a host of side-effects, like cancer, infections, gallbladder diseases, and spikes in blood pressure. There is also no long-term research on how these high doses of hormones affect bodies in the long run--bodies that weren't designed to handle them in the first place.
There is, however, abundant data on the psychological damage of medically "transitioning." One study from Great Britain found that 20 percent of patients who'd undergone this procedure regretted it. Walt Heyer, a man who formerly lived as a transgender woman and now identifies with his biological sex once again, thinks that's a serious underestimation.
He cites research showing that 41 percent of post-operative patients attempt suicide, 90 percent have a "significant form of psychopathology," and half have depressive symptoms.
The NIH is apparently ignoring all this, and it's clear even at this early stage that they've got a conclusion in search of an argument. All four of the doctors and clinics selected to conduct the research are deeply invested in transgender ideology.
Two already conduct irreversible hormonal transitions, sometimes on children as young as 14 years old. And one calls therapies aimed at reconciling kids with their biological sex "dangerous."
But what's truly dangerous is that this deeply unscientific project will not only harm the children involved, it's largely unnecessary. Robbins and Tuttle cite research showing that 80 to 90 percent of gender dysphoric children will accept their biological sex by late adolescence. In other words, they often grow out of it.
Yet the NIH is paying for research--with our tax dollars--to engrave these feelings irreversibly on children's bodies--all at a time when they're too young to fully understand the consequences.
Like almost everything, this comes down to worldview. Transgender activists believe that feelings define people. And if our feelings are out-of-sync with our bodies, then our bodies must change--through any chemical or surgical means necessary.
But beginning with this conclusion and then crafting a study to prove it isn't science. In fact, it's more like a religion that's demanding child sacrifice.
Germany: Return of the Stasi Police State?
Jan 29th, 2018
CommentaryJUDITH BERGMAN/GATESTONE INSTITUTE


Categories: Contemporary Issues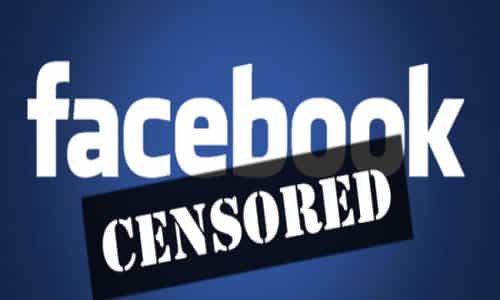 Germany's new censorship law, which has introduced state censorship on social media platforms, came into effect on October 1, 2017. The new law requires social media platforms, such as Facebook, Twitter and YouTube, to censor their users on behalf of the German state.
Social media companies are obliged to delete or block any online "criminal offenses" such as libel, slander, defamation or incitement, within 24 hours of receipt of a user complaint -- regardless of whether the content is accurate or not.
Social media companies are permitted seven days for more complicated cases. If they fail to do so, the German government can fine them up to 50 million euros for failing to comply with the law.
The new censorship law, however, was not fully enforced until January 1, 2018, in order to give the social media platforms time to prepare for their new role as the privatized thought police of the German state. Social media platforms now have the power to shape the form of current political and cultural discourse by deciding who will speak and what they will say.
On January 1, 2018, however, the law was immediately enforced. Twitter began by suspending the account of the deputy leader of the Alternative for Germany party (AfD), Beatrix von Storch, for 12 hours, after she tweeted the following in response to a New Year's greeting issued in Arabic by the Cologne Police:
"What the hell is happening in this country? Why is an official police site tweeting in Arabic? Do you think it is to appease the barbaric, gang-raping hordes of Muslim men?"
(During New Year's Eve of 2015/16, over 1,000 mainly Muslim men sexually assaulted around 1,200 women in Cologne.)
Von Storch also had her Facebook account suspended for repeating her tweet there. Facebook told her that her post contravened German law, as it constituted "incitement to hatred".
It did not stop there. Cologne police filed charges against von Storch for "incitement to hatred", which is punishable under section 130 of the German Criminal Code. According to the Cologne police chief, Uwe Jacob, multilingual tweets at major events are an important part of the police's communication strategy:
"The campaign was really well received by most people - however, some were bothered by the fact that we tweeted in Arabic and Farsi - they were very prominent right-wingers, who then felt that they had to make tweets that incited to hatred. We simply filed charges".
Notice the ease with which the police chief mentioned that he had filed charges to silence a leading political opponent of the government. That is what authorities do in police states: Through censorship and criminal charges, they silence outspoken critics and political opponents of government policies, such as von Storch, who has sharply criticized Chancellor Angela Merkel's migration policies.
While such policies would doubtless have earned the German authorities many points with the old Stasi regime of East Germany, they more than likely contravene the European Convention on Human Rights (ECHR) to which Germany is a party, as well as the case law of the European Court of Human Rights. Article 10 of the European Convention on Human Rights states:
1. Everyone has the right to freedom of expression. This right shall include freedom to hold opinions and to receive and impart information and ideas without interference by public authority and regardless of frontiers...
2. The exercise of these freedoms... may be subject to such... restrictions or penalties as are prescribed by law and are necessary in a democratic society, in the interests of national security, territorial integrity or public safety, for the prevention of disorder or crime, for the protection of health or morals, for the protection of the reputation or rights of others, for preventing the disclosure of information received in confidence, or for maintaining the authority and impartiality of the judiciary.
In its case law, the European Court of Human Rights has stated that Article 10
"...protects not only the information or ideas that are regarded as inoffensive but also those that offend, shock or disturb; such are the demands of that pluralism, tolerance and broad-mindedness without which there is no democratic society. Opinions expressed in strong or exaggerated language are also protected".
Even more important in the context of charges against politicians is the fact that according to the European Court of Human Rights' case law:
"...the extent of protection depends on the context and the aim of the criticism. In matters of public controversy or public interest, during political debate, in electoral campaigns... strong words and harsh criticism may be expected and will be tolerated to a greater degree by the Court".
When leading politicians are criminally charged for questioning the actions of the authorities, such as in this case the actions of the police, we are no longer dealing with a democracy, but with a regular police state.
Several other accounts on Twitter and Facebook were also suspended under the new censorship law in the first days and weeks of January. One such Twitter account was the satirical magazine, Titanic, which was blocked for parodying von Storch's tweet about the "barbaric hordes" of Muslim men.
The privatized Twitter thought police, in their eagerness to censor, had overlooked that Titanic was just poking fun. The suspension of the Titanic account alerted some politicians -- a mere three months after the law went into force -- to the problematic nature of the law. Leader of the Green party, Simone Peter and Secretary-General of the FDP, Nicola Beer were both critical of the law. "The law is messed up and must be replaced by a decent one", Beer said.
Another politician, Martin Sichert, AfD member of the Bundestag for Nürnberg and state Chairman for the AfD, had a Facebook post deleted for violating "community standards". In the post, which he substantiated with links to factual sources, he drew attention, among other things, to the way women are treated in Afghanistan. He also drew attention to the sexual abuse of small children in Afghanistan:
"It is scary and at the same time shameful that our state is preventing the enlightenment of citizens by simply censoring factual opinions, publicly available citations and links to reputable sources."
Sichert and von Storch are just the most famous people to have their speech shut down on social media. There are countless others, whose stories never reach the media.
Under the censorship law, anyone can ask a social network operator to delete postings, even if the post does not affect him personally in any way. If the social network provider does not respond within 24 hours, the person wishing to have a post deleted can involve the Federal Office of Justice; there is even a form for this purpose on the homepage of the Federal Office of Justice.
This office is responsible for the prosecution of violations, and the district court of Bonn is the sole authority permitted to examine disputes about the criminal liability of comments made on social media and to impose fines on the social media companies for failing to delete those comments within the required 24 hours.
It is regrettable that Germany, which can barely keep up with the terrorism threat and the wave of violent crime, is spending such vast resources on shutting down the free speech of its citizens on social media.
The Federal Department of Justice has rented additional offices in Bonn to house approximately 50 new lawyers and administrators to implement the new law and ensure that the social media providers delete "offending posts" within 24 hours. "It was also important that we created a new file management system," explains Thomas W. Ottersbach of the Federal Office of Justice in Bonn.
"This is the only way to ensure that deadlines are met and that a statistical evaluation can be carried out. Because it is important that we keep an eye on which [social media] operator's complaints are piling up and where they are just isolated cases."
The old German police state is back.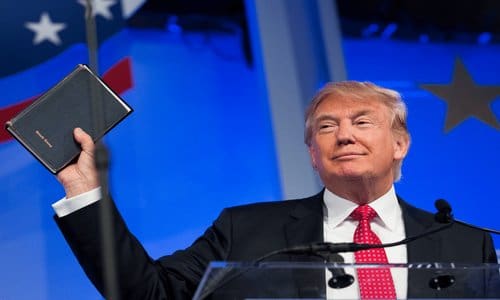 I was scheduled to be on CNN this week to debate another commentator about evangelicals and President Trump, but due to breaking news, the debate was cancelled.
Had I been on the air, I planned to make this point: With all respect to our president, and with my appreciation for the good things he has done, he did not die for my sins, and I have not staked my soul's salvation on his reputation. That distinction belongs to Jesus the Messiah, and to Jesus alone.
Why the need to state something that is so totally self-evident?
It's because evangelicals are being judged on the character and accomplishments of our president rather than on the character and accomplishments of our Lord, hence the need to remind a watching world that there is only one Savior, and His name is not Trump.
Unfortunately, in large part due to the media's anti-Trump frenzy, if you dared to vote for Trump, let alone speak a positive word of support on his behalf, you are considered complicit in his every failing, be it an adulterous affair in his past or an inappropriate tweet in the present.
Wherever Trump is guilty (or perceived to be guilty), you are guilty. And if you dared endorse him, you have committed the unpardonable sin.
One of my ministry school grads was having a conversation with a stranger while they waited in line at an event. The conversation turned spiritual, and my former student began to share his faith. The stranger asked him, "Did you vote for Trump?" When he said yes, the man refused to talk anymore. Jesus was not the issue; Trump was.
A Christian woman told me that a close family member is no longer open to hear about Jesus because she voted for Trump. The conduct and character of this Christian woman no longer matter. The message of redemption through the cross does not matter. All that matters is that this family member perceives Trump to be a dangerous buffoon, and anyone who voted for him cannot be taken seriously.
May I suggest that, at least in part, this is a demonic attempt to turn people away from the Lord? May I suggest that our message has never been tethered to a politician? May I suggest that we fight against this aggressively, not by defending Trump but rather by asking more basic questions, such as: "If you were starving and I offered you free, healthy food, would you ask if I voted for Trump before you accepted it? If you were drowning and I reached out my hand to save you, would you choose to drown if you knew that I had voted for Trump?"
The point is that the gospel message states that people are perishing without Jesus, but through Him we can freely offer salvation. This is good news regardless of who we voted for. It saves the lost whether we who bring the message are Republicans or Democrats. We must proclaim this without fear and shame.
You might say, "But your analogies are not precise. Because you voted for Trump, we question your moral judgment, because of which we question your message."
I'm quite aware of that objection, and that's why I used the examples I did.
The issue here is one of eternal life and death, of salvation or damnation, which means it's even more pressing than the issue of starving or drowning. If you are guilty in God's sight and worthy of His judgment, and we have a message of eternal forgiveness and pardon, does it really matter who we voted for?
I agree that some evangelicals have so visibly hitched themselves to Trump and/or the Republican Party that we have compromised our integrity, as if political power was of greater importance to us than serving a lost and hurting world. We alone are to blame for this, and we alone can fix this. I do not minimize this for a moment.
At the same time, the very liberals who thrash us daily for our political affiliation as followers of Jesus had no problem with Christian support of Barack Obama and Hillary Clinton, despite their support of the slaughter of the unborn and despite their largely ignoring the Christians genocide in the Middle East. Why no shrill cries of hypocrisy? Why no protest marches in the streets? Why no one saying, "If you voted for Obama (or Hillary), I won't listen to your gospel message?"
For me, the solution is simple. When asked how I voted, I'm happy to say, "I voted for Donald Trump, but I did so with hope mixed with reservation. That's why, on some days I'm tremendously proud of him while on other days, I cringe. But given the choice of Hillary or Trump, I'm glad I voted for him.
At the same time, I find no need to defend him when he falls short, nor am I presenting him as a model Christian. That's also why I pray for him."
If I'm dealing with an honest, thinking human being, I don't see how that can be viewed as a hindrance to the gospel. That's why I'm not going to accept my vote for Trump as a conversation ender.
I'll do my best to turn it into a conversation starter, one that quickly turns from our president to our Savior. He's the only one I want to proclaim.