Do not be afraid of joy! There are some who only sip of the sweet draughts which God puts to their lips, afraid of drinking long and deeply. When good things come into their lives, they are always thinking of some bitter make-weight, possibly some impending trouble. This is a mistake. We must be prepared to learn the lessons of dark hours when God sends them; but we need not hesitate to learn those of bright and happy ones, when they, too, are meted out to us. As we give ourselves up to sorrow, we should give ourselves up to joy! As the soul descends into the grave, it should have great joy in its resurrection and ascension! If the soul-planet must travel to a wintry distance, let us hail those halcyon hours when it returns to stand in the summer spheres of joy! In the life of consecration our joy is considerably enhanced by sharing it with our Lord. Just as our burden of care is lightened by rolling it upon Him, in the same proportion our joy will be increased when He is permitted to partake of it.
We cannot always be on the strain. It is not possible to live on one side of our nature without impairing the health of all. David must bring his harp, and play in the presence of the soul, when its fits of depression return. There is necessity that we should cultivate tracks of our soul that lie toward a southern aspect, filling them with flowers, and fruits, and beehives, and things that children love.
Open your heart to joy, when it comes in the morning with jocund voice; by the back-door weeping will steal away. She only came to sojourn for a night.
The Dangers of Big Tent Theology
Aug 1st, 2018
CommentaryMICHAEL BROWN/ASKDRBROWN.ORG


Categories: Warning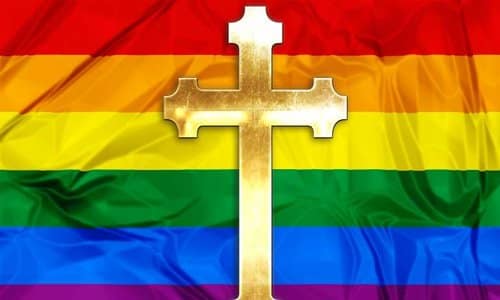 Last week, a controversial conference was held in St. Louis with the goal of, "Supporting, encouraging, and empowering gay, lesbian, same-sex-attracted, and other LGBT Christians so they can flourish while observing the historic, Christian doctrine of marriage and sexuality."
It was called Revoice 2018, and it has created a stir among conservative Christians.
On the one hand, the conference founder, Nate Collins, has made clear that, "We all believe that the Bible teaches a traditional, historic understanding of sexuality in marriage, and so we are not attempting in any way to redefine any of those doctrines. We're trying to live within the bounds of historic Christian teaching about sexuality and gender."
Collins has even stated that, "Sexual desire for someone of the same sex is sinful and something that I should repent from."
So, Collins and others involved in Revoice have stated explicitly that they believe that marriage as established by God is exclusively heterosexual, and they agree that homosexual practice is sinful. This is highly significant and should be loudly and openly commended.
These days, all too many professing Christians have denied these fundamental truths, to their own detriment and hurt. Because of that, we should encourage all those who affirm what Scripture so plainly lays out, especially those who struggle with same-sex attraction or gender confusion.
It's also significant that Collins stated that, when it comes to living within the bounds of historic Christian teaching about sexuality and gender "we find difficulty doing that for a lot of reasons."
An honest confession like this should elicit a compassionate, non-condemning response from other believers. Living like this cannot be easy, and those of us who cannot personally relate to such struggles should pray for a caring heart, doing whatever we can to offer solidarity and support. (Collins himself struggles with same-sex attractions but is gladly married to a woman.)
But these are not the areas that have stirred controversy and raised concerns. One of the workshops offered in Revoice was titled, "Redeeming Queer Culture: An Adventure." This was being taught at a conservative Christian conference?
The description is even worse than the title: "For the sexual minority seeking to submit his or her life fully to Christ and to the historic Christian sexual ethic, queer culture presents a bit of a dilemma; rather than combing through and analyzing to find which parts are to be rejected, to be redeemed, or to be received with joy (Acts 17:16-34), Christians have often discarded the virtues of queer culture along with the vices, which leaves culturally connected Christian sexual minorities torn between two cultures, two histories, and two communities.
So questions that have until now been largely unanswered remain: what does queer culture (and specifically, queer literature and theory) have to offer us who follow Christ? What queer treasure, honor, and glory will be brought into the New Jerusalem at the end of time (Revelation 21:24-26)?"
Since "queer" speaks of something contrary to God's order, something sinful and wrong, even something perverse, there are no virtues to be found in it and there will be no "queer treasure, honor, and glory" that "will be brought into the New Jerusalem at the end of time."
In fact, Revelation 21:27, the very next verse after the passage quoted on the Revoice website, reads, "No unclean thing shall ever enter it, nor shall anyone who commits abomination or falsehood, but only those whose names are written in the Lamb's Book of Life."
There will be plenty of people redeemed out of queer culture who will enter the heavenly city, but nothing "queer" will enter there, for sure. And there's no way a follower of Jesus should identify as "queer." That is who some of us once were.
Some would argue that those on the margins - including those in the "queer" community - learn to care for others who are marginalized. But this is not a virtue unique to queer culture. Rather, it it's a virtue found in many communities, since within every culture and community, there are positive aspects to be found.
Yet we don't speak about the "adventure" of redeeming aspects of the KKK culture, or the Satanist culture, or the terrorist culture, or the drug culture, or the greedy business culture, or the gambling culture.
When asked about the Revoice's use of the word queer, Collins explained, "Personally, I think that while the language of queerness can point to real things that we experience and that we're trying to make sense of, I don't think it's the most helpful theologically.
But, again, that's a conversation that I think needs to happen, and I want it to happen in the context of involving people who do use that language. I want there to be consensus about these matters. So that means trying to be a big tent for a certain group of people to participate and come together."
In reality, that is the guaranteed way to fail, since when you open the door this wide for respectful interaction, you give legitimacy to illegitimate viewpoints. In other words, Revoice was not a place for theological debate. It was billed as a place where people who identify as LGBTQ+ and Christian can share their viewpoints and find "consensus."
This would be like welcoming Hindus, Muslims, and Buddhists into an interfaith dialogue with Christians, saying, "We want to move towards a consensus in our jointly-held beliefs." To do so is to make concessions and to validate invalid beliefs.
In the same way, much of the terminology used by Revoice speakers and presenters affirms LGBTQ+ talking points in unhelpful and even dangerous ways. A big tent like this is destined to collapse quickly.
Note again this sentence from the "Redeeming Queer Culture" workshop: "Christians have often discarded the virtues of queer culture along with the vices, which leaves culturally connected Christian sexual minorities torn between two cultures, two histories, and two communities."
To the contrary, the call for every disciple is to deny oneself, take up the cross, leave everything, and follow Jesus (Luke 14:25-33). It is not to be "torn between two cultures, two histories, and two communities." It is to embrace the new and leave the old behind - meaning, leaving the old ways and mindset and culture and identification behind. Then, in newness of life, we reach back into the old to redeem those who are still trapped and lost.
Even the concept of LGBTQ+ individuals as being part of a "sexual minority" raises all kinds of red flags, as if sinful temptations and disordered desires grant someone a "minority" status.
To underscore these problems, some solid Christian conservatives, Peter LaBarbera and Stephen Black, were banned from attending the conference. And this despite Collins saying, "Our first value is explicitly the historic Christian teaching about marriage and sexuality.
And so anybody who adheres to that is welcome at Revoice and, I would say, should find some kind of a home there."
This alleged big tent apparently did not have room for solid voices like those of LaBarbera and Black, even to attend. Yet it had plenty of room for ideas that have no place in a Christian conference.
And so, with love and respect for all committed Christians who struggle with same-sex attractions or gender confusion, I point back to the words of Jesus, which remain relevant to this hour: "Enter at the narrow gate, for wide is the gate and broad is the way that leads to destruction, and there are many who are going through it, because small is the gate and narrow is the way which leads to life, and there are few who find it."
China is using artificial intelligence as a tool to help it decide its foreign policy, detaching from the emotions of useless humans that get in the way of the thought process. What could possibly go wrong allowing A.I. to help decide foreign policy with other countries?
The South China Morning Post has reported that "Several prototypes of diplomatic systems using artificial intelligence are under development in China, according to researchers involved or familiar with the project
The Post notes that "one early-stage machine, built by the Chinese Academy of Sciences, is already being used by the Ministry of Foreign Affairs."
If it's still not worrying you that robotic algorithms could be deciding foreign policy in China with other nations, the Ministry of Foreign Affairs further confirmed to the South China Morning Post that they had plans to use A.I. in diplomacy.
"Cutting-edge technology, including big data and artificial intelligence, is causing profound changes to the way people work and live. The applications in many industries and sectors are increasing on daily basis," a Ministry spokesman said last month, the news agency reported.
According to SCMP, the decision process by the A.I. takes into account "information ranging from cocktail-party gossip to images taken by spy satellites, to contribute to strategies in Chinese diplomacy."
Although, the final decision is in the hands of Chinese officials according to Fu Jingying, a researcher with the Institute of Geographic Sciences and Natural Resources Research, Chinese Academy of Sciences in Beijing. The fact that A.I. could be helping leaders and governments decide whether or not to go to war or other important policy decisions with a country is especially worrying.
However, the use of A.I. would not only implant decisions without human emotion into these officials' heads over a period of time until it was seen as acceptable, but it would eventually shift politics into allowing algorithms and these systems to decide strategic decisions by itself passing the technology off as an advancement. This is exactly what China wants for its next generation of these machines according to the report.
The machines have access to numerous Chinese government databases, according to Fu, who added that the system was equipped with "artificial intelligence technology, including deep learning and a neural network for risk assessment or prediction of events such as political upheaval or terrorist attacks, with "encouraging results."
This is in line with what WikiLeaks founder Julian Assange has been warning about: the power of A.I. expanding into influencing human beings. Essentially, Assange stated that we need to draw a line in the sand so to speak between the struggle between man and machines and not allow machines that can control human beings.
Activist Post has continuously reported on the shift away from human beings to machines. This is a far bigger problem than just influencing humans' decisions, as Elon Musk has warned that UBI (universal basic income) "will be necessary over time if (AI) artificial intelligence takes over most human jobs."
This report about the Ministry using artificial intelligence comes as A.I. is replacing more and more jobs daily.
Activist Post previously reported that University College London Hospitals (UCLH) and the Alan Turing Institute aimed to bring 'game-changing' benefits of artificial intelligence to NHS patients and replace some workers in the hospital.
Recently Activist Post also reported that even finance wasn't safe from the robot apocalypse. China Construction Bank (CCB) opened a Shanghai branch run entirely by robots in a testing phase for finance with little to no human involvement.
Robots are beginning to take over every aspect of society. They are also headed for retail businesses delivering freight and eliminating truckers.
But, again, robots malfunction. In fact, it sounds quite dangerous allowing a freight truck to drive itself; if the sensors break down on a big rig truck going 60-70 MPH, that's potentially 40 tons barreling down the highway unattended except by artificial intelligence. As Activist Post reported back in March, Uber had to halt nationwide testing of its A.I. vehicles following the death of a pedestrian in Arizona. And that was a car actually attended by a human back-up operator.
Automation clearly isn't a foolproof technology; and it can also be exploited by hackers for malicious purposes that could even include programming a bot to kill an individual.
Not even journalists are safe from robot replacements. It should be one of our real worries that journalism and political strategic analysis are being actively looked at by not just China but other superpowers as human jobs that can be replaced by robots.
Even the U.S. seems to be involved in testing the use of artificial intelligence for shaping foreign policy, according to a document dated 1997-2012, at the Naval Post Graduate school entitled, "Artificial intelligence and foreign policy decision-making."
However, under the administration of Donald Trump, it seems to be less of an important goal to support the development of the technology. Last year the sitting U.S. President's budget called for cutting A.I. research at the National Science Foundation by 10 percent, to a mere $175 million.
It should be understood by now that algorithms and A.I. will continue to shape the world we live in as they are increasingly used in nearly all areas of human activity. Along with the lethal risks noted above, an algorithm could be programmed to not tell the truth about an elected official and cover up crimes, thus affecting foreign policy, just as social media algorithms can affect public perception or shut down dissenting voices either intentionally or by mistake.
Reiterating Julian Assange's statement on humans versus machines: we collectively only have one planet, and if the machines take over, that's it ... "undetectable mass social influence by A.I. is an existential threat to humanity."
Tesla founder Elon Musk has previously said that artificial intelligence is potentially more dangerous than nuclear weapons. That's a shared thought with scientist Stephen Hawking, who also previously warned that "artificial intelligence could spell the end for the human race If we are not careful enough because they are too clever."
This is the beginning of The Terminator movie, as even scientists agree that machines will begin to think for themselves in the near future and could be a threat to the human race.
Let us just hope that China and other nations utilizing artificial intelligence don't end up with an intelligence that has the persona of MIT's Norman, a disturbed image-captioning A.I. obsessed with murder. Otherwise, we could all be in deep trouble and in a nuclear radiation dust cloud in a few years thanks to artificial intelligence making an incorrect calculation.
China's Next Generation Artificial Intelligence Development Plan, calls for exceeding all other nations in A.I. by 2030.
Director of the U.S. Office of Management and Budget (OMB) Mick Mulvaney says past administrations have leveraged foreign aid to other countries to advance policy initiatives such as abortion and gay marriage.
"Persecution often times stops far short of life-and-death matters," Mulvaney explained in a speech at the State Department's Ministerial to Advance Religious Freedom session on Tuesday. "Our U.S. taxpayer dollars are used to discourage Christian values in other democratic countries," Mulvaney said he discovered during visits to sub-Saharan Africa.
Mulvaney said he was shocked to learn how previous administrations used foreign aid to coerce other countries to ignore their own laws against things like abortion and gay marriage:
"It was stunning to me that my government under a previous administration would go to folks in sub-Saharan Africa and say, 'We know that you have a law against abortion, but if you enforce that law, you're not going to get any of our money. We know you have a law against gay marriage, but if you enforce that law, we're not going to give you any money.'"
This is a type of religious persecution he never expected from the U.S. government, Mulvaney said:
"That's a different type of religious persecution. … That is a different type of religious persecution that I never expected to see. I never expected to see that as an American Christian. That we would we be doing that to other folks."
Let the Headlines Speak
Aug 1st, 2018
Daily NewsFrom the Internet


Categories: Today's Headlines
Chief rabbi of J'lem against 'LGBT' flags
Chief rabbi of Jerusalem, Rabbi Aryeh Stern, sent a letter to mayor Nir Barkat, requesting that "LGBT" flags that were hung ahead of the gay pride parade be taken down near synagogues around the city. "Unfortunately, this year too it is planned to hold the march on which the spirit of the sages does not look kindly. We are already aware that it is impossible to prevent the march from being held, but we have one request not to hoist the flags on King George Street in the section of the Great Synagogue and the Yeshurun ​​Synagogue, which are considered symbols of the sanctity of Jerusalem."
'There's going to be a raid': A Chilean prosecutor forces Catholic Church to give up secrets
The surprise sweeps, ordered by Emiliano Arias, a provincial prosecutor, marked the start of what experts who track sex crimes in the Roman Catholic Church say is one of the most aggressive investigations ever undertaken by a judicial authority anywhere in the world. Since that cold June afternoon there have been five more raids on Church offices to seize documents, phones, tablets and computers, leaving the Vatican scrambling to respond to a rapidly unfolding scandal that is the worst image crisis of Francis' papacy, now in its sixth year. "We are not talking about a fraud, or a theft, we are talking about crimes against children," Arias said in an interview in his office in Rancagua, explaining his decision not to submit the request to the Vatican and instead get a judge to approve the raids.
Portland Police Refused To Help ICE Agents Who Called 911, Agents Say
Portland, Oregon, police refused to respond to at least two 911 emergency calls from U.S. Immigration and Customs Enforcement (ICE) employees inside their offices where violent protesters held week-long demonstrations. The National Immigration and Customs Enforcement Council, a union representing ICE employees, wrote a cease-and-desist letter to Mayor Ted Wheeler, asking him to ensure the police enforce the law equally and protect innocent people. "Your current policy forbidding Portland law enforcement agencies from assisting employees of the Immigration and Customs Enforcement Agency who request law enforcement assistance while at or away from work is a violation of the United States Constitution's Equal Protection Clause," the letter says.
Trump says he is willing to talk to Iran's leader without preconditions
US President Donald Trump said on Monday he would be willing to meet Iran's leader without preconditions to discuss how to improve ties after he pulled the United States out of the 2015 Iran nuclear deal, saying, "If they want to meet, we'll meet." "I'd meet with anybody. I believe in meetings," especially in cases where war is at stake, Trump said at a White House news conference when asked whether he was willing to meet with Iranian President Hassan Rouhani.
North Korea working on new missiles, US officials say, despite thaw
North Korea appears to be building new ballistic missiles despite recent warming ties with the Trump administration and pledges to denuclearise, reports say. Unnamed US officials told the Washington Post that spy satellites had spotted continuing activity at a site that has produced ballistic missiles. Reuters quotes an official as saying it is unclear how far the work has gone.
Northern California wildfire 9th most destructive in history
A pair of wildfires that prompted evacuation orders for nearly 20,000 people barreled Monday toward small lake towns in Northern California, and authorities faced questions about how quickly they warned residents about the largest and deadliest blaze burning in the state. Ed Bledsoe told CBS News he did not receive any warning to evacuate his home…before the flames came through…and killed his wife, Melody, and his great-grandchildren…
Autonomous indoor drone surveillance system developed
Two European drone companies are partnering to create the first autonomous indoor surveillance drone system. Skysense has partnered with Avansig, to autonomously power the drone for Prosegur, a multinational security company. Skysense says Prosegur's surveillance drone can execute its own patrol route in a building and land itself on Skysense's charging pad to recharge.
U.S.' Pompeo warns against IMF bailout for Pakistan that aids China
U.S. Secretary of State Mike Pompeo warned on Monday that any potential International Monetary Fund bailout for Pakistan's new government should not provide funds to pay off Chinese lenders. In an interview with CNBC television, Pompeo said the United States looked forward to engagement with the government of Pakistan's expected new prime minister, Imran Khan, but said there was "no rationale" for a bailout that pays off Chinese loans to Pakistan.
Mulvaney Shocked to Learn Past Administrations Used Foreign Aid to 'Discourage Christian Values'
…"It was stunning to me that my government under a previous administration would go to folks in sub-Saharan Africa and say, 'We know that you have a law against abortion, but if you enforce that law, you're not going to get any of our money. We know you have a law against gay marriage, but if you enforce that law, we're not going to give you any money.'"
New video game: Shoot the unborn baby
Aggression against families and infants is soaring in groups battling for abortion "rights," but Argentine pro-aborts recently surpassed them all. Producing a crudely made video game, "Doom Fetito," players must furiously battle police, priests and pro-life groups. For this noble skirmish to end victoriously, a little floating fetus known as "The Boss" must be gunned down.
WATCH – Copenhagen Imam: 'Jihad Necessitates Conquest of Europe'
Imam Mundhir Abdallah, of the Masjid Al-Faruq mosque in Copenhagen, told his followers "the final solution to the problem of the Levant – after the establishment of the Caliphate and the elimination of the Jewish entity – will be through the conquest of Europe."
Mort Klein: I Read Geraldo's Anti-Israel Book So You Don't Have To
Geraldo's recent second memoir, The Geraldo Show: A Memoir, is another horror show. He calls Israel the "Unholy Land"; describes himself as a "Palestinianist"; falsely twists the PLO/Hamas/Islamic Jihad hostage-taking and seizure of the Church of the Nativity into an "Israeli siege"; and calls his own cowardly, false attacks on Jews and Israel "courageous."
Death toll from fires in Greece climbs to 91 as investigation points toward arson
The death toll from wildfires that swept through a seaside area of Greece last week rose to 91 on Sunday and officials said 25 people remained missing.
Scientists Discover Great Pyramid Of Giza Can Refocus Electromagnetic Energy Through Its Hidden Secret Chambers
Scientists have made an absolutely incredible discovery at the Great Pyramid Of Giza in Egypt. As it turns out, the inner chambers of the Great Pyramid are able to concentrate and refocus electromagnetic energy and scientists believe it will have a huge impact on nanoparticle designs for sensors and solar cells.
Germany Uses Weighted Trucks To Prevent Islamic Terrorists From Attacking Gays At Pride Parade
…This year, as a result of Germany's increased Islamic immigration, German officials resorted to utilizing trucks weighted down with water as physical street barriers to prevent Islamic terrorists from committing vehicular jihad against the gay people attending the gay pride festival.
Is this the next superbug? Understanding drug-resistant candida and why antibiotics don't work
Move over, superbug: The next drug-resistant pathogen could be a fungus that already calls our body home.
UK Government Caught Rejecting Christian Refugees, Accepting Muslims Only
4,832 Syrians invited to settle in the UK last year, only 11 were Christian.
Billy Graham preaches anew in exclusive video from 'Unbroken' sequel
The Rev. Billy Graham is back at the pulpit in "Unbroken: Path to Redemption." Graham, who died in February at age 99, played a key role in Louis Zamperini's life that wasn't told in director Angelina Jolie's 2014 film "Unbroken." The film focused on how the one-time Olympic athlete survived at sea for 47 days after his plane was shot down in World War II and endured two harrowing years in a Japanese POW camp.
Facial Recognition Software Firms Move To Prevent Law Enforcement From Using Their Technology
Facial recognition technology is a powerful tool, and it could absolutely prevent and solve a large amount of crimes. But the potential for abuse in the hands of law enforcement is off the charts, so much so that many firms that create facial recognition products and technology are now attempting to prevent the police, CIA, FBI and others from ever using it.
Backlash against BBC 'No More Boys and Girls' social engineering
The BBC agenda of gender politics and social engineering is sparking a big backlash.They have pushed a show called 'No More Boys and Girls' with the Beeb asking: "Are you sure you don't gender-stereotype children?"