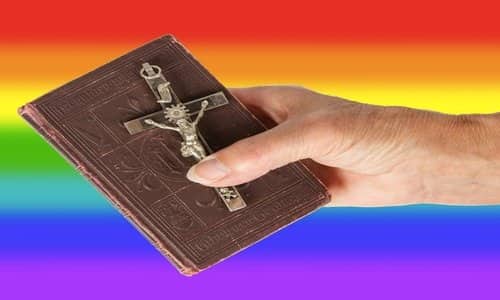 A new semester is starting and with it another litany of college courses that are more post-modern, post-colonial, post-gender and post-sanity than the last.
This year's highlights include courses that teach university students to read the Bible through the lens of homosexual, or queer, literary theory and another that promises to "queer" childhood. Childhood, of course, being a concept that the course instructors believe our hetero-normative society uses to normalize the concept of reproduction.
So here is a quick survey of a few of the college courses, and the schools hosting them, that promise to inject radical gender theories into thousands of years of religious tradition and sacred theological texts.
Not exactly Biblical in its focus, but "Queering Childhood" offered at Pomona College in Claremont, California tells prospective students in the course description that they "will examine the childhoods of queer and crip [crippled, not the street gang] children as well as childhoods against which the figure of the Child is articulated," and it goes on to promise that they "will examine the figure of the Child as this figuration is used by politics, law and medicine to justify continued cultural investment in reproductive heteronomativity and productive ablebodiedness."
In other words, how does our ideal of a healthy, sexually normal childhood oppress us and denigrate those who are different? Can you imagine, cultural investment in being able-bodied or starting a family?
If deconstructing theology, or decolonizing it, is more your area of interest, might we suggest "Queering and Decolonizing Theology" at Eugene Lang College of Liberal Arts at The New School in New York City. The course description predicts that the class "will explore the sexual ethics and ritualization found in the S&M community and transgender Christs."
Maybe you're asking yourself, what does S&M have to do with theology and what are transgender Christs? Well, the course description explains that "Christian theology is often depicted as a violent colonial force standing in particular opposition to LGBTQ lives.
However, over the last 30 years people of faith, activists, and theorists alike have rediscovered what is queer within Christianity, uncovered what is religious within secular communities and used post-colonial theory to decolonize lived (sic) religious practice and theologies."
Whereas this answers neither of the obvious questions, it does suggest that the instructor will be trying to use Christianity to support the LGBT lifestyle and reject every piece of theological scholarship older than 30 years.
For more of the same, but with even more focus on Biblical support of homosexuality, you may want to enroll in Swarthmore College's "Queering the Bible". In this course, students will read the Bible with the methods of queer and trans theoretical approaches in order to "destabilize" long held assumptions about what the Bible and religion say about gender and sexuality.
One would be safe in assuming that the Bible, when read with a "transiqueer" lens will reveal heretofore undiscovered support for the LGBT lifestyle in the eyes of God and hundreds, if not thousands, of hidden references in support of LGBT identity. Also available at Swarthmore, "Queering God; Feminist and Queer Theology".
What a contrast between the blessings of Jacob and of Moses! In Jacob's farewell charge, we find the ominous words, "Cursed be Levi"; and he foretells that this tribe should be divided and scattered in Israel. But here the curse is turned into a blessing; and the scattering is transformed into a holy ministry for the whole of Israel, "They shall teach Jacob thy judgments and Israel thy law." See to what a place of privilege they are exalted! "They shall put incense before thee, and whole burnt-offering upon thine altar."
If ever there was an illustration of the power we have to turn a curse into a blessing, it is here. Step by step the results of that awful sin, for which Jacob cursed his sons, are changed into benedictions. Where sin abounded, grace has much more abounded; indeed, it has reigned, it has broken out into radiant and royal glory. Do not sit down hopeless, because of the consequences of an early sin that threaten to follow thee to thy grave. Thou mayest yet get honey out of the lion's carcase.
The way to this was by entire devotion to the call of God. After the sin of the golden calf, Levi said of his father and of his mother, I have not seen them; neither did he acknowledge his brethren, nor know his children. The cause of God, which Aaron had so ruthlessly betrayed, was dearer to him than the tenderest ties of blood. So he came into God's secret counsels of love, and knew the Urim and Thummim answers of the One whom he loved. "The secret of the Lord is with them that fear Him." It is only to those with whom He dwells that He can communicate His blessed wilt and purposes. Oh, may such bliss be mine!
Let the Headlines Speak
Sep 1st
Daily NewsFrom the Internet


Categories: Today's Headlines
Trump: "People Are Angry. I Will Get Involved Unless FBI, DOJ Start Doing Their Job"
President Donald Trump warned on Thursday that the Justice Department and the FBI must "start doing their job and doing it right" or "I will get involved."
Trump slashes federal pay increase
President Donald Trump on Thursday announced plans to cancel a scheduled pay raise for civilian federal workers, saying the nation's budget could not sustain the increases. The president made the announcement in a letter to the Senate and House. "In light of our nation's fiscal situation, federal employee pay must be performance-based, and aligned strategically toward recruiting, retaining, and rewarding high-performing federal employees and those with critical skill sets," he said.
Greece earthquake: Greece hit by TWO 'extremely strong' quakes – tremors felt on islands
The first earthquake hit Greece at 8.12am BST, registering 5.1 magnitude. It struck near the town of Kardítsa, 144 miles from the capital of Greece. Just over an hour later another strong earthquake hit the same region. It registered 4.4 magnitude.
Chief U.S. Spy Catcher Says China Using LinkedIn to Recruit Americans
German and British authorities have previously warned their citizens that Beijing is using LinkedIn to try to recruit them as spies. But this is the first time a U.S. official has publicly discussed the challenge in the United States and indicated it is a bigger problem than previously known.
'Stupid' versus 'evil' in the Age of Trump
"To understand the workings of American politics," wrote the late, great Charles Krauthammer, "you have to understand this fundamental law: Conservatives think liberals are stupid. Liberals think conservatives are evil." All the while, Rep. Maxine Waters hysterically urges angry Trump-haters to ambush the president's staffers everywhere, Obama CIA chief John Brennan accuses Trump of treason, Rep. Steve Cohen calls for a military coup to oust the president, antifa members openly brag to video journalists that they would "murder" the president if he showed up at their rally, actor Peter Fonda tweets "We should rip Barron Trump from his mother's arms and put him in a cage with pedophiles,".
Israel, U.S. form joint task force on Iran sanctions enforcement
US Treasury Secretary Steven Mnuchin and his Israeli counterpart, Moshe Kahlon, have agreed to form a working group that will monitor and enhance sanctions enforcement against Iran, …
Israeli Police Bust Hamas Crime Ring of Mostly Women
The Israeli Police recently announced the breaking up of a Hamas crime ring in the city of Hebron – comprised mostly of women. Finding a Hamas terrorist cell is not an unusual occurrence, but the size of the cell and its composition were. Hamas and other extremist Islamist organizations do not usually recruit women to plan and carry out terrorist activities.
Remarkable Woman Connecting Arab Nations to Creation Concert
The Sanhedrin has invited the Arab nations to take their place in a concert in Jerusalem celebrating the creation of the world. As improbable as it may seem that nations perceived as the arch-enemies of Israel will attend, the emissary chosen by the Sanhedrin to bear this message is so remarkable that she may be able to succeed where the world's most prominent politicians have failed.
New images show Iranian surface-to-surface missile facility in Syria
New satellite images of an area in northwestern Syria show the establishment a new Iranian surface-to-surface missile factory which may house weapons capable of striking Israel. The images taken by ImageSat International (ISI) purport to show evidence suggesting that Iran is continuing to build various facilities related to the development and production of surface-to-surface missiles (SSM) in the area of Wadi Jahannam near Baniyas.
Report: Iran moves missiles to Iraq in warning to enemies
Iran has given ballistic missiles to Shi'ite proxies in Iraq and is developing the capacity to build more there to deter attacks on its interests in the Middle East and to give it the means to hit regional foes… Any sign that Iran is preparing a more aggressive missile policy in Iraq will exacerbate tensions between Tehran and Washington, already heightened by US President Donald Trump's decision to pull out of a 2015 nuclear deal with world powers.
Australia abuse inquiry: Catholic Church rejects call to overhaul confession
The Catholic Church in Australia has formally rejected a landmark inquiry's recommendation that priests should be forced to report sexual abuse disclosed during confession. The five-year inquiry found tens of thousands of children had suffered abuse in Australian institutions. The Catholic Church had the most cases. On Friday, Church leaders accepted most of the inquiry's recommendations.
Trump threatens to pull US out of World Trade Organization
President Donald Trump has threatened to withdraw the US from the World Trade Organization (WTO), claiming it treats his country unfairly. "If they don't shape up, I would withdraw from the WTO," Mr Trump said in an interview with Bloomberg News. The WTO was established to provide rules for global trade and resolve disputes between countries.
Consumer spending increases strongly; inflation rising
U.S. consumer spending increased solidly in July, pointing to strong economic growth early in the third quarter, while a measure of underlying inflation hit the Federal Reserve's 2 percent target for the third time this year. The Commerce Department said on Thursday consumer spending, which accounts for more than two-thirds of U.S. economic activity, rose 0.4 percent last month after advancing by the same margin in June.
Useful or creepy? Machines suggest Gmail replies
Google is toeing the line between helping you save time and creeping you out as it turns to machines to suggest email replies on your behalf. The customized auto-responses come in the latest version of Gmail on the web and expand on a feature already available on Android devices and iPhones…The responses are automatically created using Google's artificial intelligence systems. Humans aren't reading people's emails, but machines are scanning them.
UN: Ceasefire violations may spark Lebanon-Israel conflict
The UN Security Council warned Thursday that violations of the ceasefire agreement between Lebanon and Israel could lead to a new conflict and urged international support for Lebanon's armed forces and their stepped-up deployment in the south and at sea. The council's warning against "a new conflict that none of the parties or the region can afford" came in a resolution adopted unanimously extending the mandate of the UN peacekeeping force in southern Lebanon…until August 31, 2019.
Palestinian President Abbas' health seriously deteriorating, report says
Palestinian sources claimed Wednesday evening that Palestinian President Mahmoud Abbas' health has seriously deteriorated, Israel's Channel 10 News reported.
Congo's latest Ebola outbreak could become 'worst ever' in East Africa, IRC warns
A fast-growing Ebola outbreak in the Democratic Republic of the Congo could become "the worst ever seen in East Africa," a humanitarian aid group warned Wednesday, after the deadly virus spread to an area surrounded by armed militants.
General attacked for Christian faith appeals to Mattis
The actions and rhetoric of the Military Religious Freedom Foundation toward the new commander of Edwards Air Force base shows that despite its name, the atheist group isn't really concerned about religious freedom, contends a leading non-profit legal group that has come to the general's defense.
The UN Must Have No Say On U.S. Sanctions Against Iran
United Nations Special Rapporteur Idriss Jazairy sharply criticized the Trump administration's decision to reimpose sanctions against Iran after the withdrawal of the United States from the Iran nuclear deal known as the Joint Comprehensive Plan of Action ("JCPOA").
Pope Responds to Abuse Allegations: 'Christians are Communicating a Lifestyle'
The pope, real name Jorge Bergoglio, posted a tweet Thursday saying "We Christians are not selling a product. We are communicating a lifestyle," before quickly deleting it following a backlash from Twitter users.
Russia Deploys 25 WARSHIPS In Preparation For US Strike On Syria
Russia has announced the deployment of 25 of its warships including 30 warplanes and long-range bombers, as fears the US is preparing to strike Syria.
Earth Set For a BIG FREEZE, Sun 'Totally Void' Of Sun Spots For Majority Of 2018
Scientists now believe the earth is in for a big freeze due to the sun being totally void of sunspots for more than half of 2018.
South Africa Confiscates 300,000 Guns Amid White Farmer Land Grab
South Africa is opening the door to tyranny as it begins confiscating guns following a Constitutional Court ruling that 300,000 gun owners have to relinquish their weapons.
2 California Senators Declare War on the Christian Faith
As California's AB 2943 is about to become law, some senators are announcing their real sentiments loudly and clearly: Christians do not have the right to practice their faith. To Assemblyman Al Muratsuchi and to Senator Ricardo Lara, I ask you plainly: Who appointed you God?
After Bashing Tech Companies, Soros Buys Millions in Facebook, Twitter Stocks
Billionaire George Soros, who earlier this year demanded that the European Union take a more aggressive role and regulate social media giants Facebook and Google claiming that voters' minds were being controlled and "manipulated", recently spent millions purchasing large sums in social-media stock after bashing the companies.
Snapchat Apologizes for Map Labeling New York City 'Jewtropolis'
Snapchat apologized in a statement on Thursday after the app unintentionally listed New York City as "Jewtropolis" due to its use of a third-party open-source mapping database.
Flashback: Pope Quietly Trims Sanctions for Sex Abusers Seeking Mercy
An Associated Press article dated February 25, 2017,t detailed Pope Francis' quiet efforts to reduce the penalties and sanctions imposed by his predicessors on sexual abuser priests, including pedophile priests, as part of "his vision of a merciful church."
Abortion Doctor Jailed For Letting Woman Bleed To Death Gets License Back
Georgia's medical board reinstated the license of a doctor guilty of medical malpractice, Medicaid fraud and letting an abortion patient bleed uncontrollably and die of cardiac arrest.
ACLJ Comes to Defense of USAF General Under Fire from MRFF for Publicly Professing His Christian Faith
Once again, the Military Religious Freedom Foundation (MRFF) wants to keep God out of our military and is attacking anyone who professes his or her Christian faith. Now MRFF is attacking a respected Air Force General, demanding he be investigated for expressing his Christian faith.
Campus bans Sept. 11 memorial for 'bias' against Muslims
Administrators at Ripon College in Wisconsin have ruled that a Sept. 11 memorial cannot take place on campus because it may offend Muslim students.
Here's the List: The Top Ten Instances where the Deep State FBI, DOJ and CIA Spies Attempted to Set Up the Trump Campaign and Administration
The Deep State flourished under President Obama. After eight years in office the Deep State wasn't only spying on the Trump Campaign and anyone related to it, the Deep State was inserting spies into the Trump campaign in efforts to set them up for crimes.
Judge endorses ban on Christian flag
A federal judge in Massachusetts has endorsed a city of Boston program that is censoring the Christian flag because it's "religious."
ISIS prepares to make last stand on volcano in southern Syria
The Islamic State (ISIS) is on the verge of defeat in southern Syria after a string of losses to the Syrian Arab Army and their allies this week. According to a military source in Damascus, the Syrian Arab Army has tightened the siege on the Islamic State forces at the Al-Safa Mountain, leaving them virtually nowhere to retreat.
As California's AB 2943 is about to become law, some senators are announcing their real sentiments loudly and clearly: Christians do not have the right to practice their faith. To Assemblyman Al Muratsuchi and to Senator Ricardo Lara, I ask you plainly: Who appointed you God?
For those who are unaware, AB 2943 would make it illegal for anyone with unwanted same-sex attractions or gender identity confusion to get professional help. In other words, the bill would tell Christian counselors that they cannot love their neighbor as themselves. It would tell Christian pastors they cannot offer professional services to parishioners who want to get to the root of their unwanted same-sex desires.
That's why, in April, I dubbed this the "Must Stay Gay" bill.
Of course, all kinds of counseling and professional services would remain available if you want to go in the pro-LGBT direction. So, you could get counseling to help you embrace your homosexuality. Or you could get a doctor to prescribe hormone blockers for your 10-year-old daughter who thinks she's a boy trapped in a woman's body.
But counseling that would go in the opposite direction (such as helping your daughter feel whole as a girl) would be illegal. In fact, such counseling is already illegal for minors in California.
Now the outrage goes one step farther, which is why I and other have called on Christians throughout the state to prepare for civil disobedience to an unrighteous law.
On August 16, the Senate passed AB 2943 by a vote of 25-11, and the bill is scheduled to go the Assembly this coming week. Then, it will be almost definitely be signed into law by Gov. Jerry Brown, despite a steady stream of protest.
What gives these legislators the right to restrict the freedoms of millions of Californians? Who gave them the authority to limit counselor-client relationships? Who told them to determine what people of faith can believe and practice?
When the Senate approved the bill, a byline on a pro-gay website explained that, "AB 2943 Would Make Clear in California Law that Dangerous, Discredited Practice Is Consumer Fraud, Now Heads to Assembly for Concurrence Vote."
Really? Consumer Fraud? Like offering someone a bogus cure to cancer?
The problem is that: 1) there are countless thousands of ex-gays, some of whom testified before these very legislators; 2) there are peer-reviewed studies indicating that change is possible; 3) there is no definitive, scientific evidence that professional counseling to help people with unwanted same-sex attractions is dangerous; and 4) the Bible expressly commands followers of Jesus (along with traditional Jews) not to practice homosexuality.
How, then, do some of these legislators respond? It's simple. They attack the Christian faith. In the words of Democratic Assemblyman Al Muratsuchi, "The faith community, like anyone else, needs to evolve with the times. The science is clear. The claim that the First Amendment can be used as a defense for promoting fraudulent conduct is a fallacious argument."
There you have it. The faith community must "evolve with the times."
Perhaps that also means that: 1) We should no longer believe in a Creator, since Darwinian evolutionists deny His existence. Or, 2) We should no longer believe that Jesus is the only way to salvation, since the world has become so pluralistic. Or, 3) We should remove all biblical passages prohibiting homosexual practice, since the Supreme Court redefined marriage. Or, 4) We should no longer quote from the Bible, since so many millennials find it bigoted and antiquated.
The list could go on and on.
No thanks, Mr. Muratsuchi. The biblical faith was here long before you and I were on this planet, and it will be here long after you and I are gone. Times change; God's Word does not.
Not only so, but your claim that people are hiding behind the First Amendment to practice something fraudulent is both false and none of your concern.
First, as stated above, by God's grace, many people do change. Ex-gays exist. Face the facts. Even liberal gay-activists like Dr. Lisa Diamond (herself a lesbian psychologist) acknowledge that "sexual orientation" is often fluid. (How ironic that, in the name of truth and science, you deny both.)
Second, if a person finds therapeutic value in sitting with a guru who claims that a sausage is divine, that is the person's prerogative. And the guru can charge for this service too.
But when Christians (or other traditional religionists) simply want to practice their time-honored, reality-proven faith, you tell them, "Not on my watch. Your faith must evolve because I say so."
I ask again, who gave you that authority? And who gave you the right to tell these countless thousands of ex-gays (and former trans-identified individuals), "You don't exist. You are all liars." Who, sir, appointed you God?
One of the co-authors of AB 2943 is Democratic Senator Ricardo Lara. He suggested that allowing people to get help for their unwanted same-sex attractions will encourage parents to torture and kill their children because they are perceived to be gay. (Seriously.) And, since he has come to peace with his own spirituality as a gay man, others are not allowed to come to a different conclusion in their own lives.
I responded to Senator Lara on this video, (not available) which breaks down fallacy after fallacy in his two-minute speech.
The bottom line is that the cat is out of the bag. In fact, it's been out of the bag for some time now. War has been declared on our faith and our freedoms. How will we respond?
There is only one right thing to do (along with voting for righteous representatives): We must practice our faith more boldly, more fervently, more publicly. We will not be ashamed of the gospel.