Twitter Declares War on Biology
Dec 1st
CommentaryMICHAEL BROWN/ASKDRBROWN.ORG


Categories: Contemporary Issues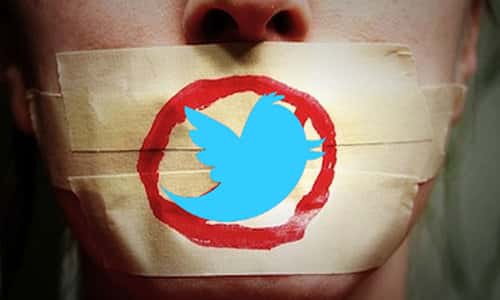 I recently did a little computer-generated test to help determine my "physiological age" as compared to my "chronological age." (Thankfully, I was 8 years younger than my chronological age, 55 rather than 63.)
One of the first questions I was asked was whether I was male or female. Why? It's because - brace yourself! - men are biologically different than women. What a revolutionary concept!
But if a computer program is going to determine your physiological age vs. your chronological age, it needs to know something about your biology since, to repeat, men are different than women.
Medical science understands this.
Genetic studies understand this.
Common sense understands this.
But it appears Twitter no longer understands this.
So, Twitter has updated its terms of service, adding further information under the category of "Repeated and/or non-consensual slurs, epithets, racist and sexist tropes, or other content that degrades someone."
Specifically, Twitter explains, "We prohibit targeting individuals with repeated slurs, tropes or other content that intends to dehumanize, degrade or reinforce negative or harmful stereotypes about a protected category. This includes targeted misgendering or deadnaming of transgender individuals."
Note carefully that last sentence, which singles out "misgendering" and "deadnaming."
And what, precisely, do these terms mean? To misgender would be to refer to Bruce Caitlyn Jenner as "he." To deadname him would be to call him Bruce rather than Caitlyn.
Twitter now forbids this usage, meaning that Twitter forbids you from being scientifically and biologically correct. To do so is to risk being banned.
This is completely outrageous, not to mention irrational.
It turns upside down the very true statement that "biology is not bigotry," determining instead that biology is bigotry.
And if you dare raise your voice in protest against this social madness, you risk being banned.
Who cares about your conscience and convictions. Who cares about scientific reality. Speech that falls outside the lines of transgender political correctness is absolutely forbidden.
I was filling out information on a website recently, and because it was ascertaining medical information, it asked whether I was male or female. (There's that knotty question again!) But no sooner did I click
"male" than a message popped up on the screen, assuring me that this company was "inclusive." They simply needed this information for medical purposes.
That, my friend, is a picture of the upside down world in which we live today.
From the LGBT perspective, Twitter has done something wonderful. As explained by the Advocate, "Twitter has banned the misgendering and deadnaming of transgender people, earning it widespread praise from trans users and their allies.
"The social media platform updated its terms of service on this matter in October, but it was not widely reported until last Friday, Pink News notes. Twitter made the move in an effort to stop anti-trans abuse, which often involves using the wrong gender or old name in describing a trans person. Misgendering and deadnaming are sometimes used to out people as transgender, something that can put them at risk of physical harm."
Certainly, I stand with the LGBT community in wanting to protect trans-identified people from physical harm. Absolutely. Count me in.
But I'm not about to sacrifice truth and science and personal integrity in order to comply with an increasingly radical social agenda. Not a chance.
A headline on the Federalist recently announced, "Twitter Permanently Bans Feminist For Writing That 'Men Aren't Women'."
The feminist in question, Meghan Murphy, had this to say about her ban: "What is insane to me, though, is that while Twitter knowingly permits graphic pornography and death threats on the platform (I have reported countless violent threats, the vast majority of which have gone unaddressed), they won't allow me to state very basic facts, such as 'men aren't women.'
This is hardly an abhorrent thing to say, nor should it be considered 'hateful' to ask questions about the notion that people can change sex, or ask for explanations about transgender ideology. These are now,
like it or not, public debates -- debates that are impacting people's lives, as legislation and policy are being imposed based on gender identity ideology..."
Unfortunately, today, perceptions trump science, and we're informed that some men menstruate and that not all women have vaginas, and children in our elementary schools are subjected to special presentations designed to undermine the idea that boys will be boys and girls will be girls. (Perish the thought! Such thinking is bigoted and antiquated.)
So, in case you haven't heard, "Leaders at a college in Michigan decided to cancel its production of "The Vagina Monologues" because it's discriminatory, given 'not all women have vaginas.'"
The decision was made at Eastern Michigan University "after the resource center conducted a survey, asking respondents about 'The Vagina Monologues.' Those opposed to the drama said they were concerned about the fact that the production excludes some women, namely those who don't have vaginas."
And who might those excluded women be? You can be assured the focus was not on intersex women with biological abnormalities. No, it was on men who identify as women.
Lest you question my logic here, a Washington Post editorial in March argued that women's protests should drop the vagina symbol because "it leaves out some women -- namely, trans women. Not all women have vaginas, and not all vagina-havers identify as women. A rhetorical strategy whose goal is universality falls short if it excludes some of the most marginalized women."
There you have it.
And all the while, as Ryan Anderson pointed out, even the New York Times is revealing painful truths about transgender lives.
Again, I do understand that there are individuals who do not conform to biological norms, and to say it once more, I deplore the intentional harming of those who identify as transgender. And I know that there are trans-identified individuals who are happy with their lives. That's between them and God.
But for Twitter to forbid users from making biologically accurate statements about others is to declare war on biology, science, and truth.
Let's stand together against this dangerous ideological onslaught.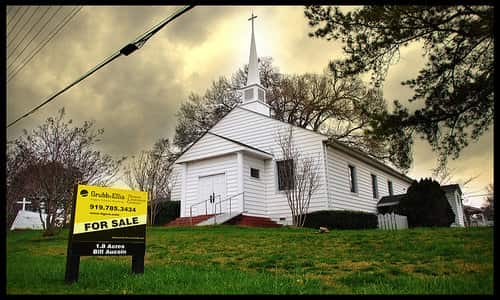 America is littered with thousands upon thousands of church buildings that aren't being used anymore. As you will see below, between 6,000 and 10,000 churches are dying in the United States every single year, and that means that more than 100 will die this week alone.
And of course thousands of others are on life support. All over the country this weekend, small handfuls of people will gather in huge buildings which once boasted very large congregations. At one time, America was widely considered to be "a Christian nation", but that really isn't true anymore.
As an excellent article in The Atlantic has noted, even though most Americans still consider themselves to be "Christian", the numbers are telling us a very different story...
Many of our nation's churches can no longer afford to maintain their structures--6,000 to 10,000 churches die each year in America--and that number will likely grow. Though more than 70 percent of our citizens still claim to be Christian, congregational participation is less central to many Americans' faith than it once was.
Most denominations are declining as a share of the overall population, and donations to congregations have been falling for decades. Meanwhile, religiously unaffiliated Americans, nicknamed the "nones," are growing as a share of the U.S. population.
In fact, the "nones" have risen from just 6 percent of the population in 1991 to 25 percent today. That makes them the single largest "religious group" in the United States.
Today, less than 20 percent of all Americans attend church on a regular basis. As a result, churches are dying in very large numbers, and this is a trend that appears to be accelerating. According to Thom S. Rainer of Lifeway, when you break the numbers down it means that "around 100-200 churches will close this week"...
Between 6,000 and 10,000 churches in the U.S. are dying each year. That means around 100-200 churches will close this week. The pace will accelerate unless our congregations make some dramatic changes.
Any institution needs resources in order to survive, and churches are not any different.
As attendance has declined, so has giving, and at this point the percentage of charity donations going to religious institutions is at an all-time low...
Religious institutions are still the single biggest recipients of overall charity donations, according to the 2015 survey by the Giving USA Foundation. About 32 percent -- $119.3 billion -- of a total of $373.25 billion Americans gave to charities went to churches, synagogues, mosques and temples.
But that is down from about 50 percent since 1990, according to Rick Dunham, vice chairman of Giving USA, and the percentage has been "in steady decline for some time."
So when churches die, what happens to their buildings?
Well, some are torn down, some are renovated for residential or business purposes, and some are being put to other uses...
A large number of abandoned churches have become wineries or breweries or bars. Others have been converted into hotels, bed-and-breakfasts, and Airbnbs. A few have been transformed into entertainment venues, such as an indoor playground for children, a laser-tag arena, or a skate park.
A similar thing is happening in Europe, only on a much greater scale. Over there, hundreds of churches have been transformed into Islamic mosques, and this has generated quite a bit of controversy.
As I discussed in my article about demographic trends, we are witnessing societal change happen at a pace that would have been absolutely unthinkable a couple of generations ago.
This is especially true for our young people. If you go back to 1986, just 10 percent of all young adults were "religiously unaffiliated", but now that number has jumped all the way to 39 percent...
Today, nearly four in ten (39%) young adults (ages 18-29) are religiously unaffiliated--three times the unaffiliated rate (13%) among seniors (ages 65 and older). While previous generations were also more likely to be religiously unaffiliated in their twenties, young adults today are nearly four times as likely as young adults a generation ago to identify as religiously unaffiliated. In 1986, for example, only 10% of young adults claimed no religious affiliation.
That makes young adults the single largest group of "nones" in the entire country. We are living at a time when there is a mass exodus from the Christian faith in America, and it is likely going to take something quite dramatic to reverse that trend.
According to the Pew Research Center, Millennials are about half as likely to attend religious services on a weekly basis as the oldest Americans are.
Church attendance is simply not as important to Americans as it once was. In the old days, churches were central hubs where you got to know your neighbors and important events were commemorated. But now churches sit idle and empty most of the time, and attendance on Sunday mornings is depressingly low in most cases.
When I was growing up, my parents made sure that we were in church on Sunday morning, Sunday evening and sometimes even on Wednesday evening. But today, most churches don't even have Sunday evening or midweek services because nobody would show up.
Our entire society, including our system of government, was birthed out of a culture of Bible-believing Christians. The following comes from an excellent piece by Dr. Mark David Hall...
In 1776, every European American, with the exception of about 2,500 Jews, identified himself or herself as a Christian. Moreover, approximately 98 percent of the colonists were Protestants, with the remaining 1.9 percent being Roman Catholics.
Not only did early Americans identify themselves as Christians, but nearly all of them regularly attended church.
Now our society is moving very rapidly in the exact opposite direction, and many believe that this has tremendous implications for the future of our nation.
Spring Up, O Well! - Numbers 21:17
Dec 1st
Morning MeditationF.B. Meyer


Categories: Commentary;Inspirational;Book Study
This was a sweet song. It must have been a stirring scene, when Israel, in its thousands, sang forth this command to the waters that were under the earth, to show themselves, with the musical accompaniment of the gushing rill.
Spring up, O well, in our hearts. - Too long has the soil been arid and bare. A great drought has smitten it, and devoured every green thing. The flowers wither, the fruit falls. But Jesus promised to open in believing hearts a well, the waters of which should spring up unto eternal life. Not a stagnant pool, but a spring. Not a failing Cherith, but a perennial Siloam. Let that promise be realized in us here, and now; and if we have permitted rubbish to accumulate, or the weeds to grow rank, may we have grace to put them away, that there may be a clear course for the living water to flow through us and refresh the lives of all with whom we come in contact.
Spring up, O well, in the Church of God.-This is a petition with which we may enter the place of worship where we meet God's people. Spring up, O well, to-day! With this petition, we may plead for distant mission stations, and for the entire Church. Jesus dug the well with the staff of His cross; but we wish that the Spirit, who is as a fountain of living water, fed from eternity and returning to its source, may spring up within it with greater volume and force.
Spring up, O well, in the world. - It is weary with sorrow and sin. Too far and long have the desert sands swept their devastations. Hasten the millennial day, when springs shall break out in the desert, and wildernesses shall blossom as the rose!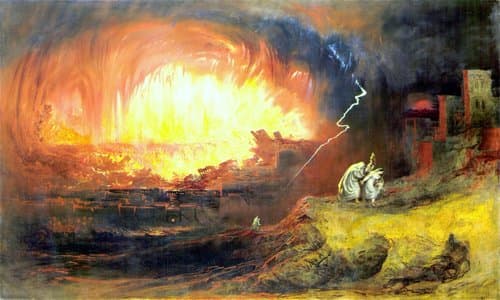 A recent scientific study confirmed what students of the Bible have known all along: a catastrophe from the heavens destroyed all life in the area of the Dead Sea many thousands of years ago.
After a decade of digging, archaeologist Phillip Silvian of Trinity Southwest University in Albuquerque reported on his research on the Dead Sea area last week at the annual meeting of the American Schools of Oriental Research.
Silvia led excavations at five large sites on the Jordanian side of the Jordan River. According to Silvia, the 15 square-mile circular Middle Ghor was a fertile plain, populated continuously for at least 2,500 hundred years. Some form of catastrophe 3,700 years ago brought this to a sudden end, wiping out all of the estimated 40,000 to 65,000 people who inhabited the area at the time.
Studies of the remains of 120 small settlements in the region showed signs of extreme, collapse-inducing heat and wind. Pottery was discovered to have been exposed to heat so intense that it melted into glass. Zircon crystals in those glassy coats formed within one second at extremely high temperatures, perhaps as hot as the surface of the sun. Pottery fragments discovered at the Tall el-Hammam site contained tiny, spherical mineral grains that apparently rained down on the area.
The event was so catastrophic that the area remained unpopulated for 600 years.
The signs were clear but the precise nature of the catastrophe eluded researchers until they turned their eyes heavenward.
They suspected a huge and powerful meteor strike but the lack of a crater stymied them. An impact of that intensity would surely leave behind signs. The researchers came up with a slightly different scenario: a meteoric airburst like one that took place 100 years ago in Russia.
Tunguska is a sparsely populated forested region in Siberia, Russia. On the morning of 30 June 1908, a huge explosion flattened 770 square miles of forest. The explosion is generally attributed to the airburst of a meteor. Scientists concluded the destruction was the result of an airburst 3-6 miles above the area of destruction. The burst equaled that of a 15-megaton nuclear explosion, or 1,000 times more powerful than the first nuclear bomb ever made that was dropped on Hiroshima 37 years later. There were no known human casualties in the Tunguska Event.
"The destruction not only of Tall el-Hammam (Sodom), but also its neighbors (Gomorrah and the other cities of the plain) was most likely caused by a meteoritic airburst event," the authors conclude.
Silvia also found evidence that shockwaves from the explosion pushed a bubbling brine of Dead Sea salts over once-fertile farmland.
The scientific explanation clearly reflects the Biblical description of the destruction of the twin cities of evil located in the same area.
Hashem rained upon Sodom and Gomorrah sulfurous fire from Hashem out of heaven. He annihilated those cities and the entire Plain, and all the inhabitants of the cities and the vegetation of the ground. Genesis 19:24-25
The similarity of their conclusions was not lost on the researchers. Co-author of the research paper, Dr. Steven Collins, wrote in an article in Biblical Archaeology Review article that the Biblical account was a result of a real event being incorporated into the collective unconscious and consequently being recorded in the Bible.
"The memory of the destruction of ha-kikkar, with its large population and extensive agricultural lands, was preserved in the Book of Genesis and ultimately incorporated into a traditional tale that, drawing on the layer of ash that covered the destruction of one of its major cities, remembered a place consumed by a fiery catastrophe from 'out of the heavens'," he writes. "The Bible gives the city's name: Sodom."
Let the Headlines Speak
Dec 1st
Daily NewsFrom the Internet


Categories: Today's Headlines
Sanhedrin Invites 70 Nations to Hanukkah Dedication of Altar for the Third Temple
as an invitation to the nations to participate in the Temple and to receive its blessings.The nascent Sanhedrin released a declaration to the 70 nations for Hanukkah to be read at a ceremony in Jerusalem on the last day of the holiday The ceremony will include the consecration of a stone altar prepared for use in the Third Temple. The declaration is intended
Israel Agrees $7 Billion East-Med Gas Pipeline with Italy, Cyprus, Greece
Israel, Cyprus, Greece and Italy have reached an agreement on the world's longest underwater gas pipeline, estimated to cost nearly $7 billion, the financial website Globes recently reported.
Report: More Than One Million US Pagans, Numbers Still Growing
Studies show that paganism in the U.S. has been growing by leaps and bounds in recent years, accompanied by increasing mainstream interest in occult-related activities like astrology, tarot, and spellcasting.
The Dying Church – 100 Churches Will Close This Week
Many of our nation's churches can no longer afford to maintain their structures–6,000 to 10,000 churches die each year in America–and that number will likely grow. Though more than 70 percent of our citizens still claim to be Christian, congregational participation is less central to many Americans' faith than it once was.
E.U. expected to back U.S. resolution condemning Hamas at U.N.
The European Union is expected to back a United States sponsored resolution condemning Hamas violence against Israel that is likely to come to a vote before the United Nations General Assembly in New York on Monday night, diplomatic sources told The Jerusalem Post. The resolution calls on the 193 UN member states to condemn "Hamas for repeatedly firing rockets into Israel and for inciting violence, thereby putting civilians at risk."
Saudi Arabia's Bin Salman Takes Preemptive Action Against Coup Threat
Mujtahid, a respected Saudi social media voice, reported on the Al-Khaleej Online newspaper earlier this week that Crown Prince Mohammad Bin Salman had reshuffled military personnel and assets inside the kingdom in response to rumors that some members of the royal family may have been planning a coup against him. The news comes as the prince continues a tour of Arab states…
IDF confirms Syrian anti-aircraft missile found in Golan Heights
Israel's military confirmed Friday that fragments of a Syrian anti-aircraft missile was found in an open area in Israel's Golan Heights several hours after Syrian regime said it had downed "hostile targets" over the southern part of the country… According to local reports Israeli missiles targeted sites belonging to Iranian-backed militias in al-Kiswah south of the capital of Damascus, some 50 kilometers from the border with Israel, on Thursday evening.
Whales stranded in New Zealand: Another 50 pilot whales die
Fifty-one pilot whales have died after becoming stranded on a beach on the Chatham Islands off New Zealand. The mass stranding means more than 200 whales have died in separate incidents over the past week in the region. New Zealand's Department of Conservation says between 80 and 90 whales were found to have become stranded in Hanson Bay on Thursday.
Ukraine bars Russian men aged 16-60 from entry
Ukraine will not allow Russian men aged 16-60 into the country following the imposition of martial law, Kiev says. An exception would be made for "humanitarian cases" such as those travelling to funerals. Russia says it is not planning retaliatory measures. Martial law has been imposed in 10 Ukrainian regions until 26 December.
Leaders gather for G20 Buenos Aires talks amid rising tensions
World leaders are gathering in Argentina for their annual G20 summit amid new tension with Russia over Ukraine and a US trade row with China. US President Donald Trump has cancelled a meeting with his Russian counterpart, Vladimir Putin, in protest at Russia's seizure of Ukrainian naval boats. Twenty-four sailors were arrested in the Black Sea incident.
California assisted suicide law clears hurdle
A California appeals court overturned a lower court order that had imperiled the state's assisted suicide law, but a longer legal fight may loom because the ruling skirted the larger issue of whether the legislation was unconstitutional. A three-judge panel of the 4th District Court of Appeals in the city of Riverside on Tuesday did not rule on the merits of the case because it found doctors opposed to the law had no right to sue to block the law.
UFO sighting in Texas? Keller resident records mysterious 'cigar-shaped' object in the sky
At first, the white object in the sky looked like a cloud. A weather balloon, perhaps ? The motionless, cigar-shaped object spotted last week near Fort Worth left the witness stumped. And a video of the sighting has since gone viral, opening the door to UFO theories online. "It was the oddest thing I've ever seen," the unidentified witness said, according to their report to Texas UFOs, a website that tracks mysterious UFO sightings throughout the state.
Google Employees Debated Burying Conservative Media In Search
Google employees debated whether to bury conservative media outlets in the company's search function as a response to President Donald Trump's election in 2016, internal Google communications obtained by The Daily Caller News Foundation reveal. The Daily Caller and Breitbart were specifically singled out as outlets to potentially bury, the communications reveal.
The war against Hamas tunnels
The IDF's Combat Engineering Corps has undergone a transformation in recent years in an attempt to locate and thwart Hamas's tunnel threat. In addition to increasing military personnel in IDF's Special Operations Engineering Unit, the army also acquired advanced technologies that can locate and dismantle Hamas's offensive tunnels.
Iranian jet carrying arms flies directly to Beirut
A Boeing 747 belonging to Iranian airline Fars Air Qeshm, reportedly used by the country's Revolutionary Guards to smuggle weapons to Tehran's allies, conducted a direct flight from the Iranian capital to Beirut for the first time on Thursday. Last month, Fox News reported that a Fars Air Qeshm flight from Tehran to Damascus…was carrying weapon systems—including GPS components—intended to convert inaccurate projectiles into precision-guided missiles.
China rejects U.S. academic report calling for retaliatory action
Chinese media on Friday hit back at a U.S. academic report which urged the United States to engage in "tit-for-tat" retaliation to counter what it said was China's widening campaign for influence which threatened to undermine democratic values. The 213-page report, published…think tank Hoover Institution…said China's ruling Communist Party had in recent years "significantly accelerated" both the investment and intensity of its global influence-seeking efforts.
KILL SHOT: Frightening Moment As Red Laser Dot Floats Over President Trump During White House Christmas Tree Ceremony Speech
Today, about three quarters of the way into his speech for the 2018 White House Christmas Tree Ceremony, a red laser dot began to hover over President Trump's mouth and neck area while he spoke.
Caravan Migrants Flee Mexico as Diseases Become Endemic in Tijuana
Members of the Central American migrant caravan are finally coming to terms with the fact they will be unable to enter the US as hundreds begin 'self-deporting' back to Central America.
WATCH: Drag Queen Admits To 'Grooming' Children At Library 'Story Hour' Events
The so-called Drag Queen Story Hour (DQSH) program, wherein grown men dressed as overly-dramatized and sexualized women read to children in public libraries, have popped up across the nation within the last five years or so. Parents, understandably, have raised serious questions and concerns over the general over-sexualized nature of the drag queens and clear transgender agenda being pushed on impressionable young minds.
Delta Airlines Says Terminal F In The Atlanta Airport Is Now The First Fully Biometric Terminal In The United States, Detroit Is Next
…in today's article, biometric airport terminals have officially arrived. Delta has done it in Atlanta and Chicago, and the other airlines are busy rolling theirs out as well. So if biometric airport terminals are the 'chocolate', what might be the perfect match 'peanut butter'? Human implantable microchips, of course. How silly of you to even ask. Tech companies like Three Square in Wisconsin are already producing the chips, and they are already inside their employees.
Seismic Sensors Recorded That Earth Just Rang Like A Bell On November 11th, But Nobody Knows Why It Happened
The event that seismologists recorded on 11/11/2018 was unusual in many ways. To begin with, two of the three main waveforms that always accompany earthquakes were noticeably absent. Second, this event also lacked the short, sharp cracks that are common in most all earthquakes. But the thing that is puzzling scientists the most is that, instead of the low rumble you get with earthquakes, this event produced an even, low-frequency musical sound like someone had just rang a bell.
More Than 70,000 Americans Died Of Drug Overdoses In 2017. That's A New Record
A record 70,000 Americans died of drug overdoses according to 2017 Centers for Disease Control and Prevention data released Thursday, prompting experts to point to the proliferation of the potent substance fentanyl.
Merkel Doubles Payouts to Failed Asylum Seekers Who 'Agree' to Leave Country
As Germany buckles under the sheer pressure of attempting to reduce the massive influx of refugees and migrants overflowing into Germany, the country resorted gifting rejected asylum seekers financial aid if they return home.
Archaeologists Believe They Have Found A Ring That Belonged To Pontius Pilate, Roman Governor Who Ordered Crucifixion Of Jesus Of Nazareth
Over 50 years ago, at the site of the ancient Herodium in Israel, a ring was found that dated back to the First Century AD. It bore an inscription that until very recently remained undeciphered. Archaeologists have now been able to decode it, and have found that it bears the words 'of Pilate'. Interestingly, Pilate was the 5th of the Roman governors, or prefects, in ancient Judea, and 5 is the number of death and judgment in the Bible. So it is fitting that Pilate would be the one to pronounce death upon the innocent Jesus of Nazareth.
'This Is About Privacy': China Tracks Citizens' Whereabouts Through Tesla's Technology
Tesla and other car companies that sell electric vehicles in China are sending information about the precise location and whereabouts of citizens to the Chinese government, The Associated Press reported Thursday.
Trump's Unwavering Tie to Israel Is Astoundingly Genuine
On Tuesday, during an interview with The Washington Post, President Trump declared, "We wish to remain in the Middle East region for our interests and for Israel."
The Female "Patsy" Who Has the Power to Start World War III
I have been extensively writing about the Deep State threat coming out of Central America. However, there is a preliminary event which I believe must happen in advance of the attack and it is World War III. Once the war starts the US will be attacked through its southern underbelly. We are very, very close to this happening. Presently, a woman who has been leveraged over the Steele Dossier, is doing the bidding of the globalists and her present mission is to start World War III.
Soros' "Open Society" Driven Out Of Turkey Amid Probe Into Terrorism Ties
Thrown out of Hungary and Poland, Soros is now being driven out of Turkey, but he continues his quest for the destruction of America and individual freedom.
Report: Thousands Of Migrants Treated For Infectious Diseases, Even HIV/AIDS
Thousands of migrants associated with the caravan have been treated in Tijuana, Mexico for infectious diseases, ranging from simple respiratory infections to tuberculosis and HIV/AIDS, according to a recent report from the border.
Brazil's New Top Diplomat: Climate Change is a Marxist Hoax
Brazil's newly appointed foreign minister, Ernesto Frago Araujo, who starts his new job in January under President Jair Bolsonaro, has stated that the climate change issue was invented by "cultural Marxists" to help push a globalist agenda that is anti-growth and anti-Christian,
Religious Leaders' Embrace of Marxism Would Stifle Abundance Produced by Capitalism
According to these leaders, the United States holds a "crucial role in the balance and injustice of international trade and development." To secure an "abundant life for all of God's children," these activists propose "a more just acquisition and redistribution of the world's resources."
Migrants in Tijuana regret caravan
Many of the estimated 6,000 migrants from Central America living in a makeshift shelter in Tijuana, Mexico, are preparing to return home, expressing regret for making the arduous journey.
Trump Is Winning the War With the Federal Reserve
…The Federal Reserve is trying to destroy the US economy in order to rid the country of nationalist, Donald Trump. Not since 1938, has the FED raised interest rates in a low inflationary environment. They have already done it 7 times this year and plan to do it 5 times next year. They never did it to Obama. The Federal Reserve needs to be disbanded.
The Israel-Europe Pipeline. The Geo-Political and Strategic Umbilical Cord.
After fairly rapid negotiations, Israel has agreed with European nations to supply Europe with its future natural gas needs. The project will turn Israel into a significant fuel-exporting nation.
Vatican: Priests Have 'More Power Than God Himself'
It is one of the leading doctrines of Romanism that the pope is the visible head of the universal church of Christ, invested with supreme authority over bishops and pastors in all parts of the world.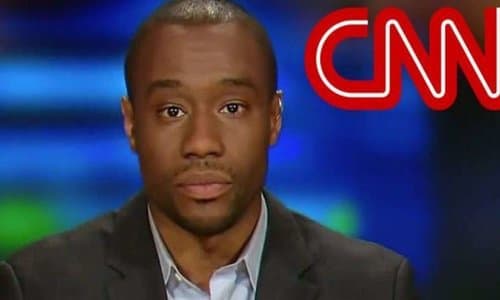 Far-left CNN commentator Marc Lamont Hill has been terminated from the network after using language that indicated he supported the elimination of Israel.
"Marc Lamont Hill is no longer under contract with CNN," Matt Dornic, a network spokesman, said Thursday.
Hill has protested on Twitter claiming he has been misunderstood however no amount of spin will change what he said.
The meaning was clear and unmistakable. Specifically, he called for "political action, grassroots action, local action, and international action, that will give us what justice requires -- and that is a free Palestine from the river to the sea."
Why do I (and a host of other commentators and news outlets) feel so sure that Prof. Hill was actually calling for the end of the Jewish State?
First, Hill has a history of blatantly anti-Israel and even anti-Semitic comments. What he said yesterday was nothing new. Hill has long supported the boycott, divestment and sanctions (BDS) movement against Israel.
Hill most recently drew condemnation from Jewish groups over his continued support of antisemitic Nation of Islam leader Louis Farrakhan.
Two years ago, Hill urged his Twitter followers to support the crowdfunding campaign of a Palestinian terrorist who carried out a bombing in Jerusalem.
Second, Hill was speaking at the UN's International Day of Solidarity with the Palestinian People. Need I say more?
Third, Hill specifically endorsed violent resistance when necessary. ("We must advocate and promote nonviolence at every opportunity, but we cannot endorse a narrow politics of respectability that shames Palestinians for resisting, for refusing to do nothing in the face of state violence and ethnic cleansing.")
Fourth, and most importantly, there was Hill's very specific, very intentional, and very direct reference to "a free Palestine from the river to the sea." The meaning of these words is unmistakable and indisputable.
A Phrase Well-Known to the Enemies of Israel
If all you had was a map of Israel, you would know what Hill meant. The State of Israel exists between the Jordan River to the East and the Mediterranean Sea to the West. The disputed territories called the West Bank butt up to the Jordan, while Gaza Strip butts up to the Sea.
What Hill called for, then, was for everything else -- meaning, every square inch of the recognized State of Israel -- to be part of a "free Palestine." Goodbye, Jewish State!
But Hill wasn't just speaking in clear geographical terms. He was speaking in rhetorical terms well-known to the enemies of Israel. His words -- which were the closing words to his speech -- were carefully chosen.
That's why Students for Justice in Palestine chant these same words at campus protests: "From the River to the Sea, Palestine Will Be Free!"
Hill wasn't just speaking in clear geographical terms. He was speaking in rhetorical terms well-known to the enemies of Israel.
As noted by the Times of Israel in 2014, "'From the river to the sea, Palestine will be free.' What does this even mean? This chant, which is screamed across hundreds of campuses in North America, and Canada, is a call for the genocide of the Jewish people.
"These chanting students are coming from groups such as Students for Justice in Palestine (SJP), and the Muslim Student Association (MSA). Both SJP and MSA trace their roots to the Muslim Brotherhood a terrorist organization that founded Hamas. They both claim 'Palestine' is under occupation by Israel, and they are not afraid to voice their opinions on campus."
Yes, Hill knew exactly what he was saying.
Just Ask Hamas Leaders
If you're still unsure, just ask Hamas leader Khaled Meshaal what the words mean.
In December, 2012, Meshaal returned to Gaza for a "victory rally" after Israel's crushing defeat of Hamas in what Israel called Operation Pillar of Defense.
As reported by the Guardian, "Hamas leader Khaled Meshaal vowed Gaza's rulers would never give up 'an inch of the land' to Israel in an uncompromising speech before tens of thousands of cheering supporters at a triumphalist 'victory' rally in Gaza City." (Hamas claimed the crowd was half-a-million strong.)
Yes, Meshaal affirmed to his enthusiastic hearers "Palestine is ours, from the river to the sea and from the south to the north. There will be no concession on an inch of the land. We will never recognise the legitimacy of the Israeli occupation and therefore there is no legitimacy for Israel, no matter how long it will take."
This is in keeping with the original Hamas charter, which states that "'our struggle against the Jews is very great and very serious' and calls for the eventual creation of an Islamic state in Palestine, in place of Israel and the Palestinian Territories, and the obliteration or dissolution of Israel."
Again, in 2014, another Hamas leader used similar words. Memri.org reported: "During a military parade, conducted in Gaza on December 14, 2014, Khalil Al-Hayya of the Hamas leadership declared: 'Palestine, all of Palestine, from the Mediterranean Sea to the Jordan River, is pure Arab Islamic land, which we will share with no one.'"
Prof. Hill was simply echoing these words, regardless of what spin may be put on them in the days ahead and regardless of what nuancing Hill will do.
CNN's terse statement simply reflects Hill's employment status but does not say anything about Israel or condemn his remarks. CNN needs to make a clear and unequivocal statement renouncing his comments.