My unsaved friend, God loves you and wants to bless you. He wants to make you His child. He wants to take you to live with Him in heaven forever. He wants to make you the object of His infinite, divine love. The Bible says,"…in His presence is fullness of joy and at His right hand are pleasures forevermore."
But God has a problem with you! Your sins have separated you from God, both now and forever. "For all have sinned, and come short of the glory of God" (Romans 3:23). "But your iniquities have separated between you and your God, and your sins have hid his face from you, that he will not hear" (Isaiah 59:2).
Unless you invite Christ to cleanse you from your sin you will spend eternity in torments in the lake of fire forever. "And whosoever was not found written in the book of life was cast into the lake of fire" (Revelation 20:14). This is a hard message, but we share it because we care about you.
The good news is that God in Christ came into this world. He lived a perfect sinless life that qualified Him to die a substitutionary, saving death for you on the cross. He shed His blood, dying in your place. "For Christ also hath once suffered for sins, the just for the unjust, that he might bring us to God, being put to death in the flesh, but quickened by the Spirit" (1Peter 3:18).
If you turn to God in repentance and faith, He will accept Christ's sacrifice for your sin and give you the righteousness of Christ and eternal life. "He that believeth on the Son hath everlasting life: and he that believeth not the Son shall not see life; but the wrath of God abideth on him" (John 3:36).
Unsaved friend, you are standing at the crossroads of forever. You will be forever in the lake of fire, or forever the object of God's blessing. Do not go to the place that burns with fire and brimstone and to be there forever and ever, having no hope of ever escaping.
Understand that the love, mercy and helping grace of God is infinite, as high as the heavens. The hatred of God for sin is also limitless, as deep as the bottomless pit. God has no choice but to judge sin. If God was to allow one sinner into heaven, heaven would be destroyed in the same way sinful Adam destroyed the present world. Sin always destroys and God must judge it and put it away from His presence forever.
Choose your forever! Fall on your knees and ask God to save you.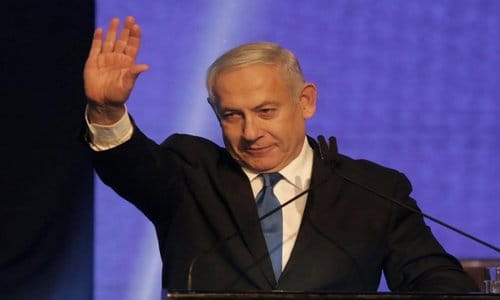 When Israeli Prime Minister Benjamin Netanyahu greeted his supporters at Likud Party campaign headquarters on Tuesday evening, his demeanor as much as his words made the outcome of the vote clear to everyone. While he neither claimed victory nor conceded defeat, his body language screamed that he knew that he had not won.
His talk of working for the creation of a "Zionist" government rather than the "right-wing" coalition that he pledged to build in April when he thought he had triumphed was telling. There will be no Likud-led coalition of the party's natural partners on the right and among the religious parties. And that means the last chapter of the Netanyahu era is about to unfold.
Despite the celebratory air in the Israeli media that is dominated by his foes, the prime minister isn't finished. If he can keep his party united behind him--no mean feat given the predatory ambitions of those who hope to succeed him--the outcome of the coming weeks of coalition negotiations is far from certain.
If the Joint List of anti-Zionist Arab parties breaks with precedent and recommends to President Reuven Rivlin that Blue and White leader Benny Gantz should be given a chance to build a coalition, it could set in motion a series of events that will mean a new prime minister.
The vote was not a straightforward victory for Gantz. The combined total of seats won by Blue and White and its smaller partners on the left is actually smaller than that of the right-wing religious bloc that are pledged to support Netanyahu. And when figuring in that Avigdor Lieberman's Yisrael Beiteinu Party is, despite Netanyahu's claims that it is "left-wing," clearly on the right in terms of its stands on security and economic issues, it's possible to assert that the right still commands the support of the majority of Israelis.
Yet it's also clear that a majority of Israelis were not worried about the prospect of the post-Netanyahu era. In this election, the old categories of "right" and "left" didn't determine the outcome.
The consensus on the conflict with the Palestinians, in addition to how to deal with the threat from Iran and Hezbollah, credited to Netanyahu that he built over time is so strong that it actually undermined his chances of continuing in office.
This time around, Israelis were more focused on the conflict between secular and religious values, as well as the notion of whether or not it was time for a change at the top. In a very real sense, Netanyahu was undone by his own success.
By any objective standard, Netanyahu's last decade in power has been one of remarkable success for Israel.
His stewardship of the economy has enabled a period of tremendous growth and prosperity. Israel's military dominance of the region is unchallenged. Just as important, Netanyahu was responsible for breaking down Israel's diplomatic isolation in ways that would have been unimaginable a generation ago.
He built an international coalition against Iran that has made allies out of formerly hostile Arab nations like Saudi Arabia, and is making steady inroads in diplomacy among once-hostile Persian Gulf and African nations.
The relationships he has forged with President Donald Trump, Russian President Vladimir Putin and Indian Prime Minister Narendra Modi have created a singular moment in which it could be asserted that it was Israel's foes that were marginalized on the international scene, rather than the perennially isolated Jewish state.
Netanyahu's ability to maintain Israel's security without blundering into wars whose unintended consequences might be disastrous would also be invaluable in navigating the country through the coming years, during which tensions with Tehran and Gaza will continue to produce dangerous challenges.
His problem was that it wasn't possible to castigate his main opponent as a creature of the left that was discredited by the bloody failure of Oslo. Military experience has never been a decisive political advantage in a country in which most voters have themselves served in the army.
But the notion that the chorus line of former chiefs of staff of the Israel Defense Forces could be dismissed as starry-eyed leftists was not a winning election strategy.
That's especially true since Gantz, and the Blue and White, spent both of the 2019 election campaigns trying to portray themselves as even tougher than Netanyahu on security issues, and just as willing to assert Israeli sovereignty over the Jordan Valley and the West Bank settlement blocs. Rather than challenging the consensus on the peace process that Netanyahu had forged, Blue and White was an expression of it.
Lieberman's refusal to join any government with the ultra-Orthodox parties, and to demand a unity government between Likud and Blue and White--a tactic that nearly doubled his total of seats in the latest vote--also demonstrated that some voters who consider themselves right-wing on security were more interested in opposing the haredim and ending Netanyahu's reign.
In the wake of this setback and with a hearing scheduled next month on the corruption charges hanging over him, Netanyahu may be hard-pressed to maintain control of the Likud, let alone the right-religious bloc. If Lieberman sticks to his demand for unity, and if Blue and White continues to refuse to join forces with a Likud led by Netanyahu, then it's hard to see how the prime minister survives.
Even if Netanyahu's unrivaled political skills enable him to outmaneuver his would-be successors within the Likud and temporarily block Gantz from building a Knesset majority, the idea that he can somehow snatch victory from the jaws of defeat and stay in office seems more like a delusion than a realistic scenario.
Netanyahu's moment on the Israeli political stage isn't quite over. But its last chapter has surely begun.
Let the Headlines Speak

Daily NewsFrom the Internet


Categories: Today's Headlines
Tropical Storm Imelda makes landfall along the Texas Coast
Tropical Depression Eleven quickly became Tropical Storm Imelda on Tuesday! It formed along the Northeast Coast of Texas, and it made landfall near Freeport, Texas. And it dropped right back down to a Tropical Depression. Tropical Depression Ten developed in the Central Atlantic on Tuesday, and we also still have Hurricane Humberto nearing Bermuda and now a major hurricane.
US-Russia nuclear war would kill 34 million people within hours and is increasingly likely, Princeton study concludes
More than 90 million people would be killed or injured in a nuclear war between the US and Russia if a conventional conflict went too far, according to a new simulation created by researchers. Such a scenario has become "dramatically" more plausible in the last two years because the two countries have dropped support for arms-control measures, according to a team from Princeton University.
EPA to Block California From Setting Emissions Standards
California has repeatedly been granted Clean Air Act waivers to set its own rules; the administration plans to find that the EPA was wrong to grant those waivers. California saw this coming, and has negotiated voluntary standards with four major automakers. The Justice Department has launched an antitrust investigation of that deal,
Somali Mob Brutally Attacks Man in Omar's District
Video footage shows a Somali mob brutally attacking a man in Democratic Minnesota Rep. Ilhan Omar's district. The video depicts a mob suddenly attack a man sitting nearby and proceed to brutally assault him. The mob punches, hits, and kicks the man, takes running jumps and lands on top of him, and rides over him with a bike before they let him escape.
Are Russia And China Headed For A Military Alliance? Some Experts Think So
Yesterday was the first day of a massive Russian-led military exercise. Nearly 130,000 troops from seven nations joined their Russian counterparts for Center 2019, a week-long series of war games on Russia's southern border. Although China is far the from the only foreign participant in Center 2019, it is by the far the biggest. Beijing sent 1,600 soldiers, 300 pieces of military equipment, and 30 fixed-wing aircraft and helicopters to participate in this year's drills. Over the past decade, Russia and China have considerably strengthened their military ties amid worsening relations with the United States.
California's Travel Bans Are the Lamest Virtue-Signaling Tactic Yet
The Golden State is grappling with skyrocketing homelessness rates, net negative migration, nation-leading poverty rates, and an outbreak of disease that hearkens back to the Dark Ages. It's the perfect storm of ugly circumstances that cry out for bold leadership. But rather than tackle these problems, state leaders are shifting the focus to other states who apparently deserve a moral lecture from California: The state has now added Iowa to its "travel ban" list. According to Fox News, California Attorney General Xavier Becerra announced that as of Oct. 4, "California will no longer offer taxpayer-funded trips to Iowa for any public employee or student at a state-run university." Why? Because the state will no longer spend Medicaid dollars on gender transition surgeries, thanks to a newly passed Iowa law.
Rivlin pushes for speedy coalition moves, aims to avoid third election
As exit polls indicate no clear winner, president says he will meet with party leaders once he 'receives clear picture of results, and as soon as possible'; vows to act 'in full coordination with the chairman of the Central Elections Committee'.
Supremes applauded for 7-2 thumping of activist judge
An immigration watchdog was pleased to witness the U.S. Supreme Court slap down a federal judge who appears to be fighting the Trump administration's immigration policies rather than ruling on them. The high court handed President Donald Trump another legal victory by allowing nationwide enforcement of a new rule that prevents most Central American immigrants from seeking asylum in the United States. By a 7-2 vote, the justices' order temporarily undoes a lower-court ruling that had blocked the new asylum policy in some states along the southern border.
Russian volcano eruption has caused rare purple sunsets all over the world
Volcanic eruptions can often be devastating to nearby regions, but a remote volcano in Russia is responsible for some beautiful sunsets, according to researchers. "It makes you realize that you don't have to put a whole lot of aerosols into the stratosphere to change its composition," Kalnajs said in a statement. "This was a relatively small volcanic eruption, but it was enough to impact most of the northern hemisphere."
Ex-Trump Campaign Manager Lewandowski Kicks Off Impeachment Probe Hearing with a Bang
"Since Election Day, whether it was bad actors at the FBI and in the intelligence community, or lies coming from the current House majority that there was evidence of collusion, the American people continue to be told a false narrative, with the purpose of undermining the legitimacy of the 2016 election results," said Lewandowski, a potential Senate candidate in New Hampshire next near. "This country as spent over three years and 40 million taxpayer dollars on this investigation and it's now clear the investigation was populated by many Trump haters who had their own agenda: To take down a duly elected president of the United States."
Texas Attorney General: Beto's Gun Confiscation Plan 'Doesn't Play Well' Here
"I don't think most Texans want to give up their guns," Paxton said. "It's certainly a comment that I think most Texans would not react well to and haven't reacted well to," Paxton said. "Maybe it plays nationally in states he's trying to win, but it certainly doesn't play well in Texas." "The reality is taking away guns from law-abiding citizens is not going to stop crazy people from using weapons to kill people,"
Tropical Depression Ten Forms in the Central Atlantic; Forecast to Become a Hurricane
Tropical Depression Ten has formed in the central Atlantic Ocean.It's predicted to become a tropical storm later Tuesday, then a hurricane late this week.This system is likely to approach the northern Leeward Islands late this week.It's too early to determine if this system will eventually affect Bermuda or the mainland U.S.The next named storm in the Atlantic will be called Jerry.
Six takeaways from the unclear Israel election results – analysis
The results of the three major TV stations' exit polls left the picture very unclear on Tuesday night, but one thing is certain: no bloc, neither the Right nor the Center-Left, has a majority of at least 61 seats…As expected, Yisrael Beytenu leader Avigdor Liberman could very well be the kingmaker.
Afghanistan war: Taliban tell Trump their 'doors are open'
The Taliban have told the BBC that their "doors are open" should US President Donald Trump want to resume peace talks in the future. Chief negotiator Sher Mohammad Abbas Stanikzai insisted negotiation remained "the only way for peace in Afghanistan" during an exclusive interview. Mr Stanikzai's words came a week after Mr Trump declared the talks "dead".
Honduras protests: Clashes erupt on Independence Day
Riot police and anti-government protesters clashed in Honduras on Sunday, as the country marked its independence from Spain, declared in 1821. President Juan Orlando Hernández presided over an official parade at the national stadium in the capital, Tegucigalpa, while ex-President Manuel Zelaya led the opposition's march in another part of the city.
Israel election: Netanyahu and rival headed for deadlock
Unofficial results in Israel's second election in five months suggest it is too close to call, Israeli media say. Incumbent PM Benjamin Netanyahu's party and that of his main challenger, Benny Gantz, are neck and neck with 32 seats each, the Kan public broadcaster says. A prime minister needs to command a 61-seat majority in parliament. The smaller Yisrael Beiteinu party appears to hold the balance of power.
BBC launches 'digital wellbeing' Own It app for children
The BBC has created a "wellbeing" smartphone app called Own It aimed at children. It monitors how young people interact with friends and family online and through messaging apps. It uses AI to evaluate a child's mood so it can offer advice or encourage them to talk to trusted adults. The app is designed to offer help and support especially if children are about to share sensitive data or send an upsetting message.
Number of abortions in US falls to lowest since 1973
The number and rate of abortions across the United States have plunged to their lowest levels since the procedure became legal nationwide in 1973…The report from the Guttmacher Institute, a research group that supports abortion rights, counted 862,000 abortions in the U.S. in 2017. That's down from 926,000 tallied in the group's previous report for 2014, and from just over 1 million counted for 2011.
The Navy Says Those UFO Videos Are Real
The U.S. Navy has confirmed that three online videos purportedly showing UFOs are genuine. The service says the videos, taken by Navy pilots, show "unexplained aerial phenomena," but also states that the clips should have never been released to the public in the first place. The three videos in question are titled "FLIR1," "Gimbal," and "GoFast." They show two separate encounters between Navy aircraft and UFOs.
Slow-moving storm to drop heavy rain on parts of Louisiana and Texas, USA
While Hurricane "Humberto" continues to move further away from the southeastern U.S. and toward the Bermuda, heavy showers and thunderstorms associated with a broad area of low pressure are moving onshore into the western Gulf coast. NWS said its forecast calls for 180+ mm (7+ inches) of rain across eastern Texas for the next few days. Meanwhile, rip currents/heavy surf are likely to continue from Florida to the Carolinas from Humberto.
2019 IOD event developing into one of the strongest on record, Extreme rainfall expected in Eastern Africa
Dr. Saji N Hameed, one of the scientists who discovered Indian Ocean Dipole (IOD) said recently 2019 is shaping up to be one of the strongest IOD years ever recorded.
Tropical Storm "Imelda" hits Freeport, Texas – significant to life-threatening flash floods expected
Tropical Storm "Imelda" formed at 17:45 UTC on September 17, 2019, as the 9th named storm of the 2019 Atlantic hurricane season. Shortly after, Imelda made landfall near Freeport, Texas. Heavy rainfall and life-threatening flash flooding is expected to spread inland over the next day or two, NHC warns.
CA Senate Passes Resolution Telling Pastors to Embrace LGBTQ Beliefs
California Senate passed a resolution telling Christian clergy to accept and support LGBTQ ideology, even if doing so violates their Christian beliefs.
NY Cops Shoot Career Criminal In Shootout. Onlookers Yell Death Wishes At Cops.
On Tuesday, New York City police engaged in a shootout with a career criminal after they responded to reports of a domestic assault. After the shootout, which left the criminal dead and an officer with a bullet in her hand, onlookers shouted profanities and death wishes at the police.
California College Normalizes Pedophilia as a "Sexual Orientation"
A college in California is teaching students that pedophilia could merely be considered to be an alternative "sexual orientation."
A Powerful Spiritual Force Has Been Unleashed
…Every human being has a decision to make. Do we collectively cower in the corner and take our beating? Or, do we put on the armor of God and stand boldly and rebuke the devil in the name of Jesus. All three of us agreed that because of our inherent freedoms, all Americans are the immediate targets of Satan. The rest of the Satanic world wants us dead.
BOMBSHELL: Global geoengineering (chemtrails) experiment pushed by Bill Gates also funded by Nazi-linked Alfred P. Sloan Foundation, linked to eugenics and depopulation
The mainstream media is now openly pushing geoengineering and chemtrails as a solution for so-called "global warming," which is of course a complete hoax to begin with. Globalist propaganda network CNBC has just released a new video (see below) which is a blatant infomercial for chemtrails, touting the benefits of polluting the skies with calcium carbonate and sulfur dioxide, two pollutants that would devastate life on Earth. Matt Agorist from The Free Thought Project published an informative write-up.
Iran Has Become the Latest Excuse for the Latest War of Occupation
Iran Has Become the Latest Excuse for the Latest War of Occupation. Here is the story…
Ban On Eating Dogs & Cats Blocked in the UK Because it Might Offend East Asians
A legal ban on eating dogs and cats in the UK has been blocked over fears it might offend people from South-East Asian countries.
Sick Liberal College Now PROTECTING Pedophilia As Simply a "Sexual Orientation"
A college in Ohio is teaching students that pedophilia could merely be considered to be an alternative "sexual orientation."