Let the Headlines Speak
Apr 1st
Daily NewsFrom the Internet


Categories: Today's Headlines
Netanyahu: Ankara's idea of an April Fool's Joke is to preach morality to the IDF
Prime Minister Benjamin Netanyahu blasted Turkey's President Recep Tayyip Erdogan on Sunday for calling Israel's actions on the Gaza border "inhumane," saying this must be the way they celebrate April Fool's Day in Turkey. "The most moral army in the world," Netanyahu said of the IDF, "will not be preached to by someone who for years has indiscriminately bombed civilian populations. Apparently this is the way they mark April Fools Day in Ankara."
Man in his 20s is stabbed to death to become 12th capital murder victim in 19 days as London killing rate overtakes New York's for first time
Police have launched another murder investigation in London after a young man was stabbed to death on Easter Sunday. The man, thought to be aged 20, suffered a fatal stab wound at around 1:10am on Sunday, after leaving a bar in Wandsworth, south west London. The unnamed man's death marks the 12th murder to occur in 19 days in London, as the city overtakes New York City's murder rates for the first time.
New mind-reading machine can translate your thoughts and display them as text INSTANTLY
Scientists have developed an astonishing mind-reading machine which can translate what you are thinking and instantly display it as text. They claim that it has an accuracy rate of 90 per cent or more and say that it works by interpreting consonants and vowels in our brains. The researchers believe that the machine could one day help patients who suffer from conditions that don't allow them to speak or move.
Pope says 'defenseless' being killed in Holy Land
Pope Francis, in his Easter address on Sunday, called for peace in the Holy Land two days after 16 Palestinians were killed on the Israeli-Gaza border, saying the conflict there "does not spare the defenseless." The pope made his appeal in his "Urbi et Orbi" (to the city and the world) message from the central balcony of St. Peter's Basilica to tens of thousands of people in the flower-bedecked square below where he earlier celebrated a Mass.
China arrests Christian worshippers and bans church groups for Easter
CHRISTIAN'S are under house arrest in China as the Communist government cracks down on churches in an Easter purge.
TRUMPED: The US announces that it is capping its funding of the United Nations – globalists panic
…"In addition to these significant cost savings, we reduced the U.N.'s bloated management and support functions, bolstered support for key U.S. priorities throughout the world and instilled more discipline and accountability throughout the U.N. system."
Christians are fleeing rampant oppression from the Muslim 'Palestinian Authority'
Dr. Ephraim Herrera, an expert on Islamic studies, explained how Muslim oppression is causing Christians to leave the city of Bethlehem, where they were once the majority.
Google Is Beta Testing the Police State Surveillance Grid In China-America's Next
The police state control of the surveillance grid. It is being rolled out by the communist Chinese and Google. It is invasive and draconian. It is already making its way into America. IF we allow this continue, our lives will never be the same. And yes, one can fully expect that the Mark of the Beast will be contained in this new AI technology in which you will not be able bbuy sell or hold a job without it. The Chinese already have it. We are next, if we allow it!
Media Using Hamas-Provided Casualty Numbers for Gaza Riots Reporting
The international news media is widely citing data released by Hamas-run health agencies in the Gaza Strip when reporting on the numbers of injuries at violent protests along the Israel-Gaza border.
The Palestinian Authority admits that it's a terrorist organization – Israel National News
The Palestinian Authority's new budget for 2018 openly states, for the first time, that the PA is directly paying salaries to imprisoned terrorists. By the U.S. government's own definition, that makes the PA a terrorist organization and it should be treated as such.
CVS accused of revealing HIV status of 6,000 people in Ohio
CVS Health is being sued for unintentionally revealing the HIV-positive status of up to 6,000 Ohioans through a mailing about prescriptions to their homes.
'Super-gonorrhoea' is not the only sexually transmitted infection becoming drug resistant
The report of the first ever case of "super-gonorrhoea" – a bug which is resistant to frontline antibiotics – comes as no surprise to experts in sexually transmitted diseases.
Vatican to hold exorcist training course after 'rise in possessions'
The Vatican is to hold a training course for priests in exorcism next month amid claims that demands for deliverance from demonic possession have greatly increased across the the world.
HORROR IN DUISBURG: Police Called After 80 Men Brawl in the Street with MACHETES (VIDEO)
You're going to just love the new Germany… Germany, a country of 82 million, welcomed 800,000 to one million third world migrants and unvetted "refugees" in 2015.
WATCH: Prince Charles Delivers Easter Message on Christian Persecution
…He says all three Abrahamic faiths have endured persecution when religion "has fallen into the barbaric grip of those who distort and misrepresent faith." Charles, who is heir to the British throne, has spoken out in the past on the need for religious tolerance.
Sixty-Nine Percent of U.S. TB Cases in 2017 Were Diagnosed in Foreign-Born Residents
Sixty-nine percent of all tuberculosis (TB) cases reported in the United States in 2017 were diagnosed in foreign-born residents, according to a report released earlier this month by the Centers for Disease Control.
Don't Believe The Media: Trump Beats Obama Again In Disastrous Poll For Dems
The Democrat-aligned media has done everything they can to destroy President Donald Trump and either force his resignation, bring about his impeachment or ruin his chances at being reelected.
The Resurrection of Jesus: An Inconvenient Fact
This Sunday, Christians around the world will celebrate Easter. Some prefer to call it Resurrection Day. Now most Christians – whether nominal or serious – just accept the holiday without much thought. But if they would examine the claims, most Christians would be shocked.
Trump freezes $200M in Syria recovery funds: report
President Trump ordered the State Department to freeze $200 million in funds to help recovery efforts in Syria, a sign of the president's growing skepticism over the United States' involvement in the war-torn country.
THE other day, it was the Lord's Day morning, two sparrows fell from the leads of my church into the vestry, which has a lofty glass skylight. As soon as they had recovered from their astonishment at finding themselves prisoners, they flew up against this skylight as though to break through it to the open heaven, and then round and round the room. They were desperately afraid of myself and the verger, whom I had called, not realizing that we were as anxious as they to get them out again into the air. The only thing we could do to help them was to keep them from alighting to rest; so with long brooms and soft missiles we constantly drove them from every cornice and picture‑frame on which they alighted, till they fell exhausted, and with panting breasts, to the ground. Then we captured them and set them free. They might have said many a time, in the course of that encounter, "We were at case, and they brake us asunder; they also set us up for their mark." But if they could review that episode now, they would doubtless see that it was love which forbade them to rest anywhere in the vestry, because it desired to give them their fullest liberty.
So with Job. God would not allow him to rest in anything short of the best, and therefore He broke up his nest. Is not this the key to his dealings with you? Oh, believe that behind the perpetual change and displacement of your life God is leading you into the glorious liberty of his children!
"Therefore to whom turn I but Thee, the ineffable Name?
Builder and Maker Thou of houses not made with hands!
What? have fear of change from Thee who art ever the same?
Doubt that Thy power can fill the heart that Thy power expands?
There shall never be one lost good."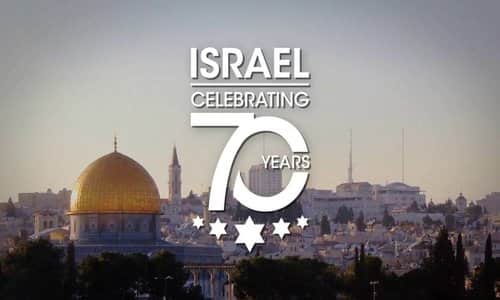 Isaiah 66:8 records the famous question 'can a nation be born in a day?' 2,700 years later the question was answered. Despite insurmountable odds, Israel - armed with help from above and the heroic courage of its men and women - was born in a day on May 14, 1948.
In this article we are going to look at three unique heroes of Israel's miraculous modern-day re-birth.
Golda Meir - An Amazing Fundraiser
Golda Meir is famous for becoming Israel's first female Prime Minister in 1969. However, many are unaware of the pivotal role she played in 1948.
Israel desperately needed modern weapons if it's rag-tag band of Jewish fighters were to stand a chance against the impending onslaught by five modern Arab armies.
However, their main funding source - the US Jewish community - was already stretched to the limit with various local projects such as schools and other Jewish institutions. They were growing tired of the incessant appeals for help from the Jews of Palestine, and it was estimated that they would only be able to raise $5 million for Israel - just a fraction of the amount needed.
Zionist leader Golda Meir immediately volunteered to go to America. Two days later she was on her way having had no time to bring any more baggage than her handbag! Armed with $10 in her pocket, the determined Golda set out in search for the missing millions.
Coinciding with her arrival in Chicago was a meeting of the leaders of Jewish federations from across the US. However, many of these distinguished Jewish leaders were indifferent or even hostile to Golda's Zionist ideas.
Warned not to address this particular group, Golda ignored the warning and delivered a rousing impromptu speech to the gathering about the dire challenges facing the fledgling state. Explaining that the survival of Palestine's 700,000 Jews as well as the whole dream of a Jewish nation was at stake, she stressed the absolute immediate need for funds to fight.
As she ended her speech, the hall fell eerily silent - and for a moment it seemed like Golda had failed miserably. Then the audience rose and delivered a resounding applause, and many began telephoning their bankers to take up immediate personal loans.
By the time the evening was over, over $1 million dollars had been raised! Over the next few weeks, Golda succeeded in raising 50 million dollars - which was three times the amount Saudi Arabia earned during that entire year from its vast oil revenues!
As Golda triumphantly returned to Israel, Ben Gurion solemnly declared that 'it was thanks to a Jewish woman that the Jewish state was born'.
Haim Slavine - An Engineering Genius
While many people are unaware of Golda's contribution in 1948, even fewer have ever heard of Haim Slavine.
In the wake of the end of World War 2, the US decided to close down parts of its armament industry and convert the valuable machinery to scrap metal.
Learning of this plan and knowing Israel's desperate need for weapons, Haim set off for New York. He found technical magazines with pictures of the machinery and used his photographic memory to memorise from these photos all the parts that were needed. He then assembled a team of scavengers to scour through junkyards all over the country looking for the required pieces.
The pieces were sent one-by-one to New York where Haim succeeded in putting them together into working order machinery capable of a daily production of 50,000 bullets as well as an assembly line production of machine guns (requiring 1500 operations!).
The next puzzle Haim had to solve was how to get the machinery past the British blockade of Palestine. He ended up taking every piece of machinery apart again even to the very last nut and bolt and labelled all the pieces with a unique code he invented. He then scrambled all the pieces together and sent them in crates labelled 'farm equipment' to kibbutzes all over Israel.
Once safely in Israel, Haim re-assembled the 75,000 pieces of machinery into working order and could boast by the end of it that he had not lost one single bolt, screw or washer in the shipment!
It is stunning to read of Haim's genius, and through this engineering feat we can easily see the hand of God at work - making a way for the Jewish nation to defend itself in the upcoming conflict.
Foreign Volunteers
Over 4'500 volunteers from abroad - both Jews and non-Jews - joined Israel's struggle in 1948.
One such hero was the 23 year old Esther Callingold from Britain. A nurse by profession, she was sent to assist the beleaguered Jews in the Old City of Jerusalem. As the Arabs cut off all supply routes and subjected the area to heavy bombardment, Esther was tasked with running messages between the scattered and isolated Jewish troops.
The battle was intense, but ultimately Esther ended up mortally wounded in a poorly equipped hospital. Before her death, she penned this letter to her parents in Britain:
"Dear Mummy and Daddy,
.... We had a difficult fight. I have tasted hell, but it has been worthwhile because I am convinced that we will see a Jewish state.... I hope one day soon you will all come and enjoy the fruits of that for which we are fighting.
.... remember me only in happiness.
Shalom, Esther"
It is hard not to be touched by Esther's story of courage and sacrifice, and we should remember that she was only one of 6,300 Israeli soldiers and civilians who paid the ultimate price during Israel's costly War of Independence.
Ultimately through the hard work, creative genius and sacrifice of so many heroes like these we have described, the nation of Israel was born 'in one day' as Isaiah predicted.
It was not an easy birth, but let us give thanks to God for those who paid so much to see the Jewish nation restored to her rightful inheritance.
In honoring their sacrifice, let us follow Esther's admonition to go and visit and enjoy the God-given Land of Israel.