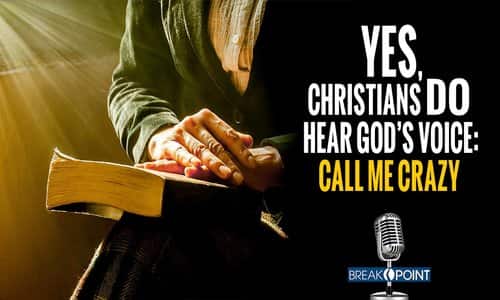 A Washington Post writer once said that evangelicals are "poor, ignorant, and easy to command." Well, at least he didn't say we were mentally ill.
Until now that is. On a recent segment of "The View," Joy Behar took aim at Mike Pence's belief that God speaks to him. Responding to a comment by another host, Behar said, "It's one thing to talk to Jesus. It's another when Jesus talks to you. That's a mental illness if I'm not correct. Hearing voices."
That's a sign of how ignorant elites truly are about beliefs and practices common to something like two billion Christians.
I actually find it surprising that Behar, who claims to be Catholic, hasn't found time in her seventy-five years to learn a little more about prayer.
Behar's comment outraged Americans from coast to coast. Twenty-five thousand people let ABC know what we thought of a network that allows an employee to sneer at the way other people practice their faith.
The next day, Behar responded to her critics with a sarcastic clarification, saying, "I don't think Mike Pence is mentally ill even though he says he is hearing voices."
Wow. That's some apology.
I'd like to propose a solution. I invite Joy Behar to spend some time looking into what Christians mean when they say they hear God's voice.
She might start with the writings of J. Warner Wallace, a Senior Fellow at the Colson Center. In a piece posted by FOX News, Wallace notes that when Christians say, "God spoke to me," they don't "necessarily mean that God spoke audibly." Christians, he explains, "believe the Bible is the 'word of God,' and by reading it, [we] gain access to the mind of God."
He points to 2nd Timothy, which notes that Holy Scripture is "God-breathed," and Hebrews 4, which says "the word of God is living and active." Reading these verses, one could see how Christians might legitimately say, "God spoke to me," Wallace explains.
Second, God can use wise and mature advisors to teach us about God's will-people who have invested long years reading and meditating over scripture. Wallace writes that a believer who says God spoke to her "may simply mean that one of God's children provided them with Biblical wisdom."
Third, God may speak to us through difficult experiences. As C.S. Lewis writes in The Problem of Pain, "God whispers to us in our pleasures . . . but shouts in our pains: it is His megaphone to rouse a deaf world."
Fourth, God may indeed speak audibly to His followers. Many people have written about hearing God's voice in a crisis. And in my own case, God spoke to me through an amazing, mind-blowing dream.
What is the source of dhimmitude-which in many ways paralyzes responses to Islam-in the West?
First a definition: "dhimmitude," which was coined by the late Christian president of Lebanon, Bashir Gemayel, and popularized by writer Bat Ye'or, is a neologism based on the Arabic word, dhimmi-that is, a non-Muslim (generally a Christian or Jew) who falls under Islamic rule and, as a price for maintaining their religion, accepts an inferior social standing. Simply put, the dhimmi must know his or her place and never rock the boat, including by seeking equal rights with Muslims.
While this is the classic and original manifestation of dhimmitude, a new and unprecedented form has arisen in the West: in the Muslim world, where might naturally makes right, Muslim majorities impose an inferior status onto non-Muslim minorities; but in the West, it is the West itself-or at least homegrown elements-that impose an inferior status on a non-Muslim majority.
The question becomes, Why? Why would a stronger civilization impose the unjust and supremacist stipulations of a weaker, hostile civilization, onto itself, and thereby paralyze itself against that same hostile civilization?
The answer is evident in the words of an ancient strategy: "The enemy of my enemy is my friend." The Western elements that are forever protecting and empowering Islam-and which operate under various names, "Liberals," "Leftists," "Marxists," etc.-ultimately care little about Islam; rather, Islam is for them a tool to combat their real and much closer enemy: Christianity, and the mores and civilization borne of it and culminating in the West.
This is evident everywhere and in a myriad of forms. Most recently, the British government "refused to say whether telling people about the Christian faith could be a hate crime." Lord Pearson of Rannoch, a UKIP peer, asked the House of Lords if they would "confirm unequivocally that a Christian who says that Jesus is the only son of the one true God cannot be arrested for hate crime or any other offence, however much it may offend a Muslim or anyone of any other religion
But as Pearson explained in a later interview, the current definition of "hate crime" is subjective and revolves around whether the "victim" feels offended-thus leaving the door wide open to charging those who proclaim Christ and the Trinity of committing a hate crime, especially vis-à-vis Muslims, who adamantly object to the claim, as Pearson himself acknowledged: "Certainly the stricter Muslims do feel offended by Christianity and our belief in Jesus being the only Son of the one true God."
From here one understands why liberals and progressives who forever whine against any vestige of traditional ("oppressive") Christianity habitually make common cause with Islam-despite the latter's truly oppressive qualities. Feminists denounce the Christian "patriarchy"-but say little against the Muslim treatment of women as chattel; homosexuals denounce Christian bakeries-but say little against the Muslim execution of homosexuals; multiculturalists denounce Christians who refuse to suppress their faith, including by banning Christmas phrases and images, to accommodate the religious sensibilities of Muslim minorities-but say little against the entrenched and open Muslim persecution of Christians.
From here one understands the ultimate reason why domineering Western elements are imposing the unjust and stifling effects of dhimmitude on and thus making the West weak and vulnerable: "The enemy [Islam] of my enemy [Christianity] is my friend." As this most recent example from the UK shows, Muslims are now even being used to make the central claim of Christianity-which the elite especially despise hearing as it convicts their godless lifestyle-a "hate crime."
MOSCOW (Reuters) - President Vladimir Putin said on Thursday that Moscow would regard a nuclear attack on its allies as a nuclear attack on Russia itself and would immediately respond.
Putin said that Russia had tested an array of new nuclear weapons, including a new nuclear-powered missile at the end of 2017 which could reach almost any point in the world and could not be intercepted by anti-missile systems.
"We would consider any use of nuclear weapons against Russia or its allies to be a nuclear attack on our country. The response would be immediate," Putin said in a speech to Russian lawmakers.
Let the Headlines Speak
Mar 1st
Daily NewsFrom the Internet


Categories: Today's Headlines
Putin: Moscow would regard nuclear attack on allies as attack on Russia
President Vladimir Putin said on Thursday that Moscow would regard a nuclear attack on its allies as a nuclear attack on Russia itself and would immediately respond. Putin said that Russia had tested an array of new nuclear weapons, including a new nuclear-powered missile at the end of 2017 which could reach almost any point in the world and could not be intercepted by anti-missile systems.
Gazans prepare for possible war with Israel with surprise drill
The Gazan Interior Ministry conducted a surprise drill on Wednesday for Hamas and other security and rescue forces in the strip, using information from the IDF's Home Front Command on seeking shelter in time of attack.
California has worst 'quality of life' in US, study says
Awards season is in full swing in California, and the Golden State just took home a booby prize of its own. California ranks dead last among U.S. states in quality of life, according to a study by U.S. News, ranking behind New Jersey (49th) and Indiana (48th). The ignominious honor reflects California's low marks in the sub-categories of environmental quality and social engagement. The latter category measures voting participation and community bonds. Californians scored poorly in part because they're simply insufferable,
Soros messes with Texas
George Soros earlier this month poured nearly $900,000 into the campaign of Joe Gonzales, a Democrat running to unseat Bexar County District Attorney Nicholas "Nico" LaHood, according to reports filed Monday and reported by My San Antonio. Texas Governor Greg Abbott tweeted "George Soros is officially messing with Texas. He's given almost $1 million to just one candidate. He'll stop at nothing to make Texas liberal. We must muster the resolve & resources to fight this take over attempt."
Volcano in southwestern Japan erupts
Mt. Shinmoe on the southwestern Japanese main island of Kyushu erupted again Thursday less than five months after its last eruption, the Japan Meteorological Agency said. The agency confirmed a small eruption at the 1,421-meter high volcano straddling Kagoshima and Miyazaki prefectures at around 11 a.m. and ash that was spewed was observed in the town of Takaharu, located east of the mountain.
Prince William to make royal history with visit to Israel in summer 2018
His Royal Highness Prince William, the Duke of Cambridge, is scheduled to pay a visit to Israel, the West Bank and Jordan in summer 2018, according to an official statement released by Kensington Palace on Thursday…The visit is happening at the request of the Her Majesty's Government, and has been welcomed by the Israeli, Jordanian and Palestinian authorities.
Australians turn in 57,000 guns in national amnesty
Australians turned in more than 57,000 firearms to authorities last year during a national gun amnesty. The three-month amnesty was the first since Australia's landmark response to a mass shooting in 1996. It aimed to reduce the number of illicit weapons by allowing people to hand them over without fear of prosecution.
Putin reveals Russia's 'invincible missile' in pre-election speech
Russia has developed a new cruise missile that is invincible, according to President Vladimir Putin. Mr Putin made the revelation as he laid out his key policies for a fourth presidential term, ahead of an election he is expected to win in 17 days' time. He showcased a range of new weapons, including a missile that could "reach anywhere in the world".
Trump at odds with Republican lawmakers over gun reforms
US President Donald Trump has stunned lawmakers from both parties by telling them in a live broadcast not to be so "petrified" of the powerful gun lobby the National Rifle Association (NRA). In a break from his party's stance on gun control, Mr Trump urged lawmakers to come up with a "strong" reform bill. He suggested expanding background checks for gun buyers and raising the legal age to buy rifles to 21 from 18.
Major data breach at Marine Forces Reserve impacts thousands
The personal information of thousands of Marines, sailors and civilians, including bank account numbers, was compromised in a major data spillage emanating from U.S. Marine Corps Forces Reserve. Roughly 21,426 people were impacted when an unencrypted email with an attachment containing personal confidential information was sent to the wrong email distribution list Monday morning.
Indonesian Christians Flogged in Rare Shariah Punishment for Non-Muslims
Two Indonesian Christians were publicly whipped for gambling, a rare case of non-Muslims being punished here under Islamic law, as the country shifts toward a more politicized brand of the religion associated with the Middle East. The man and woman are residents of Aceh province on the northern tip of Sumatra island, a province that has imposed strict Shariah law.
China angered with U.S.-Taiwan travel bill, adding to tensions
China expressed anger on Thursday after the U.S. Senate passed a bill promoting closer U.S. ties with Taiwan, but the step drew praise from the self-ruled island which pledged to deepen cooperation. The move adds to tensions between China and the United States, already at loggerheads over trade, with President Xi Jinping's close economic advisor Liu He in Washington this week to try and avert a trade war.
Parent Backlash as Cross-Dressing Men Sent Into Primary Schools to 'Promote Tolerance'
Parents have hit out at a Bristol primary school's decision to bring "drag queens" in to condition young children against "hate crime".
2500 American Troops Land in Israel for Massive Air Defense Exercise with IDF
The IDF has begun to prepare for a massive joint Israel-US air defense exercise in March, in which some 2,500 US troops will participate.
Delaware Proposal Would Let Kindergarteners 'Choose' Their Sex And Race
if the state legislature passes Regulation 225, school children as young as five will be allowed to choose their own race and sex. And parents will have no say in the matter. In fact, schools won't even have to inform the parents of their children's choices.
Are the Israeli Golan Heights GROUND ZERO for the coming war with Iran?
The coming war between Israel and Iran is nearly a foregone conclusion. The Iranian drone incident and F-16 downing now over 2 weeks old was not only the first direct clash between Israel and the Ayatollahs, it outlines the course of events now unfolding on Israel's Golan.
False Flag? UN Report: North Korea Sent Syria Chemical Weapons
A leaked United Nations report is claiming that the rogue regime of North Korea sent chemical weapons to Syria. According to the report, 40 items used in chemical warfare and ballistic missiles in the war-torn nation of Syria were sent by North Korea.
Papua New Guinea: at least 16 dead after strong earthquake hits
The impoverished Pacific nation of Papua New Guinea has been devastated by a 7.5 magnitude earthquake that has claimed at least 16 lives and brought the heartland of the country to its knees.
Saudi Arabia is building a $500 billion mega-city that's 33 times the size of New York City
Now the Saudi Arabian government has come up with a project that could give its economy a boost: a $500 billion mega-city that will connect to Jordan and Egypt and be powered completely by renewable energy.
Venezuelan Inmates Eating Rats and Pigeons to Avoid Starvation
Venezuelan prisoners are eating rats and pigeons as a means of survival as food supplies continue to dissipate in the failed socialist state, according to a report published this weekend.
'Frozen 2' director open to the possibility of Elsa having a female love interest
The director of the 2013 smash hit "Frozen" is leaving the door open for the beloved character to have a romance with a woman in the upcoming sequel.
66 probes of criminal misconduct into Broward sheriff's office since 2012
Broward County Sheriff's deputies and employees are the subjects of more than 66 investigations – ranging from drug trafficking and sexual battery to kidnapping – since 2012, according to a new report.
HYPOCRITES: United Airlines Cuts Off NRA While Funding Planned Parenthood
Heed this: whenever a company or a prominent public figure condemns the NRA, chances are they either feel ambivalent towards the murderous actions of Planned Parenthood or outright support them with their dollars.
Blacklisted Iranian Uses UN Human Rights Platform to Bash the US
As scores of protestors demonstrated outside, the U.N.'s top human rights body on Tuesday gave a platform to an Iranian regime official sanctioned by the European Union for his role in "human rights violations, arbitrary arrests, denials of prisoners' rights and an increase in executions."
U.S. Has Record 12th Straight Year Without 3% Growth in GDP
The United States has gone a record 12 straight years without 3-percent growth in real Gross Domestic Product, according to data released today by the Bureau of Economic Analysis. Even so, growth in real GDP improved in 2017 compared to 2016.
NAACP Helped Craft Sheriff Israel's No Arrest Policy
….Rather than base the school's disciplinary policies on keeping students safe, Broward County School District adopted an NAACP-advised, social-justice "PROMISE" program. Thanks to then President Barack Obama, politically motivated, race-based school policy wasn't unusual. As noted by American Thinker, "In Obama era … considerations of race routinely shaped educational policy."
South Africa Votes To Seize White Land
South Africa's parliament voted Tuesday to move forward with an amendment to the country's constitution that would allow the government to seize and redistribute white-owned land without compensation.
Delingpole: The Shocking True Story of How Global Warming Became the Biggest #FakeNews Scare of All Time (Pt 1)
Why do so many apparently informed, intelligent, educated people still believe in ManBearPig? For the same reason that the U.S. underestimated the Japanese threat before Pearl Harbor; that General MacArthur stupidly advanced north of the 38th parallel in Korea; that JFK got embroiled in the Bay of Pigs disaster; that LBJ dragged the U.S. deeper and deeper into the Vietnam War.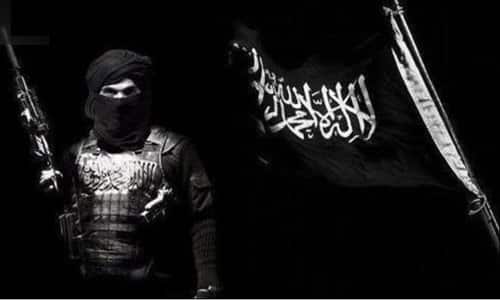 Recently, US National Security Advisor H.R. McMaster once again downplayed the significance of faith by claiming that Islamic ideology is "irreligious"; meanwhile, up to 1.5 billion Muslims continue claiming, as they have done for 1400 years, that it is.
As Stephen Coughlin, an expert on Islam, told Gatestone, "It is the believers who define their religion, not the non-believers. If someone says his religion is that the moon is made of green cheese, that has to be your starting point."
On February 20, 2017, President Trump appointed McMaster, a serving Lieutenant General of the US Army, to the important position of National Security Advisor, after the forced resignation of Michael T. Flynn. McMaster came to the post with a reputation for stability, battlefield experience, and intelligence. According to the Los Angeles Times:
"It is not an overstatement to say that Americans and the world should feel a little safer today," tweeted Andrew Exum, an author and academic who saw combat in Afghanistan and writes widely about military affairs."
After the controversies surrounding McMaster's predecessor in office, McMaster came as a safe hand.
It was not long before divisions opened up within the NSC, however, with quarrels, firings, and appeals to the president. Many controversies remain today. By July, it was reported that Trump was planning to fire McMaster and replace him with CIA Director Mike Pompeo. By August, however, McMaster's position seemed secure.
It is not the purpose of this article to discuss issues McMaster's spell at the NSC has brought to light, except for one: McMaster's position on Islam and terrorism. It became a cause for contention early in McMaster's incumbency and continues to engender divisions, not just among NSC staff, but also with the president.
The general's viewpoint, which he has often expressed, is that international terrorism has nothing to do with the religion of Islam, a notion he seems to believe to the point where he has banned the use of the term "radical Islamic terrorism" -- a term that Trump uses often.
In an all-hands meeting of the NSC on February 23, 2017, three days after his appointment as NSC Director, McMaster said jihadist terrorists are not true to their professed religion and that the use of the phrase "radical Islamic terrorism" does not help the US in working with allies to defeat terrorist groups:
"The phrase is unhelpful because terrorist organizations like ISIS represent a perversion of Islam, and are thus un-Islamic, McMaster said, according to a source who attended the meeting."
More recently, on December 3, in an interview with Fox News Sunday anchor Chris Wallace, McMaster stated that "we make sure we never buy into or reinforce the terrorist narrative, this false narrative that this is a war of religion". He followed this by elaborating on the criminality and supposed secularism of Muslim terrorists:
"Those who adhere to this ideology are really irreligious criminals who use a perverted, what the President has called a wicked interpretation of religion, in an effort to recruit young, impressionable people to their cause, to foment hatred".
In taking that stance, McMaster has broken with many members of his own staff, several of whom he was later to fire, and with the Trump administration itself. This desire to deny a connection between Islam and terrorism or to distinguish between a "pure" Islamic religion and "perversions" of it had been for many years a characteristic of the George W. Bush and Barack Obama administrations, as well as Hillary Clinton's tweets, when "this has nothing to do with Islam" was an oft-repeated refrain.
One of the people whom McMaster fired is Richard Higgins, a top NSC official who had written a memoir in which he warned of the dangers of radical Islam and its alliance with the far Left. In a lengthy document, Higgins wrote:
Globalists and Islamists recognize that for their visions to succeed, America, both as an ideal and as a national and political identity, must be destroyed...Islamists ally with cultural Marxists...[but] Islamists will co-opt the movement in its entirety...
Because the left is aligned with Islamist organizations at local, national, and international levels, recognition should be given to the fact that they seamlessly interoperate through coordinated synchronized interactive narratives...
These attack narratives are pervasive, full spectrum, and institutionalized at all levels. They operate in social media, television, the 24-hour news cycle in all media and are entrenched at the upper levels of the bureaucracies.
Clearly, Higgins did not mince his words, yet what he wrote seems entirely appropriate for the NSC, a body charged with the protection of the United States from radicalism of all kinds. According to Meira Svirsky, writing for the Clarion Project
Lamenting the lack of education given to government officials about radical Islam, Higgins previously wrote, "National Security officials are prohibited from developing a factual understanding of Islamic threat doctrines, preferring instead to depend upon 5th column Muslim Brotherhood cultural advisors."
Higgins's stress on the lack of education about Islam is a vital recognition that something has been going wrong for years when it comes to American and European official responses to the religion and its followers. Rightly cautious about genuine Islamophobia, the growth of hate speech and intercommunal strife, governments and their agencies have adopted policies and measures to preserve calm even in the face of growing levels of terrorism by Muslims.
Europeans in Paris, Barcelona, Manchester, London, Brussels, Berlin and Nice, to name just a few places, are at the forefront of attacks inspired by Islamic State, al-Qa'ida and other radical groups. But the US has suffered the heaviest casualties, with thousands slaughtered in the 9/11 attacks.\
In the face of a renascent and at times violent Islam, politicians have adopted the policy of denying any connection between terrorist events and Islam. Many religious leaders have done the same. McMaster has adopted this policy, keeping him in line with established approaches:
"HR McMaster, a respected army lieutenant general, struck notes more consistent with traditional counterterrorism analysts and espoused consensus foreign-policy views during a meeting he held with his new National Security Council staff on Thursday".
According to Svirsky:
McMaster believes the "Islamic State is not Islamic," going so far as to describe jihadists as "really irreligious organizations." As did former president Obama, he opposes use of any language that connects Islam to terrorism.
McMaster also rejects the notion that jihadists are motivated by religious ideology. Instead, he says they are motivated by "fear," a "sense of honor" and their "interests," which he describes as the roots of human conflict for thousands of years. He believes U.S. policy must be based on "understanding those human dimensions."
There may be signs that McMaster, though he still has some way to go, at least recognizes that some deeply religious Islamic organizations are a threat to the West. Writing on December 13, Meira Svirsky cites a speech McMaster gave at Policy Exchange in Washington:
"Declaring the ideology of radical Islam an obvious and 'grave threat to all civilized people,' U.S. National Security Adviser General H.R. McMaster singled out the Muslim Brotherhood and its brand of political Islam as a specific threat".
In that speech, the general spoke of Turkey and Egypt as two major sources of support for the Brotherhood, including its Palestinian branch, Hamas. He clearly sees the threat, but does not, as yet, fully understand the meaning of its religious dimension (however much other factors play a role in terrorism).
I have no wish to be disrespectful towards McMaster, who carries out a vital task in securing the lives and property of so many Americans, but I fear his statements show that he has little or no knowledge of Islam, its teachings, or its history.
Either that or he has invented a form of Islam that bears no resemblance to the religion that many of us have spent most of our lives studying. Not implausibly, he has given ears to advisors, possibly including Muslims, who have sought to play down any possible link between violence and the Muslim faith.
This willingness, even eagerness, to misrepresent Islam plays directly into the hands of anti-Western Muslims, radicals who anticipate the coming of an apocalyptic global Caliphate. In a recent article, Professor Richard Landes of Boston University lists the many ways in which this is done:
Only the most fervent of true believers could think that, even with Allah's help, the global Caliphate was possible. In order to succeed, da'wa [outreach; proselytizing] Caliphaters needed the assistance of the targeted kuffar population to:
- Disguise their ambition to subject the kuffar, by downplaying jihadi acts of war and their deployment among the targeted population.
- Insist that "except for a tiny minority," the "vast majority" of Muslims are moderate and peaceful, and Islam is a "Religion of Peace" that has nothing to do with the violence of jihadists.
- Accept those who fight for the Caliphate with da'wa as "moderates" who have "nothing to do" with "violent extremists."
- Engage these "moderate" Caliphaters as advisors and consultants in intelligence and police work, as prison chaplains, community liaisons, college teachers, and administrators.
- Present Caliphater war propaganda as reliable information, as news.
- Attack those who criticize Islam (including Muslims) as xenophobic and racist Islamophobes.
- Adopt the Caliphater's apocalyptic enemy as their own, so that the kuffar join in an attack on one of their key allies.
- Legitimate jihadi terrorism as "resistance" and denounce any recourse to violence in their own defense as "terrorism."
- Respect the dignity of Muslim beliefs even as Muslims heap disdain on their beliefs.
- Take seriously Caliphater invocations of human rights when, in reality, they despise those rights for women, slaves, and infidels.
- Welcome an angry "Muslim Street" in the heart of their capital cities.
At the heart of the problem lies the fantasy that Islam must be very similar to other religions, particularly Judaism and Christianity, out of which it was, in fact derived. This would mean that Islam consists only of doctrines about a single God, heaven and hell, sin and punishment, spiritual endeavor, together with practices such as prayer, fasting, pilgrimage, and alms-giving.
There would be nothing to concern us were that the case, and certainly no reason to connect the faith with a few supposedly fanatical people who have misguidedly distorted it and turned to violence.
But that would be to ignore the totality of Islam. Apart from 12 years at the start of Muhammad's mission, Islam has encompassed far more than worship and moral behavior. From the moment Muhammad led his followers from Mecca to Medina in the year 622, his religion became a system of government, of law, and of war.
Several battles were fought with his Meccan opponents; the Jews of Medina were either driven out by force or executed and enslaved, and Muhammad returned to Mecca as its conqueror. On his death, his first successor embarked on a two-year war to bring recalcitrant tribes back within the fold, sent out armies to the north and, in just a few years, began the wave of invasions that made Muslims victorious across most of the known world.
Of the first four "rightly-guided" caliphs, one was assassinated by an Iranian captive and the other two by other Muslims. Muhammad's grandson, Husayn, was killed with his family in Karbala in 680 by the second of the Umayyad caliphs, before further internal wars. Jihadi wars continued, year in and year out, after that; they are still invoked by modern terrorists. Islam has never been at peace with the non-Muslim world.
The use of force, mainly through jihad, is a basic doctrine in the Qur'an, the prophetic sayings (ahadith), and in all manuals of Islamic law. (For examples, see here, here, here and here.)
If jihad were permitted only in self-defence, then excuses implying aggression, as we have seen, would need to be readily available to justify attacks. As the Washington Post wrote a fortnight after the attack on the United States on 9/11/2001:
At the heart of the bin Laden opus are two declarations of holy war -- jihad -- against America. The first, issued in 1996, was directed specifically at "Americans occupying the land of the two holy places," as bin Laden refers to his native Saudi Arabia, where 5,000 U.S. troops have been stationed since the 1991 Persian Gulf War. The two holy places are Muslim shrines at Mecca and Medina.
In 1998, he broadened the edict to include the killing of "Americans and their allies, civilians and military . . . in any country in which it is possible to do it."
It is on such Islamic sources that fighters from Islamic State, al-Qa'ida, al-Shabaab, and hundreds of other groupings base their preaching and their actions. To say that such people have "nothing to do with Islam" could not be more wrong.
It is not only wrong, it is demeaning to the many ex-Muslims such as Ayaan Hirsi Ali or Ibn Warraq and reformist Muslims who are fully aware of the connection, but are often apparently considered delusional or even fanatical. Last year saw the publication of Ibn Warraq's detailed study, The Islam in Islamic Terrorism: The Importance of Beliefs, Ideas, and Ideology, which takes the reader through all the violent or violence-promoting individuals and groups in Islamic history, with discursions on the thinking behind them. With few exceptions, these individuals and groups are far from minor or obscure.
In chapter one of his book, Ibn Warraq examines what he calls the "Root Cause Fallacy", whereby politicians, security advisers, and others deflect attention from religion as a motivator for terrorism. He shows that most radicals and terrorists are not primarily inspired or justified by poverty, lack of knowledge of Islam, lack of education, the Arab-Israeli conflict, Palestine, anti-Semitism, U.S. Foreign policy, Western Imperialism, or revenge for the Crusades. He refers (p. 31) to David Wurmser of the American Enterprise Institute and his view that:
"Westerners attribute too many of the Arab world's problems 'to specific material issues' such as land and wealth. This usually means a tendency 'to belittle belief and strict adherence to principle as genuine and dismiss it as a cynical exploitation of the masses by politicians. As such, Western observers see material issues and leaders, not the spiritual state of the Arab world, as the heart of the problem'".
Overall, Ibn Warraq draws on an extensive body of scholarship, mainly from leading Western scholars of Islam and authoritative sources such as The Encyclopedia of Islam. McMaster and others, who repeat the mantra that Islamic terrorism has nothing to do with Islam, are hardly in a position to override comment by individuals who have spent a lifetime deeply involved in the study of Islam through its original sources.
Ibn Warraq, moreover, cites (pp. 139-140) several Western and Muslim scholars who have said repeatedly that the idea that the "true jihad is a spiritual struggle" is completely unauthentic. It is arguments based on a reading of texts in Arabic, Persian, Urdu and other languages that deserve to be treated as the basis for policy-making, identifying which people may be potential terrorists, or evaluating the true intentions of US-based Muslim associations such as CAIR or ISNA.
Clare Lopez, vice president of research and analysis at the Washington-based Center for Security Policy, has commented on the broad lack of knowledge about Islam and how it has distorted thinking within national bodies. Beginning with criticism of McMaster, she raises broader issues:
McMaster is just wrong for NSC on so many counts. I think at least in part because, like others across national security at his level, who made rank in years post-9/11, he was systematically denied fact-based training about Islam, jihad, Shariah and the MB [Muslim Brotherhood] – whose affiliates, associates, operatives, fellow travelers and useful fools remain embedded within and close to the federal government and local law enforcement at various levels.
Now, of course, anyone who's ever taken the oath to the Constitution has an affirmative obligation to know the enemy and that McMaster did not do this is his responsibility alone.
Those who got promoted within the military-security establishment over the past eight years got there precisely because of a "willful blindness about Islam".
The problem for the United States government, Congress, Senate -- and many important agencies which find themselves called on to discuss, monitor, report on, or make policies about Islam, American Muslims, Muslims worldwide, and more -- is knowing where to look for accurate and authentic information.
In the past, all of these have depended on Muslim academics, uncritical and cosmetic non-Muslim professors and commentators such as John Esposito, Karen Armstrong and the many teachers identified by Campus Watch; numerous university and college Islamicists with vested interests in posts funded by Qatar, Saudi Arabia, and other Muslim states (see here); self-appointed Islamic authorities such as CAIR, and amateurs within US institutions.
Criticism of Islam has become taboo and has been denounced as a right-wing or even far-right prejudice. The present writer, however, a political centrist, sees nothing wrong in bringing reasoned and fact-based criticism to bear on Islam, just as one would to every other ideology, from Marxism to Fascism.
When I was a young mother and let my kids listen to the Little Teapot song, it never occurred to me that they might question whether they could actually be short, stout kitchen utensils with handles and spouts. Granted, on several occasions they did get all steamed up and shout. But they were kids. They knew who they were. Thankfully, they suffered no identity crises. We were fortunate.
Apparently that's not the case for a new generation in the great state of Delaware. There, if the state legislature passes Regulation 225, school children as young as five will be allowed to choose their own race and sex. And parents will have no say in the matter. In fact, schools won't even have to inform the parents of their children's choices.
If passed, this regulation will allow Delaware's public-school children to decide from day to day whether they are male or female (or, no doubt, something else if the trend continues) and use the restrooms and locker rooms of their momentary choosing. According to Mark Purpura, president of Equality Delaware, all this is necessary because of "children living in fear who do not feel comfortable coming out to their parents as gay or transgender."
So, if the measure passes, 90-plus percent of students—those who have no problem comprehending the obvious—will have to forego their rights in order to accommodate the perceived rights of a tiny minority—1.7 percent who are homosexual and .03 percent who identify as transgender—who can't or won't grasp the easily discernable facts available to anyone with functioning vision and no political agenda.
The measure would even allow kids to decide their race. I suppose that if, while he was still quite young, my son had pretended to be Navin the cat juggler, my husband and I might have indulged his imagination as long as we were confident that he saw his play as fantasy. But if he'd announced to us in genuine sincerity that he really was "born a poor black child," we'd have had to have set him straight. Mind you, we'd have had no issue with him wanting to be black, but we would have been deeply concerned with his inability to differentiate between truth and fiction.
Ultimately, that is the deepest issue this bill in Delaware raises. Truth is at stake. If the sensible majority acquiesces to the delusional minority, our nation will have taken one more giant step toward becoming a post-truth culture. As President John F. Kennedy said, "The goal of education is the advancement of knowledge and the dissemination of truth." Truth is. It is for us to discover and treasure, not for us to make up for ourselves.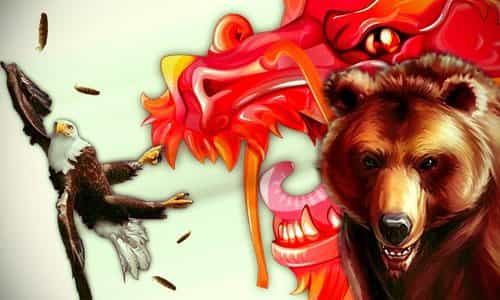 The world is now in a second cold war among three major world powers and the massive arms race is gearing up on all sides.
Both China and Russia are preparing to challenge US air superiority as well as naval dominance in the Pacific. They are making good progress in finding ways to counter US nuclear capabilities, confront the US space advantage and wage cyberwarfare on an unprecedented scale.
In some areas, the US's role as the hegemonic military power of the twentieth century is being quickly overtaken while in other respects, it has already been surpassed.
As an example, China leads the world in the size of its conventional missile arsenal that numbers in the tens of thousands and is currently developing hypersonic projectiles able to blow past any existing air defense, a technology Russia, too, now has in the Zircon missile. Here is a look at how China and Russia are presenting a real challenge to US military and diplomatic dominance.
Russia's economy has suffered setbacks in recent years, to no small degree due to sanctions imposed in response to its actions in Georgia and Ukraine. This has acted as a drag on the massive budget increases and modernization efforts of the early 2000s, but while it has reduced the pace of its spending increase, Russia has been actively engaging in several conflicts in which it continues to gain real combat experience and battlefield testing for new weapons platforms.
The wars it wages in Ukraine, Syria and elsewhere act as both a proving ground for its military and a geopolitical test of US and European dominance.
Does the US react and draw itself into another costly and ultimately no-win conflict or does it cede the stage to Russia and become a paper tiger? In either case, it is Russia that is dictating the rules of the game as it pursues its ambitions of empire through territorial expansion and despotic alliances.
China too has made a major push for creating economic and diplomatic alliances just as the United States sees its diplomatic budget slashed and soft power weakened. Where the US has no diplomat at a conference, China shows up with a delegation of dozens to talk both trade and alliances.
In recent decades, the United States and its NATO allies have been able to count on their air dominance to tip the scales in military engagements, but this may be coming to an end. The fifth generation SU-57 stealth fighter, a formidable rival to the American F-22, entered the Syrian theater, spotted at the
Khmeimim airbase on the Mediterranean. Russia is already showcasing new helicopter and missile technology in the Syrian conflict.
China presents its own unique threat, not only with the J-20 stealth fighter due to enter regular service in 2020 as a direct counter to US fifth generation steal fighters, but also from its new class of advanced air-to-air missiles that complement the supersonic stealth fighters that are "every bit on par with those in Western arsenals," to quote the International Institute for Strategic Studies.
Fueled by trade imbalances, a rising middle class and a surging economy, China has increased its military expenditures by nearly 120% between 2010 and 2017. Both Russia and China have modernization as their stated goal with the obvious target being the technological superiority held by the United States.
China's territorial ambitions are being felt in the South China Sea, but its naval buildup is on a scale difficult to fathom. In just four short years, China has added the naval tonnage equivalent to the entire British Royal Navy, and greater than the French.
The Type 55 Cruiser, a match for any NATO warship, is under production and fleets of new submarines, destroyers and even light carriers have made China a major naval power virtually overnight. The world's largest amphibious aircraft, the Chinese AG600, is the size of a 737. The first craft have already been spotted landing in the South China Sea and at least 17 more are in production.
China has also been the first nation actively to demonstrate a killer satellite, which opens the possibility of cutting off American GPS, weather and communications satellites, a crippling blow for the American military. In cyber-warfare, Russia has proved itself a formidable opponent in attacks on Estonia, Georgia and Ukraine while China has yet to use its vast offensive cyber capabilities. The next war is sure to be fought in the virtual world as well as the physical battlefield.
The strategic goal of China, and one for which its weapons systems are now designed, is to deliver an overwhelming initial first-strike on naval and air forces with conventional long-range missile technology. Secondly, to continue to tie the US down as far away from Chinese shores as possible.
Fighting deep in the pacific, the missile command of the Chinese navy and air force would employ the anti-access area denial (A2AD) strategy to keep US carrier battle groups at risk away from its homeland.
Russia has been a major international arms dealer for decades, but as the US refuses to share its armed drone technology with all but a select few nations, China has stepped in to fill the void and, in the process, set itself up as the premier source for armed UAVs. And, they are willing to sell to any country, no matter how despotic.
All three nations are now investing in modernizing and expanding their nuclear arsenals, and this is a symbol of the new configuration of military conflict: a confrontation of great powers is the new gathering storm that replaces the threat of armed terrorist movements as the primary threat to world peace.
In a statement made to reporters by the Under Secretary of Defense David Norquist, "Great power competition, not terrorist activity has emerged as the central challenge to US security and prosperity. It is increasingly clear that China and Russia want to shape a world consistent with their authoritarian model, gaining veto authority over other nations' economic, diplomatic and security decisions."
The risk, of course, is that this arms buildup, unlike the previous cold war, could lead to a third world war, that would result in untold human suffering. A single misstep in North Korea, the South China Sea or Syria could be the spark that sets off a new conflict that has no winners.
Being Full of the Holy Ghost - Acts 7:55
Mar 1st
Morning MeditationF. B. Meyer


Categories: Commentary;Inspirational;Book Study
The blessed characteristic of Stephen lay in his being perpetually full of the Holy Ghost. It is said of others, even Peter, that they were filled, as though they needed some special and overmastering inducement for special service. But Stephen is more than once described as full (Acts 7:6), as though he were always kept brimming, like a lake from the hills.
Those who are full of the Holy Spirit are always looking steadfastly upwards. - They look not at the things which are seen, but at those which are not seen. Across the valleys, they catch sight of the Delectable Mountains, rising like the Himalaya above the plains of India. Whilst others look around for help, they lift up their eyes to the hills whence cometh their help; and to them heaven stands always open.
Those who are full of the Holy Spirit see and are transfigured by the glory of God. - What wonder that those who sat in the Council beheld Stephen's face, as it had been the face of an angel. The light that shone there was not as when Jesus was transfigured - in that case, the light of the Shechinah broke out from within - but here the glory of God shone from the open door of Heaven. So the sunrise smites the highest peaks.
Those who are full of the Holy Ghost see the Lord Jesus, in His glory, as their Priest. - It is the special work of the Holy Spirit to direct the gaze to Jesus. Those who are full of the Spirit may hardly be aware of His gracious presence, but they are keenly alive to their Lord's. The Spirit takes of the things of Jesus, and reveals them to the loving and obedient; specially those that concern His priestly work on the cross and in heaven.