"Your feet shod with the preparedness of the Gospel of Peace." There is undoubtedly a reference in these words to Isaiah's vision of the messengers, who, with beautiful feet, speed across the mountains to proclaim the good tidings of the Gospel. But there is the further thought, that those who carry the Gospel of Peace must tread gently and softly.
If the Gospel of Peace is our message, the peace of God should mantle our face with a holy calm; breathe through our lips like a benediction; and diffuse itself like the dew of the Lord over the places of human rivalry and hatred. Ours should be the blessedness of the peace-makers. Our tread should be only in the paths of peace, except when the trumpet of God clearly calls us to war against the sins and wrongs around. "If it be possible, as much as in you lieth, be at peace with all men. So then, let us follow after things which make for peace, and things whereby we may edify one another. The Lord's servant must not strive; but be gentle towards all, apt to teach, forbearing, in meekness correcting them that oppose themselves." Be it ours, then, always to be on the alert to promote peace and love amongst men; not incensed or irritated by their rancorous dealings with ourselves; not catching fire at the flame of their wrath and indignation.
New Push for EU Superstate Army
Jan 9th, 2018
CommentaryPNW STAFF


Categories: Revived Roman Empire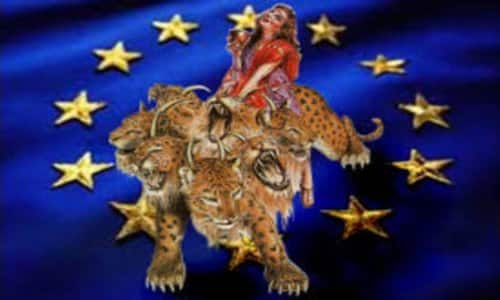 It's called PESCO. It stands for the Permanent Structured Co-Operation and is a treaty among EU nations providing a framework for mutual defense that many EU superstate proponents have been pushing for a long time.
Technically, it is not a European army, per se, but many consider it a necessary first step as it requires each country to strengthen its military assets and defense capabilities and cooperate if needed.
There are plans for enhanced joint training, streamlining of cross-border military operations, and medical operations. It establishes a defense fund for procurement of weapons and the development of "rapid reaction forces," armed with tanks and drones.
The initial funding will include a 5 billion-euro ($5.83 billion dollar) defense fund. PESCO allows for integrated armed forces, a combined pool of Defense spending, and the creation of a joint command headquarters. European Union Foreign Affairs Chief Federica Mogherini said the pact will focus not just on military cooperation, but also on cyber-security.
The idea of a central defense was proposed back in the 1950's, but Britain resisted and the movement fizzled. Now, 25 countries have signed on to come together on planning, operations, and deployment. Only Britain, Malta, and Denmark have not signed on.
Overlap With NATO
There is overlap with NATO nations, but not all NATO allies are taking part in PESCO. NATO, as an organization, supports the move, but not all NATO countries support it. Turkey, for example, is a NATO member, but not a member of the E.U.
Turkey hosts about five thousand U.S. Air Force troops, but it has its own issues with Germany and has even discussed joining a security bloc with China, Russia, and Central Asian nations (Kazakhstan, Kyrgyzstan, Tajikistan, Uzbekistan) called the Shanghai Cooperation Organization (CSO).
United States Support
Germany, which led the charge to establish joint E.U. military operations has concerns that the United States can no longer protect Europe. U.S. President Donald Trump's warning that they need to pay their own way if they want U.S. military help, coupled with the United Kingdom's Brexit from the European Union, fueled talks that have been stalled for decades.
"Over the past decade, it has become crystal clear that our American partners consider that they are shouldering too much of the burden for their wealthy European Allies," said European Commission President Jean-Claude Juncker in a June speech, advocating the creation of a joint defense operation. "We have no other choice than to defend our own interests."
In fact Gernmany's foreign minister has expressed hopes of a European superstate becoming a global player in international politics. Foreign minister Sigmar Gabriel said it was time Europe found its "own voice" instead of letting the US dictate global affairs while the continent argues amongst itself.
Whereas Britain is not part of PESCO, the door is open for future discussions. Britain and France, both nuclear-armed, came together in 2010 to establish the Combined Joint Expeditionary Force, which promised British Armed Forces and French Armed Forces to provide mutual aid and deployments with land, air, and sea forces under a combined command, control, and support logistics.
The Clock Is Running
"In the last decades, there has not been a more compelling set of security challenges, economic facts and political arguments justifying a drastic step change in European defense," Juncker said. "But more than that, the clock is running on how long we can live in a house half built. A European Security and Defense Union will help protect our Union, which is exactly what EU citizens expect.
Bible prophecy watchers have long speculated that an EU superstate could represent the final "Beast" empire talked about in the book of Daniel and Revelation.
The potential for a new more powerful/federalist Europe with a single president to lead it has ramifications not only politically and economically but prophetically as well.
Surprisingly, even The Economist magazine recognized that this was an important factor for some Protestants voting to leave the Union in their article: "Protestants, leaving Europe is a matter of eschatology".
These evangelicals believed that remaining in the EU put them at risk of eventually joining the "The Beast's" final world empire. Why did they believe this?
The Bible speaks of several different beasts. Each one is used symbolically to give insight into different aspects of the final world empire and it's leader, and when studied together give us a much better picture of what to expect in the Last Days.
Revelation 13 speaks of a beast in its first 7 verses. Another beast, ridden by a woman, is described in Revelation 17. Daniel 7 speaks of four separate beasts, with a reference to a "little horn" that appears during the time of the fourth beast. Revelation 13 also describes a second "two-horned beast," beginning in verse 11. These beastly images are also to be understood in the context of the giant image of a man composed of four separate metals in Daniel 2.
Relative to most of these descriptions, in describing this final world empire is the number 10; 10 toes, 10 heads and 10 horns. Each give us different understanding but all point to an alliance of 10 nations or leaders that will one day be controlled by the "little horn", the Antichrist.
It remains to be seen how the number 10 will figure into this new European push but some have suggested as the EU enlarges it needs a smaller council to help it be administered. A European council of 10 that represtents the bloc of nations to the EU president is an interesting possibility.
Will a new, powerful and charismatic leader emerge on the scene to lead Europe? European Commission Juncker is already pushing for the spread of the Euro to non-European nations. This would certainly spread the economic power of the joint bloc as well.
We do not know how these proposals will ultimately play out but we do know eventually this prophecy will come to pass. Recent events represent serious change for this region and the world. It is an area that the Bible has a lot to say about in the Last Days and we encourage you to become familiar with the different passages in Daniel and Revelation that reveal what the final world empire will look like.
Several prophecy experts recently came together to produce a new 10 hour DVD series called "Decoding The Future", that walks you through the Book of Revelation, chapter by chapter. This resource will equip you with a better understanding of how these "beast" passages fit into the larger context of Revelation and the Bible itself.
Let the Headlines Speak
Jan 9th, 2018
Daily NewsFrom the Internet


Categories: Today's Headlines
US Virgin Islands Gov. Renews Gun Order
U.S. Virgin Islands Gov. Kenneth Mapp renewed a highly controversial executive order in January that allows the National Guard to seize arms from everyday civilians.
Guardian Writer: Clinton Made Satan Cool
A Guardian writer said that the Church of Satan "got cool" thanks to Chelsea Clinton and others' media attention, proposing the religion as the "spiritual antidote to the Trump era."
FOOTSTEPS OF WAR: Israeli government meets to discuss the growing Iranian presence on its northern border – how will this threat be dealt with?
Recent Cabinet meetings have dealt with the threat of Iran's presence near the Syrian border.
Scandal: Oprah's World Depopulation Scheme Dashes Presidential Hopes
Oprah Winfrey met in secret with George Soros and other billionaires to discuss a plan to depopulate the world. The 2009 meeting in Manhattan, organized by Bill Gates, was so discreet that the billionaires' aides were told to treat it as a "security briefing," and attendees also included the late David Rockefeller, Warren Buffett, Ted Turner and Michael Bloomberg, in addition to Oprah and Soros.
A North Korean BOMBSHELL: Kim Jong-un's secret plot to TAKE OVER South Korea REVEALED
A POLITICAL expert on North Korea has revealed Kim Jong-un's motive in accepting talks with South Korea is ultimately to invade and take over the bordering country.
BLACKLISTED: Israel publishes the FULL list of groups and organizations that will be refused entry into the Jewish State
Full list of organizations to be prevented entry into Israel published. Interior Minister: 'These people slander the Land.' The Israeli government has compiled a list anti-israel organizations backing the Boycott, Divestment, and Sanctions movement whose activists will not be allowed to enter Israel.
Arab Muslim states lead effort to recognize Jerusalem as 'Palestinian Capital'
Arab states will push for international recognition of east Jerusalem as the Palestinian capital in response to President Donald Trump Dec. 6 decision to recognize the city as Israel's capital, Jordanian Foreign Minister Ayman Safadi said on Saturday.
Internet users in UK Parliament access porn 160 times a day
Around 160 requests a day were made in late 2017 to access pornography websites from computers within the Houses of Parliament, Britain's Press Association reported Monday.
Earth's Volcanoes Are Waking Up: DORMANT Papua New Guinea Volcano Erupts For First Time
Hundreds of people are fleeing the island of Kadovar after a violent volcano has erupted for the first time in history. There have also been warnings that tsunamis could strike the island after the alarming eruption.
PM NETANYAHU DECLARES: The UNRWA agency for 'Palestinian refugees' exists only to destroy Israel – it must be eliminated
Netanyahu added, "UNRWA is an organization that perpetuates the Palestinian refugee problem and also perpetuates the narrative of the so-called right of return in order to destroy the State of Israel." "UNRWA needs to pass from the world," Netanyahu said, "there is a UN commission for the treatment of the other refugees in the world. This absurdity must be stopped."
Spanish Catholics Outraged After Gay-Themed Float Appears In Three Kings Parade
Madrid's 2018 Three Kings Parade featured a gay themed float to encourage LGBT normalization on the eve of Epiphany, stirring outrage among the country's Catholic faithful. The controversial float in Friday's parade featured a female stripper, a female hip-hop artist, and a drag queen, according to Crux Now. The archdiocese of Madrid responded indirectly to the float, reminding Catholics that celebrations of Christmas and the Magi should center around praise of Jesus, not the promotion of personal ideologies.
The political establishment is increasingly concerned over military developments on the northern border.
The political-security cabinet has met many times in recent weeks and discussed Iran's presence in Syria and Lebanon, and especially how Israel should deal with the changes taking place on the border with Syria.
A recent ceasefire agreement between the U.S., Russia, and Jordan left Iranian-backed militias just three miles from the Israeli border.
In addition, a recent report indicated that Iran is establishing a permanent military base outside El-Kiswah, located 14 kilometers (8 miles) south of Damascus.
In recent weeks, Syrian army forces, backed by Iranian-backed militias, have pushed deeper into the last rebel-held enclave near a strategic border area with Israel and Lebanon.
Israel's public diplomacy systems have been very active, mainly on the diplomatic front, in warning of the danger of Iran's presence close to the Israeli-Syrian border.
Prime Minister Binyamin Netanyahu himself is involved in this campaign – and has recently held many conversations with leaders from across Europe – both from large countries such as Britain and Germany as well as those of smaller countries.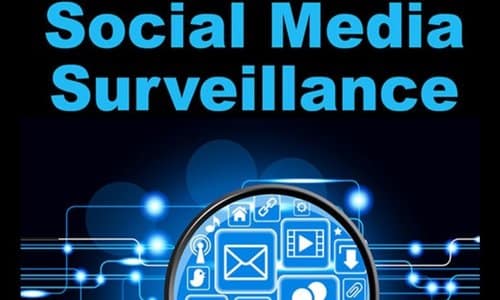 Sometime this year, Facebook plans to unveil a new facial recognition technology across the site which uses artificial intelligence to scan uploaded photos to analyze and recognize faces based on images previously uploaded to the site. But this is nothing more than a surveillance technique.
According to Natural News, this sneaky surveillance technique will link users to the people they meet in real life all while tracking their whereabouts and social circle even further. And the real kicker? Facebook will roll out this AI deep state mass surveillance under the guise of "protecting your privacy."
Facebook will roll the controversial plan out all in the name of "protecting your privacy." Facebook promises to alert users when someone uploads a photo of them to Facebook. This feature supposedly helps users "detect when others might be attempting to use your image as their profile picture."
This feature is just a façade to invade user privacy, as Facebook gets permission to analyze your photos and track your connections and whereabouts. - Natural News
But there is a way to mostly opt out. By default, users will already be giving Facebook permission to use the facial recognition AI if their tag suggestions setting is currently "on." In order to opt out, the user must switch the tag suggestions setting to "none."
But even more troubling, is the fact that we should have known that this was coming. Two and a half years ago, ARS Technica said that Facebook will eventually be able to recognize you - even when you are facing away.
Facebook researchers have unveiled new research that allows for faces to be more easily recognized based on other contextual information, such as hair style, clothing, and body shape.
The research, which was published on arXiv.org in January 2015, was presented at a conference in Boston earlier this month and first reported by New Scientist on Monday.
According to the researchers, the system, dubbed Pose Invariant PErson Recognition (PIPER), is accurate 83 percent of the time--far higher than the current state-of-the-art, which primarily requires clear, full frontal photos to work well. - ARS Technica
But even though a user didn't give permission to have their face analyzed, the picture could theoretically be analyzed anyway because it contains the face of someone who had given Facebook permission to analyze their pixels.
There's no way Facebook can ensure users that their photos won't be analyzed. In the end, there really will be no consent or privacy with this AI facial recognition rollout.
There is no such thing as privacy when using Facebook; or any social media or chat app. All the data that's shared openly by Facebook users (including pictures, connections, interests, comments, likes, and personal information) is readily compiled and analyzed by algorithms to map out and predict who you are, where you go, what you'll buy, and much more.
Do not Criticize Islam or Else.....
Jan 9th, 2018
CommentaryBRUCE BAWER/GATESTONE INSTITUTE


Categories: Contemporary Issues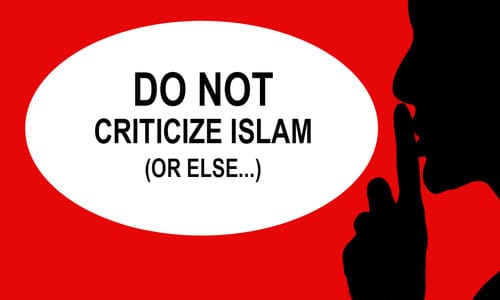 Last September, a man named Mark Feigin posted five comments on the Facebook page of an Islamic center. They were not Islam-friendly. "THE MORE MUSLIMS WE ALLOW INTO AMERICA," he wrote, "THE MORE TERROR WE WILL SEE."
He called Islam "dangerous" and said it has "no place in western civilization." A couple of his comments included vulgar or profane language. On December 20, the State of California sued Feigin, charging him with violation of a penal code that reads, in part:
"Every person who, with intent to annoy or harass, makes repeated telephone calls or makes repeated contact by means of an electronic communication device... to another person is... guilty of a misdemeanor."
According to the state Attorney General's office, Feigin was guilty of a crime because he had engaged in "repeated harassment" of people whose religion he sought to "mock and disparage."
Eugene Volokh, the UCLA law professor whose "Volokh Conspiracy" blog is a popular site of legal debate and discussion, wrote about Feigin's case on December 29, noting that by the Attorney General's logic, the state would be able to sue citizens who had written equally critical comments on, for example, an NRA or pro-Trump website. "This can't possibly be consistent with the First Amendment," Volokh said.
No, it certainly is not. But it is thoroughly consistent with Islamic law, sharia. The simple fact is that nowadays it would be exceedingly unlikely to see an individual in the Western world being prosecuted by a government for mocking and disparaging a gun-rights organization or a Christian politician.
No, these extraordinary legal actions are almost exclusively reserved for the punishment of those who have criticized Islam.
Consider the case of Danish author Lars Hedegaard, convicted of hate speech in 2011 for mentioning in a private conversation in his own home that many Muslim women and girls are raped by members of their own families. (His conviction was later reversed by the Danish Supreme Court.)
Or Dutch politician Geert Wilders, tried three times in the Netherlands -- the third time successfully -- for "hate speech" directed at Muslims. Or the late Italian author Oriana Fallaci, tried in both France and Italy for, respectively, "inciting religious hatred" and "defaming Islam."
Or Finnish politician Terhi Kiemunki, found guilty of "slandering and insulting adherents of the Islamic faith" because she had "claimed that all of the terrorists in Europe are Muslims."
Every day in the Western world, a wide range of opinions on every subject under the sun are expressed in books, newspapers, magazines, speeches, and television and radio interviews. An extremely tiny fraction of these statements of opinion results in lawsuits for libel or personal defamation. And only rarely does a government prosecutor bring an individual up on charges for criticizing a group or a religion or for engaging in "hate speech."
Invariably, the subject at hand is Islam. Politicians and commentators justify these prosecutions on the grounds that Muslims in the West are a vulnerable minority and that speaking ill of their faith could encourage prejudice or even violence against them. On the contrary, it seems clear that the real reason for these prosecutions is that people in positions of authority fear violence by Muslims if their critics go unsilenced.
What such prosecutions amount to is the introduction of a key element of sharia law into the West. It is ironic, then, that on the day after Volokh posted his observations about the Mark Feigin lawsuit in California, the Guardian published an article by Ed Pilkington reporting that in the U.S., in the course of 2017, bills had been introduced in 18 state legislatures banning sharia law.
"Legal experts point out that the bills are superfluous," wrote Pilkington, "as the US constitution is the supreme law of the land and any foreign laws are subservient to it."
According to one Elsadig Elsheikh, stated Pilkington, the real reason for the anti-sharia bills was to spread fear of American Muslims. "Even if these bills do not become law," said Elsheikh, who monitors these anti-sharia legislative efforts on behalf of something called the Hass Institute, "they help to subject Muslims to surveillance and other forms of exclusion and discrimination."
Pilkington went on to quote other "experts" -- from the execrable Southern Poverty Law Center (SPLC) and the terrorist-linked Council on American-Islamic Relations (CAIR) -- to the effect that anti-sharia laws "further marginalize and ostracize the Muslim community," normalize "Islamophobia," and so on.
Nowhere in Pilkington's article was there even a hint that sharia is, in fact, on the march in the West, marginalizing others, not least in his own country, the United Kingdom -- where, as we have seen, the police can seem to be less eager to pursue actual criminals than to torment those whom they consider guilty of hate speech.
Last June, for example, three men in Northern Ireland were arrested for displaying "anti-Islamic material," and two people in West Mercia were taken into custody for burning a Koran. The sharia-style trials of Wilders, Hedegaard and others went unmentioned by Pilkington. So did the prosecution in California of Mark Feigin. Pilkington made no reference to the German court which, last June, actually "authorized a group of self-appointed Sharia police to continue enforcing Islamic law in the city of Wuppertal."
Nor did Pilkington take note of a German hate-speech law that compels online social networks to scrub offensive postings. The law, which went into effect on January 1, does not spell out what constitutes an offensive posting, but it does not have to: by now, everyone knows what such prohibitions are all about.
It was under this law that New Year's postings by Beatrix von Storch and Alice Weidel, officials of the Alternative for Germany (AfD) party, were removed from Facebook and Twitter. Der Spiegel applauded these suppressive actions, but lamented that muzzling Storch and Weidel enabled them "to present themselves as a victim."
Der Spiegel loftily dismissed an AfD official's statement that the new law means "the end of the freedom of opinion," even though it surely is, at the very least, an alarming and significant step toward stifling free speech.
To its credit, the popular daily Bild recognized the danger of the new law, and ran a headline that read, "Please spare us the thought police!" and called for the law to "be abolished immediately."
The sinister bottom line here is that the same reporters and commentators who keep insisting that it is absurd to worry about sharia coming to the West are, in fact, ideologically arm-in-arm with those in authority who are aggressively introducing sharia-style laws in the West, aggressively prosecuting speech that violates those laws, and issuing dark warnings -- in tones unbefitting public officials in a free country -- that you had better learn to be sharia-compliant or you will be sorry.
The real lesson of all this, of course, is that we had better learn to be aggressive in our resistance to this proliferation of sharia-influenced prohibitions or we will, indeed, end up being very, very sorry.