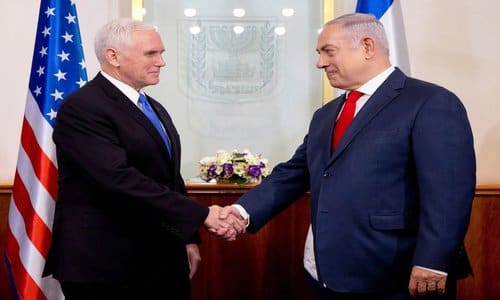 In the tradition of giving a special blessing to foreigners who come to Jerusalem and acknowledge the Jewish roots of the city, Vice President Mike Pence has certainly earned such a benediction.
His historic speech to the Knesset on Jan. 22, 2018, showed a deep and compassionate understanding of the despair and triumph of our people from their dispersion from the city in 70 A.D. by the Romans to the reunification of the city in 1967.
Few world leaders have had the courage to acknowledge Jewish history in this way and to embrace the Jewish future of Jerusalem by understanding it as inextricably bound to our past.
In 1871, Abraham Lincoln's former secretary of state, William H. Seward, attended services in Jerusalem's new Hurva Synagogue. Toward the end of the service, the rabbi and three of his students chanted the special benediction for Seward.
It would be eminently appropriate for such a blessing to take place not only in Jerusalem, but wherever a minyan of Jews gather.
Of course, as a realist, I understand in an America where President Donald Trump ironically is treated by liberal rabbis as an anti-Semite and where Jews sit as acolytes at the feet of sharia-endorsing and Zionist-hating Linda Sarsour, that is not going to happen.
Liberal rabbis probably sided with the sign-waving, ill-mannered Arab Members of the Knesset who tried to drown out Pence's right to speak and everyone else's right to hear him.
To paraphrase Michelle Obama, for the first time in eight years I was proud to see an American administration that acknowledged that Israel was not the source of the continuing conflict with the Palestinians, but the solution.
It should be remembered that when the Arabs occupied Jerusalem, Jews were denied access to their holy sites; and all but one of the synagogues in Arab Jerusalem, including the historic Hurva Synagogue, were turned to rubble.
To this day, no Jew can live in Jordan. No Arab, in the so-called West Bank, can sell land to a Jew without facing the death penalty. Who then is the creator of the "apartheid" that the Arabs and their Western progressive anti-Semitic allies love to invoke?
Pence did something else the Obama administration would never have done. He acknowledged the plight of the millions of Middle East and African Christians that have been slaughtered, mutilated, raped and forced to flee their homes by the rise of fundamentalist Islam.
Many Christian refugees will not enter U.N. refugee camps for fear of being set upon by the Muslims that dominate the camps. In Jordan, they live outside the camps in abject squalor.
Not being in the camps, means they are not considered by the U.N. as refugees and, consequently, encounter a catch-22 that prohibits them from being resettled in the Christian West, unlike the Muslims who persecute them.
It was most appropriate for Pence to stand in Jerusalem to announce concern for the displaced Christians of the Middle East because before radical Muslims began their ethnic cleansing of Christians, the Mizrahi Jews of the Middle East, numbering some 800,000, were similarly uprooted from their homes by Muslim governments.
Only in Israel do Middle East Christians freely practice their faith without government interference and with government protection.
Pence brings a new and sobering reality to the Arab-Israeli conflict. He has told Jordan's King Abdullah that America is Israel's ally and Jerusalem is the eternal capital of Israel. He deserves the blessings of the Jewish people.
The eight-year nightmare of the Obama administration is finally at an end. The opportunities for a real peace based on historic and political realities have never been greater.
In his address to the Knesset, Pence recited the "Shehecheyanu" prayer, thanking God for granting us life, sustaining us and enabling us to reach this occasion--only he said it in Hebrew.
Let us Go Down - Genesis 11:7
Jan 25th, 2018
Morning MeditationF. B. Meyer


Categories: Commentary;Inspirational;Book Study
God comes down into human life. Though the world is corrupt and full of violence; though His arch-enemy has taught man to dread and hate Him; though attempts are on foot to resist Him in open rebellion, by making a unity apart from Him, and in exclusion of His cornerstone, yet He comes down.

He comes down to see. - He will not pronounce judgment till He has satisfied Himself by personal inspection how things stand. He comes down to our bedrooms, and overhears the words we speak, the deeds we do there; to our home-life, and is a silent listener and observer of all its incidents; to our shops, warehouses, and bank-parlors, auditing our accounts, casting up the columns, examining our samples, our weights and measures, our advertisements and circulars. From Him no secrets are hid.
He comes down to punish. - " Let me alone, that I may destroy." Never forget the punitive side of God's character. How easily He asserts His power! He can disorganize the memory, breathe on the brain, touch one small nerve or muscle, and the best-concerted schemes fail. Why shouldst thou fear every day the fury of the oppressor, when God is at thy side!

He comes down to save. - If there be one Lot, He will bring him forth. What was the Incarnation, the descent to Calvary and the grave, but the coming down of the "us" of the blessed Trinity. He that ascended is the same that also first descended. He has come that He may heal our wounds, take us in His arms, and bear us with Him far beyond all principality and power. He is the way, by which we may pass from the confusion of Babel to the love of Pentecost, and the one speech of heaven.

Let the Headlines Speak
Jan 25th, 2018
Daily NewsFrom the Internet


Categories: Today's Headlines
Artificial intelligence in the End-of-Days: Killer Bots for Gog or Dry Bones to Praise God?
It seems that any future war, including the pre-Messianic War of Gog and Magog, will include killer robots, and many spiritual leaders are already considering how AI figures into a religious vision of the end-of-days. Rabbi Michael Laitman, a leading expert in Kabbalah and the founder of Bnei Baruch Kabbalah association, believes that technology and more specifically artificial intelligence, will play a major role in the end-of-days but not necessarily a positive one. Rabbi Laitman believes that the same motives of Man which led to the construction of the Tower of Babel are also in play with the development of artificial intelligence.
California Wants to Steal Trump's Tax Break Back From Top Businesses
This is unreal. Not only has California vowed to prosecute any employer who cooperates with the Trump administration on the issue of arresting and deporting illegal aliens, at least two Democrats in the state legislature want to prevent California's largest businesses from accruing any benefit from Trump's recent tax reform plan. If you didn't know better, you'd think this state was run by a bunch of half-cocked Communists hellbent on destroying the free market.
White House to Release New DACA Proposal on Monday
Press Secretary Sarah Sanders announced the administration will officially release an immigration framework on Monday. The framework will include a DACA fix and embraces border security principles already laid out by President Trump.
Kerry Urged Abbas to 'Hang On and Not Give In to Trump'
"Tell him," Kerry said, "that he should stay strong in spirit and play for time, that he should not break down and not capitulate to President Trump's demands." Kerry assured Agha that Trump will not remain in office for long, and that there's a good chance that within a year he will not be in the White House any longer. Agha reportedly suggested the former Secretary of State was "fanatical" about fulfilling his dream of peace between Israel and the PA.
Which Nation Will Be The Last To Oppress The Jews, and Which Will Make it to The End Of Days?
At the end of days, there will be two powers remaining… Western civilization and the Arab world," Rabbi Glatstein asserted. He explained that in today's terms, Yishmael is a reference to the Arab world and Edom is a reference to the United States. Rabbi Glatstein asked, "which nation will prevail? Who will be the last nation standing?" In his view, "we don't have a definitive answer."
DOJ Threatens Legal Action Against 23 Potential Sanctuary Jurisdictions
The Department of Justice (DOJ) announced Wednesday that it will subpoena up to 23 jurisdictions if they don't offer proof they are complying with a key federal immigration law. "We've given them federal dollars — your taxpayer dollars — to cooperate with federal law enforcement," DOJ spokeswoman Sarah Isgur Flores told Fox News Wednesday. "They didn't have to take that money, but they did. And when they took it, they said they would comply with federal law. So what we're saying is if we find out you're not complying with federal law, we're taking the tax dollars back."
Macron: I Won't Recognize Palestinian State in Response to Trump's Jerusalem Move
"I will not take any decision in reaction to any decision," Macron told reporters in response to a Times of Israel question on the potential recognition of a Palestinian state. The comments came during a photo op with Prime Minister Benjamin Netanyahu, ahead of their closed-door meeting at the World Economic Forum in Davos, Switzerland. The meeting lasted nearly an hour.
Comey, Rosenstein, McCabe All Named In FISA Memo, First Leak Reveals
A bombshell four-page "FISA memo" alleging egregious surveillance abuse by the FBI, DOJ and Obama administration, specifically names FBI Deputy Director Andrew McCabe, former FBI Director James Comey and Deputy Attorney General Rod Rosenstein…. "The sickening reality has set in. I no longer hold out hope there is an innocent explanation for the information the public has seen. I have long said it is worse than Watergate. It was #neverTrump & #alwaysHillary. #releasethememo."
Teacher sued for teaching Islam is 'the true faith'
A lawsuit has been filed against social-studies teacher Christine Jakowski and others in the Chatham School District in New Jersey for teaching public school students that Islam is "the true faith." Jakowski's lesson included an explanation on how to become a Muslim and ended with a plea: "May god help us all find the true faith, Islam. Ameen."
John Kerry Tells Palestinian Official in London – "Trump Will Not Remain in Office Long"
John Kerry met with a top Palestinian official in London recently. Kerry told the Fatal leader to stay strong because Trump will not be in office long. Kerry also hinted that he may run for office again.
Proposed law would turn Florida into a vaccine police state: "Women's Cancer Prevention Act" would mandate mass injections with toxic HPV vaccines
Following in the eugenics footsteps of California's SB 277, Florida lawmakers are now pushing a totalitarian medical police state law that would deny an education to children who aren't injected with the extremely toxic and risky HPV vaccine.
Oscars make history, quietly, with transgender nominees
Oscar nods for women and minorities drew many of the headlines in Tuesday's nominations, but this year's Academy Awards also mark a breakthrough for transgender filmmakers.
US-led coalition strikes kill 150 Islamic State militants in Syria
Strikes near As Shafah come as the US urged Turkey to focus on fighting Isis and show restraint in its campaign against Kurdish forces
SHOCK CLAIM=> Dinesh D'Souza: 'My File Shows the FBI Red-Flagged Me As an OBAMA CRITIC' – Then Sent Him to Reeducation Camp
Conservative activist Dinesh D'Souza faced political persecution after he directed and released anti-Obama film, "2016: Obama's America". He was indicted over illegal campaign contributions.
FISA Document: 85% of NSA Searches Under Obama Were Illegal
In trudging through the FISA document that came to light on Tuesday, it was discovered that the National Security Agency had been illegally conducting searches on people in the US. The document has gone on to state that those illegal searches, which were conducted under Barack Hussein Obama Soetoro Sobarkah, mounted to a whopping 85% of the total searches involving US person indentifiers.
Senate Judiciary Chair Grassley Confirms Russia Dossier "Unverified in 2016" When Obama FBI Used it to Obtain FISA Warrant to Spy on Trump
Senate Judiciary Chairman Chuck Grassley (R-IA) confirmed Wednesday from the Senate floor the Russia dossier was "unverified in 2016" when Obama's FBI/DOJ used it to obtain a FISA warrant to spy on Trump and his private associates.
Globalists Unite: Elites Shred Trump, Nationalism At Davos
Numerous global leaders decried nationalism that is undoing the global world order at the World Economic Forum in Davos, Switzerland.
Report: Missing FBI Text Messages Include Threats of Violence Against Trump
A number of the 50,000 missing FBI text messages contain threats of physical violence aimed at President Trump, according to a new report.
'Trump's Administration is a miracle for the Jewish people'
Science and Technology Minister says huge change from 'anti-Israel' Obama Administration to Trump presidency.
Patients Are "Dying In Corridors" Of Britain's Socialised Health System
…So went the headline which appeared on the BBC's website last week, detailing the newest outrages which have emerged from Britain's crisis-beset healthcare system. This most recent revelation came as a result of an open letter sent to the prime minister by 68 senior doctors, offering details of the inhuman conditions which have become common in the National Health Service's hospitals.
Watch NBC's Lester Holt Try Out to be North Korea's Baghdad Bob
North Koreans are happy and prosperous. They treat Americans with respect, and people are skiing, not starving! Well, that's the line Lester Holt sold on NBC today. Does anyone believe this? And yet, Lester Holt is doing it anyway. How dumb can you be, to sell out any shred of journalistic integrity you have, in order to get access for one video series?
Church of England Sneaks Transgender 'Re-Baptism' into Liturgy
The Church of England has rejected a proposal for a new service to mark a congregant's sex change – but has given the nod to using an existing 'reaffirmation' baptism service, instead. The decision by the Anglican House of Bishops to reject proposals for the development of a new special service to mark gender transitions was criticised by LGBT activists within the church.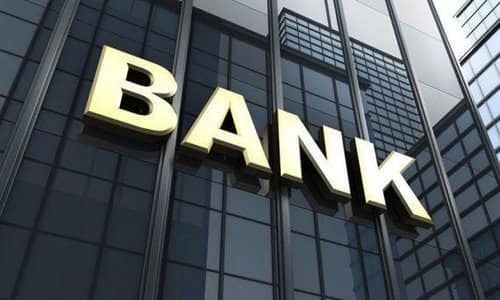 Bestselling author Nomi Prins says the ultimate destruction of the economic system will be the global debt. Prins, who wrote the upcoming book titled Collusion: How Central Bankers Rigged the World, says that one tiny interest rate hike could destroy everything.
Prins says the debt is historically high, and that this will create untold problems whether governments want to admit it or not. Politicians cannot keep spending imaginary money that they don't have and neither can regular everyday Americans. In an interview with USAWatchdog's Greg Hunter, Prins takes us through what will likely happen to the economy and the reason for its failure.
"These are levels that they have never been, and they are all at their historic highs. That's why debt will ultimately be the destructor of the system. In order for that to happen, the cheapness of money that allow states, municipalities and corporations to continue to borrow at these cheap levels has to go away. . . .
At some point, there will be a mistake. There might be a tiny smidge of an interest rate hike at some central bank, probably the Fed, which ripples throughout the system as a mistake, not because real growth has happened, and that's why interest rates have been raised. That will incur defaults throughout the system.
People will incur personal defaults, and that will cause problems in the mortgage market . . . then it becomes a knock-on credit crisis, and then banks start not to lend . . . . Then we have the makings of a broad crisis." -Nomi Prins
Prins, who was also a top Wallstreet banker says central bankers have no idea how to stop the easy money policies that they started after the financial meltdown of 2008. Prins explains that the steps which were taken by central banks and governments after the 2008 collapse have only made matters worse.
"So, when the Fed says they are going to remove assets from their $4.5 trillion book by not reinvesting the interest payment . . . the reality is they haven't really done that. They have reduced their book by about $10 billion off of $4.5 trillion since they mentioned they were going to start 'tapering." And the media discusses this as a major tightening move.
Somehow all of our economies have finally worked because of central bank activity. Growth is real. It's all positive. The markets are evidence of that because of the levels they are at; and, therefore, these central banks, starting with the Fed, are going to reverse course of these last 10 years.
The reality is if you look at the actual activity of the central banks, beyond the Fed raising rates by a little bit, there hasn't been and there isn't being a reversal of course becausethey are scared to death that too much of a reversal is going to cause a major crash throughout the financial system.
Everything is connected. All the banks are codependent. All the markets are codependent. Money flows around the world in less than nanoseconds, and all of it has the propensity to collapse if that carpet the central banks have created is dragged from beneath the floor of all this activity."
Hunter also asked Prins to explain a section of her book in which she describes the central bank as creating a "new, unstable, normal." "What could go wrong?" asks Hunter.
"The reason this is unstable is because it's all manufactured. This activity, the collusion between central banks is real. And the level of rates being low is real. And them having bought the assets in different asset classes is real.
But what's really mercurial and what's really very dangerous and unstable in this new status quo is what could happen if any of them were to shift in a manner that spooks the markets out...central banks are trying to be very careful about their activities to avoid this scenario...the instability that could be incurred on the system is a byproduct of how much has been built up in terms of debt."
And the central banks have no plan B for when their quantitative easing scheme fails. What will this crisis look like to the everyday person trying to get by?
"You start to not be able to take as much cash out of your bank account, ATM levels go down from like $500 for an extraction to maybe $200 or so forth, you start to have Cypress type activity where financial systems and banks are trying to maintain the liquidity that they have to protect themselves and that has a knock on effect on individuals, that has a knock on effect to raising rates for credit cards, to student loan rates creeping up to auto loan rates creeping up.
And that becomes then more expensive for people to deal with and to the extent that wages for any types of financial packages that people have with regular employers...then start to have problems making ends meet.
It doesn't take long to go from missing a credit card payment to being delinquent to defaulting on that card to having your credit score go down and so forth."