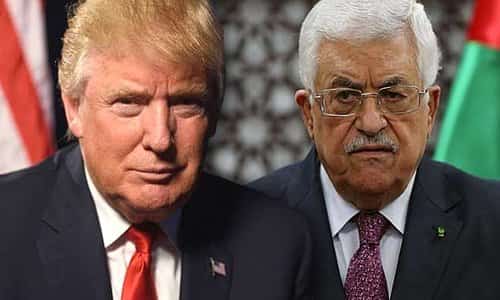 While the Trump administration believes the Middle East is "at the dawn of a new era" marked by progress towards "a peaceful resolution" to the Arab-Israeli conflict, the Palestinians are singing a different tune.
On Jan. 23, the White House revealed that there has been no contact between the Palestinians and President Donald Trump's Middle East negotiating team since the Dec. 6 announcement of U.S. policy changes on Jerusalem.
In line with the ongoing Palestinian boycott of the Trump administration, Palestinian Authority President Mahmoud Abbas snubbed Vice President Mike Pence during the American leader's visit to Israel this week and instead flew to Europe, where he implored the European Union to recognize a Palestinian state.
Israeli Member of Knesset Michael Oren (Kulanu), deputy minister in the Prime Minister's Office, scoffed at the Palestinians' current feud with the U.S.
"The Palestinians have zero to complain about. They spent eight years with the most pro-Palestinian president ever," Oren told JNS, referring to Barack Obama. "But they spat in his eye and went to U.N. agencies like UNESCO. They wasted that period and they are wasting it now."
Speaking at Israel's parliament on Jan. 22, Pence expressed his appreciation for "the great honor to address this Knesset, the first vice president of the United States to be afforded that privilege here in Jerusalem, the capital of the state of Israel."
Pence drew loud applause and standing ovations from Israeli legislators--with the exception of Arab lawmakers, who staged a protest at the beginning of the speech and were promptly escorted out of the plenum by Knesset ushers. Even before Pence arrived in Israel, MK Ayman Odeh, head of the Joint Arab List party, called Pence a "dangerous man with a messianic vision."
Palestine Liberation Organization negotiator Saeb Erekat similarly tweeted, "The messianic discourse of Pence is a gift to extremists & has proven that the US Administration is part of the problem rather than the solution."
Amid the anger of Palestinian and Arab leaders, Prof. Efraim Inbar, president of the Jerusalem Institute for Strategic Studies, argued that the Israeli-Palestinian conflict is not the main concern in the region.
"The U.S. administration, like the Israeli government and moderate Arab countries in the region, such as Saudi Arabia, Egypt and Jordan, all see Iranian encroachment and the regime's effort to achieve regional hegemony as the main problem," he told JNS. "Jordan pays lip service to the Palestinian cause, but what they are doing is not what they are saying."
Even though the Trump administration has apparently taken a clear stance on Iran and the Arab-Israeli conflict, U.S. policy in the rest of the Middle East, such as in Syria or Lebanon, still seems hazy to some experts like Inbar.
"The Americans need to make up their minds on what their Middle East policy actually is," Inbar stated. "The Palestinian issue is only a minor part of it. We are not seeing a clear policy at this point."
Oren agreed that the Palestinian issue is not the primary concern in the Middle East, even though part of the international community is still focused heavily on the Palestinians.
"What the Europeans fail to get," Oren said, "is that by encouraging Abbas not to enter negotiations with Israel and the U.S., they are harming the Palestinians themselves. It creates a situation where Abbas cannot enter negotiations. People are giving the Palestinians terrible advice."
The U.S., however, has been advising the Palestinians to resume negotiations with Israel. By recognizing Jerusalem, Pence said, the U.S. chose "fact over fiction. And fact is the only true foundation for a just and lasting peace." He urged the Palestinian leadership to "return to the table."
Oren, too, said that it would be in the best interests of the Palestinians to return to negotiations, and suggested that the Trump administration would conduct diplomacy the way business is conducted. "The president and his staff come from the world of business," noted Oren, a former Israeli ambassador to the U.S.
"My sense is that the U.S. will wait for the Palestinians" to agree to negotiate, Oren surmised.
As the Palestinians continue to lament the U.S. recognition of Jerusalem as well as the planned embassy move and the establishment of the modern state of Israel to begin with, Oren said, "It's their tragedy. The tragedy that keeps playing over and over."
Let the Headlines Speak
Jan 26th, 2018
Daily NewsFrom the Internet


Categories: Today's Headlines

Magnitude 5.8 earthquake strikes near Ferndale, California
The United States Geological Survey reports a preliminary magnitude 5.8 earthquake struck near Ferndale, California on Thursday. The quake hit at 8:39 AM local time at a depth of 5 kilometers.
New Dead Sea Scroll Translation Reveals Anti-Temple Calendar
"Members of the Yahad [Qumran Essene sect] adhered to a year of 364 days, which was different from the luni-solar year of the Jerusalem temple and the Hasmonean state," the researchers reported in an article in the Journal of Biblical Literature. "The number of 364 days is neatly divided by seven, a typological number with significant religious connotation. Each 364-day year contains exactly fifty-two weeks, a fact that allows anchoring the festivals to fixed weekdays, thus avoiding their coincidence with the Sabbath. In addition, the number 364 divides neatly by four as well, yielding a good symmetry of the four seasons, each season containing exactly 91 days."
Irish Exorcist Calls for Back-Up to Face Surge in 'Malicious Activity' by the Devil
In the face of the rising tide of demonic activity, Father Collins said he is "baffled" that the Irish bishops are not reacting to the need by appointing more priests as exorcists. Complaints range from claims of ghostly encounters, to people being pulled from their beds, and even "full-blown possession." The priest said that the surge in demonic disturbances is a relatively new phenomenon, and "it's only in recent years that the demand has risen exponentially." The priest has seen what he calls a growing apostasy within the Church, which he ties to demonic activity.
'We want peace and prosperity' says Trump as he storms Davos with offers of better trade deals and pleas for big business to invest in America
President Donald Trump found a softer way to package his 'America First' agenda he strode through the conference center on his first day in Davos, calling for prosperity and 'great peace.' 'I think the real message is we want great prosperity and we want great peace,' Trump said after holding back-to-back meetings with British Prime Minister Theresa May and Israeli Prime Minister Benjamin Netanyahu. 'And I think that really is the message,' Trump told pool reporters who trailed him at each scheduled meeting at the gathering of bigwigs in the snowy Alpine town.
FBI Mulled Special Counsel For Hillary Email Probe But Feared Her Wrath, New Texts Reveal
Newly released text messages between FBI officials Peter Strzok and Lisa Page reveal that the agency's top brass was considering appointing former U.S. Attorney Patrick Fitzgerald as a special counsel in the Hillary Clinton email investigation. The idea is pitched in a March, 2016 exchange between Strzok and Page – relatively early on in their investigation into Hillary Clinton's mishandling of classified information. Of note, Attorney General Loretta Lynch or one of her deputies would have had to make the ultimate decision to appoint a special prosecutor to look into the "matter."
Anti-Trump FBI Official Identified As Leaker To WSJ, WaPo Reporter
Newly released text messages between controversial anti-Trump FBI agents Peter Strzok and Lisa Page reveal several leaks of confidential information to Wall St. Journal reporter, Devlin Barrett, who is now with the Washington Post. Following the release of the timestamped texts by Senate Judiciary Committee Chairman Chuck Grassley, Conservative Treehouse compared the timing of the messages between the agents and tied them to several instances of Barrett breaking news or confirming rumors based on "sources" within the government.
Irish Priest Calls For Backup: Too Many Exorcisms
An Irish priest has called for backup to deal with the overwhelming number of exorcisms growing throughout the country. According to Catholic News Agency, "Fr. Pat Collins said he has been overwhelmed with the number of requests for exorcisms from the faithful in Ireland."
Shock Video: Google Home Censors Jesus Christ
Who is Jesus Christ? Internet users are posting videos of Google products refusing to answer the simple question. In one video uploaded Wednesday, Google fails to answer but provides an in-depth summary when asked about other religious figures including Allah.
The Photo That Never Saw The Light of Day: Obama With Farrakhan In 2005 – Talking Points Memo
A journalist announced last week that he will publish a photograph of then-Illinois Sen. Barack Obama (D) and Nation of Islam leader Louis Farrakhan that he took in 2005 at a Congressional Black Caucus meeting, but did not make public because he believed it would have "made a difference" to Obama's political future.
Franklin Graham warns of deep state coup against President Trump
One of the nation's most prominent Christian leaders said he fears President Trump is facing a grave domestic threat by forces who want to take over the White House. "I believe we are in a coup d'etat," Franklin Graham said Wednesday on the "Todd Starnes Radio Show." "There are people in this country who are wanting to destroy the president and take over the government by force."
Jihad in Toronto?
…"A 20-year-old Brampton man," the Canadian Press reported Tuesday, "is facing dozens of charges, including seven counts of attempted murder, in what police describe as a string of unprovoked, random shootings in Toronto that narrowly missed being fatal." As it turns out, this could have been a series of jihad attacks, but you will never learn that from the Canadian Press, or from Canadian authorities.
AMERICAN SHAME: Republican support for Israel skyrockets, yet Democrat support plunges
A new Pew Research Center Poll confirms what has seemed patently obvious for years: Democrats have abandoned the state of Israel while Republicans are staunch supporters of the Jewish state.
The little-known episode of Islamist terror training camps in the Colorado Rocky Mountains
It is definitely time for Americans to wake up and realize that Islamic groups have been establishing terror training camps across America – for years.
'Doomsday Clock' Now 2 Minutes to Midnight
The Bulletin of the Atomic Scientists moved the Doomsday Clock 30 seconds forward Thursday, placing the iconic indicator at two minutes to midnight.
Police Data: UK Violent Crime Wave Grows Even Faster, London Knife Attacks up 40 Per Cent
The UK's surge in recorded violent and sexual crime, including knife attacks, has accelerated at a faster rate than previously thought over the past year, new police statistics reveal.
Powerful opioids are easily sold through the Internet and shipped in the mail, investigation finds
Synthetic opioids such as addictive and deadly fentanyl, fueling a drug epidemic, can be easily ordered online and shipped through the mail to United States addresses from China, a congressional investigation found.
As Israel celebrates its 70th, 1948 is Groundhog Day for Palestinians
Palestinians are dispirited and divided and disillusioned and now they face a year of Israel pouring salt on their wounds by celebrating Jewish victories that were also Palestinian catastrophes
Satanic Temple Says Abortion Laws Violate Its Rights
Editor Comment: So regarding the value of human life violates the Satanic Temple's rights? Who would've thought. Missouri's Supreme Court heard oral arguments on Tuesday in a case brought by the activist group the Satanic Temple to challenge requirements for women seeking abortions.
Podesta Calls For Population Control
Former Hillary Clinton campaign chairman John Podesta wrote an op-ed for the Washington Post calling for more programs to "stabilize" world population to fight global warming.
History Made: Oscars Nominate First Transgender Filmmaker
..Yance Ford is a transgender man, as in a woman presenting herself as a man, and she directed the Netflix documentary "Strong Island," becoming the first ever transgender filmmaker to earn an Oscar nomination. The irony here cannot go unsaid: in the "year of the woman," the Left considers Yance Ford's nomination as one for a male.
THE meaning of these names is significant ‑‑ He shall establish, and In it is strength. Each speaks of Him of whom the whole temple was a type. The Lord Jesus has established the work of redemption so that it shall never be removed; has established the covenant, ordered in all things and sure; has established his Church, so that the gates of Hades shall not prevail against it; has established us before the face of his Father for evermore.
There is much in the New Testament about the established life. It is the desire of Peter that the scattered saints should be perfected, established, and strengthened. Paul desires to see the Roman Christians, that he may impart some spiritual gift so that they may be established: he desires that the Colossians may be built up in Christ, and established in the faith. The Epistle to the Hebrews says that it is good for the heart to be established with grace. Let us ask that Jesus should establish us in the Divine life, rooting and grounding us in love and faith, so that we may not be moved away from the Gospel, but abound therein with thanksgiving.
It is only as we abide in Jesus, that we shall become steadfast, unmovable, and always abounding.
But Christ is also our strong Helper. We have no strength of our own; but He is strong; and in Him we have righteousness and strength. Let its make our refuge in Him, as the conies, who are a feeble folk, do in the rock. They who abide in Jesus derive from Him fresh supplies of strength for each moment\\\'s need. They hear Him saying, \\\"Fear not, I will strengthen, yea, I will help thee\\\"; and they learn to say with Paul: \\\"I can do all things in Christ that strengtheneth me.\\\"
One of the nation's most prominent Christian leaders said he fears President Trump is facing a grave domestic threat by forces who want to take over the White House.
"I believe we are in a coup d'etat," Franklin Graham said Wednesday on the "Todd Starnes Radio Show." "There are people in this country who are wanting to destroy the president and take over the government by force."
Graham revealed his concerns as congressional Republicans ramp up accusations that deep state actors within the FBI and the Justice Department may have been plotting against the president.
The evangelical leader did not name names, but he suggested the mainstream media was complicit in the silent coup.
"They are not going to use bullets. They are using the media – to plant thoughts in people's minds that he's incompetent, that he's dangerous, that you can't trust him with nuclear weapons, that he is mentally unstable," Graham said.
Graham and other Christian leaders have been targeted in recent days by the mainstream media for their unwavering support of the president. Many have been accused of hypocrisy for backing a man who is accused of cheating on his wife and using profanity.
"I have a very simple admonition at this point," Michael Steele said on MSNBC's "Hardball." "Just shut the hell up and don't ever preach to me about anything ever again. I don't want to hear it."
Steele, the former head of the Republican National Committee, was furious at evangelicals.
"After telling me how to live my life, who to love, what to believe, what not to believe, what to do and what not to do and now you sit back and the prostitutes don't matter? The grabbing the you-know-what doesn't matter? The outright behavior and lies don't matter? Just shut up."
Tony Perkins, president of the Family Research Council, drew fire after he said evangelicals gave President Trump a second chance.
"Yes, evangelicals, conservatives, they gave him a mulligan," he told CNN. "They let him have a do-over. They said we'll start afresh with you and we'll give you a second chance."
Both Graham and Perkins pointed out that Trump's alleged sinful transgressions occurred long before he took the oath of office. On the other hand, Bill Clinton's admitted indiscretions not only happened during his presidential term – they literally happened in the Oval Office.
So how does Graham respond to Trump's admitted sinful past?
"We are all flawed people," he told the "Todd Starnes Radio Show." "The president is a sinner. Franklin Graham is a sinner. We are not perfect people."
He called the accusations against the president unfortunate and distracting.
"Has he had scandals in his life? Sure he has," Graham told me. "These scandals happened a number of years ago. That doesn't make it right. I don't condone bad language. I don't condone adultery."
But for now – Graham said he still supports President Trump.
"He's not perfect, but he's our president," Graham said. "He said he didn't do it. I have to take his word over that of the media – that is trying to lynch him."
However, should evidence come to light that Trump had engaged in such behavior while in office, Graham said he would speak out with condemnation.
"We need to pray for those that surround the president that God will protect them and keep them safe," he said.
"I believe that he's the president of this nation because God allowed it," Graham. "And I think on election night, God intervened. He wasn't supposed to win -- he was supposed to lose. And I think it was God who worked in a mysterious way on election night to turn the tables."
During the 2016 presidential election, Graham declined to endorse a candidate. He also held non-political prayer rallies at every state capitol in the nation. There was a reason for that.
"The only hope for this country is God," Graham said. "I don't have any faith in the Republican Party. I don't have any faith in the Democrat Party. The only hope for this nation is God."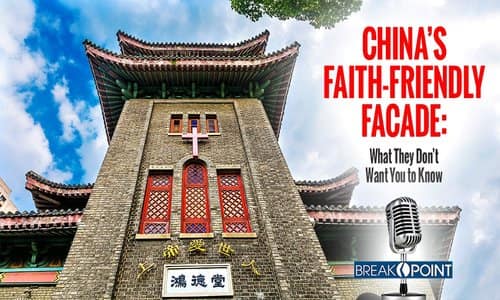 To foreign Christians, China portrays itself as a free country. But Chinese Christians know better.
Earlier this month, a delegation from the World Council of Churches made a "historic" visit to China. There, they toured churches and celebrated news that within our lifetimes, China will be home to more Christians than any other nation on earth. And that's true.
The Council's secretary general expressed amazement at the government-approved churches he was shown, and at their reach among Chinese citizens of all ages. Present were representatives of the state-controlled denominations, the Chinese Christian Council, and the Three-Self Patriotic Movement.
But noticeably absent was anyone from China's booming house-church movement, which by some estimates accounts for 80 percent of Chinese Christians.
If this strikes you as fishy, congratulations--your sniffer is fully functional. The government-run churches World Council members were shown are the religious equivalent of China's notorious "Potemkin villages."
These apartments and condo complexes, shopping malls and even cities are constructed by the state and state-backed speculators largely as a show for foreigners. They look good from a distance, but get closer and they're ghost towns--all façade and no substance.
Likewise, behind this façade of friendliness toward Christianity, China in fact has a much different policy toward the faith. Of the country's 60 million believers, the majority worship outside of the law. And when they're caught, the consequences can be severe.
Earlier this month, Chinese paramilitary police literally dynamited one of the country's largest evangelical churches, where some 50,000 people went to worship. Golden Lampstand Church in Shanxi province was allegedly disguised as a warehouse for years, and has had prior run-ins with the law. Back
This time, they wanted to finish the job, and did so by filling the church's sanctuary with explosives and blowing it sky-high. Images of the building coming down are distressing, but they're a much more accurate picture of communist China's attitude toward Christianity.
Golden Lampstand was only the latest victim of this new war on Christians. In December, officials demolished a church in a nearby province, and President Xi Jinping's government has spent years tearing crosses from the steeples of unrecognized churches around the country.
Back in September, China passed new religious regulations to prevent so-called "extremism." An analyst from Open Doors described the regulations as part of the government's attempt to control and "Sinicize"--that is, render more Chinese--"every aspect of Christian life--be it culture, news, or religion."
And adding insult to injury, the government just days ago threatened the law licenses of several Chinese lawyers for defending fellow Christians who were arrested on trumped-up "cult" charges.
China, says the New York Times, is on "a campaign that reflects the Communist Party's longstanding fear that Christianity, viewed as a Western philosophy, is a threat to the party's authority."
This new persecution harkens back to a more brutal era, and bodes ill for our millions of brothers and sisters who refuse to worship as their government dictates. Our own government should speak up.
But first, the world needs to realize that the Chinese Communist Party's show of friendliness toward Christianity is just that--a show--one ultimately as empty as its shopping malls.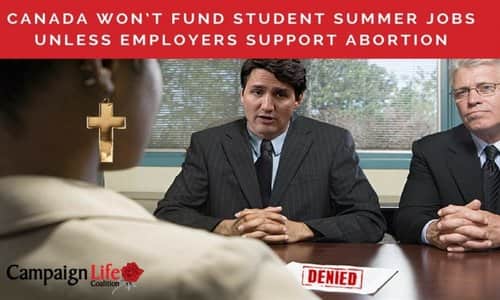 Those with a conservative and evangelical leaning often agree that the act of abortion and living a gay lifestyle is morally wrong. For many, this is based on God's Word the Bible where the scriptures talk about the sanctity of life and the negative implications of alternative lifestyles on numerous occasions.
Unfortunately, not everyone agrees with this truth. Some of those who disagree are making their voices heard within the Canadian government. According to recent reports out of Canada, not only is the federal government not pro-life or pro-traditional marriage, but they are actually making it harder for those who are to find and pay employees. Read on to learn more:
The Job Program is In the Crosshair of The Controversy
The job program in the crosshair of the Canadian controversy is the summer job programs funded by government grants. It is officially called the Canada Summer Jobs Program. The problem many on the right have with this program has nothing to do with the jobs it subsidizes.
Instead, it's the requirement Prime Minister Justin Trudeau's liberal government has placed on businesses who wish to receive funding for summer work as part of said program.
The Unfair Requirements Placed on Canadian Businesses
Justin Trudeau's Liberal government changed the application process for Canada Summer Jobs after vowing last year to stop pro-life groups from receiving grants through the federal program.
Employment Minister Patty Hajdu added the requirement that employers sign an attestation that their "core mandate" supports reproductive and transgender "rights."
Online applicants must check off the attestation or the application is void.
What This Means in Real World Terms
According to Brad Trost, a conservative MP, this is blatant discrimination against people of faith:
"In practical terms, this means you have to be with the Liberal Party position on abortion, gay marriage, transgendered rights, all sorts of legislation in the House of Commons, otherwise, you will be an ineligible employer for this program. That's wrong. That's discrimination."
He goes on to point out an additional problem with the new regulations:
"The second problem with this is it automatically excludes all faith-based organizations that are traditional on their values of human life and sexual morality. That includes millions and millions of Canadians."
There Are Many More Who Also Dislike The Changes
It isn't just Trost who is sounding the alarm about this new legislation. Ontario MP Bev Shipley also expressed disagreement with the changes,
\"Many organizations depend heavily on our Canada Summer Jobs funding to run their summer programs and their seasonal businesses. Students are going to lose out on opportunities for employment or experience. This new requirement will directly affect all program applicants who have a different core value than the Trudeau government."
Canada's Summer Job Program Only The Beginning
This blurring of Liberal beliefs with government operations isn't limited to summer jobs. The Trudeau government recently created a $400-million venture capital fund that similarly requires firms to declare their commitment to "gender balance" before they can access any money.
The Trudeau government has also banned activities and projects that don't support "reproductive" or transgender rights from getting funds from Canada Service Corp, the youth volunteer program.
This mindset, that If you don't agree with the Liberal view of the world, you aren't eligible for government benefits. It is almost a communist mindset.
What's next? Will old age payments and unemployment benefits soon be subject to Liberal value loyalty oaths as well?
What This Means For American Conservatives
The lesson to take from what's going on in Canada is never to allow a government to assume such control. When they have too much power, they are able to make large, sweeping decisions like this one in Canada that can negatively impact the way of life for many people.
Just look at the abortion and gay right's issues in America as another example of government overreach. Well known Conservative commentator Al Mohler had this warning on the issue:
"The most troubling part of the Prime Minister's statement in recent days was his elimination of a pro-life position as having any place whatsoever in Canada's public conversation. Furthermore with a student jobs program, he has indicated his own willingness and the willingness of his government to use government coercion in order to make this point. ...
This should remind Christians of the argument made by New York Times columnist Frank Bruni just a couple of years ago when he argued that religious liberty when especially it comes to an issue like the morality of homosexuality would protect the rights of American citizens to hold those beliefs in their hearts and in their homes and in their pews but not in public. Now you have the Canadian Prime Minister making a very similar argument but applied to the question of abortion.
And we should note that a New York Times columnist has the power to influence and make an argument, but the Canadian prime minister has the authority and political power to create policies that would bind the Canadian people".
Artificial intelligence is advancing at a lightning pace and is already being adopted for military use, raising questions as to what role this powerful new technology will play in the end-of-days. Will it be a terrifying rogue combatant in the final Biblical War of Gog and Magog, or will it be an unforeseen savior of mankind and even have a possible role in the resurrection of the dead?
In one potential end-of-days scenario, technology plays a destructive role for humanity. A video, titled "Slaughterbots" and produced by the notorious Campaign to Stop Killer Robots illustrates this outcome in which autonomous drones armed with explosive charges wreak havoc on society. The video is part of a campaign intended to ban lethal autonomous weapons, a concern which clearly resonates with many as the petition has already garnered over 20,000 signatures.
Aspects of the fictitious future depicted in the video are appearing to become reality. Both India and Japan announced this week that they are beginning to introduce autonomous artificial intelligence (AI) into their defense sectors.
At the same time, governments also recognize that the destructive potential of AI raises moral difficulties. British Prime Minister Theresa May announced this week that her government is establishing an advisory body to coordinate with other countries in discussing how artificial intelligence can be used ethically for military purposes.
It seems that any future war, including the pre-Messianic War of Gog and Magog, will include killer robots, and many spiritual leaders are already considering how AI figures into a religious vision of the end-of-days. Rabbi Michael Laitman, a leading expert in Kabbalah and the founder of Bnei Baruch Kabbalah association, believes that technology and more specifically artificial intelligence, will play a major role in the end-of-days but not necessarily a positive one.
"It is clear in Kabbalah that in the times preceding geula (redemption), Man is going to utilize the entire potential of technology," Rabbi Laitman told Breaking Israel News. "Men will begin to create artificial intelligence. People will want to achieve something similar to the creation of Man."
"In the time of the geula, people will understand that all of this development, all throughout history, is what brought us to an even greater collapse," he stressed. "This will become very clear in war when we see that all of the technology we developed for man's good can immediately turn around and be used against man."
Rabbi Laitman believes that the same motives of Man which led to the construction of the Tower of Babel are also in play with the development of artificial intelligence.
"Men wanted to ascend to the heavens and become like God," the rabbi explained. "To do this, they were dealing with the basic foundations of creation. They wanted to fix something inside man they believed was a blemish."
Though this motive sounds noble, Rabbi Laitman pointed out a flaw that turned their good intentions into evil.
"This came from a place of ego, in which they wanted to take the place of God," Rabbi Laitman said.
In an article that Rabbi Laitman published last Friday in Breaking Israel News, he outlined the dangers of artificial intelligence but also described a solution in containing potential problems.
"Unfortunately, I do believe that AI-powered weapons will be developed," the rabbi wrote. "If we upgraded our human consciousness at least as much as we upgraded our technologies, then we would have no fear of creating AI terminators that would be capable of eliminating us. Instead, we would further our research to discover a technology more sophisticated than AI, and energy more powerful than nuclear energy."
Rabbi Mark Goldfeder, a senior lecturer at Emory University School of Law, speculated that AI would, in fact, play a more positive role in the Messiah.
"Some people have proposed an apocalyptic vision of AI in which Man and machine merge in the End of Days, suggesting that this would be tchiyat hametim (resurrection of the dead)," he told Breaking Israel News.
He also described efforts to upload the entirety of an individual's knowledge to a computer.
"Some scientists think they are on the path to achieving this and in some form replicating or even recreating the consciousness of individuals," Rabbi Goldfeder said. "This is not the traditional understanding of tchiyat hametim and not one that I ascribe to, but that being the case, I can't imagine why it would be problematic as something else entirely if it is done with proper consent."
The rabbi suggested that at some point in the future theologians will have to determine whether AI should be considered sentient and human.
"The line between Man and machine in the Torah is not as clear as what we would like to think it is," the rabbi said.
Although AI poses many ethical and theological questions, Rabbi Goldfeder thinks that not only is this a good thing but that the development of technology was in fact intended by God to be part of Man's role in being a partner with God in Creation.
"One of the first commandments we received was to conquer the world, which we understand as that doing your best to participate with God in creation," Rabbi Goldfeder said, citing Genesis.
Hashem blessed them and Hashem said to them, "Be fertile and increase, fill the earth and master it; Genesis 1:28
"All these forces were put in nature and they are amoral, not immoral; what we do with them establishes good or evil," explained Rabbi Goldfeder. "Artificial intelligence has the ability to help us do incredible good."
Rabbi Goldfeder believes AI will continue to be important even after the arrival of the Messiah.
"People tend to think of y'mot ha'moshiach (Messianic era) as going back to Biblical times," Rabbi Goldfeder told Breaking Israel News. "I assume the Third Temple will make absolute use of every technology we have available."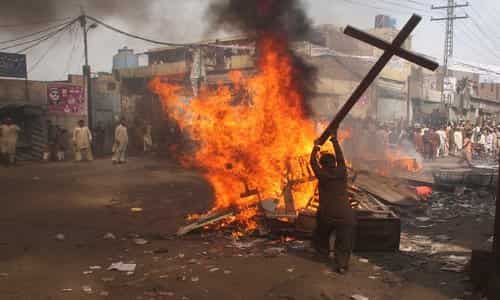 "215 million Christians experience high levels of persecution" around the world, according to Open Doors, a human rights organization. On its recently released World Watch List 2018, which ranks the world's 50 worst nations wherein to be Christian, 3,066 Christians were killed, 1,252 abducted, and 1,020 raped or sexually harassed on account of their faith; and 793 churches were attacked or destroyed.
The Islamic world had the lion's share of this persecution; 38 of the 50 worst nations are Muslim-majority. The report further cites "Islamic oppression" behind the "extreme persecution" that prevails in eight of the 10 worst nations.
In short, the overwhelming majority of persecution that these 215 million Christians experience around the world -- especially the worst forms, such as rape and murder -- occurs at the hands of Muslims.
These Muslims come from all walks of life and reflect a variety of races, nationalities, languages, socio-economic and political circumstances. They include Muslims from among America's closest allies (Saudi Arabia #12 worst persecutor) and Muslims from its opponents (Iran #10); Muslims from rich nations (Qatar #27 and Kuwait #34) and Muslims from poor nations (Afghanistan #2, Somalia #3, and Yemen #9); Muslims from widely recognized "radical" nations (Pakistan #5), and Muslims from "moderate" nations (Malaysia #23 and Indonesia #38).
But if the World Watch List ranks North Korea -- non-Islamic, communist -- as the number one worst persecutor of Christians, why belabor the religious identity of Muslims? Surely North Korea's top spot suggests that Christian persecution is not intrinsic to the Islamic world but is rather a byproduct of repressive regimes and other socio-economic factors that proliferate throughout the Muslim world?
There are some important distinctions that need to be made. While Christians are indeed experiencing a "life of hell" in North Korea, overthrowing Kim Jong-un's regime could not only lead to a quick halt to this persecution but also to a rise of Christianity -- as has happened recently in Russia.
Under the Soviet Union, between 12 and 25 million Christians were killed for their faith, and approximately 153,000 churches were shut down. Since the fall of the Soviet Union in 1991, about a thousand churches have been (re)built every year, and, according to a 2014 Pew report, between 1991 and 2008, Russians identifying themselves as Orthodox Christian rose from 31% to 72%. That "South Korea is so distinctively Christian" reflects what could be in store -- and creating fear for -- its northern counterpart.
In the Islamic world, the fall of dictatorial regimes rarely seems to alleviate the sufferings of Christians. On the contrary, when secular dictators fall -- Saddam in Iraq, Qaddafi in Libya, and attempts against Assad in Syria -- persecution of Christian seems to rise as a grassroots byproduct.
Today, Iraq is the eighth worst nation in the world in which to be Christian, Syria is fifteenth, and Libya seventh. Under dictators, these countries were significantly safer for religious minorities.
Similarly, the only countries that were part of the former Soviet Union that still persecute Christians are, rather tellingly, the Muslim-majority ones of Central Asia. These include Uzbekistan (#16 worst persecutor), Turkmenistan (#19), Tajikistan (#22), Kazakhstan (#28) and Azerbaijan (#45).
The "extreme persecution" of Christians throughout the Muslim world is part of a continuum begun nearly fourteen hundred years ago. The same patterns of persecution are still prevalent -- including attacks for blasphemy and apostasy, restrictions and attacks on churches, and a general contempt for -- followed by the vile treatment of -- "subhuman infidels."
Unlike the persecution of Christians in Communist nations, rooted to a particular regime, Muslim persecution of Christians is perennial, existential, and far transcends any ruler or regime. It unfortunately seems part and parcel of the history, doctrines, and socio-political makeup of Islam -- hence its tenacity and ubiquity. It is a "tradition."
That those persecuting Christians come from a wide variety of racial, linguistic, cultural, and socio-economic backgrounds -- from African, Arab, Asian, and Caucasian nations -- and share little in common with one another, except for Islam, sadly only further underscores the true source of the persecution.
If time is on the side of Christians living under Communist regimes, it is not on the side of Christians living under Islam. The center of the great Christian Byzantine Empire is now an increasingly intolerant, Islamizing Turkey.
Carthage, once a bastion of Christianity -- where one of Christendom's greatest theologians, St. Augustine, was born and where the New Testament canon was confirmed in 397 -- is today 99% Muslim-majority Tunisia. Centuries of persecution and forcing non-Muslims to live as barely-tolerated third-class residents are responsible for the demographic shift that Tunisia and other formerly non-Muslim nations are experiencing.
Long after North Korea's Kim Jong-un has gone, tens of millions of Christians and other "infidels" will still suffer persecution. As what began in the seventh century comes closer to fruition and the entire world becomes more Islamic and "infidel" free, as in Iraq, confronting these uncomfortable facts is at least a welcome first step in countering the problem.