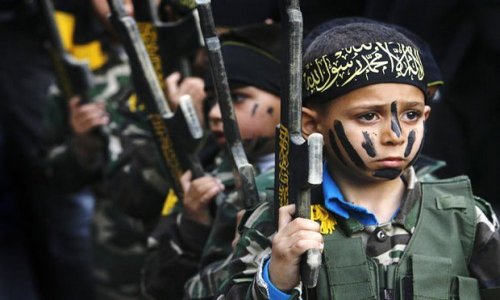 It's September. Camp has ended -- that rite of summer for millions of American children. Swimming, hiking, campfire sing-alongs and S'mores, drama skits, lanyard-making, new friends and creating lifelong memories. Palestinian summer camps have also just ended, but their children have very different experiences to share and memories to hold dear.

This year's theme for Hamas summer camps, attended by tens of thousands of children in Gaza, was the "Al-Quds (Jerusalem) Intifada."
The primary focus of these summer camps is to indoctrinate young children with radical jihadist ideology and to prepare them for martyrdom (suicide) operations. A "counselor" explains, "The goal of these camps is to instill the spirit of Jihad and of fighting in these cubs." Ibrahim Al-Madhoun, a columnist for the Hamas Al-Risalah, wrote, "These camps will lay the foundations for building a broad popular army."
To that end, at Palestinian summer camp, young children learned to fire machine guns, crawl through tunnels and beneath barbed wire, handle rocket launchers and plant mines. They were taught kidnapping techniques for capturing Israeli soldiers and even had fun shooting at images of Israeli Prime Minister Netanyahu.
Because the summer camp theme was Jerusalem Intifada, which is the name for the wave of knifing attacks that Israeli civilians have faced since last fall, the children were also taught how to use knives as murder weapons.
The names of the summer camps reflect the Al-Quds Intifada theme: One is called the "Knife Camp," another, "Soldiers of Al-Quds."
Summer camps in the disputed territories (aka West Bank) are often named for terrorist "martyrs" whom the children are taught to venerate as role models -- terrorists like Dalal Mughrabi who, in 1978, killed 15 Israeli civilians and wounded over 60, and Abu Jihad, deputy to Yasser Arafat who headed the PLO terror organization's military wing and planned many deadly attacks against Israeli civilians, including the 1978 killing of 37 civilians, 12 of them children.
According to Israeli Palestinian journalist Khaled Abu Toameh, the families are not hesitant to send their children to be trained as future jihadis and express pride in having their children taught how to use various types of weapons.
Of course, Palestinian campers do participate in drama production, but not "Tales of the Arabian Nights" or "Sinbad the Sailor." As part of the closing ceremony at a Palestinian summer camp, children performed a play whose messagewas that Palestinian prisoners were being killed in cold blood by Israelis. Some children played the role of Israeli jailers and others the role of the murdered Palestinians.
Incitement and violence are taught side by side with swimming and soccer. The indoctrination is comparable to Hitler's youth groups. Children as young as five learn that Israelis are the greatest evil on earth and come to see jihad against the Jews as the path to martyrdom in the name of Allah.
This is a far cry from the cooperation, compromise, tolerance and respect for others that American summer camps hope to instill in their campers -- values that emphasize the importance of working out problems rather than resorting to violence. Only a Palestinian summer camp would take an impressionable child and mold him into a murderer.
There is no way to describe these Palestinian summer camps other than human rights abuse against children, robbing them of their childhood, inciting them to glorify conflict, violence and death.
Palestinian summer camps train children to be the next generation of Muslim terrorists. International human rights organizations know the truth, but turn a blind eye.
Much to the delight of parents, the new school year has begun in Israel, and Prime Minister Benjamin Netanyahu had two related messages for students: study the Bible and seek peaceful coexistence.
Earlier this week, Netanyahu told his cabinet that he wants to "carry out an education revolution based on two things: excellence and Zionism."
Central to achieve that is the study of the Bible, the prime minister insisted.
"First of all, the study of the Bible," Netanyahu told his ministers. "This is the basis for why we are here, why we have returned here, why we stay here."
While that message may have been primarily geared toward Jewish students, Netanyahu on Thursday helped kick off the new school year by visiting a school in the northern Arab city of Tamra.
Addressing the school's 200 Arab youngsters, Netanyahu called for increases in coexistence and integration of Israel's Arab minority.
"I want you all to learn about the history of the Jewish people as well as of the Arab communities and learn the truth. We are meant to live together," he told the students.
Let the Headlines Speak
Sep 1st, 2016
Daily NewsFrom the Internet


Categories: Today's Headlines
Celebration of Muslim Sacrificial Festival on 9/11 Dredges Up Bad Memories
In a very strange set of coincidences, this September 11th may see Muslim Americans celebrating their holiest sacrificial festival while the rest of the country mourns one of the most horrific days in United States history.
What happened? Presidential contest now a horse race
So why are polls not showing a looming landslide for Clinton? In fact, why are they now indicating the battle is a real horse race? The USC/Los Angeles Times daily tracking poll even showed Trump leading by three points on Tuesday.
At least 5 felons among Clinton Foundation donors
ignored by establishment media is the remarkable number of foreign millionaire and billionaire donors to the Clinton Foundation who have been convicted of crimes. At least five individuals are on the list, including several the Clintons treated as international celebrities at various Clinton Global Initiative annual meetings, even after their criminal convictions.
Trump Calls for an Oath to America
He wants to screen people coming into America to see if they share American values. Trump says he would exclude not only people who sympathize with terrorists and believe in Sharia law, but those "who do not believe in our Constitution, or who support bigotry and hatred."
BREAKING: Judge Orders State Dept To Release Hillary's Security Training Records, Or Be Deposed Photo of Richard Pollock Richard P
A federal judge ordered the Department of State Wednesday to produce for The Daily Caller News Foundation the security training records of former Secretary of State Hillary Clinton and her aide Huma Abedin within two weeks, or face direct deposition of multiple government officials.
Report: US secretly agreed to waive Iran nuclear restrictions
Obama....may have secretly agreed to waive restrictions placed on the Iranian regime's nuclear program as part of the landmark 2015 deal. According to a soon-to-be-published report..the US and fellow negotiating partners secretly agreed to permit the Islamic regime to ignore some restrictions on its nuclear program, thereby paving the way for the removal of economic sanctions against the rogue state.
La Niña ushers in Atlantic hurricanes
The oceanic circulation pattern of the Pacific that promotes hurricanes has begun with Gaston gusting to 120mph. At the same time, two tropical disturbances have been threatening to develop into tropical storms around the south-east coasts of the US, although initial fears that at least one of these could go on to become a damaging hurricane have lessened.
Twin earthquakes rattle Iceland's largest volcano
"Measurements around Katla are not detecting signs of increased ground deformation or seismic tremor, both of which could be indicators of magma movement," the office said in a statement.
Severe 5.7 magnitude quake shakes East coast
A 5.7 magnitude quake off the east coast of the North Island has been felt from Auckland to Wellington this morning. The 25km deep quake struck just after 10am 100km north-east of Te Araroa. The quake, classed as severe by GeoNet, was reported as felt by at least 127 people from as far north as Great Barrier Island all the way to Wellington.
Heavy air strikes target rebel-held areas in western Syria
Heavy air strikes targeted areas of Hama province captured by Syrian insurgents from government forces in recent days, as Damascus counter-attacked on Thursday in an area of strategic importance to President Bashar al-Assad. The Syrian Observatory for Human Rights said at least 17 people had been killed in the air strikes overnight.
Netanyahu may meet with Obama this month
Efforts are being made to arrange a meeting between Prime Minister Benjamin Netanyahu and President Barack Obama in September after the Israeli leader addresses the UN General Assembly. Netanyahu is scheduled to land in New York on September 21 and, in addition to his speech at the General Assembly, is expected to meet with the UN Secretary-General Ban Ki-moon and participate in a meeting between European heads of state.
Canada economy has biggest quarterly drop in seven years, third-quarter rebound seen
Canada's economy shrank in the second quarter, its worst showing in seven years, hurt by a drop in exports and a disruption to oil production caused by wildfires in Alberta, though growth was seen as likely to rebound later this year. While the quarterly drop slightly exceeded market forecasts, economists were encouraged by other figures released on Wednesday that showed the economy resumed growing in June.
Does footage of 'UFOs' hovering near International Space Station prove aliens are monitoring satellite?
Does this footage showing a UFO hovering near the International Space Station prove once and for all that aliens are monitoring the satellite? UFO enthusiasts have studied the footage and come to some staggering conclusions which would blow holes in decades of research that found no signs of intelligent life in outer space.
Israel 'approves 464 settlement homes in West Bank'
Israel has approved the construction of 285 new homes at Jewish settlements in the occupied West Bank, according to the settlement watchdog Peace Now. A 234-unit nursing home in Elkana, 30 houses in Beit Arye and 20 in Givat Zeev got the go-ahead on Tuesday. Retrospective permits were also issued for 179 existing homes in Ofarim.
Ukraine crisis: New ceasefire 'holding with eastern rebels'
Ukraine's defence minister says a new ceasefire has been holding in eastern Ukraine since midnight, despite a recent intensification of shelling. "This morning I'm pleasantly surprised that at 09:00 (06:00 GMT), since midnight, we haven't had a single shot fired," Stepan Poltorak said. It is the first time there has been a true halt to fighting in 11 months, says BBC correspondent Tom Burridge.
Libya chemical weapons: Components leave for Europe
A Danish ship loaded with materials that can be used to manufacture chemical weapons has left Libya and is making its way to Germany. The ship, escorted by UK and Danish naval vessels, was despatched as part of international efforts to remove dangerous stockpiles from the country. Libyan chemical weapons were destroyed under global supervision in 2014.
'US agreed to secret exemptions for Iran after nuclear deal'
The United States and its negotiating partners agreed "in secret" to allow Iran to evade some restrictions in last year's landmark nuclear agreement in order to...start getting relief from economic sanctions... ...Among the exemptions were two that allowed Iran to exceed the deal's limits on how much low-enriched uranium (LEU) it can keep in its nuclear facilities...LEU can be purified into highly enriched, weapons-grade uranium.
'Israeli Air Force takes part in US drill with Pakistan, United Arab Emirates'
Israel Air Force (IAF) jets, transport planes, and refuellers landed back in Israel on Wednesday night, after taking part in the 11-day Exercise Red Flag hosted by the US Air Force held at Nellis Air Base, Nevada from August 15 to 26. The IAF took part in the drill together with the Pakistani and UAE air forces, according to American media reports.
Assange: American Media Is 'Erecting A Demon' By Defending Hillary Clinton
Wikileaks co-founder Julian Assange lashed out at the American press on Wednesday, saying that it is "erecting a demon" by defending Hillary Clinton. "The American liberal press, in falling over themselves to defend Hillary Clinton, are erecting a demon that is going to put nooses around everyone's necks as soon as she wins the election, which is almost certainly what she's going to do," Assange told New York Times reporter Jo Becker during a live interview.
Pelosi Docs Show Dems Trying Hard To Cast Benghazi As A 'Conspiracy Theory'
New documents released from Democratic Leader Nancy Pelosi's computer by purported hacker Guccifer 2.0, reveal democratic talking points to counter Republican Benghazi attacks. The document casts the controversy surrounding Benghazi as "Legitimate outrage over the deaths of American diplomats mixed with partisanship." The document also admits that then Ambassador to the United Nations Susan Rice "gave incorrect information on television" in the immediate aftermath of the attack.
Southern California fire grows to 1,470 acres, but evacuations lifted
The Bogarts Fire in Southern California grew to 1,470 acres on Wednesday, even as evacuations were lifted south east of Los Angeles, fire authorities said.
Hawaii declares emergency as it prepares for first Hurricane hit since 1949
The storm is losing strength but is still listed as a category 1 hurricane, forecasters said. Wednesday afternoon, Gov. David Ige declared an emergency for his islands. Residents are making preparations for the storm, which is expected to pass close by -- and perhaps make landfall -- the Big Island of Hawaii on Wednesday night. Schools have also been closed.
BREAKING: Judge Orders State Dept To Release Hillary's Security Training Records, Or Be Deposed
A federal judge ordered the Department of State Wednesday to produce for The Daily Caller News Foundation the security training records of former Secretary of State Hillary Clinton and her aide Huma Abedin within two weeks, or face direct deposition of multiple government officials.
Mexico's Popocatépetl volcano eruption causes 3-magnitude earthquake
Mexico's National Center for Disaster Prevention on Wednesday said an eruption at the Popocatépetl volcano caused a 3-magnitude earthquake. The temblor occurred at 1:11 p.m. Tuesday. The epicenter was in the southeast section of the volcano.
6.0-magnitude earthquake hits northeast of New Zealand
SYDNEY: An earthquake of 6.0-magnitude struck 188 kilometres in the ocean northeast of Gisborne, New Zealand on Thursday (Sep 1), the United States Geological Survey (USGS) reported.
The Witching Hour: Dancing with Darkness at a Club Night for Witches
COVEN bills itself as London's first—and only—occult-themed nightclub. We went down to party with some witches.
North Korean soldiers 'given nuclear backpacks' as tensions rise over joint US-South Korean military exercises
Elite North Korean soldiers are being armed with "nuclear backpacks", a source has claimed as tensions increase over the authoritarian state's attempts at military escalation. An anonymous source told Radio Free Asia special units have been formed since March to carry the weapons and had been taking part in simulated training exercises with dummy bombs.
ISIS No. 2, Mohammad al-Adnani, Killed in Aleppo, Syria
ISIS No. 2 and international spokesperson Mohammed al-Adnani is reported dead in Aleppo. He is the third top terrorist to die in recent months. It is not clear whether he was killed by ground forces or in an air strike, however; according to The Keffiyeh Monitor, his death comes eight months after he was severely injured in an air strike.
Iran Satellite Launch Prompts Fear of Long Range Ballistic Missile Attack
Iranian officials announced on Tuesday that the country is preparing to launch three new satellites into space, renewing concerns from defense experts about Iran's ongoing research into long-range ballistic missile technology that could help it fire a nuclear weapon at Western nations.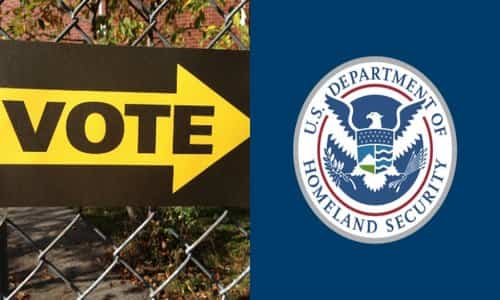 Why does the Department of Homeland Security all of a sudden want to oversee security for the election in November? Just a little while ago I checked the Drudge Report, and I was greeted by the following headline all in red: "HOMELAND SECURITY TO TAKE CHARGE OF ELECTIONS".
I was immediately alarmed, because I had already heard about how local election databases had been hacked, and Donald Trump has expressed concern that the presidential election in November could be rigged somehow. So I immediately clicked on the link and it took me to an article from the Washington Examiner...
Even before the FBI identified new cyber attacks on two separate state election boards, the Department of Homeland Security began considering declaring the election a "critical infrastructure," giving it the same control over security it has over Wall Street and and the electric power grid.
The latest admissions of attacks could speed up that effort possibly including the upcoming presidential election, according to officials.
"We should carefully consider whether our election system, our election process, is critical infrastructure like the financial sector, like the power grid," Homeland Security Secretary Jeh Johnson said.
I would definitely agree with Johnson that our election system is critical infrastructure.
But can a Department of Homeland Security that has been packed with Obama appointees actually be trusted to handle the security for our elections in a fair manner?
Unfortunately, I believe that is a legitimate question.
However, I will concede that something needs to be done. Just the other day, FBI Director James Comey admitted that his agency is taking the threat of election cyberattacks "very, very seriously" after a couple of local election databases were successfully attacked. The following comes from ABC News...
Three days ago, Senate Minority Leader Harry Reid, D-Nev., sent a letter to Comey, expressing concern that "the threat of the Russian government tampering in our presidential election is more extensive than widely known and may include the intent to falsify official election results."
In late June an "unknown actor scanned a state's Board of Election website for vulnerabilities" and, after identifying a security gap, exploited the vulnerability to conduct a "data exfiltration," or unauthorized data transfer, the FBI said in a recent bulletin.
Earlier this month, hackers used the same vulnerability in an "attempted intrusion activities into another state's Board of Election system," the FBI said.
The integrity of our elections is absolutely paramount. Without free and fair elections we might as well not even have a country.
So the fact that hackers have proven that they can hack into some of our systems is quite alarming indeed.
According to the Daily Beast, voter databases in Arizona and Illinois were the ones that were victimized...
The FBI's analysis of the hacks, contained in a security alert first reported by Yahoo News, shows that Arizona's elections website was penetrated in June using a common vulnerability that's well known to security experts. Then, in July, Illinois' voter files were accessed apparently using stolen login credentials, which could have been obtained by spear phishing a state employee.
So was much damage done by these hackers?
Well, it has been documented that many voters in Arizona did have their party affiliations changed without their knowledge or consent, and this rendered them unable to vote during the primaries...
During the primary election in Arizona, for instance, a number of voters found that their party affiliation had been changed without their knowledge. When they showed up to vote in the state's closed primary elections, some were told they were ineligible to vote with the party of their choice.
State officials have blamed the problem at least in part on an error at the state's driver registration bureau. But similar problems have reportedly cropped up in California, Connecticut, Maryland, New York, and Pennsylvania.
Needless to say, we can't have hackers messing with our elections, and something needs to be done.
I just don't know if the Department of Homeland Security can be trusted or if they are the ones that should be fixing this problem.
Before I close this article today, there is one more item that I would like to bring up. In the past, there has been much speculation on the Internet that some sort of "event" could suspend or delay the coming election, and that is why the following headline from U.S. News & World Report caught my eye: "A Candidate's Death Could Delay or Eliminate the Presidential Election". This is how that article begins...
The presidential election could be delayed or scrapped altogether if conspiracy theories become predictive and a candidate dies or drops out before Nov. 8. The perhaps equally startling alternative, if there's enough time: Small groups of people hand-picking a replacement pursuant to obscure party rules.
The scenarios have been seriously considered by few outside of the legal community and likely are too morbid for polite discussion in politically mixed company. But prominent law professors have pondered the effects and possible ways to address a late-date vacancy.
"There's nothing in the Constitution which requires a popular election for the electors serving in the Electoral College," says John Nagle, a law professor at the University of Notre Dame, meaning the body that officially elects presidents could convene without the general public voting.
In this article and this article I documented how Hillary Clinton's health appears to be rapidly failing. It is entirely possibly that if her health continues to go downhill that she might not even make it to election day.
Alternatively, many among the elite would be extremely happy if something caused Donald Trump not to make it to election day. So let us definitely pray for his health and safety and the health and safety of his family.
This election season has already been the strangest one that we have seen in decades, and I have a feeling that it is going to get a lot stranger over the next couple of months.
In the end, let us hope and pray for a fair, honest and safe election, because the American people should get to choose who will be leading them for the next four years.
Before the Cross
Sep 1st, 2016
PoemThomas Benson Pollock


Categories: Inspirational;Exhortation
My Lord, my Master, at Thy feet adoring,
I see Thee bowed beneath Thy load of woe:
For me, a sinner, is Thy life-blood pouring;
For Thee, my Savior, scarce my tears will flow.

Thine own disciple to Thy foes had sold Thee,
With friendship's kiss and loyal word he came;
How oft of faithful love my lips have told Thee,
While Thou hast seen my falsehood and my shame.
With taunts and scoffs they mock what seem They weakness,
With blows and outrage adding pain to pain;
Thou art unmoved and steadfast in Thy meekness;
When I am wronged, how quickly I complain!
My Lord, my Savior, when I see Thee wearing
Upon Thy bleeding brow the crown of Thorn,
Shall I for pleasure live, or shrink from bearing
Whate'er my lot may be of pain or scorn?
O Victim of Thy love, O pangs most healing,
O saving death, O wounds that I adore,
O shame most glorious! Christ, before Thee kneeling,
I pray Thee keep me Thine for evermore.
Wikileaks co-founder Julian Assange lashed out at the American press on Wednesday, saying that it is "erecting a demon" by defending Hillary Clinton.
"The American liberal press, in falling over themselves to defend Hillary Clinton, are erecting a demon that is going to put nooses around everyone's necks as soon as she wins the election, which is almost certainly what she's going to do," Assange told New York Times reporter Jo Becker during a live interview.
Wikileaks, which Assange co-founded in 2006, recently released nearly 20,000 emails hacked from the Democratic National Committee. Assange has said that the group will be releasing Clinton documents before the Nov. 8 election.
Assange declined to provide additional details about the documents procured from Clinton or from the Clinton Foundation. In an interview last week he called the Clinton documents "interesting" and "entertaining."