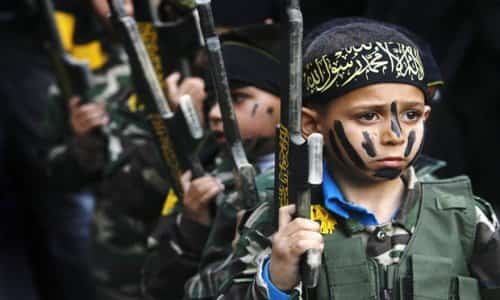 Children have long become an integral part of "military" parades held in the Gaza Strip by various Palestinian groups.
But this form of child abuse does not seem to bother human rights organizations or the United Nations Children's Fund (UNICEF), whose declared goal is to "work for a world in which every child has a fair chance in life and a right to survive, thrive and fulfill their potential -- to the benefit of a better world."
It seems that UNICEF does not believe that its mandate extends to Palestinian children, who are exploited to serve the interests of Islamist groups.
In the Gaza Strip, children are taught not only to hate Israel, but also to prepare themselves for jihad (holy war) against the "Zionist enemy." Hamas, the Islamic Jihad Movement, and other radical groups see children as future "soldiers" in the war to eliminate Israel. They raise children to regard suicide bombers and jihadis as role models.
Children in this world do not dream about becoming doctors, pilots or engineers. Rather, they dream of destroying Israel and "liberating Palestine."
In fact, an entire generation of Palestinians, particularly those in the Gaza Strip, has been raised on the glorification of suicide bombers and anyone who kills a Jew. With enough sacrifices, they are taught, the destruction of Israel is not a far-fetched dream.
They alone embody the future hope of the Palestinians to see Israel removed from the face of the earth. Forget becoming a physician: their job is to continue what their fathers failed to achieve.
All the while, both local and international human rights organizations look the other way. In their view, recruiting Palestinian children to the ranks of Islamist terror groups does not constitute child abuse.
Yet not only human rights groups turn a blind eye to this child abuse. The Palestinian Authority (PA), which relies heavily on Western donors for its survival, has also chosen to bury its head in the sand regarding this disturbing practice, which has become widespread in the Gaza Strip in recent years.
While the PA has no control over the Gaza Strip, its leaders, especially President Mahmoud Abbas, might be expected to condemn the exploitation and brainwashing of children.
What Abbas and other PA leaders fail to understand is that these children also pose a real threat to them. The radicalized children grow up not only to hate Jews, but also any Palestinian leader who claims to seek peace with Israel.
The very poison that is being injected into the minds and hearts of these children will come back to haunt those Palestinian leaders who sit idly by as the indoctrination occurs.
It is precisely these jihad-abused children who in a few short years will turn against the same leaders who poison their hearts and minds because they regard the leaders as too "moderate."
Moreover, it is this incitement that drives Palestinians into the open arms of Hamas and Islamic Jihad, the two groups that are considered political foes of the PA leadership and that strongly oppose any peaceful settlement with Israel.
Strikingly, the children are not being brainwashed in secret, behind closed doors. On the contrary; it is taking place in broad daylight, with those responsible boasting of it and inviting the world to see how they prepare the next generation of jihadis.
Summer camps where children undergo military training are not new to the Gaza Strip. They operated there long before Hamas's violent takeover of the Strip. But now, one no longer has to wait until the children are off from school and attend one of the summer camps there to see such scenes.
Children clad in military uniforms and brandishing automatic rifles can be seen throughout the Gaza Strip almost every other week. The parents, by and large, seem "proud" that their sons and daughters are being taught that jihad is the only way to "liberate Palestine."
Take, for example, the recent rally organized by the Iranian-backed Islamic Jihad Movement in Palestine on the occasion of its 29th anniversary. The group's declared objective is to destroy Israel and establish a sovereign, Islamic state.
The rally was also to commemorate the anniversary of the assassination of the group's leader, Fathi Shikaki, who was gunned down on October 26, 1995 in front of the Diplomat Hotel in Sliema, Malta, presumably by Israeli agents.
The "stars" at the rally were dozens of boys and girls who came -- or more accurately were brought -- to the rally to express their support for the Islamic Jihad Movement in Palestine, and its goals.
Most of the children appeared in camouflage military outfits, some carrying real or fake automatic rifles, and wearing headbands carrying the name of the group's armed wing, Al-Quds Brigades.
And here is a quick reminder: the Brigades are responsible for a series of suicide bombings and other terror attacks on Israeli civilians and soldiers. They are also behind many of the rockets that have been fired into Israel in recent years. The children are celebrated and lionized as "cubs and flowers."
The rally, which drew thousands of Palestinians, was held under the banner of "Jihad is our Renewed Birth." Translated, this means that the group is repeating its commitment to pursue holy war against Israel and Jews in order to achieve its goal of establishing an ISIS-style Islamic state.
Later, the group proudly announced that a month-old infant named Sham Al-Zaq was the youngest Palestinian to attend the rally. The group even posted a photo of the baby girl dressed in a military outfit.
Addressing the crowd through satellite, Islamic Jihad Secretary-General Ramadan Shallah once again reminded his supporters of the need to abide by the "armed struggle" as the only means to destroy Israel.
"The Palestinians and their future generations will not compromise or give up their right to Palestine, which is our homeland," Shallah emphasized. "Jihad is the path to victory and liberation."
What is worrying about this Islamic Jihad rally is not only the number of children who appeared at the forefront and in military uniforms and weapons, but also the large number of participants.
According to sources in the Gaza Strip, tens of thousands of Palestinians attended the Islamic Jihad rally. They noted that some of the families arrived from various parts of the Gaza Strip two or three days earlier at the location of the rally, to make sure they found space close to the podium.
The large turnout is evidence of the widespread support for Islamic Jihad, which has become the second-largest militia in the Gaza Strip, after Hamas. The large turnout is also a sign of the increased radicalization of Palestinians, especially in the Gaza Strip, and the "mass return to Islam."
Ironically, many of the group's supporters are former disgruntled members of Hamas, who felt that Hamas was not Islamic enough, and was too "soft" on Israel.
Thus, we are dealing with the exploitation of children, but also the growing radicalization that is taking place among Palestinians.
In a society where drinking coffee with Jews is considered a crime, it is easy to see in which direction Palestinians are headed. It is only a matter of time before many of these children who appear at the "military" rallies of Islamic Jihad and Hamas, and absorb the poison of their leaders, set out on a mission to kill Jews with the hope of replacing Israel with an Islamic state.
The children are being taught that the conflict with Israel is not about a settlement or an illegal outpost or borders or checkpoints, but about the very existence of Israel.
What is the world prepared to do in order to combat this child abuse? UNICEF and other international bodies may not have time to deal with such issues at present, because they are too busy thinking about the next resolution to condemn Israel.
Report suggests White House preparing possible last-ditch attempt at achieving two-state solution before Obama's term ends next January.
With less than three months left in the White House, rumors abound that outgoing President Barack Obama could use his remaining time in office to push for a final status agreement between Israel and the Palestinian Authority.
President Obama, who has long championed the cause of Palestinian statehood and made an ambitious effort towards a two-state solution early on in his presidency, raised the issue again during his United Nations address on September 20th, calling upon Israel to end "the occupation".
"Israel must understand it can't permanently continue to build on Palestinian land," Obama said.
With a relatively high approval rating – 52.5% according to the RealClearPolitics average - for a lame-duck president, due in part to this year's rancorous presidential election, some suggest the president is ready to expend some that political capital in a last-minute push towards a two-state solution.
In August, senior US officials told the Wall Street Journal was considering a number of options for rebooting the stalled final status negotiations between Israel and the Palestinian Authority, including unprecedented moves like a United Nations Security Council resolution forcing the framework for a treaty upon the two parties.
On Monday the rumors of a "November surprise" continued, with the Wall Street Journalwriting that sources inside the Obama administration had confirmed that the White House had requested an options menu from the State Department in pushing for a final status agreement.
Among the options being considered, the Wall Street Journal wrote, are a UN Security Council resolution – which unlike General Assembly resolutions are binding upon member states – against Israel and Jewish construction in Judea, Samaria, and Jerusalem.
President Obama may also choose to unilaterally recognize Palestinian statehood, or rescind the US veto on other anti-Israel resolutions at the Security Council.
Other possible moves being weighed include use of the IRS to strangle funding of tax-exempt groups with ties to Jewish communities over the Green Line.
THE US has upgraded its long range missile system to strike both land and sea targets as Washington responds to Russia's deadly war preparations.
America's defence secretary Ashton Carter announced the army's tactical missile system (ATACMS) will be upgraded to hit moving targets with pinpoint accuracy.
It comes after Vladimir Putin's unleashed is the world's most advanced attack helicopter, according to Moscow.
The Kremlin proudly paraded the next generation 'Night Hunter' gunship, which is armed with futuristic lasers and drone escorts.
In response to Russia's military boasting, head of the Strategic Capabilities Office - who are leading the rocket upgrade – Will Roper, said: "How you offset the adversaries trying to offset your offset? It's very simple to do that, you just don't talk about your best capabilities.
"We are keeping our best ideas behind the door and probably always will.
"We thought it was important to come out (in public) with ATACMS for the Army because there's been a lot of writing, a lot of speeches, on the need for the Army to go cross-domain."
A nuclear submarine is believed to be one of three fearsomely armed subs heading for Mediterranean – easy striking distance of the besieged Syrian city of Aleppo.
As tensions descend to Cold War levels, nearly half of all Russian now fear a global military conflict because of Putin's aggressive stance on Syria.
The survey found 48 per cent saw the probability of another world war in the near future as high or very high.
Researchers from private opinions pollster Levada said 52 per cent approved of their country's involvement in the Syrian conflict while 26 per cent had a negative or sharply negative attitude Russia's intervention.
Clinton's 12-point lead in ABC/Washington Post poll replaced by narrow Trump lead; GOP nominee takes lead in New Hampshire and Florida.
Exactly one week before Election Day, polling continues to shift in favor of Republican presidential nominee Donald Trump, whose campaign has been buoyed by the October 28th announcement by FBI director James Comey that the investigation into Hillary Clinton's handling of classified emails had been reopened.
In the latest survey, the ABC/Washington Posttracking poll, Trump now leads his opponent by one point – 46% to 45%.
This represents a massive shift since October 23rd, when the same poll gave Clinton a stunning 12-point advantage over Trump. The poll was touted at the time by Democrats, who jumped on it as proof that Clinton's election was a shoe-in.
After weeks of leaked Clinton campaign emails and the FBI announcement, however, Clinton's lead has declined sharply.
According to the RealClearPolitics average of polls, Clinton's 7.1% lead from just two weeks has collapsed to just 2.4%. But even that average underplays Clinton's decline, with most of the polling having taken place prior to Comey's bombshell announcement. If polls taken entirely before the announcement are removed, Clinton's average falls further, to just 1.2%.
Trump has also gained momentum in battleground states like New Hampshire, Virginia, North Carolina, Colorado, and Pennsylvania.
According to the latest New Hampshire Journal/Inside Sources poll, for instance, Trump now leads in the Live Free or Die state by 2 points, 45% to 43%.
In Pennsylvania, which has consistently gone Democrat in every presidential election since the 1990s, Trump has narrowed the gap in recent polls, trailing Clinton by just 2 points according to separate ESA/Pulse Opinion Research, Remington, and Reuters/Ipsos polls, and by 3 points according to Gravis.
With its 20 electoral votes, Pennsylvania has long been part of the so-called "Democratic firewall," and is a must-win state for Clinton.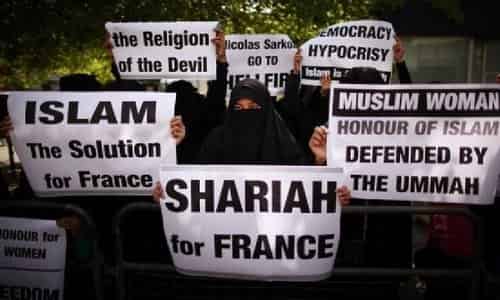 A new book is shaking France. Les cloches sonneront-elles encore demain? ("Will the Church Bells Ring Tomorrow?"), by Philippe de Villiers, is shattering the nation. France, the "eldest daughter" of the Catholic Church, is instead turning into "the eldest daughter of Islam".
De Villiers points out that:
"France has experienced many misfortunes in its history. But for the first time, it must face the fear of disappearing. In France, there are two groups: a new people who move with pride and an exhausted people, who are not even aware of the conditions needed for their own survival".
De Villiers paints a grim picture of French Catholicism: "Avignon is no longer the city of the Popes, but of the Salafis". In Saint-Denis, where the French kings and Charles Martel are buried, "tunics and beards now dominate, and girls are dressed in the Islamic shrouds".
If a parish is still alive there, it is thanks to the zeal of the Christian community of Africans and Tamils. "The Kings' cemetery is just one enclave. It belongs to a story that does not count anymore".
The bell towers of the churches in de Villiers' book are already growing silent in Boissettes (Seine-et-Marne), and on the outskirts of Metz, where the bells of the church of Sainte Ruffine have been forced by the state secularist authorities to keep silent.
It happened in the Breton village of Hédé-Bazouges, where silence is filled by the sound of what de Villiers calls "the clergy in the djellaba" [outer robe worn by North Africans] -- the muezzin's call to prayer. It is happening everywhere in France.
"France is no longer a Catholic country", writes Frederic Lenoir, editor in chief of Le Monde des Religions. Le Figaro wondered if Islam can already be considered "France's prime religion".
It is estimated today in France that for every practicing Muslim there are three practicing Catholics. But if the analysis is deepened, it appears that this ratio will soon reverse.
Comparing only the weekly frequency of attending a mosque on Friday and a church on Sunday, the scenario is clear: 65% of practicing Catholics are over the age of 50. By contrast, 73% of practicing Muslims are under 50.
The trend indicates that in France, there are currently three young practicing Muslims for every young practicing Catholic.
The same is true for the construction of new religious sites. There are nearly 2,400 mosques today in France, compared to 1,500 in 2003: "This is the most visible sign of the rapid growth of Islam in France", according to the weekly magazine, Valeurs Actuelles.
Almost two new mosques are built each week: that is the pace of expansion of Muslim places of worship in France for the last 10 years. The record is held by Corsica: in 2003 there were no Muslim places of worship, now it has 11.
Muslim countries are generously funding France's mosques. Foreign funding covers an average of 50% of total costs: for the Grand Mosque of Strasbourg, 37% came from Morocco, 13% from Saudi Arabia and Kuwait.
At Roissy-en-Brie, the Sultanate of Oman contributed 1.8 million euros, or two-thirds, of the budget. In Marseille, Qatar will provide 25% of the funding.
Charles Adhémar, a French political scientist, also commented on the "de-Christianization and gradual Islamization of France".
The picture over the last year has been devastating: A Catholic priest murdered inside a French church by Muslim extremists; Muslim leaders who call to convert empty churches into mosques; Christian faithful dragged from Paris's churches before they are demolished.
Even Lourdes, France's most famous Catholic site, lies in crisis because of the shortage of pilgrims.
French Catholicism is now witnessing a tragic decline, caught between two fires: state secularism and political Islam. "In forty years, France has become the nation in Western Europe where the population of Muslim origin is the most important", wrote the Osservatore Romano, the Vatican's official daily newspaper. "It is conceivable that Islam is overtaking Catholicism".
That is why for 45% of French Catholics, Islam represents a "threat". That is why for the last few years, a growing number of French intellectuals, mostly secular authors, published books raising the alarm on this religious outstripping.
One author is Pierre Manent, who in the book La situation de France writes that "we are witnessing the extension and the consolidation of the domain of Muslim practices rather than its shrinking or relaxation".
Another is Éric Zemmour, public enemy number one of the French left; he just penned a new book, Un quinquennat pour rien ("A Five Year Term for Nothing" -- quinquennat is the five year term served by France's president), in which he calls for "a cultural revolution that can afford only to win the war of civilizations taking place on our land".
A renowned sociologist of religion, Danièle Hervieu-Léger, also published a book that sounds like a verdict: Catholicisme, la fin d'un monde ("Catholicism, the End of a World"). Hervieu-Léger makes up her own word to describe this end: "exculturation". It brings to mind not a battle that is taking place but one that is already finished.
In the fight between "the cube and the cathedral" -- the Arche de la Défense built in Paris by François Mitterrand as a symbol of modernity, and the Cathedral of Notre Dame -- the cube is overtaking the church. Both are dominated by the Islamic crescent.
Let the Headlines Speak
Nov 1st, 2016
Daily NewsFrom the Internet


Categories: Today's Headlines
Trump surges past Clinton week before election
In the latest survey, the ABC/Washington Post tracking poll, Trump now leads his opponent by one point – 46% to 45%. This represents a massive shift since October 23rd, when the same poll gave Clinton a stunning 12-point advantage over Trump. The poll was touted at the time by Democrats, who jumped on it as proof that Clinton's election was a shoo-in.
Bible Codes Predict Trump Win [WATCH]
In two separate sets of Bible Codes, published three months apart, international Bible Codes expert Rabbi Matityahu Glazerson found evidence that Donald J. Trump will win the upcoming US presidential election. What's more, Trump's predicted win appears to be connected to his support for Israel.
'Clinton's black son' to make 'bombshell announcement'
Danney Williams, the man from Little Rock, Arkansas, who has claimed since the 1990s to be the black illegitimate son of former President Bill Clinton, will hold a press conference Tuesday at the National Press Club in Washington, D.C., to make an announcement his supporters characterize as a "bombshell that will rock Hillary's campaign."
Israel to build new settler homes in Shiloh, despite US objections
Israel intends to move ahead with plans to construct 98 new homes in the West Bank settlement of Shiloh, despite harsh United States objections to the plan. On Monday the state informed the High Court of Justice it awaited final bureaucratic approval to develop the site within six months as a relocation option for the 40 families from the Amona outpost.
What is Obama planning for Israel in his final months?
Report suggests White House preparing possible last-ditch attempt at achieving two-state solution before Obama's term ends next January.
Still Think Hillary Clinton Is a Role Model for Your Daughter?
Good and decent men and women who are Democrats ought to stop thinking this way -- for America's sake and for their daughters' sake.
Is the 'big one' about to hit Rome? String of tremors and volcano's reawakening prompt fears of major quake
Whilst scientists say there is no risk that Rome will be hit by a "big one", something different may be threatening the Eternal City: a dormant volcano. Situated on Rome's doorstep, the volcano is showing signs of activity which, combined with the seismic history of the area, would indicate it is slowly reactivating, an international team of scientist said.
Around 35 Small Earthquakes Rattle Salton Sea Area
About 35 small earthquakes rattled the Salton Sea area Monday morning. The quakes, which began at 2:43 a.m., were relatively mild. According to the U.S. Geological Survey, a magnitude-3.1 earthquake struck around 2:43 a.m., located 5 miles southwest of Niland. Within the hour, a magnitude-3.0 and magnitude-3.3 earthquakes rattled the same area. Around 3:41 a.m., a magnitude-3.6 quake rattled 6 miles north of Ocotillo Wells.
Immigration Officer: Border Deluge of Illegal Aliens 'Is The Worst We've Ever Seen'
The flood of illegal aliens pouring across the southern border has become a "crisis situation" and is even worse than the record 2014 border surge, says an Immigration and Customs Enforcement (ICE) officer from El Paso, Texas... The ICE agency has no room to house the arriving surge, so many illegals are being released into American communities where they disappear "into the wind never to be seen by us again," the agent said.
Obama's Israel Surprise?
The Middle East...bright spots...is the budding rapprochement between Israel and its Sunni Arab neighbors, including Saudi Arabia and the United Arab Emirates, thanks to...threats from Iran and Islamic State. Now the Obama Administration may...wreck even that. Israeli diplomats gird for the possibility that President Obama may try to force a diplomatic resolution for Israel and the Palestinians at the United Nations.
Russian submarines spotted off BRITISH COAST in latest Putin offensive
A RUSSIAN nuclear submarine operating covertly in waters off the coast of Britain is being tracked by the Royal Navy. The sub is believed to be one of three fearsomely armed subs heading for Mediterranean – easy striking distance of the besieged Syrian city of Aleppo.
ROBOT WARS Vladimir Putin's Russia is preparing an army of robots and drones to take on its enemies
Vladimir Putin has ordered his military to modernise and create "intelligent weapons", the country's Deputy Prime Minister has warned. The announcement comes just weeks after the country's rustbucket aircraft carrier Admiral Kuznetsov was mocked as it belched out acrid smoke while steaming through the English Channel towards Syria.
UK forms global infection response team
The UK has created a specialist team of health experts who can be deployed anywhere around the world within 48 hours if a disease outbreak strikes. The aim is to stamp out infections like Ebola before they spread far and wide. The scientists, academics and clinicians will be funded by £20m from the government over five years.
Lebanon: Michel Aoun elected president, ending two-year stalemate
Lebanon's parliament has elected Michel Aoun as president, ending a political stand-off that has left the post empty for more than two years. The newly-appointed president, a Maronite Christian, vowed to protect Lebanon from "regional fires" - a reference to the conflict in Syria. Mr Aoun was backed by the powerful Shia Islamist group, Hezbollah.
Italy quake: At least 15,000 in temporary shelters
Italy's most powerful earthquake since 1980 has left more than 15,000 people homeless, according to the country's civil protection agency. No-one was killed in Sunday's quake but 20 people were injured and there is extensive damage in and around Norcia. The 6.6-magnitude quake struck near the central region where nearly 300 people were killed by a quake in August.
China J-20 fighter jet in public debut
China has showcased its long-awaited J-20 stealth fighter in public for the first time. Two of the radar-evading jets did a 60-second flypast at the Zhuhai air show in Guangdong province - the country's biggest meeting of plane makers and buyers. Previously the jets had only been seen by bloggers.
Israel to build new settler homes in Shiloh, despite US objections
Israel intends to move ahead with plans to construct 98 new homes in the West Bank settlement of Shiloh, despite harsh United States objections to the plan. On Monday the state informed the High Court of Justice it awaited final bureaucratic approval to develop the site within six months as a relocation option for the 40 families from the Amona outpost.
Mosul battle: Iraqi PM Abadi urges IS to surrender
The prime minister of Iraq has urged the Islamic State group to surrender as government troops close in on its last urban stronghold in the country, Mosul.
City releases audio of Pulse nightclub gunman
Police negotiators talking to the Orlando nightclub gunman at first weren't sure if the person they had on the phone was actually in the Pulse nightclub, according to audio recordings released Monday after a judge ruled they should be made public.
Death is near in Mosul, says IS survivor
Since the Iraqi and Kurdish armies began an operation to re-capture Mosul, some 17,000 people living in the outskirts of the city have been freed from so-called Islamic State (IS) rule
China debuts J-20 stealth jet in show of strength at country's biggest air expo
China showed its Chengdu J-20 stealth fighter in public for the first time on Tuesday, opening the country's biggest meeting of aircraft makers and buyers with a show of its military clout.
Erdogan rides patriotic wave with crackdown at home, combative policy abroad
In the three and half months since a failed military coup, Turkey has sacked or suspended more than 110,000 people, launched a military incursion into Syria, and repeatedly threatened to do the same in Iraq.
CNN Decries "Fake News" Websites (Then Stealth Edits Its Own Article)
There is a plague of "fake news" apparently, and CNN is here to help you 'dear voter' see through the deception to the Clinton-campaign-confirmed narrative you should be paying attention. While it not enough that we have pointed out CNN's numerous questionable actions (here, here, and here), along with today's news of Donna Brazile's resignation, but just this weekend CNN was caught 'stealth editing' false claims made against Trump. Fake news indeed...
Brazile out at CNN after WikiLeaks reveals she gave debate questions to Clinton camp
Democratic party chair Donna Brazile is no longer at CNN, as WikiLeaks revealed that she sent debate questions to Hillary Clinton's campaign at least twice. Confirming Brazile's dismissal, CNN said it was "completely uncomfortable" with her conduct.
Vaccinating against dengue may increase Zika outbreaks
Vaccinating against dengue fever could increase outbreaks of Zika, suggests new research. The study identifies a potentially serious public health concern. More than a third of the world's population lives in areas where dengue is endemic and cases of co-infection with Zika have already been reported.
WAR READY: US upgrades deadly rocket system to hit LAND TARGETS amid global conflict fears
THE US has upgraded its long range missile system to strike both land and sea targets as Washington responds to Russia's deadly war preparations.
CNN quietly edits incorrect Trump story, only adds editor's note after media report
CNN on Sunday incorrectly reported that Donald Trump encouraged his supporters to vote multiple times, then quietly amended its online story when it became apparent the claim was not true.
'We are losing control of the streets' Merkel's Germany descends into lawlessness
During the first six months of 2016, migrants committed 142,500 crimes, according to the Federal Criminal Police Office. And the country has been hit by a spate of horrendous violent crime including rapes, sexual and physical assaults, stabbings, home invasions, robberies, burglaries and drug trafficking.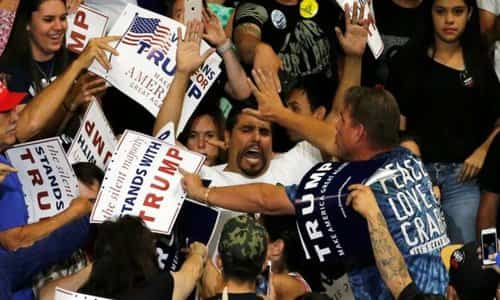 Could we see violence no matter who wins on November 8th? Let's hope that it doesn't happen, but as you will see below, anti-Trump violence is already sweeping the nation.
If Trump were to actually win the election, that would likely send the radical left into a violent post-election temper tantrum unlike anything that we have ever seen before.
Alternatively, there is a tremendous amount of concern on the right that this election could be stolen by Hillary Clinton. And as I showed yesterday, it appears that voting machines in Texas are already switching votes from Donald Trump to Hillary Clinton.
If Hillary Clinton wins this election under suspicious circumstances, that also may be enough to set off widespread civil unrest all across the country.
At this moment there is less than two weeks to go until November 8th, and a brand new survey has found that a majority of Americans are concerned "about the possibility of violence" on election day...
A 51% majority of likely voters express at least some concern about the possibility of violence on Election Day; one in five are "very concerned."
Three of four say they have confidence that the United States will have the peaceful transfer of power that has marked American democracy for more than 200 years, but just 40% say they are "very confident" about that.
More than four in 10 of Trump supporters say they won't recognize the legitimacy of Clinton as president, if she prevails, because they say she wouldn't have won fair and square.
But many on the left are not waiting until after the election to commit acts of violence. On Wednesday, Donald Trump's star on the Walk of Fame was smashed into pieces by a man with a sledgehammer and a pick-ax...
Donald Trump took a lot of hits today, and not just in the Presidential race. With less than one week to go before America decides if the ex-Apprentice host will pull off a surprise victory over Hillary Clinton, Trump's star on the Hollywood Walk of Fame was destroyed early Wednesday morning by a man dressed as a city construction worker and wielding a sledgehammer and pick-ax in what looks to be a Tinseltown first.
And there were two other instances earlier this year when Donald Trump's star was also vandalized. One came in January, and the other happened in June...
This is of course not the first time the GOP candidate's star has been attacked or defaced since Trump announced his White House bid in summer 2015.
The most extreme measure was a reverse swastika being sprayed on the star at 6801 Hollywood Blvd in late January.
In June this summer, a mute sign was painted on Trump's star in a seemingly protest against the antagonistic language and policies some have accused Trump of promoting and reveling in during the campaign. In both cases, Trump's star was quickly cleaned and back as new within a day.
We have seen anti-Trump violence on the east coast as well. Earlier this month, someone decided to firebomb the Republican Party headquarters in Orange County, North Carolina. On the building next to the headquarters, someone spray-painted "Nazi Republicans get out of town or else" along with a swastika.
There have also been other disturbing incidents of anti-Trump violence all over the nation in recent days. A recent Lifezette article put together quite a long list, and the following is just a short excerpt from that piece...
On Oct. 15 in Bangor, Maine, vandals spray-painted about 20 parked cars outside a Trump rally. Trump supporter Paul Foster, whose van was hit with white paint, told reporters, "Why can't they do a peaceful protest instead of painting cars, all of this, to make their statement?"
Around Oct. 3, a couple of Trump supporters were assaulted in Zeitgeist, a San Francisco bar, after they were allegedly refused service for expressing support for Trump, GotNews reports.
"The two Trump supporters were attacked, punched, and chased into the street by 'some thugs' that a barmaid called out from the back." Lilian Kim of ABC 7 Bay Area tweeted a photo of the men, in which one was wearing a Trump T-shirt and the other was wearing a "Blue Lives Matter" shirt.
On Sept. 28 in El Cajon, California, an angry mob at a Black Lives Matter protest beat 21-year-old Trump supporter Feras Jabro for wearing a "Make America Great Again" baseball cap. The assault was broadcast live using the smartphone app Periscope.
There is a move to get Trump supporters to wear red on election day, but in many parts of America that might just turn his supporters into easy targets. Let's certainly hope that we don't see the kind of violent confrontations at voting locations that many experts are anticipating.
Of course there are also many on the right that are fighting mad, and a Hillary Clinton victory under suspicious circumstances may be enough to push them over the edge.
For example, this week former Congressman Joe Walsh said that he is "grabbing my musket" if Donald Trump loses the election...
Former Rep. Joe Walsh appeared to call for armed revolution Wednesday if Donald Trump is not elected president.
Walsh, a former tea party congressman from Illinois who is now a conservative talk radio host, tweeted, "On November 8th, I'm voting for Trump. On November 9th, if Trump loses, I'm grabbing my musket. You in?"
And without a doubt, many ordinary Americans are stocking up on guns and ammunition just in case Hillary Clinton is victorious. The following comes from USA Today...
"Since the polls are starting to shift quite a bit towards Hillary Clinton, I've been buying a lot more ammunition," says Rick Darling, 69, an engineer from Harrison Township, in Michigan's Detroit suburbs.
In a follow-up phone interview after being surveyed, the Trump supporter said he fears progressives will want to "declare martial law and take our guns away" after the election.
Today America is more divided than I have ever seen it before, and the mainstream media is constantly fueling the hatred and the anger that various groups feel toward one another.