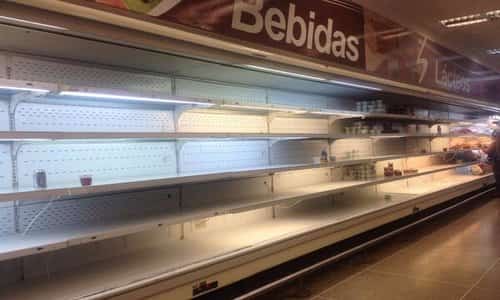 (The following is classic socialism)
Venezuela is out of food.
After several years of long lines, rationing, and shortages, the socialist country does not have enough food to feed its population, and the opposition government has declared a nutritional emergency. This is just the most recent nail in the beleaguered countrys slow, painful economic collapse.
Many people expect an economic collapse to be shocking, instant, and dramatic but, really, its far more gradual than that. It looks like empty shelves, long lines, desperate government officials trying to cover their tushes, and hungry people. For the past two years, I've been following the situation in Venezuela as each shocking event has unfolded. Americans who feel that our country would be better served by a socialist government would be wise to take note of this timeline of the collapse.
A quick review: Why Venezuela Is Out of Food
In 2013, many began to suspect that the outlook for Venezuela was grim when prepping became illegal. The Attorney General of Venezuela, Luisa Ortega Díaz, called on prosecutors to target people who are hoarding basic staples with serious sanctions.
Shortly thereafter, grocery stores instituted a fingerprint registry to purchase food and supplies. Families had to register and were allotted a certain amount of supplies to prevent hoarding.
Then, just over a year ago, it became even more apparent that the country was falling when long lines for basic necessities such as laundry soap, diapers, and food became the norm rather than the exception. Thousands of people were standing in line for 5-6 hours in the hopes that they would be able to purchase a few much-needed items.
Shortly after the story broke to the rest of the world, the propaganda machine shifted into high gear. As the government began to ration electricity, it was announced that this was not due to economic reasons at all, but instead was a measure of their great concern for the environment.
As the situation continued to devolve, farmers in Venezuela were forced to hand over their crops last summer. They assumed control of essential goods like food, and began putting retail outlets out of business. Then, once they had control of the sales outlets, they began forcing farmers and food manufacturers to sell anywhere from 30-100% of their products to the state at the price the state opted to pay, as opposed to stores and supermarkets.
But that wasnt enough to keep the population fed. (Isnt it astonishing how much less motivated people are to produce food and supplies when they are no longer allowed to benefit from their hard work? Historically, collectivism and farming have never gone successfully hand in hand.) This January, the government told citizens that they would need to produce their own food. The Ministry of Urban Farming was created to oversee this. While self-reliance sounds great, it isnt so great in Venezuela. Just so the urban farmers dont get too self-reliant, a registry of the crops and livestock will be required. (And obviously, theyve already proven that they have no issue forcing farmers to hand over what theyve produced.)
Now, it looks like all of the socialist measures and forced food production havent been enough to keep the people of Venezuela fed. The country is in so much trouble now that it isnt possible to cover it up with propaganda.
According to Breitbart.com, lawmakers have learned nothing.
Socialist legislators are hoping to manipulate the initiative in the other direction, and use it to expand government control of private food enterprises. Legislator Héctor Rodríguez has insisted that the economic emergency does absolutely nothing, and the government should impose itself on private enterprises. Another socialist legislator, Ricardo Molina, is calling for the government to expropriate Polar, Venezuelas largest private food corporation: we have to intervene on private sector enterprises.
Venezuala previously forced a Polar food distribution center in Caracas to shut down in July, putting 12,000 tons of food, six million liters of soft drinks, and 2,000 jobs at risk.
And now, the announcement of the nutritional emergency makes it official. Venezuela is out of food, and its only a matter of time before Venezuelans are quite literally starving due to a long series of terrible decisions by their leaders.
Prep before it happens
Its essential to note as this all plays out that there is little people can do now to rectify their situations. If they arent already quietly prepared, they are completely at the mercy of their socialist government. It is absolutely vital to put back supplies well before the general public is aware that a crisis is pending.
As well, consider the fact that many folks here believe that a socialist government is exactly what our country needs. They eagerly lap up the promises of free education and free healthcare. They warmly embrace a presidential candidate who is an unabashed socialist. It absolutely astonishes me. Theyd be well-advised to pay attention to how well the freebies have worked out in Venezuela. Socialism is not a sustainable economic model, something that has been proven time and time again, much to the detriment of the victims of the misguided notions.
The game pieces here are already lined up to control the American people should our economic situation continue to worsen. For example, there are already laws in place to prevent hoarding. Remember a few years ago when President Obama signed an executive order that gives the federal government authority over every resource and infrastructure element in the United States?
There are a lot of uncomfortable parallels that can be drawn between Americas financial situation and the disaster in Venezuela, and one thing is clear: self-sufficiency is the only way to protect your family. Even if you havent really begun to prepare, theres still time to become more self-reliant.
Reposted with permission from Activist Post
Over 100 Ukrainian Jews fled war-torn Ukraine and arrived in Israel on Tuesday, February 23. Many Ukrainian Jews have been leaving their country of birth due to violence and frequent anti-Semitic attacks. They were assisted by the International Fellowship of Christians and Jews (IFCJ), which has been spearheading a project of bringing Jews to Israel from countries engulfed by war.
Sisters Marina and Alexandra Prokopovych, aged 17 and 15 respectively, were among the new immigrants who arrived in Israel. They had lived in the small suburb of Rakytne. Both were severely beaten at their high school in what began as a nationalistically-motivated attack, but which spilled over into overt anti-Semitism.
IFCJ Director of Communications Tali Aronsky told Tazpit Press Service (TPS) that the girls were called "separatists" and "Zhids" [Jews] prior to the assault because they spoke Russian instead of Ukrainian.
"The girls sustained serious injuries as a result. One suffered concussions and had to get stitches. Even the teachers joined in the beating. The father remembers similar things that happened when he was younger, but he decided that it was time to leave when it happened to his daughters," she said.
Dmytro Prokopovych, the girls' father, also remembers that he had switched schools three times due to his ethnicity. He himself suffered fourteen concussions from similar attacks during his childhood and he maintains that anti-Semitism is still very prevalent in post-Soviet Ukraine.
"I recently discovered that my family's real surname is Evenbach and not Prokopovych. It was my grandfather's surname. My father would not be admitted to university with this surname in Soviet times so he changed it to his mother's maiden name," Dmytro recalls.
IFCJ founder Rabbi Yechiel Eckstein decided that efforts to rescue Jews in countries with prevailing anti-Semitism were insufficient. The IFCJ then began actively searching for Jews suffering in countries affected by war. Many of the immigrants receive additional funds since they were forced to leave behind homes that have become essentially worthless due to the conflicts.
"We don't wait for the Ukrainians to call us up. We go to them and we also give them more support. We offer them $1,000 per family and $500 for every child in addition to what they get from the government," Aronsky told TPS.
The new immigrants will be given guidance and career advice. Aronsky said that the organization has also reached out to other countries such as Venezuela, Uruguay, Turkey, and even several Arab countries and has managed to bring some 2,355 Jews to Israel. Aronsky was unable to divulge the identities of the Arab countries due to security concerns for the Jews involved.
The ceasefire in Syria is a joke. Turkish military units continue to mass along the border, and militants are pouring across the border to attack targets in northern Syria.
The Prime Minister of Turkey is now openly admitting that his government is supporting the militants that are trying to overthrow the Syrian government, and the Turkish government has also made it abundantly clear that they have no plans to stop shelling the Kurds on the other side of the border.
So despite the "ceasefire", the truth is that the threat of World War 3 breaking out in the Middle East is greater than ever.
At times it is difficult to see the dividing line between the Turkish military and the radical jihadists that are hopping back and forth across the border with the full support of the Turkish government. Over the weekend, militants from Turkey that crossed over into northern Syria were supported by artillery fire from the Turkish military as they attacked a key Kurdish town...
In the Raqqa province, a group of some 100 fighters crossed into Syria from Turkey. The group later joined forces with other militants and attacked the Kurdish town of Tell Abyad.
The 250-strong group was supported by artillery fire from the Turkish territory, a fact that Russia said the US should explain. The Kurdish YPG militia fended off the attack, the report said.
This is an act of war, and yet the Obama administration does not seem to mind.
If Turkey will not even honor the ceasefire, what hope is there that anything will be able to stop them from acting so aggressively?
At this point, the Turks are not even pretending anymore. Just the other day, Turkeys Prime Minister Ahmet Davutoglu openly admitted that his nation is backing the militants that are trying to overthrow the Assad regime...
"How would they be able to defend themselves if there was no Turkish support of the Syrian people? & If theres today a real moderate Syrian opposition, its because of the Turkish support. If today the [Assad] regime isnt able to control all the territories [it's] because of Turkish and some other countries support," he told Al-Jazeera earlier this week.
Obviously this ceasefire is not going to work. Turkey has not even pressed pause in their relentless campaign against the Assad regime and the Kurds.
The Turkish government has become absolutely obsessed with their neighbor to the south, and that is a very dangerous thing for the rest of the planet. The only way that Turkey, Saudi Arabia and their allies are going to be able to win the war now is to conduct a massive ground invasion of Syria.
Such a move would lead to direct conflict with Iran, Hezbollah and the Russians, and since Turkey is a member of the NATO alliance, that could threaten to drag the U.S. and western Europe into the war as well. The following comes from the International Business Times...
The wider consequences of any disagreement between Ankara and Moscow could lead to a standoff between Russia and NATO. Jen Stoltenberg, secretary general of the Brussels-based organization, said in late 2015 that it would be prepared to defend the member state of Turkey if it were attacked by Russia.
"NATO will defend you, NATO is on the ground, NATO is ready," Stoltenberg said in the aftermath of repeated breaches of Turkish airspace by Russian jets and just one month before Ankara shot down a Russian jet in November.
The 28-country alliance is bound by Article 5 of its treaty to collectively defend its members. "Collective defense means that an attack against one ally is considered as an attack against all allies," the article states.
Saudi Arabia does not appear ready to back down either.
The Saudis continue to reiterate their position that either Assad must go peacefully or he will be removed by force&
Saudi Arabia is prepared to send troops to Syria if President Bashar Assad doesn't resign and leave his war-torn nation peacefully. Saudi Foreign Minister Adel Al-Jubeir warned Sunday that his country will take military action if Syria violates the terms of a ceasefire agreement.
"I believe that abiding by the truce would be an important indicator of the seriousness to reach a peaceful solution to the Syrian crisis that would include setting up a transitional council and the transfer of power from Bashar to this council," he said during a joint press conference with his Danish counterpart Kristian Jensen in the Saudi capital of Riyadh.
Al-Jubeir warned that Saudi Arabia has prepared a "Plan B." If "the coalition decided to send ground troops into Syria, Saudi Arabia is ready to contribute," he said.
The goal since 2011 has been to get rid of Assad so that Syria could become a full-fledged Sunni nation with a Sunni government.
Saudi Arabia, Turkey and their allies have poured enormous amounts of money and resources into this conflict, and they don't appear to be willing to walk away now that the tide of the war has turned. In fact, how the Saudis have been behaving lately has been causing a tremendous amount of anxiety in the Middle East...
Saudi Arabias recent actions have caused a great deal of anxiety within its region. On February 4, a military spokesman suggested that Saudi Arabia was ready to send troops ground troops to fight ISIS in Syria. A week later Saudi Arabia announced that it will send combat aircraft and soldiers to Turkey to participate in the U.S. led coalition against ISIS.
Three days later the Saudis launched "Northern Thunder," described as the "largest military exercise in the history of the Middle East." Participants from 20 countries sent troops to the maneuvers run over three weeks in Hafar al Batin in northern Saudi Arabia, not far from the Iraqi and Kuwaiti border. According to a Saudi media outlet, some 350,000 troops were expected to participate in the maneuvers.
So if Saudi Arabia, Turkey and their allies are preparing for war, then what is the purpose of the ceasefire?
Well, first of all the goal was to stop the bleeding. The Sunni militants were losing ground steadily, and this pause will enable them to regroup and get resupplied.
Secondly, this pause in the action gives "the coalition" time to move forces into position for a potential ground invasion of Syria.
But more than anything else, this ceasefire seems to be a trap. It appears to be inevitable that the U.S. and other western powers will accuse Russia, Iran, Hezbollah and the Syrian government of breaking the ceasefire, thus providing "legal justification" for the coalition to militarily intervene.
Watch developments in Syria very closely. Many had hoped that this ceasefire would bring the five year civil war to an end, but the truth is that it could just be setting the stage for something far, far bigger
The World Hijab Day website presents hijab-wearing as a sign of empowerment; women and girls who wear hijabs are called "queens, princesses, and sultanas." One blog post by Megan Baase, however, reveals that experimental hijab-wearing may have other effects. Baase writes that she didn't know much about Islam until World Hijab Day. After reading about Islam and "why women wear hijabs," she decided to convert: "I would've never learned about Islam if it weren't for world hijab day." Now, the U.S. Department of Education is encouraging Islamic proselytizing.
Ever since 9/11, educators have been trying to promote a positive view of Islam under the pretext of fighting harassment of Muslims. American textbooks repeat Muslim doctrine as if it were historical fact, students are taken to pray in mosques, and girls are asked to dress up in hijabs, the Muslim head scarves.
When I taught at Georgia Perimeter College (2007-2010) I'd see posters on bulletin boards put up by a Muslim professor who advised the Muslim Student Association (a "legacy project" of the Muslim Brotherhood), inviting girls to "wear a hijab for a day." In 2009, at the annual meeting of the National Council for the Social Studies, I reported on such panels as "Muslim PerspectivesThrough Film and Dialogue."
Now we have a World Hijab Day on February 1. The first one was held in 2013. The organization's website reported that that February, "Girls of all faiths across East Lancashire [United Kingdom] have been taking part in World Hijab Day to understand and appreciate the muslim [sic] culture." At Pleckgate High School, the head of "RE and citizenship," was quoted as saying, "Staff and pupils, Muslim and non Muslim, wore the hijab all day as a way of increasing understanding. . . ."
Here in the USA, in Texas, later that month, WND reported, "Students Made to Wear Burqas – inTexas." The exercise was part of the Texas CSCOPE curriculum. In California, at Natomas Pacific Prep public charter school, some girls wore hijabs as part of their senior projects.
This year according to the World Hijab Day's website, college campuses in Illinois, Indiana, Maine, Maryland, Minnesota, Oklahoma, and Pennsylvania participated. Advice for Muslim Student Associations on holding such events is offered at the site, as are testimonials from Muslim and non-Muslim women. So is New York Assemblyman David Weprin's statement in support of World Hijab Day 2016.
On February 11 of this year, the U.S. Department of Education sent out an official "Homeroom" blog post titled "Protecting Our Muslim Youth from Bullying: The Role of the Educator."
It began: "Not since the days and months immediately after September 11 has the Muslim community faced the level of anti-Muslim bias and bullying that has been seen over the past several months. In the wake of Paris and other terrorist attacks, combined with the emergence of the Islamic State in Iraq and Syria (ISIS), a lack of information among the public about Islam, and the tendency to associate Islam with terrorism, there has been an increase in expressions and incidents targeting the Muslim community. . . ."
An alleged "increased wave of anti-Muslim sentiment in our public discourse, political rhetoric and everyday interactions," includes schools, where youth have been called, "terrorists" or "ISIS" and attacked physically, verbally, and through social isolation.
The "statistics," however, come from the Anti-Defamation League (ADL). As evidence of 75 reported incidents, ranging from assault to fliers opposing a mosque in Fredericksburg, there are links to only 10 news reports that go so far as to only describe allegations (many of these will likely prove to be hoaxes).
The suggested activities and curricula also come from ADL, which has long been selling its anti-bullying programs and materials to schools. These activities are aimed at the larger goal of controlling students' emotions and thoughts, i.e., getting them to stop "hating," and to uncritically accept all cultures and lifestyles. (Early in the Obama administration, such anti-bullying programs were directed at protecting gay students and were coordinated with then-"safe schools czar," the co-founder of the Gay and Lesbian Independent School Teacher Network, Kevin Jennings.)
Among the Department's suggested activities is holding a "Walk a Mile in Her Hijab Day." There isa link to a video of a classroom at Vernon Hills High School in Illinois, where girls are shown in a classroom helping each other put on hijabs. It's presented as a fun activity, dress-up for teenagers. The event, held last December, was organized by the school's Muslim Student Association President, Yasmeen Abdallah, who claimed it was intended to "denounce negative stereotypes."
At a Rochester, New York, high school, another Muslim student, Eman Muthana, successfully petitioned the administration to participate in World Hijab Day this month. Some parents became outraged. Muthana said it was a way to share a cultural experience and fight prejudice.
The World Hijab Day website reported that Memphis Central High School also participated this year. The blog-poster, identified only as "Mary," a "Christian, USA," did not report any outraged parents, but only feeling good at "seeing so many people support one another."
The World Hijab Day website presents hijab-wearing as a sign of empowerment; women and girls who wear hijabs are called "queens, princesses, and sultanas."
One blog post by Megan Baase, however, reveals that experimental hijab-wearing may have other effects. Baase writes that she didn't know much about Islam until World Hijab Day. After reading about Islam and "why women wear hijabs," she decided to convert: "I would've never learned about Islam if it weren't for world hijab day." The post features a picture of her and her four-year-old son, both wearing hijabs. She writes that she "couldn't say no" to his request to "be just like mommy."
Although proponents claim such activities are cultural exercises, critics rightly point out that students are not asked to participate in the wearing of crucifixes or yarmulkes. Now, the U.S. Department of Education, under the cover of anti-bullying, is encouraging Islamic proselytizing.
The development is alarming especially given the Department's increased grip on day-to-day school operations. "Dear Colleague" letters give directives on such things as bullying, rape prevention, and school discipline. School administrators tend to act preemptively to fend off potential punishment from the feds. It's why school websites are plastered with anti-discrimination statements and notices about training in "affirmative consent."
To ward off charges of creating a hostile school environment, school officials may want to have proof in the form of a list of activities that encourage cultural sensitivity – like having girls wear hijabs.
Such activities do have consequences. We need to listen to what Muslim converts say, rather than what the Department of Education says.
It all started with a book: "My Princess Boy."
On Oct. 14, 2015, the elementary school principal of a Minnesota charter school informed parents that in the coming days, the school would be taking steps to "support a student who is gender nonconforming."
Their 5- and 6-year-old children, parents were told in an email, "will listen to various books that celebrate differences and will be teaching children about the beauty of being themselves."
One of those books, the principal noted, would be "My Princess Boy," a story that centers on a boy who sometimes likes to do traditional girl things like wear dresses.
In the email, the principal encouraged parents of kindergarten children to "have conversations at home about the appropriateness of comments or teasing relating to all protected classes," specifically pertaining to gender identity.
Details regarding the gender non-conforming student at the school, Nova Classical Academy in St. Paul, Minn., were kept confidential. But shortly after that initial email went out, parents at Nova Classical Academy learned that the child was also in kindergarten.
Immediately, some parents raised concern about the issue of gender identity being introduced to their 5- and 6-year old children. The concept, they believed, is too complicated for kindergartners to grasp.
And although the school hadn't yet announced any new restroom policies, parents were concerned about their children using bathrooms with students of the opposite sex.
In their attempt to push back, parents grew frustrated with the school's response. At least 10 students, The Daily Signal learned, transferred to another school.
One mother, who asked to remain anonymous to protect her daughter's identity, said she transferred her child because the classmate was having a "traumatic" effect on her daughter.
"Our daughter—because she is a normal kindergartner who was raised in a family where we had some social norms regarding biological gender and sex—now she's asking questions like, 'How does a boy become a girl when they're born with a penis?' She has two brothers, so she's wondering, how is this possible, as the boy is wearing a jumper and has ribbons and ponytails in his hair," her mother said.
Another mother, whose daughter is still in the same class as the gender nonconforming child, described a similar effect. That mother also requested to remain anonymous.
"She said, 'Mom, I think you can choose if you want to be a boy or a girl,'" the second mother said.
'That Bothers Me'
Similar to how the debate over transgender rights has caused a culture war in states such as Washington and South Dakota, the situation at Nova Classical Academy also caused a rift in the tight-knit community.
The school is a competitive public charter school that consistently ranks high in school ratings. When it was granted its charter, Nova Classical Academy requested a waiver so that a majority of its school board members would be parents instead of educators. One goal of doing so, parents told The Daily Signal, was to foster parental involvement and oversight of curriculum.
"We as a school community go through processes that are very lengthy, but in the end it always ends up being a conversation and a win-win situation," one mother said. "And this situation, this is not what happened."
For example, this mother explained, deciding when to begin the gender and sex curriculum required "a long, painful process."
Eventually, parents and educators agreed the program would begin in fifth grade, and address the topic of being transgender in 10th grade. But now, they thought, that decision was being flipped on its head, and the school was bypassing parental input to introduce these topics starting at a younger age.
Parents were divided—many fully supported the reading of "My Princess Boy" and the curriculum that would go along with it. Some of those supporters launched a petition drive in which they and others—some from outside communities—could speak out.
"I am in favor of using materials such as this as part of the curriculum," wrote Stephanie Schweser. "Teaching and promoting tolerance, understanding, and inclusion will better our school community and our community beyond."
"I fully support the reading of 'My Princess Boy' or another book that specifically addresses gender nonconformity," added Josephine Chung on the same petition. "A book is a useful and necessary tool for educating our children."
Those who objected were particularly concerned because Nova Classical Academy is a K-12 school. Although the school had not yet addressed bathroom policies, their 5- and 6-year-old children, some parents feared, might now be forced to share a bathroom with a senior of the opposite sex.
"We are in a K-12 school, and that bothers me—there are some bathrooms that are shared. So I could have my daughter in the bathroom and a senior," the mother whose kindergartner still attends the school told The Daily Signal, adding:
If we start to desensitize our children at a young age that it's fine—and right now, I'm not worried that something bad is going to happen to her in her elementary school, but that she would get used to this. And eventually she could get put in a situation where she could be in harm's way, because she's innocently in the bathroom with someone who intends to cause harm.
'Life Before and After Beyoncé'
Two months ago, Dave and Hannah Edwards, the parents of the gender nonconforming student at Nova Classical Academy, went public with their story in an interview with radio host Jack Rice.
During that interview, Hannah Edwards attempted to explain her son's identity.
"[W]hen we ask him what he prefers, he says, 'I'm a boy and in my heart I'm a girl.' And sometimes he'll say he's half and half, which is something you put in your coffee, but I say OK, that's great."
Hannah Edwards said the change began around the age 2 after her son, Holden, watched Beyoncé perform at the 2012 Super Bowl halftime show:
I kind of think of it as life before and after Beyoncé. Pretty soon it turned into an everyday occurrence, wanting to watch this 10-minute halftime show. And he started tying his blankets on his head, and dancing like her, and watching his reflection in the fireplace glass. That was, I think, the first time I noticed. It started becoming less of 'he thinks this is interesting' and more of 'I am being Beyoncé; I am being a girl.'
The Daily Signal attempted to speak with Gender Justice, a group that is working with the Edwards family. They did not respond to a request for comment.
In the radio interview, the Edwardses suggested Holden had been subject to bullying in the classroom, and thus, the gender curriculum was necessary. But the real problem, they said, stems from parents who objectied to the school's handling of their child.
"I would say his teacher has been pretty integral in stopping the bullying, at least in the classroom. I know that he comes to school now in the jumper, and that's within the last month," Holden's father, Dave Edwards, said during the interview. He added:
I feel comfortable with what's happening in his small, little classroom world. It's these other parents coming in and objecting or starting petitions. And I think that really comes from a place of fear and ignorance on their part.
'Understanding Gender Diversity'
Eric Williams, the school's executive director, confirmed to The Daily Signal that in December, Nova Classical Academy invited the president of the National Association of School Psychologists, Todd Savage, "to educate the staff and community about gender nonconforming and transgender students."
Parents who attended the event and spoke with The Daily Signal said they thought the session came from, in one parent's words, " a very progressive perspective."
First ever Catholic speaker at IHOP (International House of Prayer) -KC Onething conference was asked to speak on wisdom of Teresa of Avila, contemplative prayer
"I recently had the extraordinary privilege of being the first ever Catholic speaker at a very large Evangelical conference. [IHOP-KC Onething 2015] You might be surprised to know that they asked me to speak on the wisdom of St. Teresa of Avila regarding the progress of prayer from those just beginning to pray to those who know the sublime reality of contemplative prayer." – Dan Burke, President of the Avila Foundation
His topic - The "sublime reality of contemplative prayer"?
Mike Bickle, Director of International House of Prayer (An Evangerlical Group) has been practicing and promoting contemplative prayer for a long time. This is the primary reason IHOP-KC is defying the Bible about Catholicism. Theology has been altered and addled via the sweet deceptions of this practice.
As Lighthouse Trails noted, "As we have often reported, when someone begins to practice contemplative prayer, their spiritual propensities begin to change, and they become more interspiritual and ecumenical. In 2011, we reported "Mike Bickle of IHOP-KC instructs followers on contemplative prayer." Now in 2016, we can see how Bickle (and IHOP) has well entered his interspiritual, ecumenical downfall."
Let the Headlines Speak
Mar 1st, 2016
Daily NewsFrom the Internet


Categories: Today's Headlines
Note Addressed to Jewish God Found in Latest Release of Clinton Emails
Despite wishful thinking that Obama's adviser may have spiritual leanings, officials ultimately said that the attachment in the email containing the note to Hashem was actually a joke sent to Clinton by an aide.
Putin boosts Russian campaign to smash ISIS by deploying warships into sea
VLADIMIR Putin is bolstering his campaign to smash the heinous Islamic State (ISIS) by deploying Russian warships to combat terror groups from the sea.
DAY THE EU FELL APART: Leaders rip chunks out of each other on worst day of migrant chaos
As tear gas rained down on rioting migrants in Greece and France bickering countries squabbled over who should take the blame for the spiralling crisis which shows no sign of slowing. Once again the cavernous divisions between different EU countries were laid bare for all to see, with Angela Merkel angrily defending Germany's role in the chaos amid sniping from other member states.
King Abdullah Meets Two Fringe Jewish Groups to 'Re-launch' Peace Efforts
For reasons we'll discuss shortly, no news outlet other than Jordan's own media covered the meeting. We opted to report on it because of our dedication to raising the red flag when the enemies of the Jewish State appear to regroup and scheme yet another attack on their favorite target.
Ukrainian Jews Flee To Israel Amid Anti-Semitic Attacks in War-Torn Ukraine
Over 100 Ukrainian Jews fled war-torn Ukraine and arrived in Israel on Tuesday, February 23. Many Ukrainian Jews have been leaving their country of birth due to violence and frequent anti-Semitic attacks.
'We will participate': Saudi military admits US coalition mulling ground invasion in Syria
Saudi Arabia has acknowledged that the US-led anti-ISIS coalition has held a "political" discussion about a potential ground troop deployment in Syria. Riyadh's statements have been criticized by Damascus as destructive and a threat to regional security.
ASTEROID TO MISS EARTH
Last month, NASA reported that near-Earth asteroid 2013 TX68 might come very close to Earth on March 5th--as little as 11,000 miles away. Since then, researchers have collected more data and refined their calculations of the asteroid's orbit. Now it appears that the 30-meter space rock won't reach Earth until March 8th, and when it does, it will miss our planet by a wide margin of 3 million miles.
Is the San Andreas Fault about to shift? Unprecedented amounts of Carbon Monoxide released into the atmoshphere along the West coast of the US
On February 27th enormous amounts of Carbon Monoxide leaked into the atmosphere along the West coast of America see above...it's the amount of Carbon Monoxide which is simply stunning. It is well understood that large amounts of Carbon Monoxide is released into the atmosphere before an earthquake, however the amount of Carbon Monoxide release on the 27th of Feb is as far as I can tell unprecedented. This release of Carbon Monoxide could be an indication of an imminent major quake along the volatile San Andreas Fault
'Bright flash' seen in skies over Scotland
Police received a large number of calls after a big, bright flash was seen, with people reporting seeing a blue, white or green light, with some saying they also heard a rumbling sound. There is speculation it could have been a meteor or may have been a sonic boom. The light appears to have been seen as far south as Berwickshire in the Scottish Borders and Newcastle.
Moderate earthquake, 5.7 mag has occurred near L'Esperance Rock in New Zealand
A moderate earthquake magnitude 5.7 (ml/mb) has occurred on Monday, 229 km SSE of L'Esperance Rock, New Zealand (142 miles). A tsunami warning has not been issued (Does not indicate if a tsunami actually did or will exist).
EARTHQUAKE RATTLED PARTS OF WNC OVERNIGHT MONDAY
Earthquake officials tell WHKP News that a 2.5 magnitude quake shook the Burnsville (North Carolina) area about 9:38 Monday evening.
China to lay off five to six million workers, earmarks at least $23 billion
China aims to lay off 5-6 million state workers over the next two to three years as part of efforts to curb industrial overcapacity and pollution...Beijing's boldest retrenchment program in almost two decades. China's leadership, obsessed with maintaining stability...will spend nearly 150 billion yuan ($23 billion) to cover layoffs in just the coal and steel sectors in the next 2-3 years.
Fighting infections with viruses, as antibiotics fail
When doctors told Christophe Novou that his leg would have to be amputated at the hip due to a raging bacterial infection, the 47-year-old Frenchman thought about killing himself. ...That's when an article about a clinic in Georgia offering an obscure treatment for hard-to-treat infections using live virus -- something called phage therapy -- caught his eye.
Only 15 percent say they have benefited from ObamaCare
Just 15 percent of people say they have personally benefited from ObamaCare, although more than one-third believe it has helped the people of their state, according to a poll released Monday. Most Americans — a total of 56 percent — say they haven't felt directly affected by the Affordable Care Act. Among those who have felt affected, more people say the law has hurt them than helped them, according to polling...
US Army will have laser weapons by 2023
The US Army is planning to deploy the first laser weapons in 2023, it has been revealed. Mary J. Miller, deputy assistant secretary of the Army for Research and Technology, told the House Armed Services Committee's Subcommittee on Emerging Threats and Capabilities 'I believe we're very close,' when asked how close the Army is to developing offensive and defensive directed-energy weapons.
Law firm in new legal threat over UK air pollution
The UK government has been warned to drastically reduce air pollution or face renewed legal action. In April the Supreme Court ruled an immediate plan was needed after the UK breached EU limits for nitrogen dioxide (NO2). The government said it was committed to cleaning the air and had delivered its plans accordingly.
Study shows Zika 'might cause' Guillain-Barré syndrome
New research gives the first evidence that Zika virus might cause a severe neurological disorder called Guillain-Barré syndrome. The study was carried out using blood samples from 42 patients who became ill in a previous outbreak. The Lancet authors say they developed the neurological problems around six days after Zika infection.
Jordanian Waqf minister: No negotiations with Israel over Temple Mount cameras
Jordanian Waqf Minister Hail Daoud denied Israeli reports on Tuesday about progress in Israeli-Jordanian negotiations over surveillance cameras on the Temple Mount, claiming that such negotiations have never taken place. ...Hail emphasized that Jordan, and not Israel, had demanded to install surveillance cameras on Temple Mount under Jordanian inspection in order to defend al-Aksa and document Israeli infringements on religious rights.
America's strong support for Israel remains steady, poll finds
The American public remains strongly pro-Israel, with even those aged 18-29 saying they are more sympathetic to Israel than the Palestinians by a more than 2:1 margin, according to a Gallup poll released Monday. According to the annual survey...62 percent of the public say their sympathies lie more with Israel than the Palestinians, and only 15% say they are more sympathetic to the Palestinians.
Iran's nuclear chief: Israel isn't a state, therefore its not a threat
The head of Iran's Atomic Energy Organization, Ali Akbar Salehi, has dismissed Israel as a threat to the Islamic Republic, saying Tehran's lack of recognition of the Jewish state renders its warnings as "empty threats." "We essentially do not see [Israel] as a state, therefore it's not a threat to Iran," London-based news outlet Al-Araby al-Jadeed quoted him as saying in an interview published Monday.
Despite initial ruling, Venezuela seeks to silence U.S. website
Is a U.S. website causing the collapse of the Venezuelan economy? That's what Venezuela's Central Bank seems to want to prove as it pursues legal action to shutdown www.dolartoday.com. The bank blames the website for runaway inflation and a plummeting currency.
Israel arrests two Palestinian 'snipers'
Israel's military announced Monday the arrests of two Palestinian brothers accused of being "snipers" who shot and wounded two civilians and two soldiers in Hebron in the occupied West Bank.
Russian warplanes sit idle on Syria base during cease-fire
Dozens of Russian warplanes sat idle Tuesday on the tarmac at this Russian air base in Syria on the fourth day of a cease-fire brokered by Moscow and Washington.
A New York judge just ruled that the FBI can't force Apple to unlock iPhones
A federal judge in Brooklyn has ruled that the government can't force Apple to help break an iPhone's passcode security. No, it's not the San Bernardino shooting case, a similar situation where the FBI is seeking to compel Apple to provide custom software to help it access data on a criminal's iPhone.
Abortion Case Returns to Supreme Court after Scalia's Death
The Supreme Court will hear a major abortion case on Wednesday which involves the right of certain states to enforce regulations against abortion clinics. ABC News reports that the case, Whole Woman's Health v. Hellerstedt, involves a Texas law enacted in 2013 which requires clinics that perform abortions to meet the standards of outpatient or ambulatory surgical centers. The law also requires doctors performing abortions to have admitting privileges at nearby hospitals.
U.N. Security Council to vote on new North Korea sanctions Tuesday: U.S.
The U.N. Security Council plans to vote on a resolution on Tuesday that would dramatically expand existing U.N. sanctions on North Korea in response to its Jan. 6 nuclear test, the U.S. mission to the United Nations said on Monday.
Clashes break out as France begins clearing Calais migrant camp
Clashes with police broke out on Monday as work got underway to clear part of the shanty town outside Calais in northern France where migrants are trying to reach Britain.
Zika is expected to infect 1 in 5 Puerto Ricans, raising threat to rest of U.S.
Zika has landed forcefully in America, in one of its poorest and most vulnerable corners, a debt-ridden territory lacking a functioning health-care system, window screens and even a spray that works against the mosquitoes spreading the virus in homes, workplaces, schools and parks.
Eternity
Mar 1st, 2016
CommentaryBaptist Bread


Categories: Bible Salvation
"...The grass withereth, and the flower thereof falleth away:" 1 Peter 1:24b
A lonely lady walked through a beautiful flower garden. It was the end of the season and with some melancholy, she wrote these words on a card and left it on an ancient sundial:
To think of summers yet to come, That I am not to see:
To think a weed is yet to bloom, From dust that I shall be!
The next morning as she walked again through the fading beauty of the flowers, she saw the card had been moved and these lines were added:
To think when Heaven and Earth are fled, And time and seas are o'er,
When all that can die shall be dead, That I must die no more!
Oh, where will then my portion be? Where shall I spend eternity?
Someone had read the card and summed up its hopelessness by reminding others of the responsibility one has towards God and the destiny of the soul. If you are not saved, you ought to be, for your guarantee of tomorrow is as tenuous as the downtrodden blooms of last summer. Friend, "Boast not thyself of tomorrow: for thou knowest not what a day may bring forth" (Prov. 27:1)
And,"...behold now is the accepted time: behold, now is the day of salvation" (11Cor. 6:2b). - T.G
Day the EU Fell Apart
Mar 1st, 2016
Daily NewsExpress


Categories: Revived Roman Empire
Leaders rip chunks out of each other on worst day of migrant chaos
EUROPE was plunged into unprecedented crisis tonight as EU leaders lined up to rip chunks out of each other on the worst day of migrant chaos to date.
s tear gas rained down on rioting migrants in Greece and France bickering countries squabbled over who should take the blame for the spiralling crisis which shows no sign of slowing.
Once again the cavernous divisions between different EU countries were laid bare for all to see, with Angela Merkel angrily defending Germany's role in the chaos amid sniping from other member states.
In a day of unprecedented migrant violence thousands of refugees smashed down a border fence between Macedonia and Greece whilst inhabitants of the Calais Jungle camp set fires and hurled rocks at police as they attempted to avoid eviction.
But the carnage wrought in those riots was matched by the diplomatic damage being done to the EU as member states turned on each other in savage fashion.
Mrs Merkel was on the back foot as she voiced her "despair" at other European nations which fail to share her dream for open door immigration.
Many EU states now deeply resent Germany and blame its leader for unleashing millions of migrants on the continent after she rashly promised all Syrians asylum.
Refusing to put a limit on the number of refugees entering her country, she defiantly told state broadcaster ARD: "Sometimes, I also despair. Some things go too slow. There are many conflicting interests in Europe.
"But it is my damn duty to do everything I can so that Europe finds a collective way."
That stance has put Germany at loggerheads with its close neighbour Austria, which has announced a cap on daily asylum applications in a desperate bid to stop the flow of migrants.
Today the country ratcheted up its attacks on Mrs Merkel to new heights, calling on her to fly migrants directly from Greece to Germany to alleviate the pressure on countries located between the two.
In a barbed interview defence minister Hans Peter Doskozil told Austria's Oe1 radio: "The German chancellor ... said that formally there is no upper limit in Germany. Then, I would invite her to take the people, who arrive in Greece now and whom she wants to take care of, directly to Germany."
His comments came after Greece hit out at the rest of Europe for abandoning it to cope with tens of thousands of migrants who are trapped at its northern border with Macedonia.
There were violent scenes today as thousands of refugees tried to smash down a border fence and force their way into the tiny country, which they want to travel through on their way to Germany.
Greece's shipping minister Thodoris Dritsas said: "These people do not want to stay here.
"Even if we had a system in place for them to stay here permanently it wouldn't work."
ut Macedonian Foreign Minister Nikola Poposki immediately hit back, saying said that there is a problem with EU states simply "shifting responsibility" onto their neighbours.
Elsewhere Switzerland - which is not an EU member but is part of Schengen - is set to announce its own plans for limiting the flow of migrants crossing its borders.
The Swiss have been locked in negotiations with EU leaders over their desire to introduce a migrant cap, which goes against free movement rules.
But their parliament is now planning to override Brussels, introducing a "unilateral clause" which will bring the measure into law.
And Finland today warned that it is braced for asylum applications to increase sixfold, with the country's president saying mass migration is a threat to European values.
auli Niinistö said: "Migration is a serious problem. Europe, Finland, the Western way of thinking and our values have all been challenged by it.'
The migrant crisis continued to unravel after Hungary announced its own plans to build a huge border fence on the frontier with Romania which will effectively seal off northern Europe from the Balkans.
No-nonsense Prime Minister Viktor Orban ignored pleas from Brussels to drop his radical plans to reduce migration, insisting he was acting as a defender of Christian Europe.
He said: "We will teach Brussels, the human traffickers and the migrants that Hungary is sovereign country.
"We cannot solve the demographic problems of the undeniably dwindling and ageing European population with the Muslim world without losing our lifestyle, security and ourselves. Those coming here have no intention of adapting to our lifestyle."
Tomorrow Mrs Merkel will meet Tihomir Oreskovic, the Prime Minister of Hungary's neighbour Croatia, to discuss how the flow of migrants can be reduced.
The tiny eastern European state has been under intense pressure, with thousands of refugees travelling through its lands on the way to Germany and Scandinavia.
Cavernous differences between the priorities of different EU states have opened up in recent days, with none able to agree on how best to tackle the migrant chaos.
Germany's open door asylum policy has been opposed by even its closest ally France, whose faith in the free movement zone has been rocked by the November Paris terror attacks.
Meanwhile Britain is set for an in/out referendum on its membership of the 28-nation bloc, with migration set to be a key issue in the campaigning.
David Cameron spent more than two days in fraught negotiations with BRussels leaders over a deal he believes will help keep Britain in the EU.
But one diplomat summed up the mood in Europe when he said: "Everyone in the room and corridors was rather irritated that here we are dealing with some rather obscure issues of child benefits indexation, while we have real problems in Syria, member states closing borders, major issues we should really be on instead of this."
Findings of a Gallup poll released on Monday revealed that though most Americans are more sympathetic to Israel than to the Palestinian Authority, a majority also favors the establishment of an independent Palestinian state.
The survey further indicated that Republicans are more likely to be disposed favorably to Israel than Democrats.
The poll, conducted by phone at the beginning of February, among a random sample of 1,021 adults (18 and older) across the United States, also showed that Americans views about the Israeli-Palestinian conflict have remained steady over the past year, with 62 percent saying their sympathies lie more with the Israelis, as opposed to 15% favoring the Palestinians.
According to Gallup, these findings are consistent with patterns in the US spanning the last 15 years, with "dips and spikes," depending on current events. For example, sympathy for Israel increased in 2006 to 59%, from 52% the year before, in a poll conducted in the aftermath of the 2006 Palestinian elections, which gave the terrorist organization, Hamas, a parliamentary landslide, enabling it to take control of the Gaza Strip
Since then, Gallup has found support for Israel among Americans remaining at 58% or higher, with both Republican and Democratic support for Israel increasing over the past decade, but with the former growing by a larger margin.
Gallup concluded that, given these findings, "It is intriguing that more Americans continue to favor than oppose the creation of a Palestinian state. The finding suggests that despite the lack of US diplomatic activity on this issue in recent years, it is still something Americans would generally welcome should the next president be willing to work toward it."
Reposted with permission from Algemeiner