As someone born and raised in New York, and as a supporter of Ted Cruz for president, I took great interest in the exchange between Donald Trump and Senator Cruz on the subject of "New York values" during last weeks presidential debate.
For Trump, it was a high point, helping to make up for Cruzs very strong showing in their earlier exchange about Cruzs citizenship, an exchange Cruz clearly owned.
It was quite the opposite in their exchange about "New York values."
When asked what he meant by that phrase, Cruz responded, "There are many, many wonderful working men and women in the state of New York. But everyone understands that the values in New York City are socially liberal, pro-abortion, pro-gay marriage and focus on money and the media."
In response (in part), Trump replied, "When the World Trade Center came down, I saw something that no place on Earth could have handled more beautifully, more humanely than New York... We rebuilt downtown Manhattan, and everybody in the world watched and everybody in the world loved New York and loved New Yorkers."
Some commentators have claimed that this was Trumps best line so far in the entire campaign, as if this virtually sealed the Republican nomination for him. (Already, though, there is a backlash from some New Yorkers against Trump, claiming he has actually done nothing to help the first responders to 9/11.) Cruz and his team hit back beginning the next day, pointing to a 1999 TV interview in which Trump explained his pro-gay, pro-choice values in the context of being from New York, even contrasting his views as a New Yorker with of all places at this time in the presidential race people who live in Iowa.
Cruz has also issued a formal apology to the people of New York. It reads as follows:
I apologize to the millions of New Yorkers who have been let down by liberal politicians in that state. I apologize to the hard working men and women of the state of New York who have been denied jobs because Governor Cuomo won't allow fracking. Even though there had been many high paying jobs just south in Pennsylvania, New Yorkers are denied the ability to provide for their families. I apologize to all the pro-life and pro-marriage and pro-second amendment New Yorkers who were told by Governor Cuomo that they have no place in New York because that's not who New Yorkers are.
I apologize to all the small businesses who have been driven out of New York city by crushing taxes and regulations.
I apologize to the millions of unborn children, many African-American and Hispanic, whose lives have been taken by politicians who relentlessly promote abortion on demand with no limitations. I apologize to all of the African-American children who Mayor de Blasio tried to throw out of their charter schools that were providing a lifeline to the American Dream.
I apologize to the people of New York who are offended when the New York Daily News lambastes anyone who prays for victims of violence.
I apologize to the people of faith who are ridiculed and insulted by the New York media. And I apologize to all the cops and the firefighters and 9/11 heroes who had no choice but to stand and turn their backs on Mayor de Blasio, because Mayor de Blasio over and over again stands with the looters and criminals rather than the brave men and women of the law.
And to the millions of conservatives--working men and women in New York, with common sense values, trapped by the failures of your political leaders--I am glad to tell you, help us on the way. 2016, like 1980, will bring America back.
How will this controversy play out in the coming months?
Only time will tell, but I do have a few observations of my own right now.
Having been born in Manhattan and raised on Long Island, living there until our family moved to Maryland when I was 32-years-old (my wife, Nancy, was born and raised on the Island), I still identify as a New Yorker and retain much of the New York "personality" (for better or worse).
I can understand, then, why many New Yorkers were offended at Cruzs comments during the debate, including not a few conservatives. But when I polled my radio listeners, asking for input in particular from those listening on my New York station, WMCA, 570 AM, those who did call were in agreement with Cruzs comments. One caller from Queens even stated that she doesnt bother to vote in the presidential elections, since its such a blue state that she feels her vote doesnt count. (I did encourage her to vote anyway.)
Similarly, when I asked on my Facebook page if people were offended by Cruzs comments, the vast majority said no, including a good number of New Yorkers. Perhaps its the media that is more offended than the general populace? Again, I do understand why many New Yorkers were upset, but with at least one focus group crowning Cruz the decisive winner of the debate, perhaps the medias indignation does not mirror that of the populace at large.
As for the question of what, exactly, New York values are, what Cruz had in mind were things like this:
* In 2012, four out of the 5 New York City counties voted overwhelmingly for President Obama. The stats were: Bronx, 92%; Manhattan, 84%; Brooklyn, 82%; Queens, 79%.
* New York City mayor Bill De Blasio won his 2013 election by a margin of 72.2% to 24% over his Republican candidate, yet De Blasio is considered to be to the left of President Obama. * The abortion rates in the city are staggering, to the point that in 2012, far more black babies were aborted than were born (31,328 to 24,758 to be exact).
* While the percentage of gays and lesbians living in New York City is similar to that of other large US cities, the city does have more gay residents than anywhere else in America.
Given the political savvy of both Trump and Cruz, we can expect this issue to continue to play out in the days to come. In the end, though, the question of who holds to New York values may prove to be a big key in terms of who wins the Republican nomination.
Trump has taken the emotional high ground with his brilliant and heartfelt debate comment, but the more he is perceived as a "typical" New Yorker, the less popular he could be in other parts of the country.
As for Cruz, to the extent he can be perceived as friend of the people of New York while being a champion for conservative New Yorkers, he will be able to strike back and gain ground.
Either way, we should stay informed and stay involved, and we should pray earnestly for God's best choice for our nation, whoever that person may be, New Yorker or not.
It is God's values that we must pursue and endorse.
United States has approved the settlement of 483 Syrian refugees since the Paris terror attacks last November heightened concerns about potential security risks in the refugee admission program – and only one of them (0.2 percent) is a Christian.
One-quarter of the 483 Syrian refugees admitted into the United States since Islamic State of Iraq and Syria (ISIS/ISIL) terrorists attacked the French capital on November 13--125 of them--are men between the ages of 14 and 50.
The sole Christian among the 483 is identified in State Department Refugee Processing Center data as an adherent of the Greek Orthodox Church.
Christians account for an estimated 10 percent of the Syrian population. ISIS has frequently singled out Christians and other non-Muslim minorities in its brutal campaign in both Syria and Iraq.
The vast majority of the refugees admitted since the Paris attacks are Sunnis--470 (97.3 percent). Three (0.6 percent) are Shi'ites and nine (1.8 percent) are individuals identified as "Moslem." (The department says religious affiliation categories are those preferred by the refugees themselves; In addition to mainstream Sunnis and Shia, Syria is home to Muslims from the Alawite and Ismaili sects. President Bashar al-Assad is Alawite.)
Apart from the 125 men between the ages of 14 and 50, another 106 (21.9 percent) of the refugees from Syria admitted since Nov. 13 are women aged 14-50, and 228 are children aged under 14 – 118 boys and 110 girls.
At least two of the terrorists involved in the Paris attacks had posed as Syrian refugees, according to investigators.
Jerusalem (TPS) – After the International Atomic Energy Agency (IAEA) stated on Saturday that Iran has made all the necessary steps to fully implement the international nuclear agreement with the P5 +1 countries, both the US and EU removed previously imposed sanctions on Iran.
During a meeting with his cabinet earlier this morning, Prime Minister Netanyahu made it clear that Israel would still continue to closely monitor Iran's activities.
"Pursuant to the nuclear agreement with Iran, Israel will continue to monitor all international violations by Iran including the nuclear deal, the agreement on ballistic missiles and terrorism," said Israel's Prime Minister.
"Israel's policy was and continues to remain exactly as it was, not to allow Iran to acquire nuclear weapons," added Netanyahu.
The Israeli prime minister also spoke of the need for the international community to reenact sanctions against Iran in light of any action by Iran that violates the international agreement on its nuclear enrichment program.
"The international community must impose severe, hard sanctions for each violation," stressed Israel's Prime Minister. "If it had not been for our efforts to move ahead with the sanctions and to stop Iran's nuclear program, then Iran would have already had nuclear weapons."
A "snapback" provision in the Iran nuclear agreement allows for the P5+1 countries to automatically re-impose sanctions on Iran in response to any Iranian violation of the nuclear agreement. However, critics doubt the usefulness of such a provision, arguing that the "snapback" process is both convoluted and vague.
Netanyahu also addressed terror threats emanating from Iran's continued aggression in the region.
"What is clear is that Iran will now have more means to turn to its terrorist activity and aggression in the region and the world, and Israel is prepared to handle any threat," Netanyahu stated.
MAJOR evacuations have been sparked by the SIMULTANEOUS eruption of two volcanoes - included one of the world's most feared - spewing toxic gas and ash clouds for miles.
GETTY
Thousands may have to be evacuated if the situation worsens
The two volcanoes are thousands of miles apart but are on the edge of the same tectonic plate – the Phillippine Plate – sparking fears of a major seismic shift, more volcanic activity and even earthquakes and tsunamis.
More than 1,200 people have been evacuated from within a 1.9-mile containment zone around Mount Egon in Kupang, eastern Indonesia - one of the most volcanic parts of the globe.
It was followed moments later by the eruption of Zhupanovsky on Russia's eastern coast which spewed lava FIVE MILES into the air.
The latter explosion is likely to affect air traffic in Russia, but the huge ash cloud is also drifting east over the Pacific Ocean so the impact on flights could be much worse.
In Asia, officials distributed thousands of gas masks to villagers around the volcano on eastern Flores island amid fears of a major eruption as the choking fumes worsened.
All residents living within the containment zone have been ordered to evacuate, while roads bringing traffic in have been closed.
Mount Egon is considered a very active volcano and is in the top ten of the potentially deadliest in the event of a major eruption.
More people living further from the volcano may have to also flee if the situation gets worse, disaster officials have warned.
In Russia, the Institute of Volcanology and Seismology in the Kamchatka area earlier issued a "code orange" warning the eruption was under way, and warning aircraft to avoid flying near the exploding peak.
Fortunately, the volcano is 42 miles from populated areas, and the emergency services said ash had yet to reach any homes.
A spokesman for the institute said: "Today at around 4.30pm [3.30 am GMT), the Zhupanovsky volcano spewed ash to the height of up to five miles above sea level.
Last autumn, Express.co.uk reported how tests were being carried out on the impact of volcanic ash getting into a jet engine, because the true effects are still not known despite the global chaos caused by the Icelandic ash clouds in 2010.
"The ash column could be seen with the naked eye from Petropavlovsk-Kamchatsky and some other settlements.
"At the moment, the ash cloud has spread 12 miles and it continues moving towards the ocean."
Zhupanovsky is one of the least studied volcanoes in the region despite its proximity to a large city.
It is composed of four overlapping cones, the highest of which reaches 2,958 metres
Let the Headlines Speak
Jan 19th, 2016
Daily NewsFrom the Internet


Categories: Today's Headlines
More than 50 earthquakes rock Italy's Molise in five days
The region of Molise, in south-central Italy, has been hit by more than 50 small earthquakes over the last five days, causing panic and misery for inhabitants in around its capital, Campobasso.
Welcome to the Banana Republic... With a wave of his wand, Obama defies the law
In case you were just enjoying the weekend with your family and not listening to the news, the world changed over the past 48 hours. The United States has now officially become a Banana Republic.
0.0% of Icelanders 25 years or younger believe God created the world, new poll reveals
Iceland seems to be on its way to becoming an even more secular nation, according to a new poll. Less than half of Icelanders claim they are religious and more than 40% of young Icelanders identify as atheist. Remarkably the poll failed to find young Icelanders who accept the creation story of the Bible. 93.9% of Icelanders younger than 25 believed the world was created in the big bang, 6.1% either had no opinion or thought it had come into existence through some other means and 0.0% believed it had been created by God.
MONSTER ERUPTIONS: Panic as two of world's deadliest volcanoes EXPLODE simultaneously
More than 1,200 people have been evacuated from within a 1.9-mile containment zone around Mount Egon in Kupang, eastern Indonesia - one of the most volcanic parts of the globe. It was followed moments later by the eruption of Zhupanovsky on Russia's eastern coast which spewed lava FIVE MILES into the air.
62 Members Of The Elite Have As Much Money As The Poorest 3.6 Billion People On The Entire Planet
These brand new numbers come from a shocking report that was just put out by Oxfam, and they show that income inequality continues to grow at a very rapid pace all over the world. As you will see below, the total wealth of the poorest half of the global population has plunged by 41 percent since 2010 while the wealth of the elite has continued to surge upward. The debt-based financial system that now has the entire planet in its grip funnels wealth to the very top, and the global elite are more than happy to hoard as much of it as they possibly can.
Global stocks rise as slowing China growth boosts stimulus prospects
Shares in Europe and Asia rose on Tuesday and the dollar gained after data showing China's economy grew last year at its slowest pace in a quarter of a century led investors to anticipate more efforts by Beijing to spur growth. Wall Street, closed on Monday for the Martin Luther King Day holiday, looked set to open higher, with index futures up 1.6 percent.
Swedish Foreign Minister under investigation for bribery
Outspokenly anti-Israel Foreign Minister, Margot Wallstrom, under investigation for illegally circumventing years-long housing wait list.
Magnitude 5.7 earthquake rattles southeastern Taiwan
Taipei, Jan. 19 (CNA) An earthquake measuring 5.7 on the Richter Scale jolted southeastern Taiwan's Taitung County at 10:13 a.m. Tuesday, according to the Central Weather Bureau.
Moderate quake jolts North Maluku
An earthquake measuring 5.1 on the Richter scale jolted the eastern Indonesian province of North Maluku at 4.21 a.m. East Indonesia Standard Time (WIT) on Tuesday.
California Shuts Down Commercial Crab Season "Indefinitely" Cites "naturally-occurring toxin" but real culprit is Radiation
California officials have offered the following absurd reason to the public for this action: Global warming has heated the ocean to the point that a particular algae, Pseudo-Nitzchia, is blooming in great swaths along California's coast. The algae produces a neurotoxin called domoic acid which accumulates in crab and other seafood. If consumed by humans the neurotoxin can cause memory loss, tremors or death.
Iran's Khamenei welcomes sanctions lift, warns of U.S. 'deceit'
Iran's Supreme Leader Ayatollah Ali Khamenei on Tuesday welcomed the lifting of international sanctions against Iran, but warned that Tehran should remain wary of its old enemy the United States. State television reported that Khamenei wrote to President Hassan Rouhani to congratulate him on implementing the nuclear deal, which resulted in U.S., European Union and United Nations sanctions being lifted over the weekend.
Hebron has become 'terror central'
The brutal attack Sunday in Otniel symbolizes two important points regarding the current wave of terrorism: an escalation in the severity of attacks and the fact that Hebron has become the "terror center" of this wave. The first point is the escalation of the severity of the attacks and the transition from stabbings at intersections and on roads...which is more focused and much more deadly.
Lyme disease–carrying ticks are now in half of all U.S. counties
The ticks that transmit Lyme disease, a debilitating flulike illness caused by Borrelia bacteria, are spreading rapidly across the United States...Over the past 20 years, the two species ...have together advanced into half of all the counties in the United States. Lyme disease cases have tripled in the United States over the last 2 decades, making it the most commonly reported vector-borne disease in the Northern Hemisphere.
STARTING WEDNESDAY: Mercury, Venus, Mars, Jupiter, Saturn to align in night sky
Get ready for a spectacular sight in our skies this week. For the first time since 2005, the planets Mercury, Venus, Mars, Jupiter and Saturn will all be visible at the same time. According to EarthSky.org , the 5 planets will be visible just before dawn starting Wednesday, January 20, 2016.
Dissolvable brain implant the size of a grain of rice invented by scientists
A surgical implant no bigger than a grain of rice which measures a patient's temperature and blood pressure for several days before dissolving harmlessly in body fluids has been invented by scientists. The biodegradable device could be implanted into the brain or other vital organs to monitor a patient's medical recovery without the need...to remove the implant once its job is done, the researchers said.
Big banks brace for oil loans to implode
Firms on Wall Street helped bankroll America's energy boom, financing very expensive drilling projects that ended up flooding the world with oil. Now that the oil glut has caused prices to crash below $30 a barrel...Dozens of oil companies have gone bankrupt and the ones that haven't are feeling enough financial stress to slash spending and cut tens of thousands of jobs.
Syrian opposition faction: Russia is bombing civilians, not ISIS
A prominent Syrian opposition faction is challenging Russia's claims that a well-documented air strike it carried out in Syria targeted ISIS positions, claiming instead that the attack targeted civilians unconnected to the terrorist group. New video released by the media institution of Ahrar al-Sham, one of the largest Syrian opposition groups, presents ostensible evidence of the Russian bombardment of Syrian civilians.
Islamic Professor Muslims Can Rape Non-Muslim Women
Here's an important thing to understand; this woman is a moderate. And I'm not saying that sarcastically. In Islamic terms, her position is a moderate one. She's specifically staking out a position against concubinage and slavery within Muslim society.
China economic growth slowest in 25 years
China's economy grew by 6.9% in 2015, compared with 7.3% a year earlier, marking its slowest growth in a quarter of a century. Beijing had set an official growth target of "about 7%" for the world's second-largest economy.
Germany: 1st suspect held over Cologne sex assaults
A 26-year-old Algerian man has become the first person arrested in connection with a string of sexual assault during New Year's celebrations in Cologne that sparked a debate about Germany's ability to integrate migrants.
Desertions deplete Afghan forces, adding to security worries
Afghan Lieutenant Amanullah said he was ready to fight to the death to stop the Taliban making gains across the south of the country, where insurgents have already overrun a series of districts in their traditional heartland.
Jail to jihad: Indonesian prisons a breeding ground for militancy
Afif was an inmate in a high-security Indonesian jail when he transformed from aspiring radical Islamist to soldier for Islamic State, ready to sacrifice his life for a group based thousands of miles away in the Middle East.
Half of U.S. Fracking Industry Could Go Bankrupt as Oil Prices Continue to Fall
So the slide continues with no end in sight. As expected this morning, the oil price has fallen below $28 a barrel on the back of the historic news over the weekend of sanctions being lifted on Iran. This is the lowest level for oil since 2003.
US West Coast Earthquake Warning as Cascadia Subduction Zone Surges
An ocean data buoy is alerting to an "event" in the Cascadia Subduction Zone off the west coast of Oregon. This is where a magnitude 9 earthquake hit in 1700. According to the data buoy, the water column height (depth) fell sharply within minutes off the coast of Oregon, signaling the land beneath the ocean has suddenly "sunk."
Magnitude-6 quake strikes south of Fiji
A strong earthquake struck off the southern coast of Fiji this morning, but there are no reports of damage.
The degradation of non-Muslims is the essence of Islamic religious practice
Here's an important thing to understand; this woman is a moderate. And I'm not saying that sarcastically. In Islamic terms, her position is a moderate one. She's specifically staking out a position against concubinage and slavery within Muslim society. The exception is when Muslims attack non-Muslims and take female prisoners. The fact that this is a moderate position says all you need to know about Islam.
The video was translated by Memri. The professor is from Al-Azhar, which is as mainstream establishment as Islam gets in Egypt. She limits this to what she describes as "legitimate wars", suggests that Jewish women in Israel should be a target, but then appears to sarcastically backtrack, this may be a backhanded attack on Egypt's government.
But here's how she describes the practice of Islamic sanctioned rape itself. "The female prisoners of wars are 'those whom you own.' In order to humiliate them, they become the property of the army commander, or of a Muslim, and he can have sex with them just like he has sex with his wives."
If you still think Islam has anything in common with normative religion, think again. There's no religious gloss over this. After having moderately isolated contexts in which rape is acceptable, the reason for it is bluntly nasty. Better Islamic apologists will claim that it was some favor to the women. But she is honest about that at least. The purpose of this Koranic rape, like all rape, is degradation.
Not just of the women, but of a people.
This degradation of non-Muslims is the essence of Islamic religious practice. It takes various forms from imposing yellow and blue badges for Jews and Christians (when Muslims presume to wear yellow stars and crybully as if they're the victims, they're hijacking their own symbol of degradation that the invading conquerors imposed on Jews) to, in its ugliest form, rape.
When Muslims cry, Allahu Akbar, they proclaim their supremacy to non-Muslims because Allah has allowed them to degrade the non-Muslims. When ISIS fighters shout Allahu Akbar and rape Yazidi women, this is what it means.
Islam hasn't been hijacked. Even in its moderate form, it is a theology of degrading non-Muslims.
Hebron Has Become Terror Central
Jan 19th, 2016
Daily NewsYnet News


Categories: The Nation Of Israel
55 out of the 150 attacks carried out so far in the current terror wave orignated in Hebron; the Otniel attack marks an escalation in the severity of the attacks, as they now are at people's doorsteps.
The brutal attack Sunday in Otniel symbolizes two important points regarding the current wave of terrorism: an escalation in the severity of attacks and the fact that Hebron has become the "terror center" of this wave.
The first point is the escalation of the severity of the attacks and the transition from stabbings at intersections and on roads, which ended up with the terrorist being killed, to terror at people's doorsteps, which is more focused and much more deadly.
The second point is the official transformation of Hebron into the "terror capital" and the producer of the largest number of terrorist attacks in the current intifada. According to the Shin Bet, out of the 150 attacks carried out by terrorists so far, 55 originated in the Hebron area. The most severe attacks of the current terror wave, which has claimed the lives of 29 people came from the area.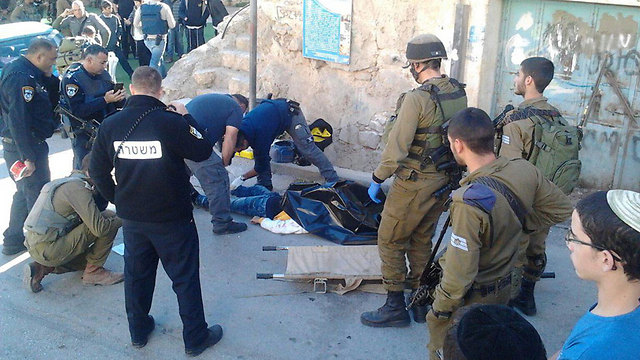 Two soldiers stabbed in Hebron in December 2015 (Photo: Elyashiv Tzviel)
The initial investigation of the Hebron Brigade revealed that the terrorist entered the settlement of Otniel, which is not surrounded by an electric fence, came to the family home and stabbed Dafna Meir in front of her daughter. Apparently, her screams had driven him from the settlement, but not before he was caught by the security cameras. A manhunt was carried out in the near-by villages of Yatta and Khirbet al-Karmel, where IDF soldiers and Shin Bet agents were active all night long.
During the second intifada, in December 2002, it was the severe attack at Yeshivat Otniel which marked an escalation in the type of attacks. The settlement had no fence, and two Palestinians dressed in IDF uniforms, armed with rifles and hand grenades, infiltrated the settlement, entered the yeshiva's kitchen and opened fire. Four students were killed, and some of their friends, along with soldiers called to the scene were wounded. The settlement and they yeshivah became a symbol. Community and the meeting became a symbol.
Getting back to current wave: the Hebron sector rose up later than East Jerusalem, Nablus and Ramallah. Hebron and its surrounding area quickly became the primary infrastructure from which terrorists emerged, and for now the Shin Bet and the IDF do not have a solution to restore peace.
It's possible that the Shin Bet data showing that there has been a drop in the number of attacks last month are true, but definitely not with respect to the severity of the attacks. Every day there was an incident there, the main threat being, as published in Yedioth Ahronoth, the Hebron sniper, who has acted several times and has wounded soldiers from a distance near the Cave of the Patriarchs, and until now the authorities have been unable to capture him.
The security forces' main worry is from copycats who may be emboldened by Sunday's successful attack, just as happened at the start of the current terror wave. Therefore, Central Command has instructed to stick closely to security procedures with regards to the settlements in the West Bank, where security has been beefed up lately.
It looks like it is going to be another chaotic week for global financial markets. On Sunday, news that Iran plans to dramatically ramp up oil production sent stocks plunging all across the Middle East. Stocks in Kuwait were down 3.1 percent, stocks in Saudi Arabia plummeted 5.4 percent, and stocks in Qatar experienced a mammoth 7 percent decline.
And of course all of this comes in the context of a much larger long-term decline for Middle Eastern stocks. At this point, Saudi Arabian stocks are down more than 50 percent from their 2014 highs. Needless to say, a lot of very wealthy people in Saudi Arabia are getting very nervous.
Could you imagine waking up someday and realizing that more than half of your fortune had been wiped out? Things arent that bad in the U.S. quite yet, but it looks like another rough week could be ahead. The Dow, the S&P 500 and the Nasdaq are all down at least 12 percent from their 52-week highs, and the Russell 2000 is already in bear market territory.
Hopefully this week will not be as bad as last week, but events are starting to move very rapidly now.
Much of the chaos around the globe is being driven by the price of oil. At the end of last week the price of oil dipped below 30 dollars a barrel, and now Iran has announced plans to add 1 million barrels to its daily crude production&
Iran could get more than five times as much cash from oil sales by year-end as the lifting of economic sanctions frees the OPEC member to boost crude exports and attract foreign investment needed to rebuild its energy industry.
The Persian Gulf nation will be able to access all of its revenue from crude sales after the U.S. and five other global powers removed sanctions on Saturday in return for Irans curbing its nuclear program. The fifth-biggest producer in the Organization of Petroleum Exporting Countries had been receiving only $700 million of each months oil earnings under an interim agreement, with the rest blocked in foreign bank accounts.
Iran is striving to add 1 million barrels to its daily crude production and exports this year amid a global supply glut that has pushed prices 22 percent lower this month.
It doesnt take a genius to figure out what this is going to do to the price of oil.
The price of oil has already fallen more than 20 percent so far in 2016, and overall it has declined by more than 70 percent since late 2014.
When the price of oil first started to fall, a lot of people out there were proclaiming that it would be really good for the U.S. economy. But I said just the opposite. And of course since that time we have seen an endless parade of debt downgrades, bankruptcies and job losses.
130,000 good paying energy jobs were lost in the United States in 2015 alone because of this collapse, and things just continue to get even worse. At this point, some are even calling for the federal government to intervene. For example, the following is an excerpt from a CNN article that was just posted entitled "Is it time to bail out the U.S. oil industry?"...
Americas once-booming oil industry is suddenly in deep financial trouble.
The epic crash in oil prices has wiped out tens of thousands of jobs, caused dozens of bankruptcies and spooked global financial markets.
The fallout is already being felt in oil-rich states like Texas, Oklahoma and North Dakota, where home foreclosure rates are spiking and economic growth is slowing.
Now there are calls in at least some corners for the federal government to come to the rescue.
Is it just me, or is all of this really starting to sound a lot like 2008?
And of course it isnt just the U.S. that is facing troubles. The global financial crisis that began during the second half of 2015 is rapidly accelerating, and chaos is erupting all over the planet. The following summary of what we have been seeing in recent days comes from Doug Noland&
The world has changed significantly perhaps profoundly over recent weeks. The Shanghai Composite has dropped 17.4% over the past month (Shenzhen down 21%). Hong Kongs Hang Seng Index was down 8.2% over the past month, with Hang Seng Financials sinking 11.9%. WTI crude is down 26% since December 15th.
Over this period, the GSCI Commodities Index sank 12.2%. The Mexican peso has declined almost 7% in a month, the Russian ruble 10% and the South African rand 12%. A Friday headline from the Financial Times: Emerging market stocks retreat to lowest since 09.
Trouble at the "Periphery" has definitely taken a troubling turn for the worse. Hope that things were on an uptrend has confronted the reality that things are rapidly getting much worse. This week saw the Shanghai Composite sink 9.0%. Major equities indexes were hit 8.0% in Russia and 5.0% in Brazil (Petrobras down 9%). Financial stocks and levered corporations have been under pressure round the globe.
The Russian ruble sank 4.0% this week, increasing y-t-d losses versus the dollar to 7.1%. The Mexican peso declined another 1.8% this week. The Polish zloty slid 2.8% on an S&P downgrade ("Tumbles Most Since 2011"). The South African rand declined 3.0% (down 7.9% y-t-d). The yen added 0.2% this week, increasing 2016 gains to 3.0%. With the yen up almost 4% versus the dollar over the past month, so-called yen carry trades are turning increasingly problematic.
Closer to home, the crisis in Puerto Rico continues to spiral out of control. The following is an excerpt from a letter that Treasury Secretary Jack Lew sent to Congress on Friday&
Although there are many ways this crisis could escalate further, it is clear that Puerto Rico is already in the midst of an economic collapse&
Puerto Rico is already in default. It is shifting funds from one creditor to pay another and has stopped payment altogether on several of its debts. As predicted, creditors are filing lawsuits. The Government Development Bank, which provides critical banking and fiscal services to the central government, only avoided depleting its liquidity by halting lending activity and sweeping in additional deposits from other Puerto Rico governmental entities. A large debt payment of $400 million is due on May 1, and a broader set of payments are due at the end of June.
It isnt Michael Snyder from The Economic Collapse Blog that is saying that Puerto Rico is "in the midst of an economic collapse".
That is the Secretary of the U.S. Treasury that is saying it.
Those that have been eagerly anticipating a financial apocalypse are going to get what they have been waiting for.
Right now we are about halfway through January, and this is the worst start to a year for stocks ever.
The Dow is down a total of 1,437 points since the beginning of 2016, and more than 15 trillion dollars of stock market wealth has been wiped out globally since last June.
Unfortunately, there are still a lot of people out there that are in denial.
There are a lot of people that still believe that this is just a temporary bump in the road and that things will return to "normal" very soon.
They dont understand that this is just the beginning. What we have seen so far is just the warm up act, and much, much worse is yet to come.
Iceland seems to be on its way to becoming an even more secular nation, according to a new poll. Less than half of Icelanders claim they are religious and more than 40% of young Icelanders identify as atheist. Remarkably the poll failed to find young Icelanders who accept the creation story of the Bible. 93.9% of Icelanders younger than 25 believed the world was created in the big bang, 6.1% either had no opinion or thought it had come into existence through some other means and 0.0% believed it had been created by God.