Is it possible we could see Hillary Clinton as the 45th President of the United States while former President Barack Obama sits as the acting Secretary General of the United Nations?
This nightmare scenario for conservatives is beginning to gain some traction as rumors are emerging that Israel is taking preventive action to make sure this never happens.
Current UN Secretary-General, Ban Ki-moon's term is scheduled to end December 31, 2016, coincidentally, 21 days before President Obama's term in office is also to end.
According to the Kuwaiti newspaper Al-Jarida, "informed sources" tell them Obama has already floated the idea of running for Secretary-General with some Democrats, Republicans, and Jewish officials in the US, although none has gone on record of discussing such a possibility.
Al-Jarida claimed this information set off alarm bells in Tel Aviv, where government officials view Obama as being responsible for allowing Iran to achieve a path to nuclear weapons.
The sources claimed that once Netanyahu got wind of Obamas plans, the prime minister began to make efforts to torpedo what he has referred to as "the Obama project."
"Wasnt eight years of having Obama in office enough? Netanyahu is quoted as telling associates. "Eight years during which he ignored Israel? And now he wants to be in a position that is liable to cause us hardships in the international arena."
Tensions between Obama and Netanyahu have been no secret over the years as the US has moved farther away from supporting Israel's positions on a multitude of issues. That being said, some analysts doubt that a newspaper in Kuwait, a country who had no direct ties with Israel, would be privy to such inside information from Israeli sources.
However, a recent editorial in Canada's National Post has suggested that many of Obama's policies towards Islam have been made with this larger agenda in mind. Barbara Kay and Robert Cutler make some startling suggestions in their piece,
"Obama will still be a young man when he leaves the presidency. His multiple policy failures (which are failures by his own self-imposed yardsticks: Russia, Iran, Israel-Palestine, Syria) will not have diminished the capacious ego that he brought, and which brought him, to the White House.
"What post-presidency career would Obama consider worthy of his future attention and efforts? Few jobs of Olympian prestige are available, and his self-admittedly vast self-esteem might diminish the list still further. Ambassador to Kenya? We think not. No, we agree with a number of other observers that Obama has his sights set on the office of United Nations Secretary-General".
"If there is a litmus test for becoming UN Secretary-General, then that is winning the approval of the 57 members of the Organization of Islamic Cooperation (nearly 30 per cent of all UN members). For seven years, Obama appears to have bent over backwards to avoid hard truths that may offend them."
Secretaries General serve for five-year terms that can be renewed indefinitely, although none so far has held office for more than two terms. If Obama runs and does win the office, anti-Obama advocates will have much to talk about for potentially decades to come.
If Obama is truly interested in becoming Secretary-General whatever his ultimate motivations may be, he will have a limited timeframe to start making those intentions known.
U.N. officials say they hope a list of candidates will be completed by March and that the Security Council will begin its selection process in July.
This also marks the first year the world body's 193 members were directly encouraged to consider putting forward a woman for the top position.
The 15-member Security Council, including veto powers China, Russia, the United States, Britain and France, traditionally considers an undisclosed list behind closed doors and recommends a candidate to be elected by the General Assembly.
The United Nations is attempting to be more transparent with its selection process and is announcing candidates that have been put forward for selection.
Thus far only two candidates have been put forward, former U.N. General Assembly President Srgjan Kerim of Macedonia and Croatian Foreign Minister Vesna Pusic.
Such an open campaign for Obama to be put forward for this position could play to his advantage as he is still very popular in many countries around the world. However, issues of fairness and tradition will come into play as the job customarily rotates between regions, with Eastern Europe next on the list.
No former leader of a major power or permanent member of the Security Council, which includes the US, has ever been elected to the post of UN Secretary General. Although not a direct policy, it has been this way for 70 years to keep any one country from having too much global influence.
The odds would seem to be stacked against Obama being able to secure such a position, but in a world of rapidly changing traditions and alliances, anything is possible.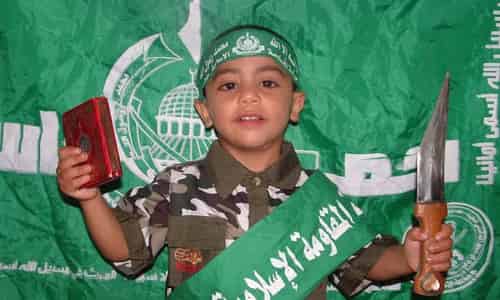 By Tom Olago
January 10, 2016
For every terrorist that rises up to kill and destroy in the name of religious martyrdom, it seems that there is always an endless supply of other terrorists queuing up to take their place. Nothing really newsworthy about that. Its been the norm way before even 9/11.
You'd be more surprised though to learn the identity some of those so eager to 'sign up and blow up'. Mere children - ranging from toddlers that have not even attained kindergarten age yet, to teenagers who are still legally minors.
Meira Svirsky for the Clarion Project explains the process of indoctrination and hatred that would inspire children to grow up with hatred and a desire to kill by whatever means possible. Books, TV shows, theater contests, hit songs, parties, sports, social media, computer games anything that children find attractive and enjoyable are the natural training channels of choice in the 'art' of shedding innocent blood.
Svirsky notes that such are mediums used by the Palestinian Authority and Hamas to teach Palestinian children to hate Jews and incite them to punch, stab, shoot and otherwise kill the "enemy".
TV seems to be a favorite medium for the PA/Hamas axis to desensitize and incite their children. A childrens show on Palestinian TV featured two young girls as the shows hosts praising the Palestinian murderers of Jews as our "young heroes... who carried out all those great heroic acts." The show is ironically called Grownup Kids.
Palestinian textbooks teach their schoolchildren that Israel has no right to exist; the Palestinian Authority uses sports events to glorify terrorists, naming tournaments and festivals after the most gruesome killers; Hitler is held up as the ultimate role model in PA schools and on their Facebook pages; and the PA media teaches children the pleasure and rewards of martyrdom.
In addition, Hamas provides military training and indoctrination for kids through their summer camps in which Palestinian children receive paramilitary training, including how make a homemade rocket and how to fire guns (training uses live ammunition).
Little wonder then that, over time, children have also been used as suicide bombers, well-enticed with promises of utopian rewards and fully equipped with the so-called means to get them there.
ISIS has a similar program, using juveniles to assure the continuation of the "caliphate" and its mission by training the next generation in their methodology and dogma. Children are brainwashed to join the Islamic State in a number of ways. After targeting a community for takeover, the Islamic State will typically kill the men, enslave the women and girls and take the young boys to be trained killers for the caliphate. Boys as young as five learn how to shoot and slaughter through a variety of methods - lynching, beheading and suicide bombings.
The trend has not been limited to just the Middle East. Somalia-based Al-Shabaab, the brutal Islamist terror organization responsible for the Westgate Mall attack in Nairobi, Kenya, recruits children for use as soldiers. Children are lured to join the group through the use of extremist propaganda and material rewards.
Religious events in certain mosques often provide fertile ground for recruitment as well. This tactic has been reported in various parts of the United States too, such as Minnesota which has a heavy Somali immigrant population. The approach used for that demographic is to target older boys for recruitment, using internet videos, social media and testimonials from current members of the terror group.
In Pakistan, it has been reported that schools are being taught prejudice and intolerance of all religions except Islam. In addition, most teachers were found to view non-Muslims as enemies of Islam. A 2011 Pew Research Center study found Pakistan to be the third most intolerant country in the world.
Europes Britain is said to have been rocked by the "Trojan Horse" scandal in Birmingham and other locations where Islamist extremists have managed to take control of a number of publicly-funded schools and use them as a platform to disseminate discriminatory views.
A report by the former head of the Metropolitan police forces counter-terrorism division states in part: "This has been achieved in a number of schools through gaining influence on the governing bodies, installing sympathetic head teachers or senior members of staff, appointing like-minded people to key positions, and seeking to remove head teachers who they do not feel to be sufficiently compliant with their agenda."
One incident illustrating the vile intent of the extremists was when Asim Khan, a teacher at Oldknow Academy in Birmingham, is said to have led students in chants including "We dont believe in Christmas, do we?" and "Jesus wasnt born in Bethlehem, was he?"
A clear illustration that other 'infidels' besides Jews are also prime targets and Christians usually top the hit list in that category.
A hardline version of Sunni Islamism is what is used for indoctrination towards extremism. This approach works consistently and incredibly well for those championing it. Some recent examples bear this out. The current wave of terror attacks by Palestinians against Israelis has seen younger and younger terrorists perpetrating horrific stabbing attacks. In Jerusalem, on a city train, two cousins, aged 12 and 13, stabbed a security guard in his upper body. A previous attack in the same neighborhood by 13- and 15-year-old Palestinians left a 13-year-old boy in critical condition and a man wounded.
The Middle East Media Research Institute (MEMRI) documented a sampling of this incitement in Palestinian social media in a recent report. Some excerpts from Facebook and Twitter accounts are as below. All are accompanied with photographs of very young children holding knives menacingly:
"Teach your children to love Palestine and take up knives, Oh people of Palestine. The next generation will be the generation of stabbings and slaughter."
Hashtags #SlaughtertheJew, #TheKnifeIntifada, #TheThirdIntifada
"My little girl rebelling and rising up".
The next generation for jihad is rising up, and being trained well. What a tragic picture of innocence lost.
Let the Headlines Speak
Jan 11th, 2016
Daily NewsFrom the Internet


Categories: Today's Headlines
Was this the most foul-mouthed Golden Globes yet? And was all the free booze to blame?
It is supposed to be a night of glitz and glamour, with celebrities arriving in elegant gowns and suave suits to celebrate the great and good of the film industry. But this year's Golden Globes was more obscene than graceful, with celebrities swearing in nigh on every speech.
Madaya Syria: Aid convoy enters besieged town
An aid convoy has begun entering the besieged rebel-held Syrian town of Madaya with enough food to last 40,000 people for a month, the UN says. Residents have been trapped there for six months by a government blockade and have received no aid since October.
China's yuan spikes higher, but stocks tumble
China guided its yuan currency higher on Monday, and offshore it surged against the dollar, spurred by what traders called aggressive intervention by Beijing, although Chinese stocks tumbled again as doubts persisted over policymakers' intent. Perceived mis-steps by China's authorities have stoked concerns in global markets that Beijing might lose its grip on economic policy...
Hitler's Mein Kampf sells out instantly after being published in Germany for first time in 70 years
A controversial critical edition of Adolf Hitler's Mein Kampf has sold out instantly after going on sale in German bookshops for the first time in 70 years. Demand for the 2,000-page annotated version of the inflammatory text that hit bookstores on January 8 massively exceeded supply, with 15,000 advance orders for an initial print run of just 4,000 copies.
Human-Animal Chimeras Are Gestating on U.S. Research Farms
Braving a funding ban put in place by America's top health agency, some U.S. research centers are moving ahead with attempts to grow human tissue inside pigs and sheep with the goal of creating hearts, livers, or other organs needed for transplants. The effort to incubate organs in farm animals is ethically charged because it involves adding human cells to animal embryos in ways that could blur the line between species.
Isis 'ran sophisticated immigration operation' on Turkey-Syria border
Islamic State ran a sophisticated immigration operation through a Syrian border town with Turkey until its defeat in the area by Kurds this summer... Passenger manifests...carry the stamps of Isis's "department of immigration" and "department of transport". They show that buses passed through the town having submitted the names, dates of births, ID numbers and even birthplace of scores of travellers.
Car Insurers Find Tracking Devices Are a Tough Sell
In a lab at Progressive Corp....managers and technicians...watch a colleague drive from his home outside Cleveland to the city zoo. A dot on a computer screen moves along a map overlaid with speed limits, turning red when the driver is speeding. ..The catch is the industry needs its customers' consent to gather the information, and many customers are wary.
The new way police are surveilling you: Calculating your threat 'score'
While officers raced to a recent 911 call...a police operator in headquarters consulted software that scored the suspect's potential for violence... The program scoured billions of data points, including arrest reports, property records, commercial databases, deep Web searches and the man's social- media postings. It calculated his threat level as the highest of three color-coded scores: a bright red warning.
Al-Qaida warns Saudi Arabia it will pay for executing militants
Al-Qaida has warned Saudi Arabia it will pay for the executions of dozens of its members, saying they were intended to be a new year's gift to Riyadh's Western allies aimed at consolidating the rule of the Saud dynasty. Though it was the killing of a Shi-ite cleric...sparked a crisis between Saudi Arabia and...Iran, most of the 47 executed were al-Qaida militants convicted of bombings and gun attacks...
Al-Qaida in the Islamic Maghreb threatens to attack Rome, Naples and Madrid
...On January 6, the media institute of the al-Qaida-affiliated organization released a video titled "From the Desert's depth," in which the Malian fighter, Abu Basir al-Bamari...urged the Muslims...to "fight against the French infiltrators" in order to restore Sharia law in the country. To achieve its aim...the organization threatened to attack the West: "We will strike them in Naples, in Rome, in Madrid. The blasts will be everywhere."
Mexican drug boss 'Chapo' Guzman loves his mom, feels no remorse
Notorious Mexican drug lord Joaquin "Chapo" Guzman feels neither remorse nor responsibility for smuggling billions of dollars worth of drugs into the United States, and does not consider himself a violent man despite countless murders blamed on him.
Canadian pastor jailed by N. Korea struggles with hard labour
A 60-year-old Canadian pastor, jailed for life with hard labour in North Korea, says he spends his days digging holes in an orchard in a prison camp where he is the sole inmate.
Putin defends Russia's recent aggression, blames US and Europe for rising tensions
Germany's leading newspaper Bild has published an exclusive interview with Russia's president Vladimir Putin. In partnership with Bild, Business Insider has published an English translation below.
Mayor denounces rape of woman by five men in New York playground
New York Mayor Bill de Blasio on Sunday denounced the rape of a woman by five men at a Brooklyn playground, pledging police would work to swiftly apprehend the suspects in "this vicious crime."
US bomber flies over S. Korea as show of force against North
The US sent a heavy bomber over South Korea on Sunday in a show of force as North Korean leader Kim Jong-Un insisted his country's latest nuclear test was carried out in self-defence.
Netanyahu leading effort to thwart Obama bid for U.N. chief
Israeli Prime Minister Benjamin Netanyahu reportedly is planning payback for President Obama's dismissing Mr. Netanyahu's objections to the Iran nuclear deal last year. Mr. Netanyahu is said to be rallying moderate Arabs to thwart Mr. Obama's bid to become the Secretary-General of the United Nations after he leaves the White House next year.
Obama's Constitutional Overreach… and Israel
Netanyahu isn't the only one the administration sneers at It sneers at the American public and at members of Congress as well. And in so doing, it sneers at and deliberately breaks US law and tramples the US Constitution.
China Goes Full Keynesian-tard: Demolishes Never-Used Just-Built Skyscraper
"Growth" meet "mal-investment boom-bust" In a perfect example of the smoke-and-mirror-ness of China's credit-fueled expansion, a 27-storey high-rise building which was completed on November 15th 2015 was just demolished, "having been left unused for too long."
Lawmakers to Obama: 'Stop importing the threat'
Now that two ISIS operatives who entered the U.S. as Iraqi refugees have been arrested on terror-related charges, the heat is sure to get turned up in the debate over the "vetting" of Muslim refugees and whether it is even possible to screen them for terrorist ties.
Producer of New A&E Show on Antichrist: 'People Feel Like These are the End Times'
When asked by the Hollywood Reporter why there is renewed interest in the Antichrist, Glen Mazzara, the showrunner of "Damien," said he thought it was because there is increased anticipation that we may be living in the end times...
Gas prices could drop toward $1 a gallon
In some gas stations around the country, the price of a gallon of regular has dropped below $1.42. AAA and GasBuddy, two organizations that follow gasoline prices, say that gasoline prices below $2 will not be unusual in most of the United States
Kuwaiti Media: Obama to Seek UN Secretary Generalship
Al –Jarida, an Arabic language Kuwaiti magazine, published an article on Friday claiming that US President Barack Obama has set his sights on becoming the next Secretary General of the United Nations when he leaves the Oval Office in one year. The article also claimed that upon hearing of President Obama's plans, Israel's Prime Minister, Benjamin Netanyahu "vowed to counter his campaign." They quoted Netanyahu as saying, "Eight years of Obama's judgments and marginalizing Israel was not enough? Now he wants to be in a position to cause us trouble in the international forum?"
Now that two ISIS operatives who entered the U.S. as Iraqi refugees have been arrested on terror-related charges, the heat is sure to get turned up in the debate over the "vetting" of Muslim refugees and whether it is even possible to screen them for terrorist ties.
The two alleged terrorists were arrested Thursday, one in Sacramento and the other in Houston. Texas Lt. Gov. Dan Patrick said the arrests "may have prevented a catastrophic terror-related event in the making and saved countless lives," CBS News reported.
Texas' Republican Gov. Greg Abbott said the arrests "are precisely why I called for a halt to refugees entering the U.S. from countries substantially controlled by terrorists." He said the refugee inflow from these countries should end "until there is an effective vetting process that will ensure refugees do not compromise the safety of Americans and Texans."
But the fact is that no amount of "vetting" would have stopped one of the two terrorists from entering the country. The refugee arrested in Houston, Omar Faraj Al Harden, was "radicalied" after he arrived in the U.S. as a teenager in 2009, authorities said.
Rep. Brian Babin — one of most outspoken critics of the refugee resettlement program and author of a bill that would shut the program down pending a full audit — represents parts of the Houston area where Al Harden lived.
Babin introduced his bill, the Refugee Resettlement Accountability National Security Act, more than five months ago, at a time when few in Congress were interested in the refugee issue.
"That (Houston area) is my district," Babin told WND in a phone interview Saturday. "I dropped that bill July 30 and quite frankly I was a voice in the wilderness because nobody was talking about it. Then all of a sudden we have the Paris attacks and then San Bernardine. That was just proof in the pudding that what we were suspicious of has been absolutely true and if there were any doubts then these arrests prove the point that we have a problem with this refugee program."

Ryan offers full funding of Obama refugee program
The debate over vetting Syrian refugees raged in Congress following the Paris attacks but, in the end, Speaker Paul Ryan and the Republican leadership decided to fully fund President Obama's expanded refugee resettlement program. That program will allow the United Nations to select 85,000 refugees that the Obama administration will then distribute into more than 180 U.S. cities and towns during the current fiscal year.
And Obama plans to ramp up the program further in 2017 with 100,000 refugees bound for U.S. cities. The president has said there should never be a 'religious test' for those seeking refuge in America and tried to marginalize the pushback against his plans as xenophobia from people "afraid of widows and orphans."
But roughly half of the nearly 200,000 refugees entering the U.S. over the next two years will come from countries with active jihadist movements – Syria, Iraq, Somalia, Afghanistan, Democratic Republic of Congo, Sudan, Bosnia, Uzbekistan and Burma, among others.
Al Harden, 23, was a Palestinian born in Iraq who had come to Houston as a refugee in November 2009, when he would have been a teenager. He passed through the vaunted "vetting" process that Obama and Secretary of State John Kerry have described as the "most rigorous" screening faced by any category of immigrant.
Authorities said Al Harden got "radicalized" after he arrived in the U.S. so no amount of "vetting" would have mattered in his case.
"I don't know the details of his radicalization but the majority of the time we're getting a lot of these folks radicalized on the Internet after they arrive," Babin told WND. "But many are radicalized in our local mosques and these radical imams will go into our prisons and recruit there."
Babin said he was disappointed the GOP leadership could not even get the language of the American SAFE Act requiring enhanced vetting of refugees — a weaker version of his bill — included in the omnibus spending bill.
"The Democrats said it was a non-starter," he said, and Ryan buckled.
So Babin says he will return to the drawing board and promote his bill, which goes further than the SAFE Act, actually halting all refugee resettlements pending a full audit of the program's costs to taxpayers and its risks to national security.
"We're going to be pushing my colleagues. We hadn't been pushing it but with these arrests we are going to because this problem is not going away, it's as severe and acute as ever and I don't know what it's going to take for this president and for Hillary Clinton to wake up and realize we're in a war," he said. "We're in a war with these radical Islamic terrorists and they won't even name the enemy."
Babin said he was astonished Obama would push for expanded background checks for gun purchases while refusing enhanced background checks for Syrian and Iraqi refugees as required by the SAFE Act.
"He's promised to veto the SAFE Act if it passes the Senate while at the same time he wants to implement these needless background checks on law-abiding Americans so he can disarm us," Babin said. "Yet he doesn't want to do enhanced background checks on potential jihadists."
Warnings from Obama's own FBI director ignored
Obama's own FBI director, James Comey, as well as others in the Department of Homeland Security have warned that it's impossible to vet refugees from Syria and other failed states where the U.S. has no access to reliable law enforcement records.
Thursday's arrests of two refugees, one in Sacramento and the other in Houston, are just the latest in a long line of refugees and asylum seekers from Muslim-dominated countries who have run afoul of the law.
In 2011 two other Iraqi refugees resettled in Bowling Green, Kentucky, were arrested and charged with providing material support to al-Qaida. An ABC News investigation in 2013 found that they likely were among "several dozen" terrorists who slipped through the refugee screening process and were allowed into the U.S. in 2009. That's the same year, interestingly, that Al Harden entered the U.S. as a refugee from Iraq.
Jayna Davis, author of "The Third Terrorist," a New York Times bestseller about the Oklahoma City bombing in which she ties a former Iraqi refugee to the bombing that killed 168 people, theorized in a recent exclusive article by WND that Islamic terrorist organizations have been building sleeper cells in the U.S. for decades. They have used the refuge and other immigration programs to do this, she said.
The U.S. has permanently resettled about 119,000 Iraqi refugees since 2002, according to State Department data.
Other refugees from Afghanistan, Bosnia, Kazakhstan and Uzbekistan have also been charged with engaging in terrorist activity after they arrived in the U.S.