Church growth is all the rage. For pastors, the focus is on leadership. For laymen, on "reaching people." In the church world, church-growth is the standard of success. If a church "reaches people," and the pastor is a "visionary leader," then the church will be considered a success. If a church makes it into somebody's bogus "Fastest Growing Church" list, then the growth frenzy continues with the sheep flocking to check out what innovation has been initiated to reach the masses for Christ. Personally, I think the Emperor has no clothes.
For at least four reasons, I reject the church-growth and church-health principles taught at almost every pastor's conference, and expressed in almost every church. Our church will be different, because I reject these principles. Although different will likely mean odd, behind-the-times, and shrinking in size, I go there anyway.
I refuse to believe that a "Christian Community" will save anyone.
Community is the big word today (along with missional…and if you claim to be a missional community, you are really on the cutting edge). Churches work hard to design community. They do it through small-groups, centered around felt-needs, and gathered in living rooms across the country. These community groups gather for the bigger community in a weekly celebration of magnificence. This weekly celebration has been carefully scripted, from the ridiculously silly and manipulative countdown screen, to the last triumphant note of victory at which the community members are sent out to create a Christian society by building community within their neighborhoods.
These community groups gather for "Bible study," which is almost always a double misnomer. The only Scripture used will be out-of-context references that came from the latest book by the latest Hollywood-looks celebrity pastor who gathered his thoughts (from the internet?), and allowed a nameless editor to work them into something profitable. The group will neither study the passages, nor the book itself. They will simply read a chapter before they come, spend 45 minutes talking about the parts they liked, share how the chapter made them feel about themselves as well as any insights gained, then go away and tell their friends about their marvelous Bible study. It reminds me of when my dad told me we were having tube steak for dinner. I was somewhat disappointed when I found out he just used that lofty sounding name to refer to hot-dogs. Today much of the Bible study in missional-communities is the equivalent of tube steak.
Following "Bible study," the groups engage in fellowship time, then go on their way as biblically empty as when they arrived. Soon they will gather for a "mission project" in which they repair a home (painting the door red so all the town will know that this is one of the homes repaired by that missional community, and will rise up and call the missional community wonderful). If not a home repair project, it may be picking up trash for the city, or painting a dilapidated school, or providing shoes for shoeless children. The sermon will often be aimed toward raising up an army of Christians who adopt the orphan, visit the imprisoned, and blog for social justice.
Even if I believed that these "missions projects" were as successful as the church websites claim ("we had an awesome God-thing happen at our last gathering"), I don't think it has any lasting impact. As I see it, the Christian is not so much to engage his society, but to come out from it. The church today is filled with those who are both in the world and of the world, and who are organized to change the world into a kinder, gentler place to be. The success rate of the mega-church missional-church movement has been an utter failure. Society is more liberal and godless than ever before, with no end to its decline in sight. The mega-missional church will gather in their multi-campus celebrations this weekend and slobber over themselves for their victories, yet our society doesn't display achieve a single victory. Not one.
Building missional community does nothing more than produce a feel-good complacency to the community members. Although they live, assured they are going to be people of impact, as part of a community, they fail to really make any difference. They fool themselves into thinking the Emperor's clothes are superb.
Have you noticed that I've not mentioned anything about the proclamation of the Word, and the spread of the Gospel of Jesus Christ? That's because there is not much to mention from the church today. The church today does good works, has good music (in the ears of many), has a really good sound-system, and a pastor who could lead circles around Moses. What it doesn't have is the backbone to proclaim that our world must reject humanism, social justice, poverty eradication efforts, and other white-washed measures of "expanding the Kingdom of God"—and, must find its only hope in the death, burial, and resurrection of Jesus Christ.
JERUSALEM (AP) — Jewish immigration to Israel from western Europe has reached an all-time high as a result of a rise in anti-Semitic attacks, a leading nonprofit group said Thursday, as France's beleaguered Jewish community grapples with whether to refrain from donning Jewish skull caps for their own safety.
The Jewish Agency, which works closely with the Israeli government and acts as a link to Jews around the world, told The Associated Press that 9,880 western European Jews immigrated to Israel in 2015 — the highest annual number ever. The figure is more than 10 percent over the previous year and over double the 2013 level.
The vast majority, close to 8,000, came from France, where a rise in anti-Semitic attacks has shattered the sense of security of the world's third-largest Jewish population.
Just this week, a machete-wielding teen attacked a Jewish teacher in the southern French town of Marseille, prompting a local Jewish authority to ask fellow Jews to refrain from wearing their traditional skullcaps to stay safe. That sparked counter calls from other French and Jewish officials who said such a move would be a capitulation to terror.
Close to 800 Jews emigrated from Britain in 2015. Italy and Belgium were next on the list.
"That a record number of European Jews feel that Europe is no longer their home should alarm European leaders and serve as a wake-up call for all who are concerned about the future of Europe," said Jewish Agency Chairman Natan Sharansky. "At the same time, the fact that Israel has become the number one destination for European Jews seeking to build a better future elsewhere is a tribute to the appeal of life in Israel and the values the Jewish state represents."
Experts say European Jews have not felt this threatened since World War II, when 6 million Jews were murdered in the Nazi Holocaust. Jews have been targeted in Belgium, Denmark and other European countries, but France has seen the worst of it. Jews have increasingly reported assaults and intimidation, mostly from Muslim extremists. While some attacks have been linked to anger at Israeli policies toward the Palestinians, most have been anti-Semitic in nature.
France is still reeling from a series of attacks in Paris on Nov. 13 that killed 130 people and just marked the anniversary of attacks on the satirical newspaper Charlie Hebdo and a kosher grocery store which killed 17 people. In each case, the Islamic State group claimed responsibility.
France's Jewish community of some 500,000 is the largest in Europe. Jewish schools and synagogues are often surrounded by soldiers in combat fatigues who patrol the streets with automatic rifles. Though Jews make up less than 1 percent of the population, French officials say more than 50 percent of all reported racist attacks in 2014 were directed against them.
Concerns about anti-Semitism in France had already been high, but 2014 saw a record number of French Jews immigrate to Israel. That figure was easily eclipsed in 2015, prompting French authorities to warn about a steeper decline and saying a future France without Jews would "no longer be France."
On Tuesday, Zvi Ammar, a Jewish community leader in Marseille, said he is asking Jews to go without skullcaps "until better days." Observant Jews wear a skullcap, or kippa in Hebrew, in a sign of reverence to a higher power above them.
Ammar's call came a day after a 15-year-old Turkish Kurd attacked and wounded a Jewish teacher on a street in Marseille — France's second-largest city — then told police after his arrest that he acted in the name of the Islamic State group.
At his annual address to foreign journalists, Israeli Prime Minister Benjamin Netanyahu addressed the skullcap controversy.
"Every Jew everywhere should be able to live safely and enjoy the protection of the authorities and I commend the government of France and other governments in Europe for taking the important stance on this issue," he said.
"At the same time, every Jew should know that they have a home in Israel," Netanyahu added. "As far as wearing a kippa, it's the same thing. They have a right, should have a right and enjoy the right to wear a kippa."
Let the Headlines Speak
Jan 15th, 2016
Daily NewsFrom the Internet


Categories: Today's Headlines
Al Jazeera America is dead: Network goes dark
The U.S. arm of the Qatar-based news network is closing its doors after three years in business. Employees at its Midtown Manhattan offices were informed Wednesday that operations will cease April 30.
Claims of Russian arms transfers to Hezbollah worry Israel
Lebanon-based Hezbollah is growing stronger as a result of weapons' shipments from the Russian military, two mid-level commanders in the organization have said. According to the story, first circulated in The Daily Beast, Russia is directly transferring artillery and anti-tank munitions to Hezbollah without any caveat as to what they are used for, despite Russia's close relationship with Israel.
Israel's Netanyahu: Swedish FM's remarks 'outrageous'
Israel's prime minister has denounced a call by Sweden's foreign minister to investigate whether recent killings of Palestinians were "extrajudicial". Benjamin Netanyahu said Margot Wallstrom's remarks were "outrageous... immoral and... stupid". Ms Wallstrom had called for "thorough and credible investigations" into the deaths.
Al-Shabab seizes African Union base in Somalia
Al-Shabab militants have overrun an African Union military base outside the southern Somali town of el-Ade. The Islamist group says it has taken "complete control" of the AU camp and killed more than 60 Kenyan soldiers. Residents told the BBC that al-Shabab had raised its flag at a camp for Kenyan troops and said insurgents had paraded bodies through the town.
Haredi Orthodox school in London ordered to close
Britain's Department for Education has ordered a haredi Orthodox school in north London to close by next month. The school...encourages "cultural and ethnic insularity because it is so narrow and almost exclusively rooted in the study of the Torah...Inspectors said the school was founded to prevent students from "developing a wider, deeper understanding of different faiths, communities, cultures and lifestyles, including those of England."
Western Europe Jewish migration to Israel hits all-time high
Jewish immigration to Israel from western Europe has reached an all-time high as a result of a rise in anti-Semitic attacks, a leading nonprofit group said Thursday, as France's beleaguered Jewish community grapples with whether to refrain from donning Jewish skull caps for their own safety.
Goldman Sachs in $5.1 billion toxic mortgage settlement
Goldman Sachs is still spending big money to clean up shady deals that fueled the financial crisis.
Angry Residents Voice Earthquake Concerns at Edmond Forum
Angry residents in this Oklahoma City suburb chastised policymakers on Thursday for not taking action sooner to restrict oil and gas wastewater injection wells that have been linked to a dramatic rise in earthquakes.
Hurricane Alex forms in Atlantic, first in January in 78 years
A rare winter hurricane, Alex, formed Thursday in the Atlantic, taking shape well after the end of hurricane season and becoming the first such storm to arise in January in 78 years.Hurricane Alex, with maximum sustained winds of 80 miles per hour, is projected to head almost straight north, a track that would pose no threat to the United States. At 10 p.m. Thursday, the storm was about 1,100 miles off the coast of Morocco, a position that put it closer to Africa than North America, according to the National Hurricane Center.
Gitmo detainee vowed to kill as many Americans as possible upon release - Obama releases him
If you watched the State of the Union address, you know that closing the prison at Guantanamo Bay is still a top priority for President Obama. Despite signing a closure order way back in January of 2009, the Commander in Chief has failed to follow through and the facility remains open. Now, the clock is ticking and Obama has stepped up the release of Gitmo inmates. In just the last two weeks, he's unshackled another four prisoners.
Palestine - Obama's Ignorance Becomes His Nemesis
President Obama enters his final year as President having given up on trying to resolve the Jewish-Arab conflict - following in the footsteps of so many other American Presidents whose similarly-shared lofty and noble aspirations ended in abject failure.
Al Jazeera America going dark after less than three years on-air
When fossil fuel-phobic Al Gore sold his "Current TV" network to Al Jazeera, we noted the oil-based irony and mourned the passing of our favorite primetime lineup. After all, Current had been home to crackpots like Keith Olbermann and Dating Game contestants like Jennifer Granholm for the better part of ten years. That kind of crazy is hard to come by and we knew that we wouldn't see anything quite like Current again. MSNBC does it's best to fill the void, but it's just not the same.
After Kerry thanks them for 'appropriate response,' his Iranian BFFs air hostage video
You've heard of the Geneva Convention, right? Both the U.S. and Iran are signatories to it (unlike, say, Al Qaeda or ISIS), and signatories agree among other things that when they detain people from other nations for border incursions, they will not release photos or other images of them for the purpose of humiliating them.
Lebanon-based Hezbollah is growing stronger as a result of weapons' shipments from the Russian military, two mid-level commanders in the organization have said. According to the story, first circulated in The Daily Beast, Russia is directly transferring artillery and anti-tank munitions to Hezbollah without any caveat as to what they are used for, despite Russia's close relationship with Israel.
This begs the question whether the threat to Israel from the Shi'ite organization has intensified since Russian jets started to bomb Syrian dictator Bashar Assad's enemies. However, Hezbollah is still bogged down in the Syrian conflict and is unlikely to be supported in any way by Russia in a future conflict with Israel, analysts say.
Iran's proxy actor, Hezbollah has enjoyed funding and training that allowed the organization to become a powerful militant force with vast arsenals of artillery rockets and a sophisticated organizational structure. A frosty standoff has endured between Hezbollah and Israel since the two fought a costly war in the summer of 2006. Heavily committed to propping up the ailing Assad regime, Hezbollah has lost strength in recent years, but remains formidable.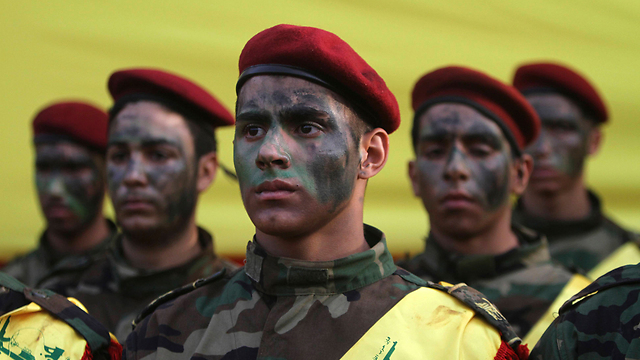 Hezbollah militants in Lebanon (Photo: AP)
"When you count the rockets they have, they are as strong as they were before the eruption of civil war in Syria. (But) when you speak about morale, it's not very high… they've suffered many casualties," Eyal Zisser, a professor at Tel Aviv University and an expert on Hezbollah told The Media Line. Added to this is the financial burden the organization is shouldering, the professor explained.
Israeli intelligence estimates have suggested that Hezbollah has sustained between 1,300 and 1,500 fatalities in combat in Syria, with a further 5,000 injured, out of a projected 18,000 fighters. For this reason Russia's sudden and dramatic intervention in the Syrian quagmire in September of last year would have come as a relief to all the factions fighting to maintain Assad's regime. "It's helpful to Hezbollah because it's kind of sharing their load… (by) targeting Hezbollah's opponents in the Syrian opposition," Lina Khatib, a senior research associate with the Arab Reform Initiative in Paris, told The Media Line.
But although Russian jets and Hezbollah infantry might be fighting in conjunction, the two are not natural allies and it is unlikely that Russia would supply weapons directly to the Shi'ite organization, Khatib said. It's more plausible that weapons supplied by the Russians to the Syrian army are filtering down and being handed over to Hezbollah, partly because the regime's forces are so battered that they have lost their capacity to continue fighting in some areas, the associate said.
Added to this the Kremlin is aware how any transfer of weapons to Iran's proxy would be viewed elsewhere. "It is possible that Russia is relying more on Hezbollah for ground support than on the crumbling Syrian army. But Russia is careful not to empower Hezbollah to an extent that would allow it to pose a significant threat to Israel," Khatib said, noting the very good ties between Moscow and Jerusalem.