_Disclaimer

CommentaryEditor


Categories: Warning
Please note, we do not endorse all of the material or all the sources on this page. Please read with discernment.
WE cannot tell God anything He does not know already. The most fervent and full of our prayers simply unfold in word all that has been patent to his loving, pitying eye. This does not make prayer needless; on the contrary, it incites to prayer, since it is pleasant to talk with one who knows the whole case perfectly; and it is a relief to feel that God's answers depend ‑‑ not on the information we bring Him, or even on the specific requests we make, but ‑‑ on his infinite and perfect acquaintance with circumstances and conditions of which we are altogether ignorant.
"Your Father knoweth." Quicker than lightning is his notice of every transition in your inner life ‑‑ of your downsittings and your uprisings; of every thought in your heart; every word on your tongue; of the fretting of that inward cross; of the anguish of that stake in your flesh; of the enemy that, like a sword in your bones, reproaches you with the derisive challenge. "Thou compassest my path and my lying down, and art acquainted with all my ways. For there is not a word in my tongue, but, lo, O Lord, thou knowest it altogether." Yes, He knows it all, and loves you better than you know.
Do not presume to dictate to Him; do not dare to say that some other way would be better, some other lot more likely to develop your best self. He knows every track by which to bring sons to glory; and that He has chosen this one is a positive proof that it is the best, the one most adapted to your idiosyncrasies and needs. His ways are, higher than your ways, and his thoughts than your thoughts. You could not teach Him knowledge, or increase his love ‑‑ then trust both.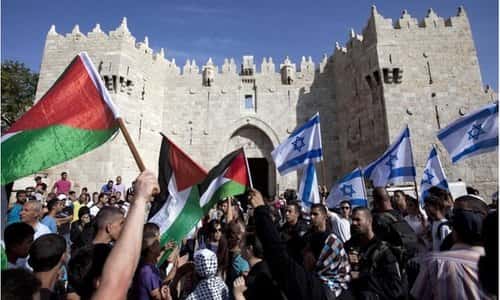 Palestinian Authority leader Mahmoud Abbas keeps telling the world what he thinks. The curious thing is not that he makes statements in which he delegitimizes Israel's existence as a "colonial project," as he did in January, or that he called the U.S. ambassador to Israel a "son of a dog," as he did on Monday.
It's why those whose vision of peace requires Abbas to be interested in that concept simply refuse to believe their lying eyes and ears when it comes to what he and his colleagues do and say.
The last contretemps involving Abbas stems from his reaction to a comment on Twitter from U.S. Ambassador to Israel David Friedman, in which he noted that the P.A. had not condemned terror attacks on Israelis carried out by Palestinians over the weekend.
Rather than take the opportunity to make it clear that he and his government opposed terror, he instead vented his spleen on Friedman, calling him a "son of a dog" and a "settler."
That Friedman is a longtime supporter of the settlement movement is a sore point with the Palestinians and Jewish left-wingers, but Abbas is clearly not interested in meeting the Trump administration halfway as it prepares to issue a peace plan that's probably not going to please the Jewish right.
To the contrary, Abbas's goal seems to be to burn his bridges with the United States, and with moderate Arab nations like Egypt and Saudi Arabia, which are sick and tired of his rejectionist attitude.
It's easy to focus on the way Trump has reversed President Obama's effort to create more "daylight" between Israel and the United States, and how he has cheered friends of the Jewish state by recognizing Jerusalem as Israel's capital.
But it's important to remember that Abbas didn't meet Obama halfway either, even as he pushed policies that were clearly aimed at pressuring Israel to make concessions and tilting the diplomatic playing field in the direction of the Palestinians.
Like his predecessor Yasser Arafat, Abbas has said no to peace so many times that we've lost count. Nor is his "son of a dog" comment about a U.S. official the first time he has engaged in insults of this kind. This is the same man who incited the "stabbing intifada" by saying that "stinking Jewish feet" should not be allowed to profane the holy places of Jerusalem.
Instead of taking advantage of the opening Trump is giving him to negotiate--his recent moves didn't preclude a two-state solution or even a redivision of Jerusalem if the parties agreed to it--Abbas is running away from talks of any kind.
Indeed, the Palestinians are gearing up to spend the weeks between now and the 70th anniversary of Israeli independence in May by doubling down on the narrative in which the existence of the Jewish state is a nakba, a "disaster" that must be reversed.
Rather than show President Trump--a man who may still be laboring under the delusion that his masterful negotiating skills will produce the "ultimate deal" for Middle East peace--that he is ready to talk, Abbas and his minions are having none of it.
To the contrary, as Haaretz reports, the P.A. and various Palestinian groups are going to emphasize a campaign of demonstrations that will center on the "right of return" for descendants of the 1948 Arab refugees.
Somehow, this message--delivered in insulting, colorful language by the man who has been proclaimed the "moderate" peace partner, and repeated in official Palestinian media and schools on a daily basis--isn't getting through to those who advocate for U.S. pressure on Israel to allow Abbas to have a state in the West Bank, Gaza and a share of Jerusalem.
The very same day that Abbas responded to Friedman's plea for a Palestinian stand on terrorism with an insult, Ronald S. Lauder, a prominent American Jewish philanthropist once considered a friend and ally of Israeli Prime Minister Benjamin Netanyahu, penned an op-ed in The New York Times demanding that Israel recommit itself to a two-state solution.
As Stephen Flatow writes, there are arguments against such a stand from a strategic point of view. It is also misleading to claim that a refusal to give the Palestinians a state--something that Israel has repeatedly tried to do in the past, only to be rejected first by Arafat and then by Abbas--is undermining Jewish support for Israel.
The growing distance between the Jewish state and the Diaspora has far more to do with demographic trends involving assimilation than anything Netanyahu is doing.
Lauder and other critics of Israel aren't listening to Abbas. As with so much of the discussion about peace that has been going on in the Jewish world for the last generation about settlements, what remains missing from the debate is what the Palestinians want, as opposed to what the Jews want them to want.
American Jews who long for peace aren't just engaging in wishful thinking about a Palestinian Authority that adamantly refuses to stop subsidizing terrorism. They're also denying agency to the very same Palestinian people whose plight engenders their sympathy.
It's not really important what names Abbas calls Friedman, Trump or Netanyahu. He is an elderly, sick man who thinks protecting his legacy depends on ensuring that he will not be the one who signs a document that concedes defeat in his people's century-old war against Zionism.
Sadly, his potential successors and his Hamas rivals have no more interest in peace than Abbas. Until that changes, those who ignore the Palestinian determination to never make peace with a Jewish state, no matter where its borders might be drawn, aren't helping anyone.
Let the Headlines Speak

Daily NewsFrom the Internet


Categories: Today's Headlines
Turkey-Allied Jihadists Slaughtering Christians, Yazidis in Syria's Besieged Afrin
Turkey-linked jihadists from the Islamic State (ISIS/ISIL) and al-Qaeda are taking advantage of the Ankara offensive in the besieged Afrin region in northwestern Syria to slaughter Christians and Yazidis, caution several activists. The warnings come as Turkish President Recep Tayyip Erdogan announced over the weekend that his allied forces conquered the center of the Kurdish-held city of Afrin.
Sweden Unveils Plans For 'Total Societal Mobilization' Against Russia
In yet another sign of what Russia expert Stephen Cohen has described as the escalating New Cold War, non-NATO aligned Sweden is initiating detailed plans to ready itself for total societal mobilization in response to military attack from a major external power. As Aaron Mehta points out in his exclusive for Defense News entitled Fortress Sweden: Inside the plan to mobilize Swedish society against Russia, that major external power is none other than Russia, whose heavily militarized port of Kaliningrad lies a little over 220 miles across the ocean from Sweden.
Trump: Sanctuary State Places 'Innocent Americans at the Mercy of Hardened Criminals'
"This is actually a mass murder happening in the United States by illegal aliens killing American citizens," Mendoza, who lives in Arizona, said Monday in a meeting that included Cabinet officials, members of Congress, and state and local law enforcement officials. "Over 63,000 Americans have been killed since 9/11 by illegal aliens," Mendoza continued.
Russian warplane bombs refugee camp in Syria's Idlib – media
…the Russian air force Su-24 bomber made two attacks on the refugee camp in the village of Khas in the south of Idlib. White Helmets, the Syrian humanitarian organization, noted that the bombs hit the camp in the night hours.
Report: N. Korean, S. Korean and US delegates had 'constructive' meeting
"(The meeting) explored approaches to building confidence and [reducing] tensions in Korean peninsula… The participants had a constructive exchange of views in a positive atmosphere," foreign ministry Director General Kimmo Lahdevirta told reporters, declining to comment on the agenda.
Polish PM's father: Jews gladly moved to ghettos to get away from Poles
A former Polish politician who is the father of the country's prime minister said that Jews during the Holocaust moved to ghettos of their own accord to get away from non-Jewish Poles. Kornel Morawiecki, a former senator whose son, Mateusz, became prime minister last year, made the remark in an interview published Tuesday by the online magazine Kulturą Liberalną.
The story behind Africa's free trade dream
The European Union and its free trade agreement took decades to establish. Africa is now hoping it can achieve the same in a fraction of the time. But with Nigeria pulling out, questions are being raised over just how achievable it really is. The vision is a free trade deal encompassing 1.2 billion people stretching from Cape Town to Cairo.
Syria war: Dozens killed as rockets hit Damascus market
At least 35 civilians have been killed in a rocket attack on a busy market in a government-held district of Syria's capital Damascus, state media report. Rebels in the besieged Eastern Ghouta region fired the rockets at Kashkoul, police told the Sana news agency. Six other civilians were injured in a separate attack to the west, they said.
Rogue TOXIC space station could crash into Earth NEXT WEEK
China's first prototype station Tiangong-1 will come crashing back to the planet between March 30 and April 6. And space boffins have revealed it has the highest chance of crashing into cities along a narrow strip around latitudes of 43 degrees north and south. This includes a number of highly populated cities including New York, Barcelona, Beijing, Chicago, Istanbul, Rome and Toronto.
There's a New Cold War Brewing in Space
The commander-in-chief's recent musings about forming a new military branch, a U.S. Space Force, revives a debate that began almost 20 years ago about whether the Pentagon's space activities should be moved to a new command. "Space is a war-fighting domain, just like the land, air and sea," President Donald Trump said…"We may even have a Space Force, develop another one. We have the Air Force, we'll have the Space Force."
EU to unveil plan to tax turnover of big U.S. tech firms
The European Commission will propose rules on Wednesday designed to make digital companies pay their fair share of tax and set to hit U.S. tech giants such as Google (GOOGL.O) and Facebook (FB.O). The Commission is expected to propose that companies with significant digital revenues in Europe pay a 3 percent tax on their turnover, according to a draft seen by Reuters last week.
Reviving Biblical Wedding Customs in Preparation for the Third Temple
Reuven Prager, who specializes in Biblically styled clothing, has a passion for restoring ancient Israelite customs. Twenty-five years years ago, Prager learned about four marriage customs described in the Talmud as having fallen out of practice after the destruction of the Temple in 70 CE and the squashed Bar Kochba revolt in 132 CE. Prager wanted to revive those customs in order to pave the way for the Third Temple, but he also had a vested personal interest.
Firing Tillerson Removed an Obstacle to Peace
As Secretary of State Rex Tillerson was being fired on Tuesday, his central assumptions about the Palestinian conflict with Israel, which are shared by the entire Washington foreign policy establishment, literally blew up in Gaza.
Austin serial bomber dies in wee-hours confrontation after police trace him to motel
The suspected serial bomber who killed two people and terrorized Austin, Texas, for three harrowing weeks was killed in a dramatic confrontation with police overnight Wednesday, according to authorities. The suspect, identified by police early Wednesday as a 24-year old male, was killed near the motel he was traced to by authorities using surveillance footage from a Federal Express drop-off store and cell phone triangulation technology
Abbas to approve new measures against Hamas
Commentators see these steps as a deliberate move by Abbas to drag Hamas into a confrontation with Israel in order to block the "deal of the century", the peace plan being formulated by the American administration and which the PA views as biased in favor of Israel.
Storms strike college, leave trail of damage across South
The storm threatened millions of people across the Deep South, prompting tornado warnings Monday in Mississippi, Alabama and Georgia. The area around Jacksonville State University in Alabama was among the hardest hit and thousands of buildings and vehicles were battered by large hail after the night of violent weather.
House GOP Leaders Scalise, McCarthy Sign Letter Demanding Second Special Counsel to Investigate Obama's FISA Abuse
At the end of February, Rep Lee Zeldin (R-NY) sent a letter to AWOL Attorney General Jeff Sessions urging him appoint a Special Counsel to investigate FISA abuses and how/why Hillary's probe ended and Trump's Russia probe began.
Cardinal Says Vatican Is Surrendering to China's Communist Government With Deal on Catholic Worship
The outspoken former bishop of Hong Kong has launched a fresh attack on a proposed agreement between the Vatican and China's communist government.
Official Washington flocking to Doomsday Camps
A building network of backwoods doomsday camps around the country are pulling in members from affluent areas and even Washington national security officials as the threats grow from nuclear war, an EMP or virus attack.
Afrin: Turkey's President Erdogan threatens to expand military offensive beyond Kurdish town
Turkey's president has vowed to keep up the pressure against a US-backed Syrian Kurdish militia after his troops captured the Syrian town of Afrin, threatening to expand the military offensive into other Kurdish-held areas across northern Syria and even into neighbouring Iraq.
Mind Control: Samsung Site Wipes Your Memory So You Can Re-watch TV Shows
Samsung has launched a website promising to wipe your favorite TV series from your memory so you can watch it again seemingly for the first time. The creepy concept, known as Unspoil me, was apparently launched in January and is available through the company's Swedish site.
Gov't 'Fusion Centers' Spying on Patriots in all 50 States
Intimidation used against activist who sought information on mosque…Fusion centers were established a few years after the 9/11 attacks by the President George W. Bush administration and expanded under Barack Obama.
Abortion Clinic Caught Selling Box Of Aborted Babies From Car
A South Carolina abortion clinic has been caught on video illegally transporting and selling the bodies of aborted babies from a car to a waste management company.
Hundreds of lawsuits against Monsanto are moving forward
Hundreds of lawsuits against Monsanto for personal injury and wrongful death are moving forward, after scientific analysis was heard in court, detailing Roundup's carcinogenicity.
War Is On The Horizon
Have Washington and its British vassal set a stage for testing whether Russia has the stomach for war?
China Begins Banning People With 'Bad Social Credit' From Trains And Planes
China has announced controversial new measure that will 'ban' citizens with 'bad social credit' from using public transport like trains and plane, placing a restriction on their travel.
Researchers show how a moth's brain is smarter than artificial intelligence
Insects may be simple, and in terms of intellectual capability, they will never be able to match humans, but they do have brains. They can definitely learn, as moths do when getting acquainted with new scents. But did you know that even moths can be smarter than today's standard level of artificial intelligence?
'Significant damage' in Alabama after storms hit Southeast
Severe storms smacked the Southeast Monday, bringing possible tornadoes, powerful winds and hailstones the size of baseballs. The damaging weather struck right before Tuesday, which is the first day of spring.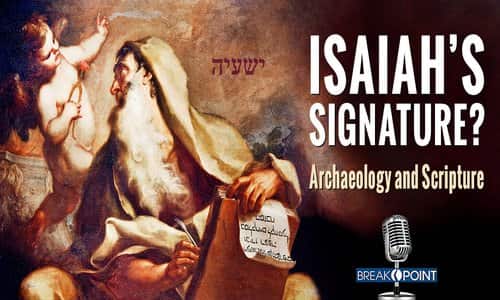 I will never get tired of telling you about the latest archaeological find that unearths living proof of the Bible's history.
About two years ago, I told you about an extraordinary archaeological find. Archaeologists digging "at the foot of the southern part of the wall that surrounds Jerusalem's Old City," found an ancient refuse dump dating back to the eighth century before Christ.
In the refuse dump, they found 33 clay imprints or seals, known as bullae. One of these bore the inscription "Belonging to Hezekiah (son of) Ahaz king of Judah."
That would be the Hezekiah of whom the Bible speaks so highly.
Now, those of you familiar with Hezekiah's story know that one person played an outsized role in his reign: the prophet Isaiah. It was Isaiah who reassured the king that Judah would not fall to the same Assyrian army that had taken the ten northern tribes in exile.
And it was Isaiah who told Hezekiah that he would not die and by way of proof, told the king that his sundial would reverse itself by ten steps (Is 38:7).
Given the close association between Hezekiah and Isaiah in life, it shouldn't come as a surprise to learn that they may be linked in the archaeological record, as well.
The latest issue of Biblical Archaeology Review features a piece by Eilat Mazar of Hebrew University. Mazar supervised the excavation that found Hezekiah's seal among the thirty-three recovered bullea.
Among the other clay seals was one inscribed with the name "Yesha 'yah[u]." (יְשַׁעְיָהוּ) For those of us who didn't study Hebrew, the name means "YHWH is salvation." In English, the name is rendered as "Isaiah."
You heard me, Isaiah. The obvious question is: Did the seal belong to the Isaiah?
Mazar believes it may well have. The biggest reason is that beneath the name "Yesha 'yah[u]" are the Hebrew letters rendered as "nvy." Now, a piece of that bottom line is missing, so Mazar can't be 100 percent certain, but "n-v-y" are the first letters of the Hebrew word "nabi" which means "prophet."
Still, she has technical reasons for thinking that the word was indeed nabi. But most of all, she believes that next to the actual inscription, the site of the find is the strongest evidence for concluding that we may very well be looking at, as the magazine put it, "Isaiah's signature."
She writes that "finding a seal impression of the prophet Isaiah next to that of King Hezekiah should not be unexpected." She points out that in 2008, seals belonging to two high officials, Gedeliah and Shelemiah mentioned in Jeremiah 38, were found "only few feet apart."
Thus, "it would not be the first time that seal impressions of two Biblical personas, mentioned in the same verse in the Bible, were found in an archaeological context."
She concludes that "the close relationship between Isaiah and King Hezekiah, as described in the Bible, and the fact the bulla was found next to one bearing the name of Hezekiah seem to leave open the possibility that . . . this may have been a seal impression of Isaiah the prophet, adviser to King Hezekiah."
You know what possibility is not open? Finding evidence that the Heracles of Greco-Roman mythology, or that the various heroes of Indian epics, ever existed--at least not in anything resembling the classic texts. The latter are set in mythical pre-historic times before the invention of writing.
The scriptures, as we never tire of reminding you, are set in the world you and I live in. They tell the story of a God who acts within recorded human history and ultimately enters it.
Thus, finding traces of this activity, even in ancient refuse, should not be unexpected.