_Disclaimer

CommentaryEditor


Categories: Warning
Please note, we do not endorse all of the material or all the sources on this page. Please read with discernment.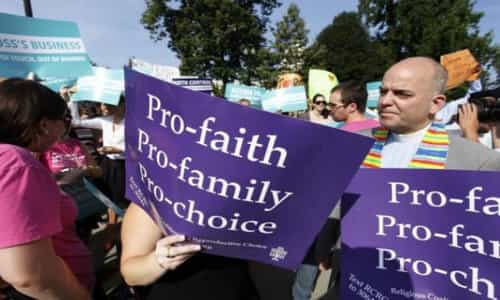 For Christians, there are few acts more clearly immoral than the killing of unborn babies.
Abortion is a major political issue for which Christians have fought for decades against opponents who favor the right of a mother to choose to kill her unborn children, but the newest adversary to Biblical morality and human decency is not a radical atheist group or far-left feminist organization.
No, there are now groups and even abortion doctors claiming to be Christians who support and even encourage carrying out abortions.
It was in October of 2015 in Ohio that a group of fifteen apostate clergy staged a demonstration outside an abortion center. Representing Methodist, Episcopal and Church of Christ congregations, the group held signs and delivered speeches in support of the abortions taking place inside.
The group declared their gathering an attempt to "bless" the abortion center in opposition to Christians who would denounce the sin of killing the unborn.
Declaring that God's love is steadfast, Harry Knox, leader of the Religious Coalition for Reproductive Choice, addressed the crowd at the event by saying, "Im here today standing alongside my fellow clergymen and clergywomen to say, Thank God for abortion providers.'"
Some of the signs that day were blazoned with such contradictory messages as "Good Women Have
Abortions" and "Pro-Faith, Pro-Family, Pro-Choice", betraying the deep flaws in both their Biblical theology and their morality.
Like the snake in the garden, these false Christians whisper in women's ears, telling them that abortion is not a sin, that God gave them choice and that all choices are equally moral.
Disguised as the voice of Christian wisdom, these false clergy pose a grave danger to both the body of the Church and the morality of young men and women who may be led astray.
Doctor Willie Parker is another vocal proponent of abortions, but he does not stop at simply blessing the abortion facilities.
Doctor Parker is responsible for performing hundreds of abortions over a span of decades, and has gained notoriety for claiming that his Christian faith calls him to murder fetuses and vacuum out of women's wombs their unborn children.
Hiding behind Christianity as if it were the cause for his sin, the doctor has recently published a book that lays out his case for killing the innocent and unborn.
For abortion supporters in the media, Dr. Parker has become a poster child of what a Christian should be, without all of those annoying details of God, the Bible and morality to get in their way.
Held up as an example of what Christians "should be" by radical abortion supporters, Parker portrays a twisted version of Christianity that is both dangerous and illogical.
His justification which he never tires of sharing in the media, is that since God gave man free will, any choice that we make is therefore morally good.
To add further insult to this already nonsensical line of reasoning, Parker claims that abortion is as sacred as the birth of a child.
First, the parallels to the stories of Satan in the Garden of Eden are too close to miss in Parker's reasoning. The claim that all choices are equally moral undercuts the entire foundation of any system of morality, divine law or the value of choice.
It is this tempting lie that Satan whispered to Eve in the Garden and it is this message that Parker and others like him, wolves in sheep's clothing, now whisper to frightened, vulnerable women.
Worse, Dr. Willie Parker has made a living from killing these children and grown famous for claiming a Christian basis for his actions both in print and on television.
Second, there is no room for doubt that the Bible clearly condemns the act of abortion as a sin in the God's eyes.
While abortion apologists point out that abortion is never mentioned in the Bible by name, God's word does indeed establish the death penalty for an assault on a pregnant mother that results in the death of her unborn child (Exodus 21:22-23), clearly making the life of an unborn fetus equal to that of any adult.
If we accept that the Bible tells us that murder of another person is wrong and that unborn children are people, then clearly the choice to murder an unborn child is morally wrong.
Some abortion supporters claim to hate abortion while supporting a woman's right to choose, but this too is as illogical as a Christian claiming that such sin is Biblical.
To do so, would be akin to supporting the rights of men to rape while claiming to be against rape simple because the choice to rape or not rape is "sacred", a word that becomes meaningless in the mouths of apostates such as Dr. Parker and the pro abortion clergy of the Religious Coalition for Reproductive Choice.
Make no mistake: abortion is murder and it is grave sin. For decades, radical progressives have argued for a woman's right to kill her children over the inalienable right to life and Christians have been at the forefront of the defense of the innocent.
But now the enemy has wrapped himself in the guise of fellow believers, holding up faith as a justification for sin in a twisted version of Christ's gospel.
Don't be fooled, there is nothing blessed or righteous about the killing of innocent life.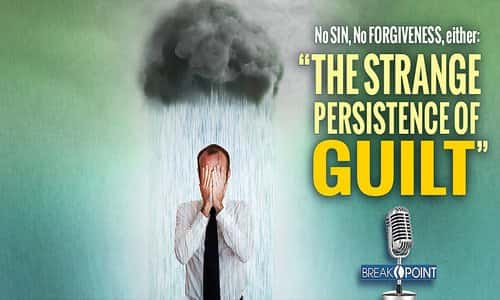 So, traditional morality is out, and freedom of everything is in. Then why does everybody feel so guilty?
In 1966, Time Magazine infamously posed the question "Is God Dead?" on its cover. Recently, it ran the same cover, only with the word "Truth" instead of God.
The literal answer to both questions is, of course, "no." But both questions point to an issue that has haunted the West for more than a century: How do you justify morality in a society that increasingly lives as if there was no one to hold them accountable and define the difference between good and evil, truth and falsehood?
Ironically, while we've reached the point where we've effectively cut the legs out from beneath the idea of sin, we are still very much in the thrall of guilt.
That was the subject of a recent column by David Brooks in the New York Times entitled "The Strange Persistence of Guilt," which, in turn, was inspired by an article of the same name by Wilfred McClay in the Hedgehog Review.
And here's what makes the persistence of guilt "strange": The dominant worldviews of our age, as Alasdair MacIntyre wrote in "After Virtue," have turned beliefs about right and wrong, good and evil, into little more than expressions of feelings. They should have freed us from feelings of guilt.
And yet we still feel guilty.
Instead of the easy-going relativism that should logically follow from believing that right and wrong, guilt and innocence, are a matter of feelings, we live in what Brooks calls "an age of great moral pressure."
We may "lack the words to articulate it," and "religion may be in retreat, but guilt seems as powerfully present as ever." Thus, as McClay writes, "Whatever donation I make to a charitable organization, it can never be as much as I could have given.
Worse, people have a sense of guilt and sin, but no longer a sense that they live in a loving universe marked by divine mercy, grace and forgiveness. There is sin but no formula for redemption."
That's because if there were true forgiveness and redemption, there would have to be an acknowledgement that there was something that needed to be forgiven and something about us that needs to be redeemed.
At this point, I'm left thinking about the passage from Matthew, where we're told that when Jesus "saw the crowds, he had compassion for them, because they were harassed and helpless, like sheep without a shepherd."
Brooks ends by saying that what people need is more "than the cheap grace of instant forgiveness." They need a way to prevent the "private guilt everybody feels" from being "transmuted into a public state of perpetual moral war."
And they need a personal introduction--or re-introduction--to the Good Shepherd who has already shown how far He will go to love and forgive them.
Let the Headlines Speak

Daily NewsFrom the Internet


Categories: Today's Headlines
Israel blames Germany for EU support of UNESCO anti-Israel resolution
Israel is angry at Germany for the anticipated European support for the resolution attacking Israeli sovereignty in Jerusalem, which UNESCO's Executive Board in Paris is scheduled to approve this Tuesday, diplomatic sources told The Jerusalem Post. The behind-the-scenes conflict preceded the public argument between Prime Minister Benjamin Netanyahu and German Foreign Minister Sigmar Gabriel over his meeting with the left-wing group Breaking the Silence during his visit to Israel last week.
North Korea threatens Israel with 'merciless, thousand-fold punishment'
Israeli Defense Minister Avigdor Liberman hurt the "dignity of the supreme leadership" of North Korea…The comment was in reaction to Israeli remarks on how the Jewish State is affected by North Korean tension with the United States. In an interview with Hebrew news site Walla this week, the hawkish Liberman stated that North Korea's leader Kim Jong-un is a madman and that together with the leaders of Iran and Syria was part of an "insane and radical" gang that was bent on undermining international stability.
North Korea crisis: Pope urges international mediation
Pope Francis has called for international mediation to ease rising tensions between the US and North Korea over Pyongyang's nuclear activity. The pontiff suggested that Norway, for example, was "always ready to help". He warned the crisis risked sparking a devastating war in which "a good part of humanity" would be destroyed.
Syrian Army refutes reports of IAF strike near Quneitra
Explosions were heard at a base housing the 90th brigade of the Syrian Army in southern Quneitra Saturday evening, Sky News Arabia reported. Initially, the explosions were attributed to an Israeli attack and local media reported seeing Israel Air Force (IAF) planes circling the area. However, Syrian military sources subsequently denied the reports on the Al-Miyadin network, which is affiliated with Hezbollah.
Five killed in Texas tornadoes; rains, winds lash US midsection: media
Tornadoes killed five people east of Dallas in Texas, local media reported on Saturday, as heavy rains and damaging winds struck a broad swath of the U.S. heartland. At least three tornadoes were confirmed by the National Weather Service in nearby Canton, with about 50 people being treated for related injuries at area hospitals, news outlets reported, citing hospital officials.
UK PM May braces for difficult Brexit talks after EU adopts tough stance
British Prime Minister Theresa May said on Sunday divorce talks with the European Union would be difficult, responding to the tough stance taken by EU leaders over the upcoming Brexit negotiations. EU leaders endorsed stiff divorce terms for Britain on Saturday and warned Britons to have "no illusions" about swiftly securing a new relationship to keep their access to EU markets.
U.S.-backed militias claim big advance against IS in Syria's Tabqa
U.S.-backed militias said on Sunday they had made a big advance in Tabqa, a strategically vital town controlling Syria's largest dam, in their campaign to drive Islamic State from its stronghold of Raqqa, 40km (25 miles) downstream. The Syrian Democratic Forces (SDF), a group of Kurdish and Arab militias, will wait to assault Raqqa until it seizes Tabqa, its military officials have previously said, but it had made only slow progress since besieging the town early this month.
South Korea already working on reducing trade surplus with U.S.: finance minister
South Korea's finance minister said on Sunday the government was already working on downsizing its trade surplus with the United States, a reference to U.S. President Donald Trump's comments Thursday that Washington will renegotiate or scrap the free trade pact the two countries have. Finance Minister Yoo Il-ho added in televised comments he did not expect the free trade agreement will be terminated. It has been in effect since 2012.
The North Korean nuclear threat, explained (video)
Why experts are urging Trump to act now while he still can.
Iranian cargo planes land in Damascus hours before 'Israeli strike' on airport
Four cargo planes originating from Iran landed at an airport outside Damascus just hours before Syria accused Israel of attacking a military compound nearby
Furious Bank Run Leaves Canada's Largest Alternative Mortgage Lender On Edge Of Collapse
"When you have a run on the bank, people get spooked and they sell and ask questions later," said a Bay Street investment banker. "It's investor psychology that takes over."
Erdogan Blocks Wikipedia, Bans TV Dating Shows, Purges Another 4,000 Public Officials
Two weeks after winning the Turkish constitutional referendum by a modest but decisive margin, president – or perhaps it is now despot – Erdogan decided to take his newly decreed powers for a spin and overnight in rapid succession surprised foreign observers when Turkey decreed that it would ban TV dating shows, fire an additional 4,000 public officials and also ban Wikipedia.
Far-right candidate bedeviled by France's Nazi history
The horrors of the World War II Nazi death camps moved front and center in France's presidential campaign on Friday, nine days before the election, reawakening the anti-Semitic stigma that has clung to the party of far-right candidate Marine Le Pen and that she has spent more than six years trying to erase.
New website offers US women help to perform their own abortions
Fearful that Donald Trump's presidency poses a once-in-a-generation threat to US reproductive rights, an international advocacy group this week is unveiling what is sure to be a controversial response: a web portal dedicated to helping US women terminate their own pregnancies with abortion-inducing drugs they have obtained outside of a medical setting.
After pushing vaccines for depopulation, Bill Gates now warns that bioterrorism might kill 30 million more
… the not-so-hidden agenda that lies behind the Gates Foundation is often glossed over, especially by the mainstream media. Gates and his foundation have consistently come under fire for their aspirations of depopulation, and now the same man who essentially has made it a goal to eliminate humans is lecturing the rest of us about bioterrorism?
Court Lets Trump 'Pause' Lawsuit On Obama's Climate Plan
A federal court agreed Friday to President Donald Trump's request to pause litigation over the Obama administration's Clean Power Plan (CPP). The D.C. Circuit Court of Appeals' decision makes it easier for the Trump administration to repeal CPP, which was intended to limit carbon dioxide (CO2) emissions from existing power plants to slow global warming.
Trump Declares 'Eight-Year Assault on Second Amendment' Over
On Friday, President Trump delivered a speech to the National Rifle Association at its 2017 Leadership Forum in Atlanta. This marks the first time a sitting president has done so since Ronald Reagan in 1983.
God had set His hand to make Jacob a saint. He had given him a glimpse of His ideal at the Jabbok ford, but his nature was not then capable of taking in the Divine conception; and, as we have seen, both in his subterfuge to Esau and his settling outside Shechem, he had fallen back into the schemer and money-maker. In this chapter God uses several methods of awakening and renewal.

The Divine summons. - "Arise, go up to Bethel." He had been in the lowlands too long: too long had he "lain among the pots." The voice of God spoke words of resurrection life into his grave, as afterward into that of Lazarus.

The power of old association. - What memories clustered around that name and place of Bethel! It recalled his distress and fear; the angel-ladder, and the comforting assurance which had inspired him with new hope. Directly he heard it, he seemed to have felt the incongruity of the life that was being lived in his camp, and he said to his people, "Put away the strange gods... Arise, let us go up to Bethel, and I will make there an altar unto God."

A fresh revelation. - God appeared to him again. For long there had been no vision of God; but now that the idols were put away, his eyes were opened to see Him who had been beside him amid all his backslidings.

Death. - Deborah, the beloved Rachel, the old father - one after another were taken from him; and there came the far-away look into his eyes which showed that he had imbibed the pilgrim-spirit and had become Israel the Prince. So God stripped him that he might be better able to run the race set before him.