Commentary
32935
"Drone Warfare/terrorism Only Just Beginning"
by PNW STAFF


September 18th, 2019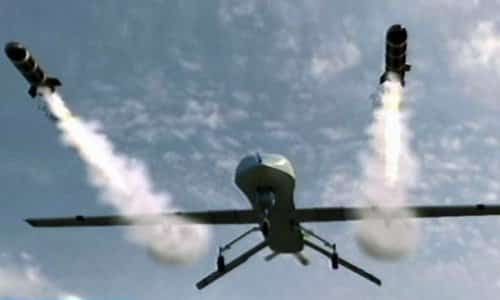 The vulnerability of infrastructure to drone terrorism was just laid bare this week as ten drones launched by Iran-backed militants sparked a huge fire at the world's largest oil processing facility and a major oilfield in Saudi Arabia where over 5 percent of the world's daily supply is produced.
Yemen's Houthi rebels, considered an Iranian proxy force in the region, have claimed responsibility for the attacks at Abqaiq in Buqayq, which contains the world's largest oil processing plant, and Khurais, which contains the country's second largest oilfield.
The fires have now been brought under control but the disruption is still expected to have an impact on oil prices around the world as the flow of oil is disrupted with some estimates suggesting 50% of Saudi output could be temporarily affected.
Last week Hamas militants used a drone to drop a bomb on the Israeli side of the Gaza-Israel perimeter fence hitting a military vehicle, marking the first time an attack occurred with a drone piloted from Gaza.
During the same time period Hezbollah shot down an Israeli drone performing reconnaissance over Lebanon and last month Iran shot down a US drone flying over the Strait of Hormuz, almost sparking a larger conflict.
Drone and anti-drone conflict is on the rise worldwide and many experts fear the use of weaponized drones by lone individuals or small groups--some acting as proxies of nation-states, on US soil is only a matter of time.
The Department of Homeland Security and the FBI have declared unmanned aerial systems, or drones, as one of the greatest national security threats to America -- rating it as severe a concern as cybersecurity hacks, critical infrastructure attacks, and terrorism.
Civilian drones pose a "steadily escalating threat," as the devices are likely to be used by terrorists, criminal groups or drug cartels to carry out attacks in the U.S., FBI Director Christopher Wray previously told a Senate committee.
"The FBI assesses that, given their retail availability, lack of verified identification requirement to procure, general ease of use, and prior use overseas," drones will be used in an attack in the U.S. including "a mass gathering," Wray said.
One nightmare scenario universally feared by law enforcement and security services is the use of a small drone to deliver chemical or biological agents in an attack. It is already well-established that al-Qaeda and other terrorist groups have long sought to engineer a spectacular attack in the West using weapons of mass destruction.
The possibility that drones could be used to disperse deadly agents or viruses over public gatherings is a harrowing prospect. Even if a drone attack fails to result in large numbers of fatalities, the attempt could still achieve an attacker's goal of perpetuating the psychological dimension of terrorism.
Sporting events are undoubtedly one of the top targets for a drone attack. Upwards of 100,000 people attend college football games. Open air stadiums used for football, soccer, baseball and other events such as music concerts are more vulnerable than domed stadiums as the crowd, players and coaches are not protected by a shield above.
Drones are already used by transnational criminal syndicates and drug cartels. On the U.S.-Mexico border, drones are being used to spy on federal law enforcement operations and smuggle contraband through the sky. The first drug smuggling incident via drone was documented in Nov. 2015. Now, it's a daily occurrence in some regions of the southern border, but it's rarely reported because they are unable to seize the devices and arrests are rare.
Many countries are now using armed drones in combat--Nigeria, Pakistan, and Turkey have recently done so--the chances for sophisticated drone technology getting into the wrong hands increases exponentially.
If a terrorist group can steal or purchase a drone from a rogue state or corrupt military or intelligence officials, then they could rely on the myriad online videos posted that essentially demonstrate how these unmanned systems could be used to conduct an attack.