Commentary
30890
"Saudis Lurking Behind Trump's Jerusalem Plan"
by LEO HOHMANN/WND.COM


December 6th, 2017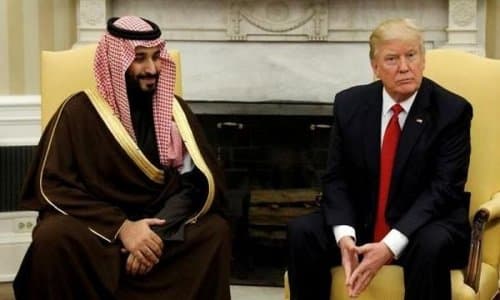 President Donald Trump is getting ready to do something big and risky in the Middle East – something no other president has dared to do.
So big, and so risky, that it could either spark a new Palestinian uprising, or lead to the long coveted but elusive peace pact that every president since Jimmy Carter has tried to broker.
According to published reports, Trump is planning to announce Wednesday the U.S. recognition of Jerusalem as the eternal capital of Israel and move the American Embassy there from Tel Aviv within six months.
He reportedly has the backing of Saudi Arabia, home base of Islam's prophet and most holy mosque, to make this move. That in itself, gives pause to some Christian leaders who would otherwise be jubilant about finally recognizing Israel's right to Jerusalem.
Trump on Tuesday told Palestinian President Mahmoud Abbas and Jordan's King Abdullah that he plans to move the U.S. Embassy to Jerusalem. Trump also reportedly called Prime Minister Benjamin Netanyahu, Egyptian President Abdel-Fattah al-Sissi and Saudi King Salman to inform them of his decision.
Congress passed a law 20 years ago requiring the U.S. to recognize Jerusalem as Israel's undivided capital, but there is a clause in the law that allows the president to delay implementing it every six months.
Both Abbas and King Abdullah warned Trump against moving the embassy, with Abdullah reportedly saying it would "have serious implications for security and stability in the Middle East" and will "fuel the feelings of Muslims and Christians," Bloomberg reports.
And that's not the only development rocking the region.
The New York Times and the Jerusalem Post have reported on a new Israeli-Palestinian peace deal that the Trump administration is said to be close to rolling out that would have backing from Saudi Arabia.
While details of the plan remain unknown, it would be a "two state solution" tilted toward Israel to the extent that "no Palestinian leader could ever accept it" and remain in power, according to the New York Times. Under the plan, the Palestinians would receive limited sovereignty, Israel would remain in the vast majority of its settlements, and Egypt would deliver to the Palestinians a slice of the northern Sinai to go along with Gaza. The new capital of "Palestine" would be in Abu Dis, a suburb of East Jerusalem.
While Saudi Arabia has denied it is backing such a plan, Palestinian leader Mahmoud Abbas was said to be "visibly upset" and scrambling to contact Arab and European leaders to tell them to pressure Trump to back off from both the embassy move and the radically reoriented peace plan.
"But the news on Friday that Mr. Trump would recognize Jerusalem as the Israeli capital suggested that ideas once considered beyond the pale are now seriously being considered," the Times reports.
Trump has put his son-in-law, Jared Kushner, in charge of negotiating "the ultimate deal" for Mideast peace.
Regional officials told the Times they believe the 32-year-old Saudi Crown Prince Mohammed bin Salman might be willing to try to force a settlement on Palestinians in order to garner Israeli cooperation in a potential upcoming war against Iran.
Laurie Cardoza-Moore, president and producer of the pro-Israel Proclaiming Justice to the Nations, said she has not heard that the decision to move the embassy to Jerusalem is in any way tied to a new peace plan.
"If it is, it will upset the Evangelical Christian base" of President Trump, she told WND.
And that base is excited about the president's plan to recognize Jerusalem as Israel's capital. Both sides in the conflict, Israel and the Palestinians, claim parts of the city as theirs, but various Old Testament prophets pronounced woes upon those who would "divide" the land.
"Not only did he say he would recognize Jerusalem as the Capital of Israel, but he would begin the process of moving the embassy in six months," Cardoza-Moore said. "Another significant angle to watch is the Saudis. Saudi Arabia stated that Abu Dis could be the future Capital of a PA state, not Jerusalem. That's significant!"
Clare Lopez, vice president for research and analysis for Washington-based Center for Security Policy, said she is suspicious of Saudi intentions in cozying up to Israel, but she believes the budding relationship could help Israel in the short run.
"I am inclined to support the Trump-Saudi initiative – not because I think it will succeed (it can't, as long as Islamic doctrine obligates the killing of Jews and re-conquest of all land ever held by Muslims), but rather because it is a sober, thoughtful and generous plan and because it will once again expose the jihadist regimes in Gaza and Ramallah for exactly what they are."
Lopez believes Trump's pledge to move the U.S. embassy to Jerusalem is part of that overall strategy, with the objective being to counter the Iranian regime's aggressive regional expansion and support for Islamic terror organizations like Hamas and Hezbollah.
"I think the president has analyzed the situation correctly and concluded that the most critical, immediate threat to the national security of the U.S., our foremost ally in the region, Israel, and Saudi Arabia and other Gulf states, is Iran," Lopez said.
Phil Haney, a retired Homeland Security immigration officer and author of the whistleblower book "See Something Say Nothing," said the Sinai would not be a good place for a Palestinian homeland.
"The problem is you'd be merging the Palestinian population into an intensely active jihad war zone," Haney told WND. "You've got Hamas working there, al-Qaida, various ISIS and Salafi-related jihad activity going on in Sinai, and that's a very volatile environment to try to insert a civilian population into. We just had the massive mosque attack there that killed 305 Shia. Putting those people in the middle of that is forcing them into an impossible situation.
"But for Saudi Arabia it's all about creating barriers between them and Iran."
Haney said he would advise Trump not to get involved in Middle Eastern conflicts but to focus on American problems, like banning the Muslim Brotherhood as a terrorist organization.
Ironically, the Muslim Brotherhood and the U.S. are on the same side in the civil wars in Yemen and Syria.
"The Saudis support them in Syria and Yemen even though they ban them at home. But we need to recognize the threat to our own sovereignty before we participate in the Byzantine intrigue of the Middle East, because it's tribal over there, they don't recognize borders or a Constitution, they recognize tribes," Haney said. "We base our worldview on the inviability of certain God-given rights, not whose tribe captures the most territory, so we can't superimpose our worldview on them. Yemen, Syria, Libya, what's going on is all tribal, not constitutional."
Lopez said to expect extreme push back to Trump's plans for the embassy move by anti-Israel elites in the media, the federal bureaucracy, NGOs and in academia.
"I think President Trump knows this and is already strides ahead of them all. Besides which, he is a tough and determined champion for American interests first - and standing with the Jewish State of Israel and its eternal & undivided capital in Jerusalem is simply the right thing to do for the U.S."