Commentary
30302
"Christians Have No Place in Government?"
by PNW STAFF


June 30th, 2017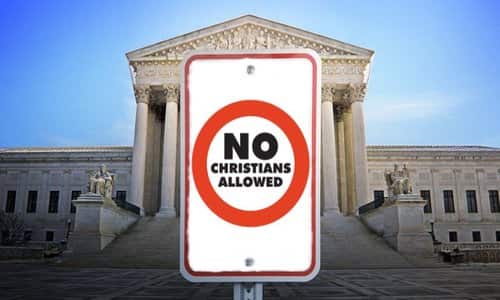 Protest and outrage from the gender-radical left are once again the tactic to silence and exclude Christian voices.
At issue is the invitation, made by the Department of Education, for prominent Christians from the Family Research Council and Focus on the Family to speak at a conference on the active and engaged role of fathers in their children's lives.
The pro-LGBT groups Human Right's Campaign and GLAAD both assert that the inclusion of Christian voices, despite being well-respected and nationally renowned experts on family values, is an affront to their agenda for diverse families.
Both FRC and Focus on the Family are Christian organizations that promote traditional Biblical teachings on marriage, fatherhood and families and that do not support the radical gender theories questioning the nuclear family.
Not coincidentally, both organizations do firmly believe that not only should marriage be between a man and a woman but that a child should have an involved mother and father in his or her life.
It is the possession of these beliefs that, in the eyes of Human Rights Campaign and GLAAD, make Christian organizations unfit to express their beliefs, despite decades of experience and the fact that they still represent the majority of US families' views on the value of fatherhood. A spokesperson from Human Rights Campaign said in a statement, "To provide a taxpayer-funded platform for these organizations is outrageous. Families in this country are increasingly diverse, and include those with same-sex parents, and those led by single parents."
Diversity and tolerance, ironically from two advocacy groups whose stated goal is inclusiveness, are the reasons used to justify silencing Christian voices.
Most incredible of all, HRC and GLADD are attacking the speakers at a conference meant to focus on fatherhood and promote an actively engaged father figure, an extremely vital element in the development of a child.
They criticize Christians who lecture on the importance of the father on the grounds that not every family has a father figure.
Opposition to the event soon devolved into personal attacks on Education Secretary Betsy DeVos when GLAAD issued a press release that referred to FRC and Focus on the Family as "anti-LGBTQ hate groups" and called DeVos an "anti-LGBTQ activist" and "unqualified to run the Department of Education".
They extended their criticism to DeVos' decision to rescind an Obama administration order to permit students to use the restrooms of their choice.
The National Parent Teacher Association was also on the agenda with speakers ready to present on the Fathers' Day panel but they are reported to have pulled out due to the presence of the FRC and Focus on the Family, likely due to the controversy caused by HRC and GLAAD.
In the press release President Sarah Kate Ellis stated that "anti-LGBTQ organizations have no place in government business and school-based discrimination against LGBTQ students must never be ignored."
Conveniently, she has classified two of the most significant Christian groups as anti-LGBTQ in a tactic that is now being used with frightening regularity: accuse your ideological opposition of prejudice and discrimination in order to have them barred from the public discourse of ideas.
The agenda of the gender radicals is clear: Christians have no place in government or society. Those who stand up for and promote the traditional family and the value of both fathers and mothers are increasingly under attack.
This is not a case of hate speech directed at gay or lesbian children or their parents but instead one in which it is considered offensive to believe that fatherhood is a sacred duty.
Biblical beliefs on marriage, fidelity, sexuality and parenthood are not only rejected but stigmatized as hateful.
If these "gender advocacy" groups have their way, there will be no Christians left in government or allowed to have a public voice at all. This is their vision of inclusion, acceptance and tolerance.