Commentary
30249
"Farmer Banned from Selling Blueberries for not Supporting Gay Marriage"
by PNW STAFF


June 12th, 2017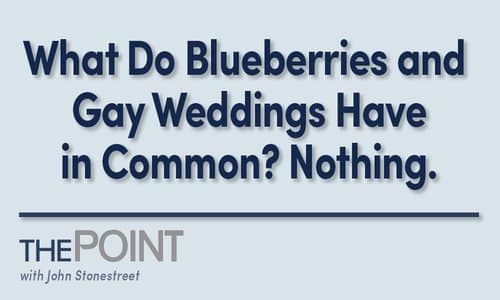 Gender activists are once again in the spotlight for using the legal system to force private businesses to support their views and lifestyles, even when that means state-sponsored religious discrimination.
This time their target is Steve Tennes and his family, the owners of the Country Mill Farms fruit orchard in Charlotte, Michigan. Now banned by the city of East Lansing from selling his fruit at the local farmer's market,
Tennes's only crime was referring a lesbian couple to another orchard for their marriage ceremony, since to host the ceremony would violate his Christian beliefs that a marriage is a sacred covenant between a man and a woman.

Same-sex marriage activists have no shortage of facilities willing to bake cakes or host ceremonies, but targeting Christians and labeling them as bigots has been a tactic too effective for them to abandon.
The Tennes family's 120-acre farm is open to the public and they welcome people of all sexual orientations to pick produce, pet farm animals, go on hay rides, buy fresh baked goods and fruits.
Now publicly shamed as a bigot for his Christian beliefs, Steve Tennes pointed out in an interview that he has employed both straight and gay farm workers in his business. He had no quarrel with any gay or lesbian customers, until he was contacted in 2014 by two lesbians who wanted to have their marriage ceremony on his property.
His polite refusal and referral to a competing farm sparked a firestorm of publicity that prompted the East Lansing Farmer's market to bar him from attending that year, despite praising his contributions the previous six years. The excuse given was that they feared protests.

For several years, the Tennes family was able to avoid conflict by ceasing to host all weddings in their orchards. That is until December of 2016 when he decided that he had considered the issue enough and was ready to stand his ground. Opening to weddings once again, Tennes stood his ground and clearly expressed the farm's policy and same-sex marriage.

Unwilling to be bullied by protesters trying to force their beliefs on him and his family, the public statement provided on his Facebook page explained, "It remains our deeply held religious belief that marriage is the union of one man and one woman and Country Mill has the First Amendment Right to express and act upon its beliefs."

This led the city of East Lansing to require anti-discrimination pledges from all attending farmers and to officially instruct the Market Planning Committee not to invite The Country Mill for 2017.
When Tennes appealed their ban from his attendance at the market, he received this reply from city officials, "It was brought to our attention that The Country Mill's general business practices do not comply with East Lansing's civil rights ordinances and public policy against discrimination. [...] as such, The Country Mill's presence as a vendor is prohibited by the City's Farmer's Market vendor guidelines." Further appeals to the city were met by a screen-print of Tenne's own Facebook statement.

Now Tennes is fighting back with a legal challenge of his own to the city for their discrimination of his sincerely held religious beliefs. In a twist that promises to be difficult to sort out, his legal complaint states that "It is a violation of the Human Relations Ordinance to exclude a person from a public service on the basis of religion. The City, therefore, violated the Human Relations Ordinance by excluding Country Mill from the Market based on Tennes' statement of his religious beliefs."

The law is being used as a weapon to force what amounts to gross discrimination, the radical viewpoints of homosexual activists on the rest of society. The freedom of belief is a long-cherished right of Americans and that is now under threat.
When a farmer can be coerced by law into endorsing acts in violation of his Christian faith simply to sell the produce of his farm, he himself is the victim of discrimination, rather than the perpetrator.

The coming court battle, not the first and almost certainly not the last, should prove an interesting dispute between the power of liberal city governments to discriminate against Christian beliefs and the right of the Tennes family freely to practice their faith without unjust coercion or abuse.