Commentary
29919
"Pro - Israel Supporters Concerned Over Keith Ellison's"
by RAFAEL MEDOFF/JNS.ORG


March 1st, 2017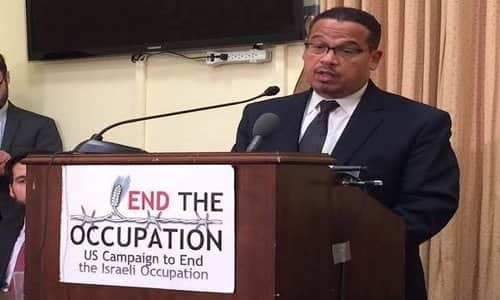 The appointment of U.S. Rep. Keith Ellison (D-Minn.) as deputy chairman of the Democratic National Committee (DNC) has left some Jewish Democrats worried about their party's future positions on Israel.
Former Secretary of Labor Tom Perez defeated Ellison for the party chairmanship Saturday in a 235-200 vote. In his first act as chairman, Perez named Ellison to the post of deputy chairman.
There has never previously been a deputy chair of the DNC; the position was created specially for Ellison.
The DNC has not yet explained what his duties will be, although it seems he will have greater authority than the five elected vice chairs of the party.
During the months leading up to the vote, Ellison faced criticism for organizing congressional letters urging pressure on Israel and accusing the Jewish state of controlling U.S. foreign policy, as well as for his past involvement with Louis Farrakhan's Nation of Islam movement.
"I'm just happy that Perez defeated Ellison, but concerned that it was close," Rabbi Menachem Genack, a prominent Jewish supporter of Hillary Clinton's 2016 presidential campaign, told JNS.org.
"The future of the pro-Israel Jewish community does not rest well with Democrats," longtime Democratic Party consultant Dr. Hank Sheinkopf said after the vote.
The American Jewish Committee (AJC), however, focused on the DNC race's winner rather than on the close vote, calling Perez "a longtime friend of the state of Israel" and noting that he "has spoken out forcefully against the BDS (Boycott, Divestment and Sanctions) movement that seeks to delegitimize the Jewish state."
AJC CEO David Harris said in a statement that "American democracy is strongest when both political parties stand for civil rights, human rights and religious pluralism, and maintain the nation's historic bonds with the democratic state of Israel. The choice of Tom Perez to head the DNC is surely a gratifying step toward that goal."
Sheinkopf, meanwhile, rejected claims by Ellison's backers that criticism of their candidate was motivated by bias against Ellison's Muslim faith.
"Ellison's religion is not the issue--his recorded words and his friends tell anyone with a brain whom he really is," he told JNS.org.
Democratic New York State Assemblyman Dov Hikind said he is "very troubled" that Ellison "could be treated as a legitimate candidate, and could do so well in the voting, despite his extremist positions and attitudes."
In an interview with JNS.org, Hikind said he finds it "scary" how polls show that "a large segment of the Democratic Party is more sympathetic to the Palestinian Arabs than to Israel." Ellison's role as the party's second second-in-command could accelerate that trend, the assemblyman fears.
Dr. Harold Brackman, a scholar of black-Jewish relations and expert on the Nation of Islam, said that Ellison's "near-miss" should be "disconcerting, not only to friends of Israel, but to those concerned about indications of a rising tide of anti-Semitic incidents in this country as well as worldwide."
Jewish Republicans view the latest developments similarly. Fred Brown, communications director for the Republican Jewish Coalition, called the choice of Ellison as deputy chairman "a horrifying development for our country, the Democratic Party and Jews everywhere."
Noting Ellison's "longtime hostility to Israel" and the fact that he "renounced the Nation of Islam only when the political pressure became too great," Brown said that the elevation of Ellison in the party's hierarchy "has cemented the Democrat Party's lurch into the extreme."
Dr. Ben Chouake, president of NORPAC, a Jewish political action committee in northern New Jersey, believes that most of the party activists who took part in the DNC leadership vote "were likely either unaware of [Ellison's] pro-Palestinian positions or had other issues they voted on."
During much of the race for chairmanship of the DNC, Ellison was widely regarded as the frontrunner. He began losing ground in December, when the party's largest donor, Israeli-born Hollywood mogul Haim Saban, publicly said that Ellison is "clearly an anti-Semite and anti-Israel individual."
Ellison's candidacy also came under fire when the Investigative Project on Terrorism released an audio recording of the lawmaker telling a private fundraising event in 2010 that Israel dictates America's Mideast policy.
"A region of 350 million all turns on a country of 7 million," Ellison complained to the audience. "We can't allow another country to treat us like we're their ATM."