Commentary
30165
"Putting the Bds Movement on the Defensive"
by JACK SALTZBERG / JNS.ORG


May 17th, 2017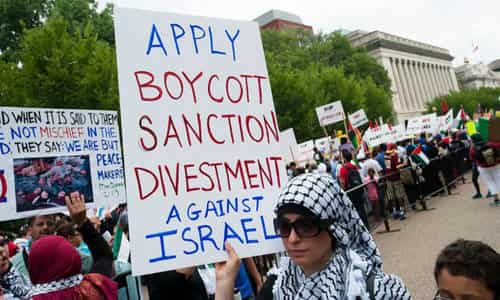 A recent open letter to FIFA by 174 Palestinian sports clubs called on world soccer's governing body to "immediately suspend the Israel Football Association's (IFA) membership over its inclusion of seven football teams based in illegal Israeli settlements."
Israel's standing was set to be decided on May 11 at the FIFA Congress in Bahrain, but FIFA's executive council delayed the vote.
Some might downplay this development, saying, "So what? It's only sports." But the context of this anti-Israel campaign shows why it matters.
What's surprising is not the Palestinian sports clubs' hypocritical request itself -- considering the massive human rights violations committed in Gaza, Palestinian Authority (PA)-controlled territory and the Muslim/Arab world in general -- but that they posted their open letter on the BDS movement's official website.
The BDS movement claims to stand for "freedom, justice and equality," but its singular goal is a one-state solution in Israel with a Muslim majority. In other words, the movement works to wipe away the world's only Jewish-majority state and replace it with a Muslim-majority country, adding to the 51 Muslim nations globally.
It's also clear that BDS is the de facto leader of the international political warfare campaign against Israel.
The movement's "successes" -- as appalling as they may be -- are numerous: 105 BDS resolutions on US college and university campuses, and divestment activity on 53 campuses; international artists such as Roger Waters, Jane Fonda, Alice Walker, Emma Thompson and Danny Glover either boycotting film festivals where Israeli films appear, or pressuring other artists not to perform in Israel; BDS co-founder Omar Barghouti receiving the Gandhi Peace Award at Yale University; Oscar-nominated actors being urged to boycott the $55,000 trip to Israel as part of their awards gift bag; and the environment created by BDS, which enabled the United Nations to adopt 20 resolutions against Israel last year -- and only four resolutions against all the other countries of the world combined.
Despite all this, the Palestinian sports clubs' post on the BDS website could be a watershed moment. BDS is significantly increasing its influential political voice within the Palestinian community in Israel, Gaza and the PA -- as opposed to the rest of the world, where the boycott movement has primarily operated. It is inevitable that, one day, a BDS-led political party will become the political leaders of the Palestinians living in Israel and the disputed territories.
This should cause concern for Israel, because a BDS-led party would garner instant global grassroots and political support, whereas Hamas' and Fatah's overt terrorist history -- past and present -- has made them more difficult to embrace internationally.
The BDS movement seemingly sheds the terrorist moniker, replacing it with a new world vision of "civil society" resistance, even though the movement's propaganda and lies have created an environment that has led directly to countless terrorist acts against Israelis.
The Palestinian sports clubs' open letter is one more example of our bizarre state of world affairs, in which Palestinian sports leagues and teams complain about human rights violations, yet many of their own sports teams are named after terrorists who murdered and wounded thousands of Israelis.
To name just a few: "The Martyr Abu Jihad" team, named for a terrorist responsible for the deaths of 125 Israelis; "The Martyr Abu Ali Mustafa" squad, whose namesake was responsible for planning and coordinating several terror attacks against Israelis; and "The Martyr Khaled Nazzal" team, named for a terrorist responsible for the Ma'alot massacre, in which 22 schoolchildren and five adults were murdered.
Many pro-Israel advocacy organizations will publicize the Palestinian sports clubs' open letter, but very little (if anything) they do will be meaningful. Pro-Israel organizations have been largely ineffective in fighting BDS, while at the same time creating a tremendous false sense of security.
This is just one of the reasons that Jews around the world are in such a bad situation. From university divestment debates to anti-BDS conferences, virtually the entire pro-Israel battle against BDS is built on defending Jews against the movement's narrative and lies, rather than relentlessly attacking BDS activists and placing them on the defensive.
Until we change this broken paradigm, pro-Israel organizations will get larger, support for Israel will shrivel, and, one day, the Israel Football Association will have its membership suspended from FIFA.
But don't worry. It's "only sports."
Learn more about the BDS movement and how you can fight back by educating others with the "Boycott This" DVD